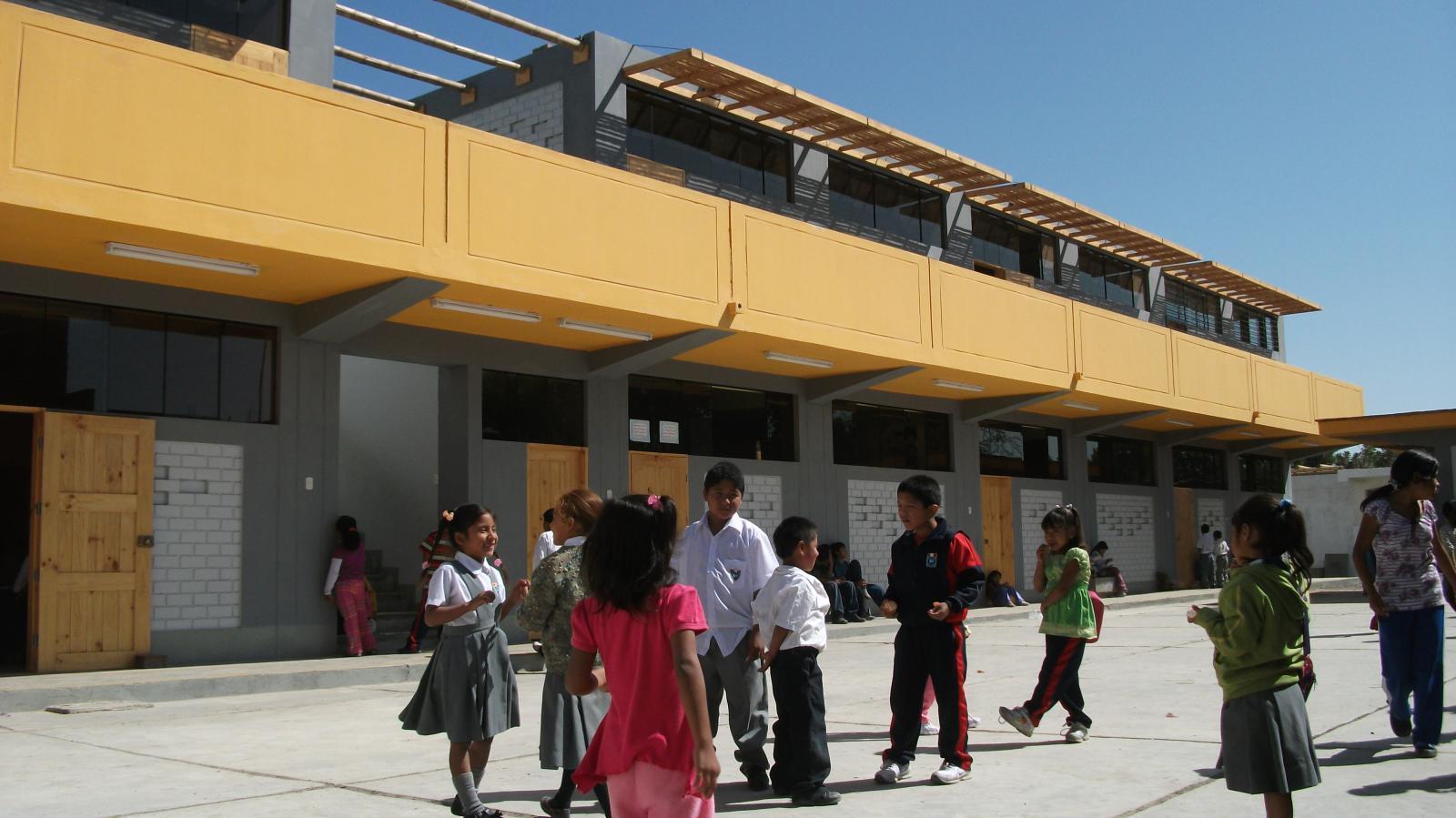 January 29, 2015
The Rise and "Fall" of Architecture for Humanity
For nearly two decades, the organization helped to spearhead social design and changed architectural culture in the process.
Homeless World Cup Legacy Center
All images courtesy Malcolm Reading Consultants/Architecture for Humanity
---
In the introduction to Architecture for Humanity's 2006 book Design Like You Give a Damn, founder Cameron Sinclair recounts a story from the early days of the organization. Half-joking yet deadly serious, he describes the day when, while still running Architecture for Humanity from a single cell phone around his day job at Gensler, he was contacted by the UN High Commissioner for Refugees, who told him that Architecture for Humanity was on a list of organizations that might be able to help a potential refugee crisis in Afghanistan should the U.S. retaliate in the wake of September 11.
"I hope it's a long list," says Sinclair. "No," comes the answer.
"We'd like to think it was because we had already become a voice for humanitarian design—an unexpected touchstone in the movement for socially conscious architecture," writes Sinclair of the incident. "The sad truth is that until 1999, when our fledgling organization got started along with a handful of others, there was no easily identifiable design resource for shelter after disaster."
Now, after their sudden and rather unceremonious demise, Architecture for Humanity has left architecture a very different world from the one it entered almost 16 years ago.
Francisco Perez Anampa School
It is important to note, as many have, that the closure of their head office in San Francisco does not necessarily mean an end to Architecture for Humanity. Thanks to the rather loose connection between the head office and its 59 chapters around the world, much of the organization's work of will be able to continue, as explained in an official statement from Architecture for Humanity's Board of Directors which was released last week:
"Many of the international chapters of Architecture for Humanity, while they share a common name, are separate legal entities and will continue their work without pause. Additionally, the U.S. based chapters of Architecture for Humanity are managed by all volunteer directors, and those directors have vowed to continue the work of the organization, though it may be under a different name. It is a testament to what Architecture for Humanity has meant to the profession that the work will continue."
However, as explained by an informative article from Fast Co.Design, even though most chapters were not closely connected to the head office, "the nonprofit was essentially just a place to keep their money," and now that this nonprofit has filed for bankruptcy, "there's still confusion over whether the chapters will ever see that money again."
When it comes to the legacy of Architecture for Humanity though, it's important to look beyond just the chapters that will continue the name or the many completed projects around the world.
Before Architecture for Humanity began, there were, of course, people already working in the field of socially-conscious design. A few international examples stand out, such as Architecture Sans Frontiéres (Architects Without Borders), founded in 1979, but most of this work was being done on a local level. However, the tremendous response to Architecture for Humanity's first project—an international competition they launched to design temporary housing for returning refugees in Kosovo—demonstrated that there was a thirst among architects to do more. As Sinclair wrote in Design Like You Give a Damn, "we realized that I wasn't the only disillusioned CAD monkey and that architects and designers really did want to make a difference."
Over the coming years, Architecture for Humanity became the "unexpected touchstone in the movement for socially conscious architecture" that Sinclair had hoped it to be in 2001. After winning the TED Prize in 2006, Architecture for Humanity developed the Open Architecture Network, which provides architects working for communities in need with readily available solutions to common problems, under what is essentially a modified Creative Commons license. For the first time, humanitarian architecture had a system to promote collective learning, increasing efficiency for initiatives around the world.
And if Architecture for Humanity had made significant progress by 2006, the 2007-08 financial crisis put them into overdrive. A reduction in the availability of more "normal" architectural projects, combined with the rhetoric surrounding "the one percent," heralded a rise in awareness around humanitarian design. As a result, the annual revenue of the organization increased from $2 million in 2009 to $12 million when Sinclair wrote his strategic plan for Architecture for Humanity in 2013.
By this point, humanitarian design had been transformed from a peripheral concern of architecture to being well and truly part of the mainstream, and this trend only intensified after Sinclair and co-founder Kate Stohr stepped down from the organization in late 2013. In 2014, the Pritzker Prize jury's citation for Shigeru Ban specifically noted his contributions to humanitarian design. This award prompted a critical response on Facebook from Patrik Schumacher, who lamented the increased focus on "moralizing political correctness" in architectural discourse – which in turn prompted a series of outraged responses that argued in favor of including humanitarian causes alongside the museums, private homes and skyscrapers that might traditionally be called "high" architecture.
But the question remains: if Architecture for Humanity was such a figurehead for the burgeoning movement of socially-conscious design, why the bankruptcy?
The answer might lie, paradoxically, precisely in this success. In his 2013 strategy, Sinclair warns that "lack of focus could spread resources too thin." Yet, as Fast Co.Design mentions, the fact that some volunteers felt that the local work was not deemed as important as headline-grabbing projects in Haiti or elsewhere, quoting managing director of Architecture for Humanity's New York chapter Rachel Starobinsky: "The comment thread has always been that the visibility always went to the disaster relief projects that headquarters was working on… The chapters were not really highlighted or valued as much as they could have been."
Collège Mixte Le Bon Berger
This strategy to focus media attention on headline projects may have been the key to Architecture for Humanity's success, and therefore to the success of the humanitarian design movement as a whole. However in recent years, the increased popularity of humanitarian design has brought a host of new players to the attention of the international media. Where once Architecture for Humanity was the firm of choice for media outlets interested in socially conscious architecture, now other non-profits like MASS Design Group and firms like NLÉ Architects and Kéré Architecture, as well as a whole host of other small entities, compete for the spotlight—and therefore for donations.
It seems then that what was best for the movement of humanitarian architecture was not necessarily best for Architecture for Humanity as an organization. In their 2012 follow up to Design Like You Give a Damn, Sinclair writes that one of the things he has learned was to "design yourself out of a job"—in other words, help a community until you are no longer needed. Whether he knew it or not, this is exactly what Architecture for Humanity had been doing—only the "design" was a model for socially-conscious architecture, and the "community" they were serving was architects worldwide, who believed architecture could be something more than flashy edifices for the rich.
Though it was probably entirely unintended, Architecture for Humanity ultimately sacrificed itself for a greater goal. Though the name and its work will live on in the chapters around the world, the true legacy of Architecture for Humanity will be how they helped change the landscape of architectural culture. While it's easy to feel a tremendous sense of loss at their slightly messy demise, we would do well to remember the words of Sinclair in his 2013 strategic plan: "Through training, practice, and a deep sense of optimism, architects see opportunities where others only see a void. This has been the driving principle behind Architecture for Humanity since our founding."