April 27, 2015
The Ten Greenest Buildings of 2015
The winning projects from the 2015 Committee on the Environment Top Ten Green Projects awards display a commitment to sustainable design.
The Collaborative Life Sciences Building for OHSU, PSU & OSU, one of the COTE's 2015 Top Ten Green Projects
For 19 years, the AIA's Committee on the Environment (COTE) has been rigorous in their efforts to single out excellence in sustainable design practices. As a result, the COTE Top Ten Green Project awards serve as a gauge of the rising standards in green design in the United States.
Each year, the honorees undergo an exhaustive examination of their practice, which includes a close look at the project's construction, water cycle, energy flows, and more. The committee's judging criteria aim to break down how these ten buildings contribute to their neighboring communities, improve comfort for building occupants, and reduce environmental impact.
This year, the COTE partnered with the Association of Collegiate Schools of Architecture (ACSA) to host the first annual Top Ten for Students. This competition honors student projects "that seamlessly integrate innovative, regenerative strategies within their broader design concepts." The winners for both categories will be honored at the AIA 2015 National Convention and Design Exposition in Atlanta.
Top Ten winners will have a chance at further glory if they can prove that their project has managed to make a significant impact over the years—the COTE also makes a yearly distinction for a past project that has done just that. The 2013 Top Ten winner, Federal Center South Building 1202, was this year's choice for consistently meeting their energy consumption goals as a regional headquarters for U.S. Army Corps of Engineers.
This year's winners show the diverse forms sustainable building can take. Shown below, each project illustrates one of the COTE's ten criteria.
The Bullitt Center 
The Miller Hull Partnership
Seattle, WA
CANMET Materials Technology Laboratory
Canada Diamond Schmitt
​Hamilton, Ontario
E+ Highland Street 
Interface Studio Architects (ISA) and Urbanica Design
Boston, MA
Collaborative Life Sciences Building for OHSU, PSU & OSU
SERA Architects and CO Architects
Portland, OR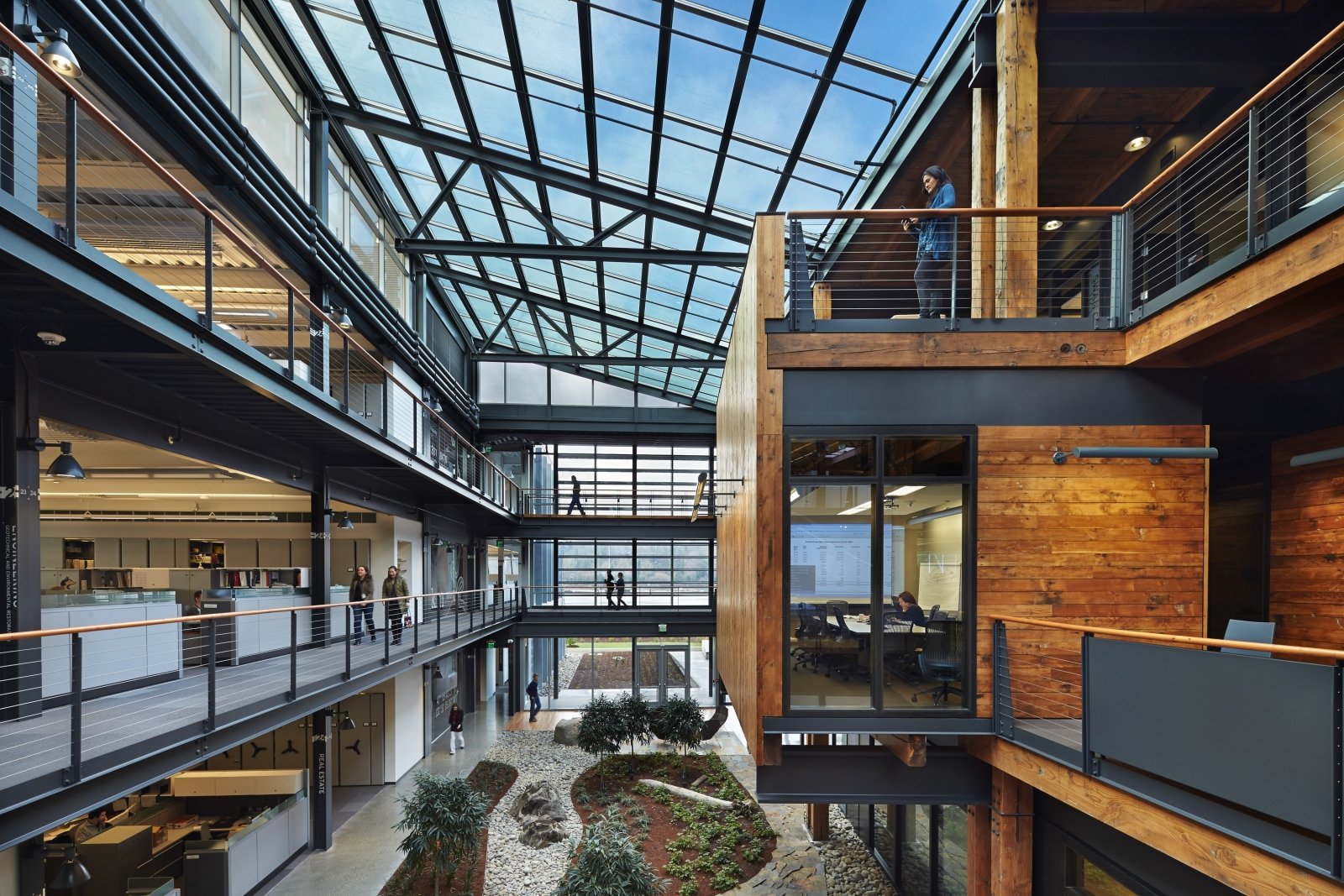 Federal Center South Building 1202
ZGF Architects
Seattle, WA
Hughes Warehouse Adaptive Reuse
Overland Partners
San Antonio, TX
New Orleans BioInnovation Center (NOBIC)
Eskew+Dumez+Ripple
New Orleans, LA
Military Medical Hospital 
RTKL
​San Antonio, TX
Sweetwater Spectrum Community 
Leddy Maytum Stacy Architects
Sonoma, CA
Tassafaronga Village
David Baker Architects
Oakland, CA
Courtesy James Ewing
University Center–The New School
Skidmore, Owings & Merrill LLP
New York City