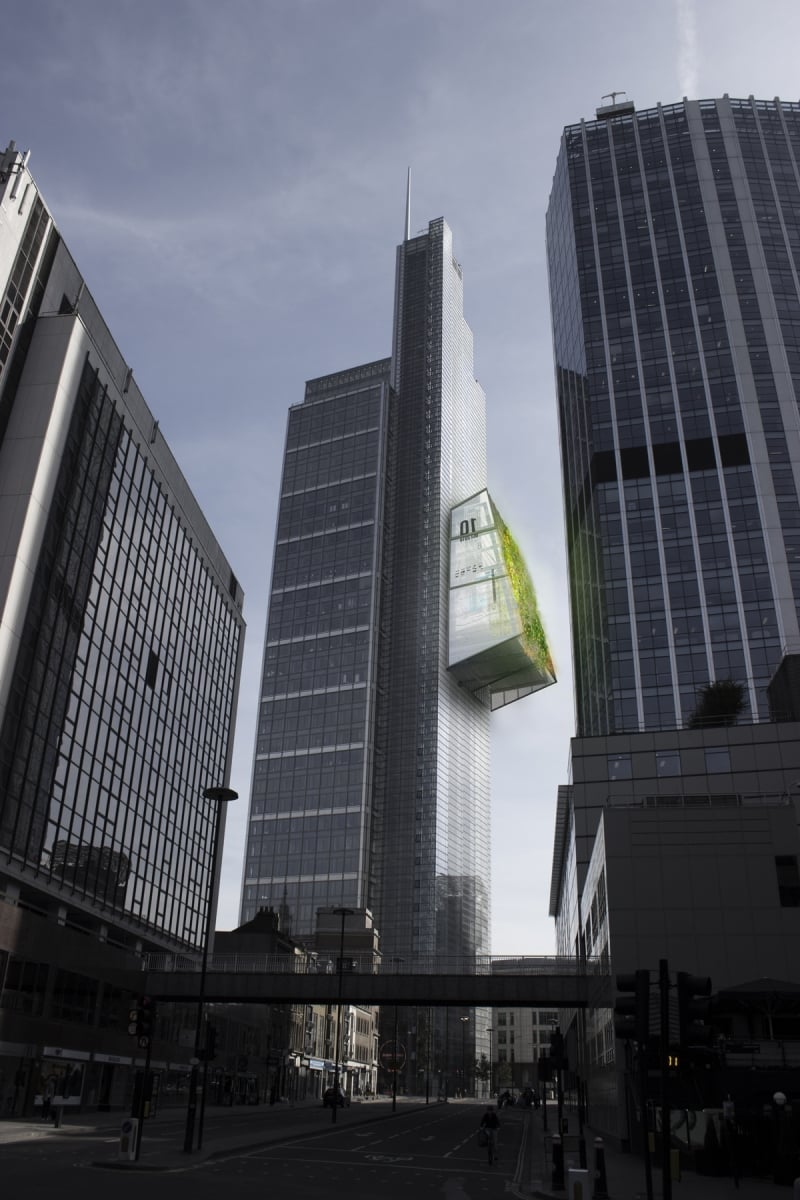 January 13, 2015
The Workplace of the Future Will Have Sky Gardens to Harvest Your Lunch
The winners of the second annual design competition outsmart the open office.
Top Honors: Organic Grid+
With their proposal, Sean Cassidy and Joe Wilson say they "wanted to provoke new debate and philosophies for workplaces of the future."
Courtesy Organic Grid+
By most accounts, employees are working longer hours, with many in open-plan office spaces that are making them less happy, less productive, and more likely to get sick. Interior designers Sean Cassidy and Joe Wilson want to change this.
The design duo took top honors in the Workplace of the Future 2.0 competition, presented by Metropolis and Business Interiors by Staples. (See all the finalists here.) Their submission, Organic Grid+, flipped the basic open-office layout on its head by putting the employee's well-being at the forefront, while also addressing ergonomics and sustainability in one concise plan.
"In our minds, workers are the heart of most businesses and should be treated as such," says Cassidy. "If we spend one-third of our lives at work, then we should create a greater cohesive relationship between the employee and the workspace."
Organic Grid+ strikes that balance by allowing employees to customize all walls, desks, and meeting rooms to best suit their needs. Existing offices can constantly be adapted and readapted with ease, eliminating the high costs associated with demolition or gut renovation. But Cassidy and Wilson's scheme goes beyond mere aesthetics and function. The project also incorporates a number of "health-conscious plug-ins," which the young designers claim could potentially reduce the number of sick days employees use, in addition to making the office a pleasurable place that workers want to be in.
Organic Grid+ does so by creating an alternative office environment that is user oriented and adaptable to one's personal and health needs.
Courtesy Organic Grid+
These plug-ins—in the form of wearable technology—would allow employees to track their health and suggest appropriate meals to improve morale, productivity, and concentration. Cassidy, 25, and Wilson, 27, also added "sky gardens" and planting stations throughout the space for employees to harvest their own food. These outlets would promote an active workplace and help reduce stress and noise, not to mention naturally cool the space without the overuse of costly HVAC systems.
"We saw several trends among the 153 entries," says Allsteel Office's A.J. Paron-Wildes, a member of the competition's jury. "What we loved about the winning entry was the fact that they incorporated a lot of forward-thinking products and concepts, along with minute details to create an incredible space."
Runner-up: Hybrid Office
Edward Ogosta strikes a healthy balance with the Hybrid Office. His proposal eliminates the open-office layout and finds a middle ground between open and closed spaces and individual and collective work.
Courtesy Hybrid Office
Like the winning proposal, Edward Ogosta's runner-up entry, the Hybrid Office, would do away with the open-office concept, which provides workers with little opportunity for respite and retreat.
"In the last decade, there's been a wave of boosterism for open offices, but it seems—quite obviously in hindsight—that not everyone is an extrovert," says Ogosta, principal of his namesake Culver City–based architectural firm. "Hybrid Office seeks to create a balance between introverted and extroverted workspaces that would allow for both active collaboration and quiet focus."
Hybrid objects, such as the tree-chair and sky-cave, provide employees with many experiential options to take refuge in.
Courtesy Hybrid Office
Both Organic Grid+ and the Hybrid Office, along with a number of other notable submissions, expertly illustrated how technology can transform a space and enhance the employee experience without significantly altering existing structures. "The graphic quality of many of the submissions was amazing," says Rachel Casanova, jury member and director of workplace for Perkins+Will's New York office. "It's clear that we are thinking in new ways, and the tools to do so are allowing for innovative solutions."
The open-office layout hasn't changed much since Frank Lloyd Wright's pioneering 1906 Larkin Administration Building. But if this year's competition submissions are a sign of what's to come, then a much-needed shift is surely ahead in the future of workplace design.