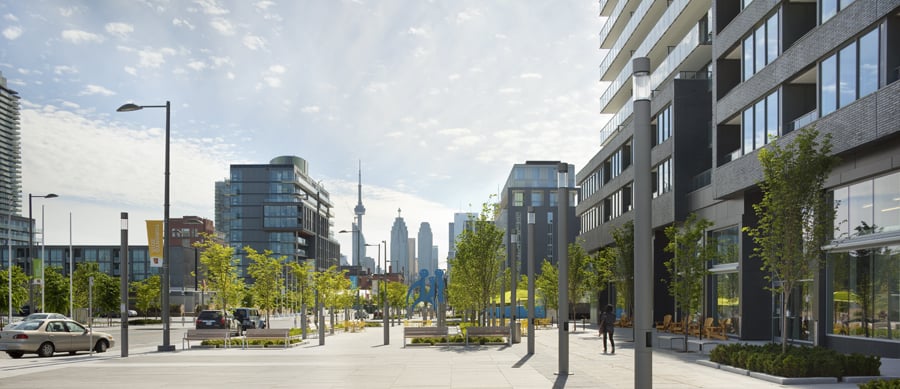 August 1, 2017
The World's Best Design Cities 2017
Metropolis editors choose 15 cities around the globe that set the bar highest for progressive design and good living.
For our annual cities issue, we analyzed two years of Metropolis coverage to identify the urban centers where architecture and design are flourishing. We take a critical look at 15 cities, examining their achievements and challenges and highlighting the advocates who are moving forward.
LOS ANGELES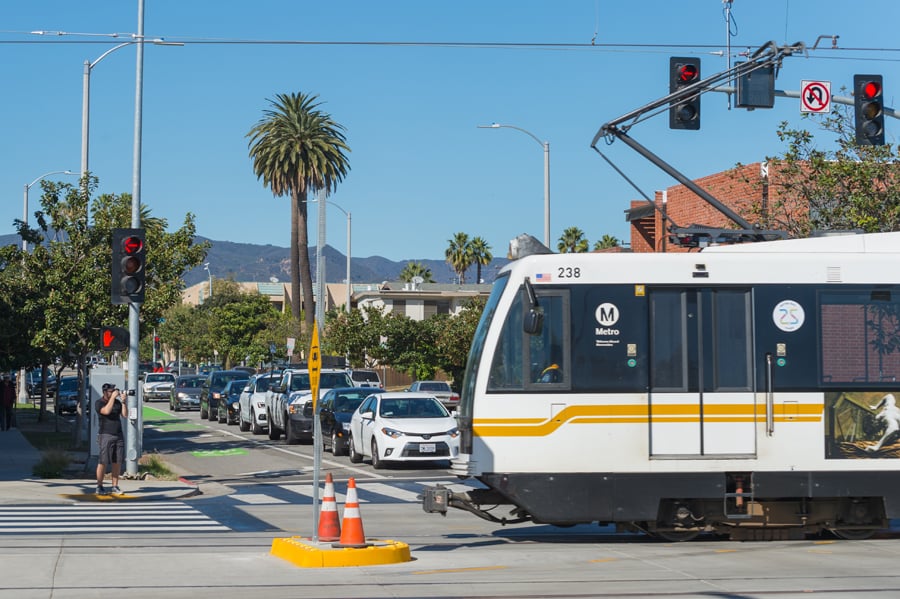 Addressing a Manhattan audience during his 2012 Comedy Central special, Weirdo, millennial Renaissance man Donald Glover turned snarky: "I lived in downtown L.A. It's kind of like the eighties decided to stay there. They're like, 'You guys go ahead and be the nineties. Go enjoy Ace of Base. We'll be here practicing the moonwalk and selling crack!'"
Until very recently, bashing downtown Los Angeles (DTLA) was as casually accepted as digs against its traffic, smog, and superficiality. Despite the city's efforts during the early 2000s to revitalize the area through heavy investment in subway construction and cultural building expansion, the so-called revival was far from convincing.
A mere half decade ago, the man credited with designing the building that sparked downtown's renewal had all but given up on the area: "We can will it into being eventually….Maybe in 10 to 20 years . . . I would guess it's more like 30 or 40," moaned Frank Gehry in a 2013 interview with Los Angeles magazine. L.A.'s biggest starchitect also added that he wished that Walt Disney Concert Hall had been built in Westwood.
Fast-forward to 2017.
In the time since Gehry's cranky tirade, the perception of DTLA has shifted. With L.A. now the front-runner to host the 2024 Olympic Games, the district currently finds itself in the midst of a huge building boom. The Los Angeles Times reports that the number of large projects under construction is the highest in nearly a century. This has fueled ravenous residential growth. In 2016, Realtor.com named downtown one of America's ten fastest-growing neighborhoods, with a projected growth rate of 8.8 percent. The Southern California Association of Governments expects its average annual stream of 5,000 new residents to continue through 2040.
Angelenos have taken notice: "Warner Bros. Music Group relocating from Burbank to the Arts District is a big sign of confidence that DTLA is the future," exults Brigham Yen, creator of the popular urbanist blog DTLA Rising. "I'm also really excited about what the skyline is going to look like in the next ten years. We'll have one of the best skylines in America."
The case for downtown's revitalization has been cemented by a laundry list of transformative projects: Diller Scofidio + Renfro's parametric Broad Museum (2015) has become a cultural mecca while A.C. Martin's soaring Wilshire Grand Center (2017) bucked the trend of L.A.'s infuriatingly flat-topped skyline. The 1,100-foot tower is now the tallest building west of the Mississippi River, and the first L.A. skyscraper adorned with a spire since the Art Deco city hall was built in 1928.
L.A. Metro's completion of the $2.5 billion Exposition light-rail line (2016) linking L.A. to Santa Monica reinforces DTLA's centrality. The Expo marks the opening of the city's first rail connection to the Westside since the Pacific Electric Red Car was discontinued in the 1950s. Rios Clementi Hale Studios' playful face-lift of Grand Park (2012) gave downtown its first green gathering space. Even Gehry has had a change of heart: In 2015 he was selected to create the L.A. River "Revitalization Master Plan," which will include the transformation of 11 miles of glorified storm drain from Griffith Park to downtown into a public park artery. In late 2016, his indefinitely delayed Grand Avenue Project, across the street from Disney Hall, was resurrected thanks to a surprise $290 million influx of Chinese capital.
With the area's growing population fueling an increasingly vibrant street life, local restaurants and venues are filled to capacity: L.A. Live, REDCAT, the Ahmanson, Disney Hall, Grand Central Market, Little Tokyo, the Novo, Bottega Louie, the Orpheum…And just try getting a reservation at Orsa & Winston on Friday night.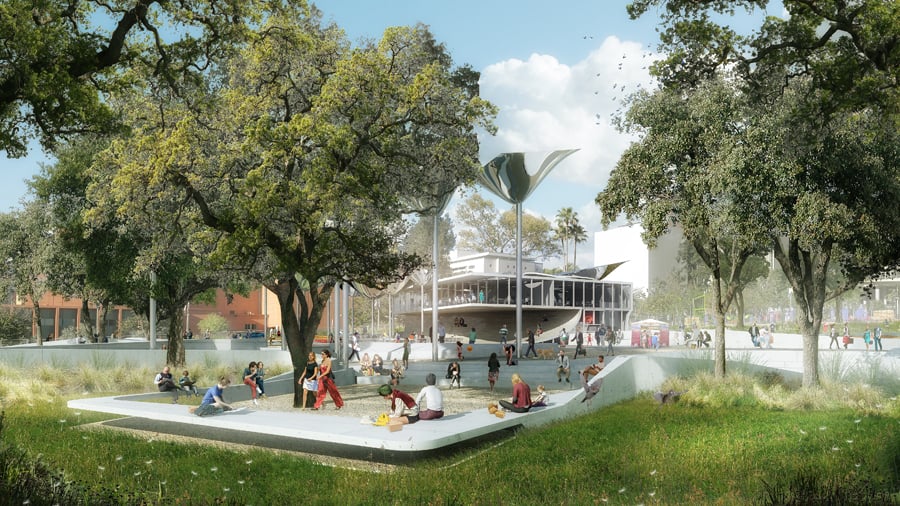 But while the brick and mortar thrives, the city finds itself in desperate need of more public parks. "The new OMA park at First and Broadway (FAB) is a large step forward for a city that's notorious for undervaluing its public spaces, but there needs to be more," reflects author and bicoastal Wired journalist Sam Lubell. "Pershing Square is a concrete monstrosity." Fortunately, the winning redesign of the park, by French firm Agence Ter, promises an abundance of greenery.
Another even more pressing problem is the fact that there is a growing population of close to 58,000 homeless people in L.A. County, several thousand of whom live downtown. Gentrification has encroached on skid row, making the area smaller, denser, and more volatile. The city has made an effort to direct the needy to organizations that provide food and temporary shelter, but it's barely made a dent. The recently passed Measure H, which raises the sales tax one quarter of 1 percent (approximately $355 million per year for a decade) and allocates the revenue toward homeless needs, will certainly help. County officials are convinced that it, combined with Measure HHH (essentially a $1.2 billion bond for homeless housing), will get many individuals off the streets.
That's years away, though. Right now, downtown Los Angeles has two realities. It's a fun, vibrant place for those who work in the skyscrapers, play in the clubs, or live in fancy refurbished lofts, but it's also a squalid ghetto, where the dispossessed scrounge for food and battle to hold on to their last shreds of dignity. And never the two shall meet. But there's hope. The City of Angels has taken giant steps forward and made quantifiable progress in addressing its most dire problems.
As for Glover, downtown L.A. mocker extraordinaire, well, he's living here again. We're finally out of the 1980s, but not quite out of the woods. —Thomas Musca
---
COPENHAGEN
You don't have to go to a museum or a showroom to find good design in Copenhagen. The city's design legacy goes beyond chairs (a permanent exhibit at the Design Museum Denmark pays tribute to those, above) and ceramics from brands like Georg Jensen, Dansk, Hay, and Royal Copenhagen. At almost every turn, Copenhagen embodies the best of Scandinavian design philosophy: eye-pleasing, functional design accessible to the greatest number of people.
From the majestic row of wind turbines on the horizon, to the harmony of neoclassical and modern architecture, to the efficient transportation system down to the thoughtfully executed municipal trash bins that benefit the homeless, the Danish capital is a living demonstration of what good design can bring to a city.
Determined to become the world's first carbon neutral city by 2025, Copenhagen teems with architects, designers, futurists, and engineers racing to erect sophisticated green structures that bring residents closer to nature and to one another.
Not all experiments are triumphs, of course, like the maligned Inner Harbor Bridge (a.k.a. "kissing bridge"), which opened in 2016 after three years of delays. Critics decry the bridge's mechanical problems, slippery surface, and hazardous curves and chicanes for bike riders.
Yet this was a pioneering project that points a way forward for other cities in terms of biking infrastructure. Copenhagen remains a vital testing ground for sustainable, citizen-centered design interventions and an example to the rest of the world. —Anne Quito
---
CHICAGO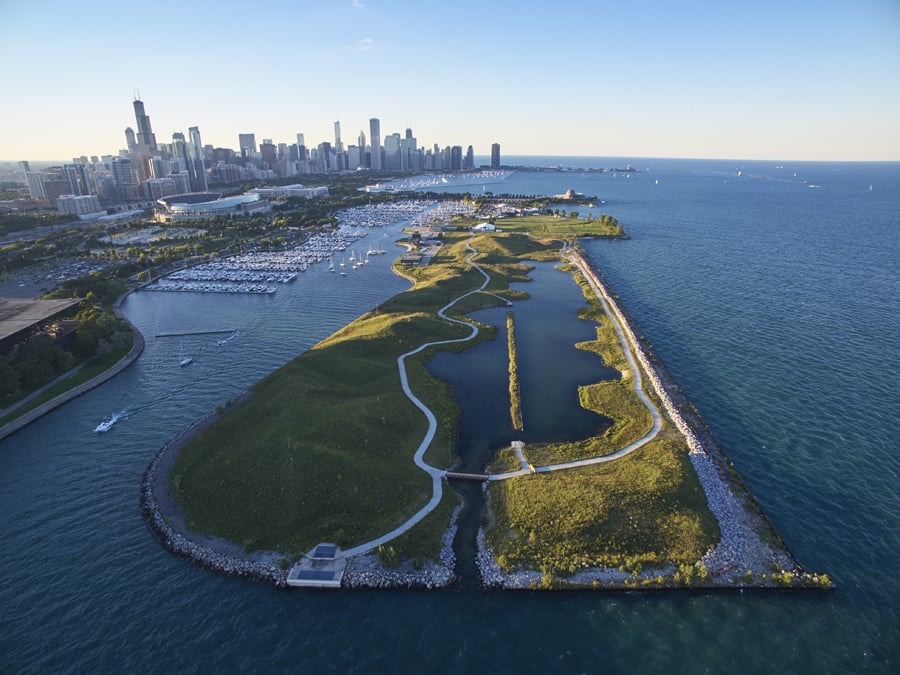 As a postindustrial city with a respectable contingent of designers, techies, and assorted creatives inhabiting its converted warehouses and factories, Chicago has its fair share of interior designers selecting furnishings that match the patina of the exposed brick just so, and specifying the delicate lighting that hangs off brawny wooden ceiling beams. But the best news from the shores of Lake Michigan is about the adaptive reuse not of buildings but of postindustrial landscapes.
Through the early and mid–20th century, Chicago's land was scarred by steel mills, railcar factories, quarries, and more. Today's Chicago designers are rediscovering these landscapes and applying the same kind of disjunctive layering of history that the best architectural adaptive reuse projects show off. There's Studio Gang's Northerly Island, once the site of a small airport on a peninsula in Lake Michigan, now a hilly wetland habitat for herons and cranes. And there's the 606 by New York–based Michael Van Valkenburgh Associates, Chicago's workaday answer to New York's High Line.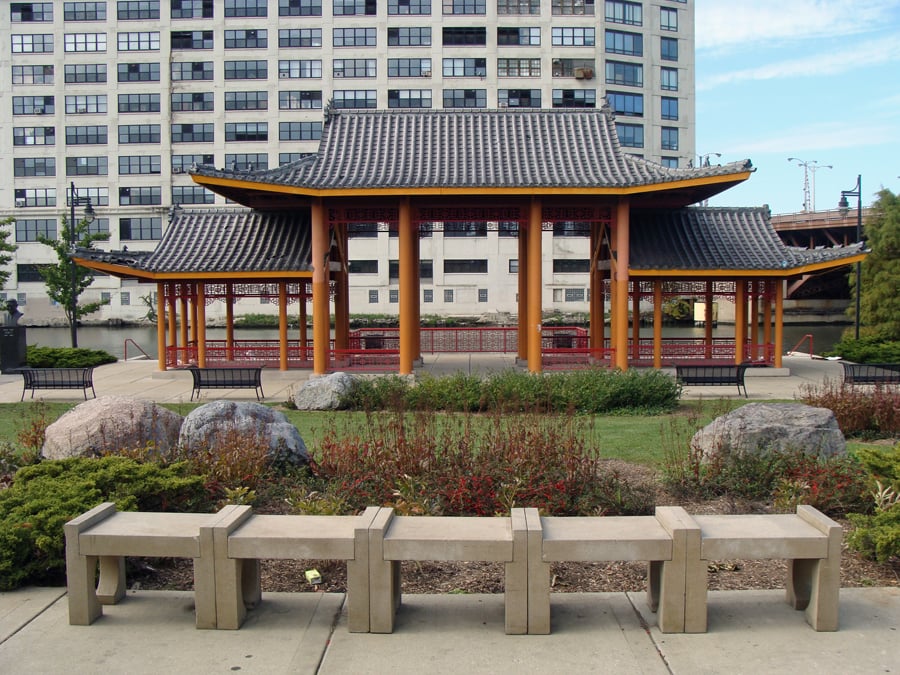 Landscape architect Ernie Wong's Site Design Group (tapped to join the landscape team of the Obama Presidential Center) has designed several parks that put Chicago's rough edges on display, like Ping Tom Memorial Park. It occupies a former rail yard along the Chicago River and is oriented around a series of freight cranes that loom over the landscape like Japanese monster movie titans.
The redbrick company town of Pullman, declared a national monument by President Obama, may be the next frontier for a history lesson etched in the land, as its redevelopment is being spearheaded by the National Park Service. More ambitious still are the redevelopment plans swirling around the 600-acre former U.S. Steel manufacturing site called South Works, where concrete retaining walls hundreds of feet long (where ships would dump iron ore) appear like herculean vernacular land art. With this fall's Chicago Architecture Biennial, there'll be an established international platform to show these sites off to the world.
One chapter of Chicago's design history that's unlikely to be shined up for a biennial debut is the legacy of the city's Plan for Transformation, an ambitious scheme to tear down nearly 19,000 public housing units that had long descended into chaos and replace them with mixed-income housing. Nearly 20 years later, the plan limps along, trying and failing to meet public housing unit quotas promised long ago. Meanwhile, there are almost 300,000 people on the city's housing wait list.
There are venerable architects working on honorable, stylish, and well-integrated public housing in Chicago. But the overall civic apparatus is hamstrung by a market rate–led system that gives developers huge amounts of leeway in how much affordable housing is actually produced, NIMBYs who barely bother to disguise their repulsion for the poor, and historical bureaucratic dysfunction that's truly singular. It's a reminder that design is just as much a result of prosaic public policy as it is divine inspiration. As these landscape examples show, there's plenty more room for affordable housing in Chicago. But is there enough will? —Zach Mortice
---
TOKYO
Tokyo may be famed for its hyperactive skyline. But one particular type of structure is having something of a moment: hotels. As the countdown to the 2020 Tokyo Olympic Games draws near, the Japanese capital is in the grip of a hotel gold rush. From boutique design hotels to cloud-brushing skyscrapers, a string of new establishments have recently opened or are in the pipeline.
It's clearly something that Tokyo needs. Experts estimate a shortage of 10,000 hotel rooms if 40 million visitors show up in 2020, as has been predicted. Recent openings include Ascott Marunouchi, with 130 contemporary serviced apartments in a 29-story skyscraper near Tokyo Station. Architect Kengo Kuma has also designed a new hotel with Mori Trust to be built in Ginza (while also working on the new National Stadium).
But perhaps the most head-turning new arrival is Trunk (Hotel) in Shibuya— just off fashionable Cat Street—which opened in May, filling a large design hotel gap in the neighborhood. Designed by Mount Fuji Architects Studio, with interiors by Jamo Associates, the four-story hotel has 15 guest rooms with expanses of recycled wood, herb gardens, spacious terraces, and furniture by Truck, as well as its own convenience store by Torafu Architects. Highlighting its goal to make Shibuya a "cultural center," Masahiro Harada, a Mount Fuji Architects Studio cofounder, explains: "Tokyo hotels have been bipolar until recently—there were only luxury hotels for wealthy people or quite cheap hotels for business use."
Pinpointing the new hotel's Japanese design roots, he adds: "The design of Western-style hotels, which are dominant in Japan, is dependent on vertical walls that clearly divide interior and exterior spaces. Trunk applies a horizontal 'eave-veranda'-style design, by which interior and exterior spaces are loosely connected like traditional Japanese houses. I think this kind of Eastern design is effective when we think of a fluid new urban life."
It's not just about hotels.
Tokyo's pre-Olympic development rush extends to office towers, infrastructure, and new transit stations. However, some believe the city's renaissance errs on the conservative side. "There are fundamental urban changes—like the relocation of Tsukiji [fish market] from the city center—but overall there seems to be a mandate to change as little as possible," says Shohei Shigematsu, a partner and director at OMA New York, which is currently building the high-rise Toranomon Hills Station Tower. "It's a very different tone than the modernization of infrastructure from the '64 Tokyo Olympics." —Danielle Demetriou
---
LONDON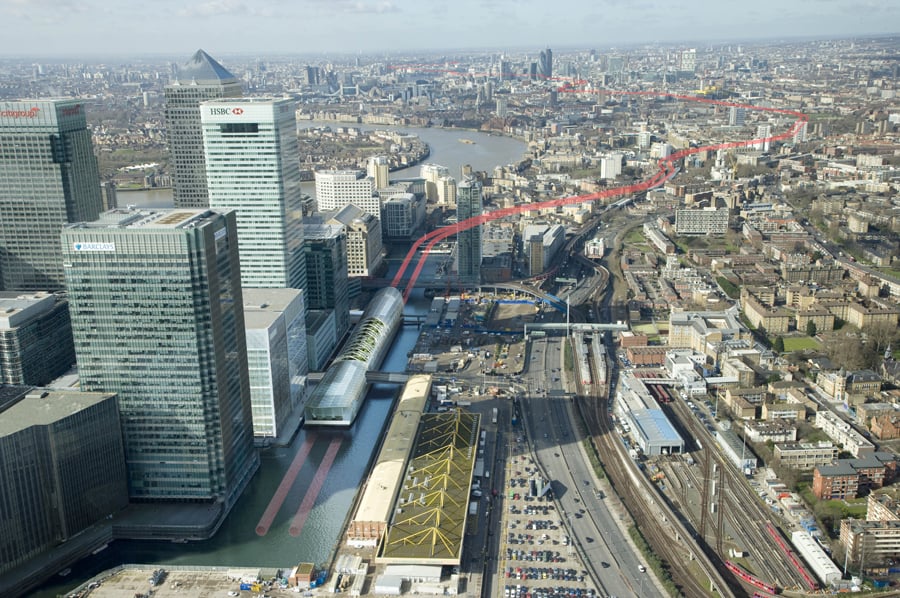 London, a mercantile city turned financial boomtown, is at a crossroads. For decades, architecture and design have flourished in its nooks and cracks, and there has always been an institution, a gallery, or private venture prepared to support ideas. But things are changing: The United Kingdom is now destined to leave the European Union and, amid the uncertainty that characterizes this limbo, it feels as though more people are leaving than arriving. Is this true? Hard to say. But it certainly feels that way.
With that said, London remains, for now, one of the capitals of the world, and large-scale efforts are being made to make its medieval streets, grand open spaces, shopping districts, and creative niches more cohesively connected. This year the Crossrail project will see a soft opening as the Underground is connected to an entirely new track: the Elizabeth Line (a patriotic gesture that feels rather less exciting in this postreferendum reality). Running far east to far west—and through freshly designed stations at Paddington, Canary Wharf, Tottenham Court Road, Liverpool Street, and Whitechapel—the trains will sport a rather soothing shade of mauve.
Aboveground, experiments of a different kind of urban mobility have been seeded. This spring, Citymapper, the go-to travel application for the major cities of the world, tested its innovative Smartbus route. If and when the test is implemented as a full service, algorithms will decide a particular bus route's viability and frequency in real time. Each bus will talk to other transit routes and combine with them during busy times, and this has all stemmed from a ground-up digital application. If a "bus revolution" is to be the next phase of the "internet of things," London will be its playground. —James Taylor-Foster
---
MILAN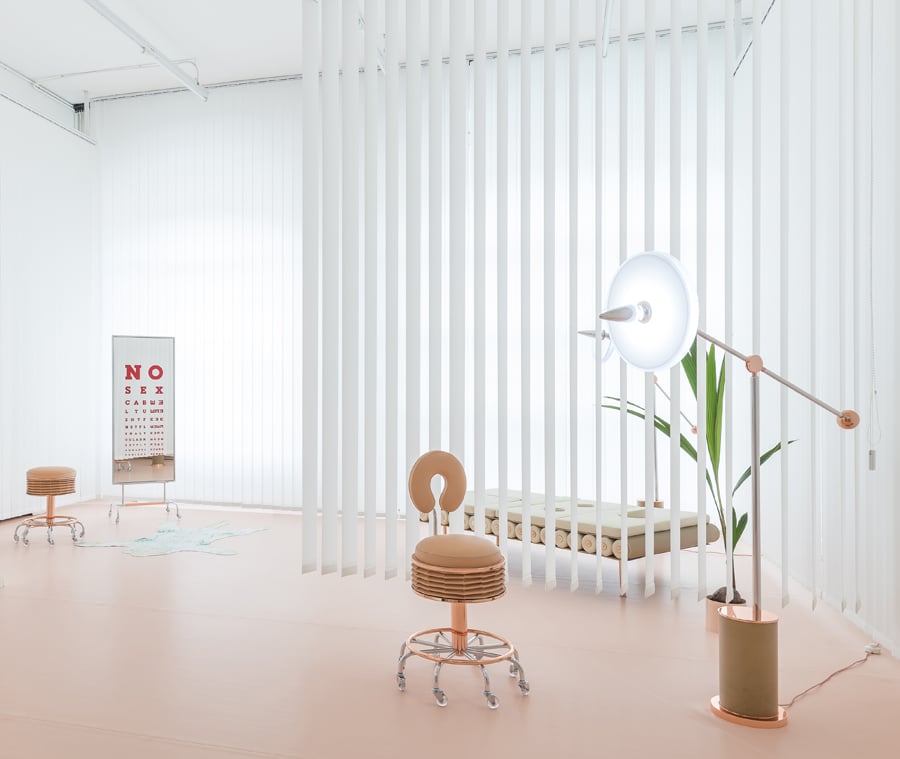 Milan is a city of extremes—the crowds coursing down Via Tortona or gathering outside Bar Basso for one week in April are no more than a memory when the city is deserted in August. For years, it was also a city of extreme traditionalism: The Salone del Mobile's gravitational pull on innovative international designers seemed to have little enduring influence on the native design culture. The Triennale hardly helped matters, producing devotional homages to the maestri of midcentury design rather than celebrating new talents.
Today, however, Milan is slowly being catalyzed as a design city through interdisciplinarity, a powerful force that was suppressed here and elsewhere through the professionalization of the industry. Design absorbs and bleeds into art, architecture, publishing, curation, and food, both ideologically and logistically—at times borrowing the mechanisms of the gallery system, at times integrating into community spaces with pragmatic outcomes. A young generation of graduates is finding more reasons to remain in Italy, as well as more spaces for inhabitation or display. The most visible evidence for this is the rise of flexible workspaces, studios, and exhibition spaces.
Atelier Biagetti, for example, is a design studio that doubles as an exhibition space—its show at the 2016 Salone del Mobile, No Sex (shown above), was "part of a trilogy of works curated by Maria Cristina Didero that explore different aspects of some of contemporary society's greatest obsessions," says designer Alberto Biagetti.
That same year, Macao—a defunct slaughterhouse that is now a self- organized arts and event space—collaborated with the Dirty Art Department's highly experimental Wandering School, which mixed plumbing and performance with clubbing and critical discourse.
In this intensely social city, design is being challenged as an isolated and elitist field, and is transforming into an open territory for exchange among experts, enthusiasts, and amateurs alike. —Tamar Shafrir
---
SAN FRANCISCO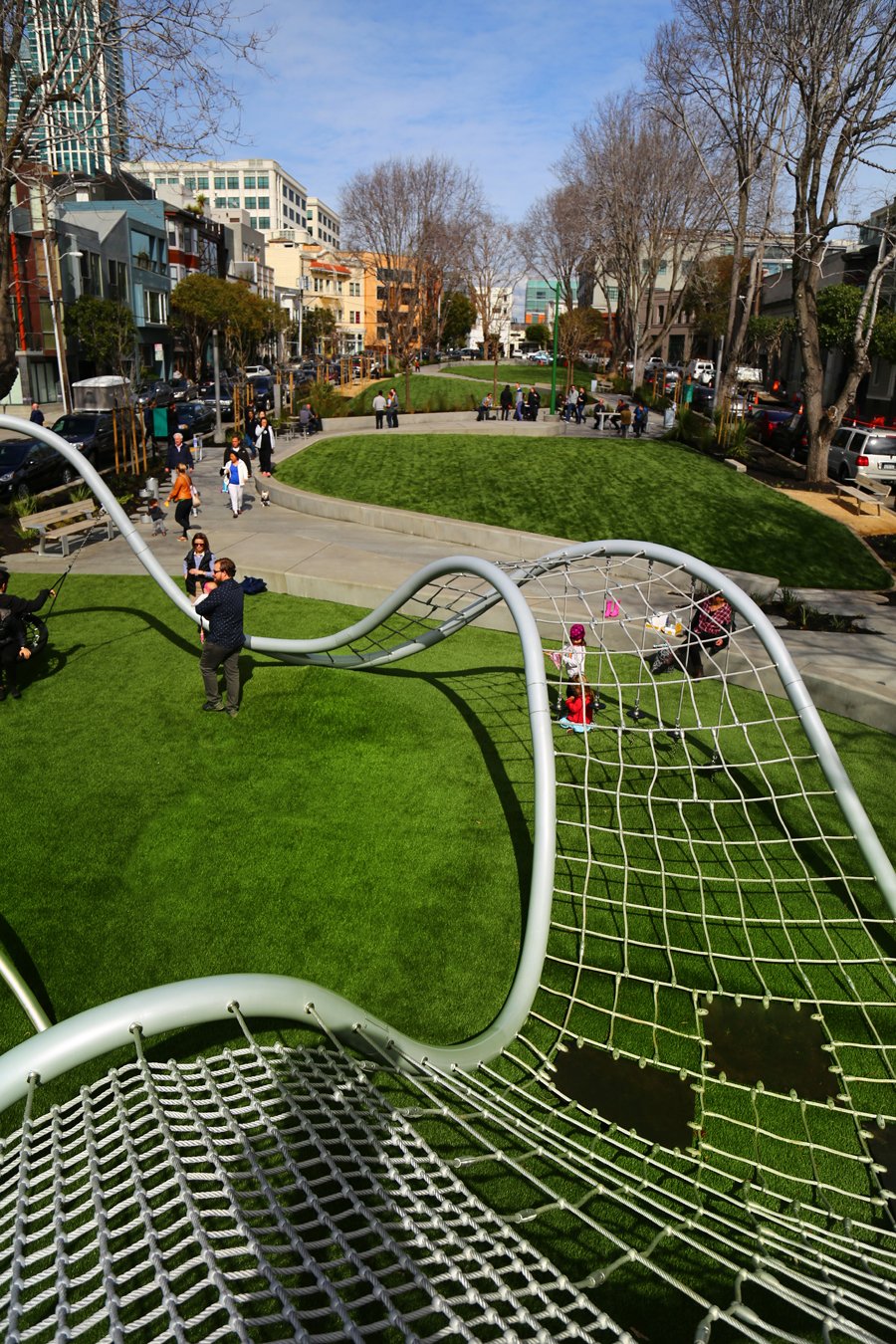 San Francisco is a famously beautiful city, but it can be a frustrating place for architects. "Many of us are feeling that it is increasingly difficult to run our practices in San Francisco," says architect Neal Schwartz, who has been doing mostly residential work in the city over the past 20 years. "For many of our clients, it doesn't seem worth it to have these Kafkaesque fights with the planning department and be in permitting for a year for a simple remodel."
The irony of the situation is that it should be a wonderful time for architecture in San Francisco: The economy is booming, and there's a serious housing shortage. But while there is certainly major development going on—the 20-block Transbay District is under construction, with a forest of high-rises, including the second-tallest one on the West Coast—the city's regulatory hurdles have created a daunting permitting process. In a 2014 U.S. Chamber of Commerce Foundation study of ten major cities, San Francisco earned the distinction of having the most expensive, as well as the longest, permitting process for small commercial buildings. The city's planning department has a greater regulatory burden than any other city in the United States, processing more than 8,000 building permits in 2015–16.
Traditionally, the city has been very cautious about development. San Francisco is defined by its residential neighborhoods; its hilly topography and microclimates accentuate the difference between Russian Hill and North Beach, the Mission and Noe Valley. Rebuilt en masse after the 1906 earthquake, the city has "a lot of beautiful urban fabric, which is very consistent—more so than in a lot of other cities," says Maia Small, manager of design review in the city's planning department. San Francisco was the first city in the United States to put an annual limit on high-rise development; more recently, residents voted that any development seeking a height exemption along the downtown waterfront had to be approved through the ballot box.
In addition to the regulations, there is often a political minefield to navigate. Projects large and small can meet all the zoning requirements and pass the hurdles of environmental, historical preservation, and design reviews, but still be stymied by objections by neighbors. (The city's "discretionary review" system can be used to appeal anything.)
"There are lots of stakeholders and lots of opinions," says architect Charles Bloszies, whose firm specializes in commercial buildings. "Being socially progressive can put handcuffs on design in the public realm, because everyone has a voice." While all projects are subject to the same system, regardless of whether their architecture is traditional or forward-thinking, it's easy to see how this situation might put a damper on a client's architectural ambitions. The director of the city's planning department, John Rahaim, has been quoted as saying the process is about "preventing really egregious architecture," but others feel that it results in too much uniformity. "The planning approvals process tends to reward the lowest common design denominator," says architect Cary Bernstein, who started her practice in New York and moved to San Francisco 23 years ago. "The deadly repetitiveness of recent multifamily housing developments is killing the spirit of the city."
To create a better environment for architecture in general, the most obvious step is to streamline the permitting process. The planning department has agreed to make the easiest reforms, suggested by a committee of the local chapter of the American Institute of Architects, to revise the design review process. Curbing the specter of discretionary review could embolden more projects. "Anything that results in less predictability for a project is enormously concerning," says the city's director of current planning, Jeff Joslin.
But beyond process reform, what are some big moves that San Francisco could do to foster a design culture? As a large organization that continuously requires new buildings and renovations, the city itself has the potential to promote new talent. While it contracts out the largest projects (typically with budgets over $20 million), San Francisco uses its own architecture division, including 31 licensed architects and seven landscape architects, to do most city work. In comparison, New York City's Department of Design and Construction (DDC) maintains an in-house design team of only six architects. Instead, it outsources most work to a prequalified list of 26 firms, which has included notables such as Studio Gang and BIG, as well as many microsize firms. "Each architect has a unique outlook and it shows in the final product," says Margaret O'Donoghue Castillo, chief architect at NYC's DDC. "The variety you get from having multiple architectural voices is very stimulating."
The city could also turn long development timelines for projects into a virtue of sorts by encouraging more iterative projects like PROXY in Hayes Valley, designed by Berkeley-based firm Envelope A+D. Built from cheap shipping containers, the temporary retail/shopping/public gathering space launched in 2011 on two city-owned parcels awaiting redevelopment. Envelope A+D has since created a community center placeholder on the site of a decommissioned power plant in Hunters Point and formed a public plaza out of the corner of a parking lot in the East Bay—the equivalent of rapid prototyping in architecture.
Individual neighborhood groups have also organized to champion some high-profile public projects, generating discourse about what is good design. The $3.8 million redesign of South Park began as a privately funded project by residents, who worked with Fletcher Studio and consequently brought a proposal to SF Rec & Park. In the Castro district, a group of residents are hoping to raise $10 million for the redesign of a small but significant public plaza that honors the gay activist and city icon Harvey Milk. The design itself is being determined through an open competition managed by the local chapter of the American Institute of Architects.
"There are so many moving parts in what brings about design excellence, but my sense is that more government regulation is not the answer," says David Meckel, director of campus planning at the California College of the Arts. "You need to serve public interest, but you need to partner with innovators." —Lydia Lee
---
VENICE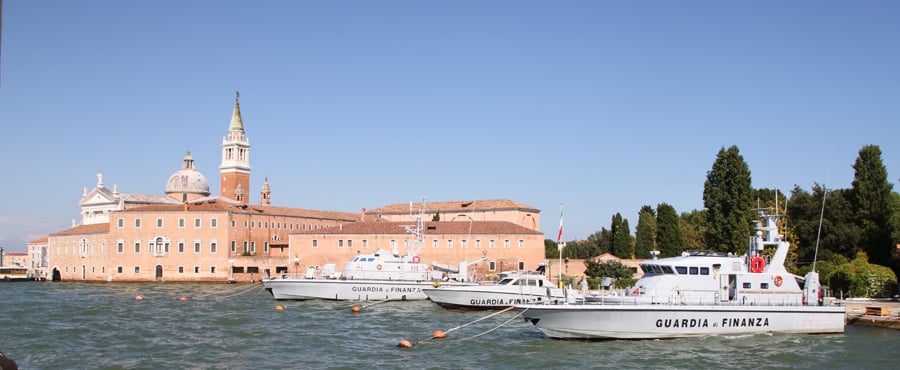 "Venice lives thanks to big disasters," argues Jane da Mosto, an award-winning environmental scientist and activist, in reference to the near cataclysmic storms of 1966 that marked a turning point for the islands. "They have caused [the city] to fundamentally change direction." Following the floods, foreign investment poured into the city, and the Italian state took notice. Art became a renewed concern—as did architecture, design, and the protection thereof—and a vast project for controllable floodgates, Modulo Sperimentale Elettromeccanico (MOSE), was initiated.
That was the 1980s. Today, MOSE is almost operational, but the political ground has shifted significantly since work began. Amid the looming doubts over an expensive and, perhaps more worrisome, outmoded flood defense system, Venice is on the verge of tourist saturation. What might be less visible, however, is the homegrown resilience currently sprouting across the sestieri of the city. While the world-renowned biennale of art, architecture, dance, theater, and cinema rhythmically injects the islands with a dose of the global jet set, it's what's occurring year-round—in the off-seasons—that is making a real mark.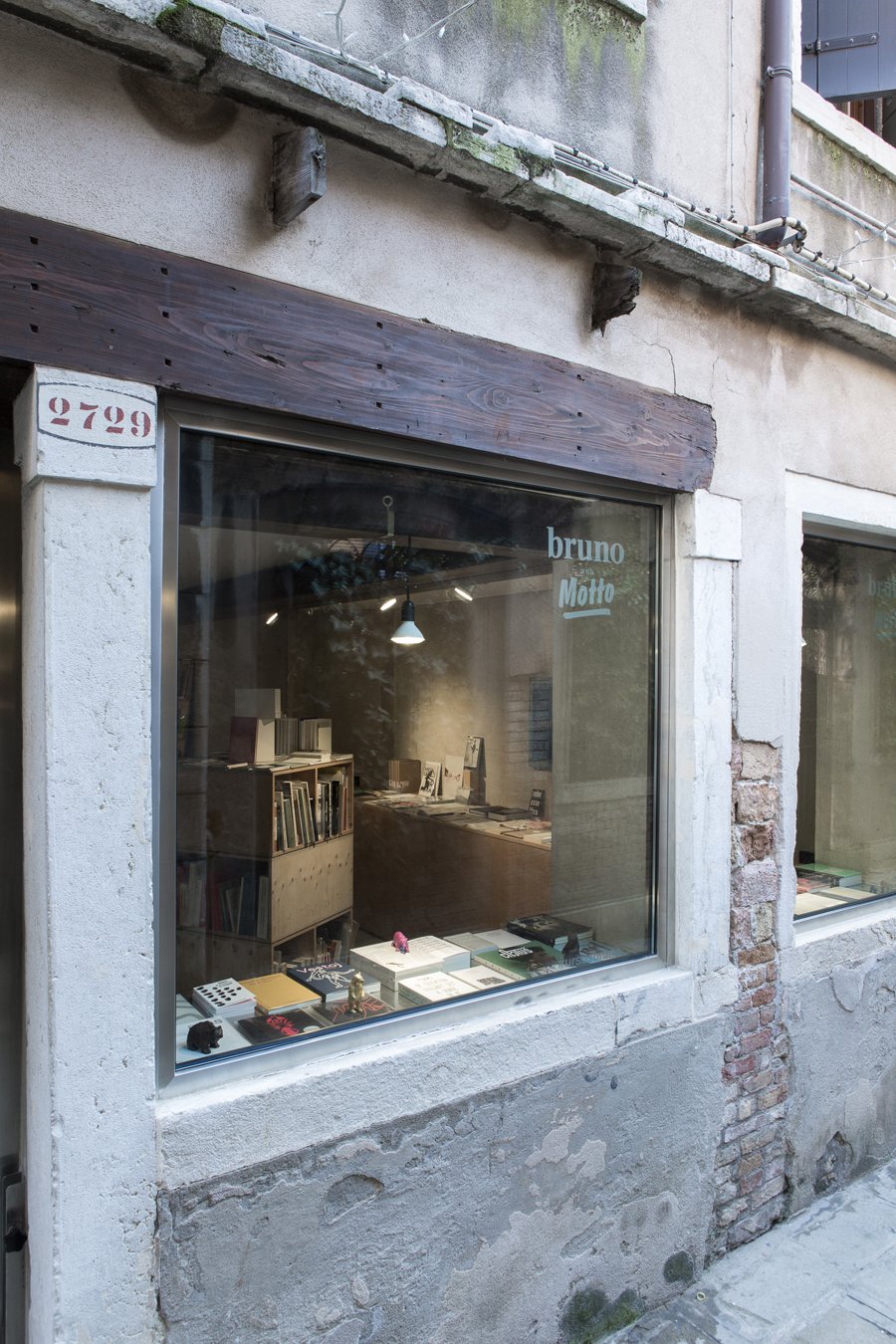 Bruno, a graphic design studio coupled with an art, architecture, and design bookstore embodies a tangible manifesto for "staying put" and actively (re)developing the city's professional and creative core. Mattaccino, a cultural association with a focus on gastronomic delight and "culinary craftsmanship," works alongside designers and chefs to create pop-up kitchens and floating restaurants. Funded residencies at Fondazione Cini, the spectacular old monastery on the island of San Giorgio Maggiore, pulls young scholars into the city from around the world and across the calendar. These enterprises, and others like them, attest to a renewed commitment to La Serenissima and a revival of her local creative community. —JTT
---
BERLIN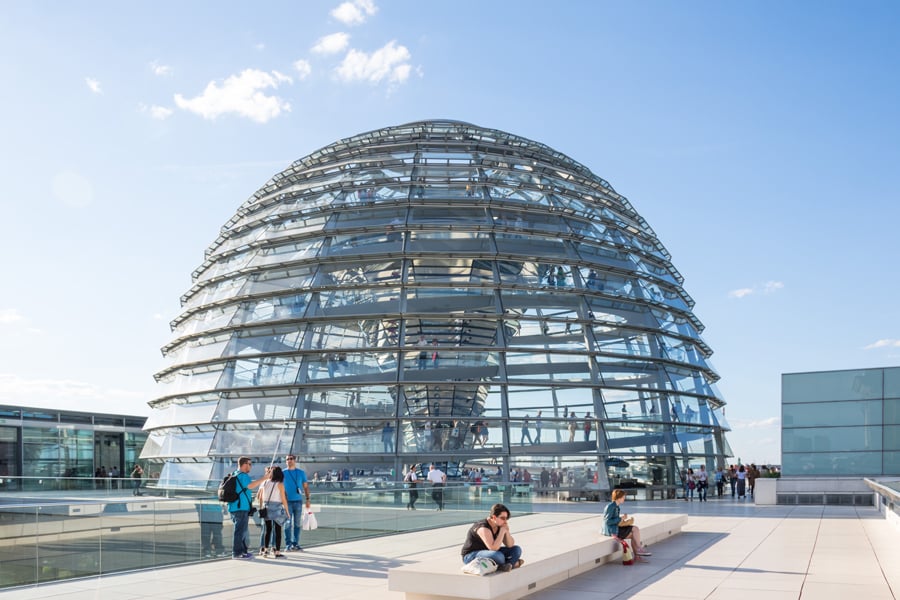 A near century-long process of dramatic, and sometimes traumatic, urban transformation has redefined and reinvented Berlin many times over. This gives the city a peculiar transience—everything is possible and always changing—making it an incredible incubator for those in the creative industries.
The German capital is an educational hub for design, with diverse programs, including those at the Technical University Berlin, the Berlin University of the Arts, and the Hasso Plattner Institute School of Design Thinking. Tuition at these institutions, like most places of higher learning in Germany, is nominally free—even for international students. Firms like Fundamental.Berlin, New Tendency, Perret Schaad, Schindelhauer Bikes, and Michael Sontag are a mere sampling of the creative talents churned out by these programs.
Yet, some of the city's talent pool has roots farther afield, benefiting from policies at the national level: For many years the German government has offered a "freelance" residency and work permit, obtainable in one interview for no more than 110 euros. The scheme is open to many categories of workers from creative fields, architects and artists included. In an era of tightened borders—the U.K. has made immigration without fixed employment very difficult in recent years, and getting into the United States has long been nearly impossible and unaffordable—Germany has run counter to the trend. Berlin has become an international hub for design, attracting global brands and studios, including Artek, Bocci, and IDEO, thanks in part to the country's visa program. These firms, along with those in other industries such as tech, benefit from the elusive "cool" of Berlin and its collective of artists, designers, and all stripes of freethinkers who've made the city what it is today.
Of course, prices have risen hand in hand with the city's rising profile, worrying many people, from local residents untouched by global hype to the homegrown creative community. Yet the city remains, for now, a landing place for those seeking a place to begin designing and creating. —Jessica Bridger
---
NEW YORK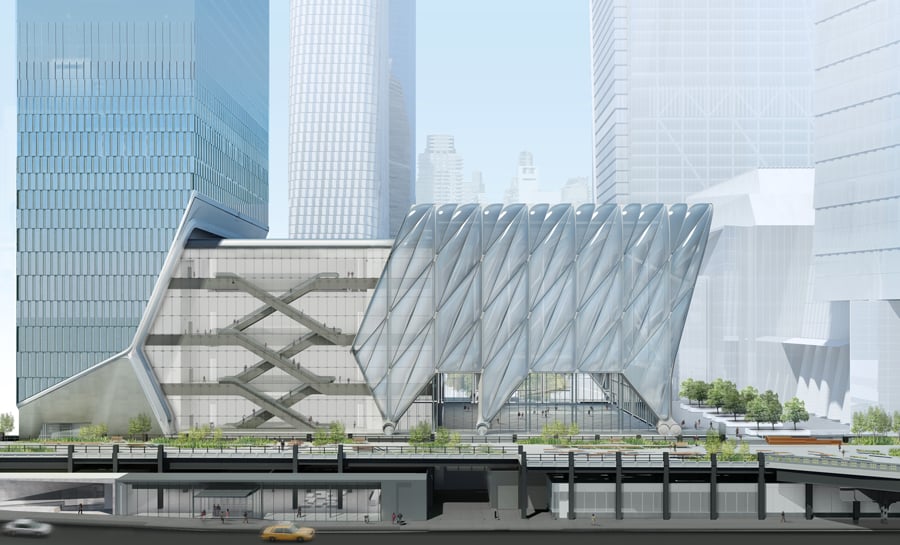 When it comes to design and architecture in the United States, New York City remains the undisputed cultural capital. The metropolis is home to countless art galleries and cultural centers—the city's official website lists more than 250 throughout the five boroughs, not counting independent pop-ups or temporary spaces—and its most ambitious new cultural center, the Shed, a flexible structure with a telescoping steel shell to accommodate various space configurations, is currently under way. Designed by Diller Scofidio + Renfro and Rockwell Group, the Shed is situated in Hudson Yards, the developing mega-neighborhood on Manhattan's West Side, and will join the crop of museums that are bolstering their presence throughout the city—from the Whitney's new downtown home to the Met Breuer, housed in its former space, and MoMA, currently under expansion (yet again, at the hands of DS+R).
Adding to the city's rich cultural resources is an impressive network of over 150 coworking centers and creative incubators. Many of them—such as the A/D/O (in Greenpoint), New Lab (at the Brooklyn Navy Yard), and the New Museum's NEW INC (in Lower Manhattan), all of which opened in the past three years—are geared to fostering work at the intersection of art, technology, craft, and design. Even as manufacturing has decreased, the city has risen as a major hub of nontraditional types of making: Home to pioneering companies such as MakerBot and Shapeways, New York is the leader in 3D printing, besting runner-ups Los Angeles, London, and Paris with more makers and printers than anywhere else in the world.
But the city's sheer density of cultural amenities comes with a host of sacrifices that can deter young, emerging designers from staking a claim in the Big Apple. Housing prices are notoriously cost-exorbitant, and public transportation costs (for the 30-day unlimited transit pass, for example) have risen more than 50 percent in the past ten years. For creatives requiring a large studio space for physical works, that can be a setback that makes or breaks any entrepreneurial venture, and for the wider creative community it prevents socioeconomic diversity. There's a significant bright spot, however, for those who stick it out: This May, the city passed the Freelance Isn't Free Act, a set of regulations to create payment protections for freelance employees, who make up nearly a third of its workforce. —Aileen Kwun
---
MEXICO CITY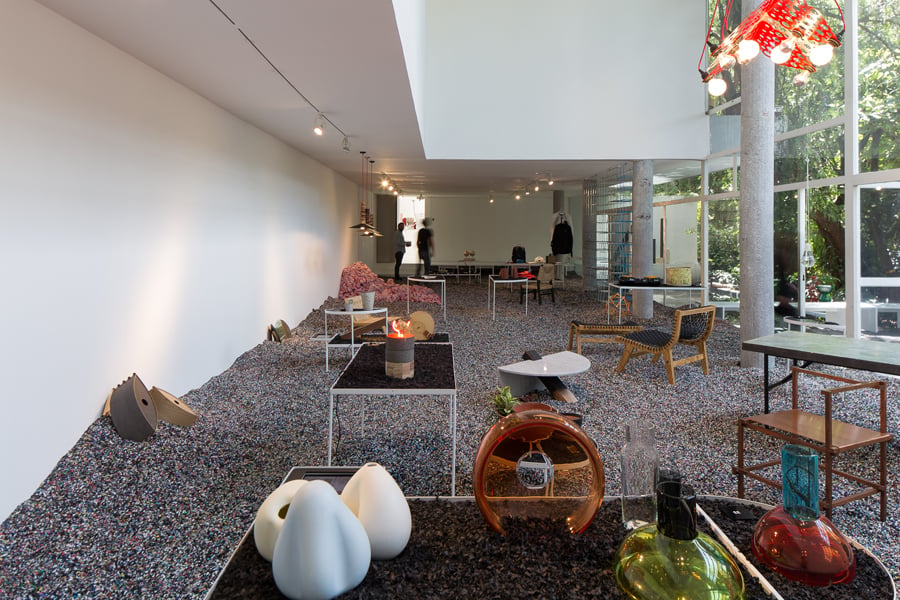 With its reinvigorated network of world-class museums, fairs, and galleries, Mexico City has in recent years branded itself as a prime cultural hot spot. But for its year as World Design Capital in 2018, the metropolis of 22 million residents looks beyond the glamour to confront questions of social design, sustainability, and urban resilience.
"There used to be this idea that design was a force to contribute to the collectivity," explains Mario Ballesteros, director of ARCHIVO Diseño y Arquitectura, as we sit surrounded by the foundation's collection of 20th-century, everyday design objects. "That idea is completely absent now," he says, hinting at the neoliberal turn that Mexico underwent following the debt crisis of the early 1980s.
"The idea of a welfare state—where the internal market was the basis for growth—was substituted for a model in which Mexico would basically be a maquiladora [a manufacturing operation run by a foreign company]," comments Mexico City–based designer Emiliano Godoy, scrolling through economic graphs on his tablet at his studio. "And to do that you need to have low wages," he says, referring to the bleak national minimum wage, which stands at 80.04 Mexican pesos, or $4.35 U.S., per day. (In 2016, that was 40 percent lower than in China.)
Godoy, a graduate of New York City's Pratt Institute, has spent nearly 20 years working at the crossroads of sustainability and social design. One of his landmark projects, Pedro y Pablo, an experimental set of glass bowls blown into volcanic stone molds—which require 99 percent less energy to make than conventionally tooled molds—is now part of the permanent collection at the Cooper Hewitt, Smithsonian Design Museum. Meanwhile, the design studio he's part of, Tuux, designed the Mexican Pavilion at the last Venice Architecture Biennale to reflect the broad range of social architecture represented through the 31 exhibited projects.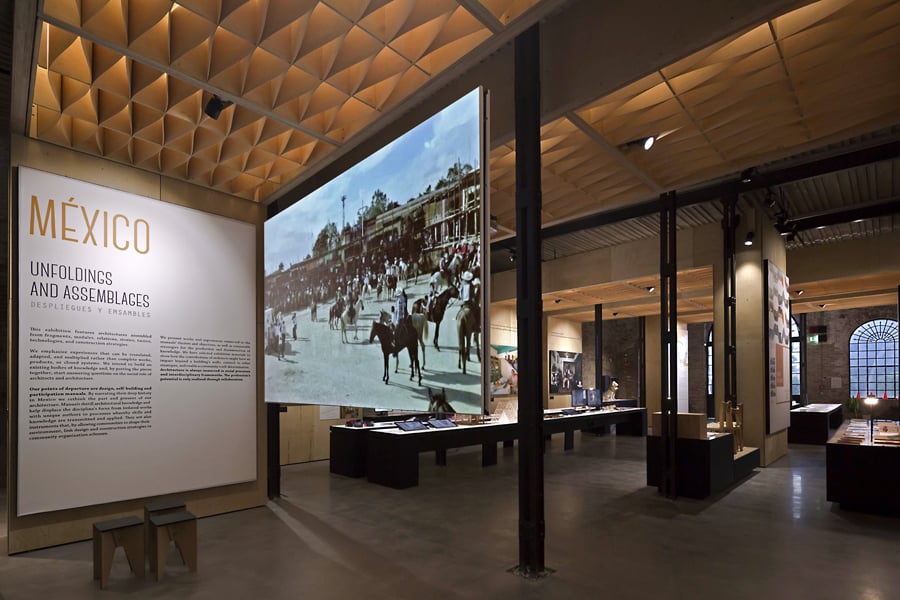 "At the beginning of the nineties, a new breed of designers appeared," says Godoy, alluding to the entrepreneurial generation of Mexicans who set up independent shops, stores, and distribution networks. However, working outside of large corporations and industries, these designers struggled to tap into economies of scale. "Since most of us are only designing for this thin layer of wealthy individuals, the rest of the country is buying stuff that wasn't designed for them," he says.
The affordability of manual labor in Mexico has meant that these designers could gather teams of traditional craftsmen and artisans with few resources. But over time, it became obvious that some of these communities struggled to make ends meet, sparking social awareness among contemporary designers, who are starting to work toward fair redistribution of resources.
"Designers often reproduce uneven relations of power, colonial narratives, and processes that concentrate wealth, while ignoring or disrupting local knowledge," says Diego Mier y Terán from Innovando la Tradición, which he cofounded with Kythzia Barrera. This nonprofit based in Oaxaca (a six-hour drive southeast of Mexico City) has spent the past decade establishing a model that promotes and sustains the region's traditional pottery, which goes back 3,000 years and was at risk of disappearing. Pots, plates, and other ceramics are designed collectively and then sold via its retail brand, Colectivo 1050°, to high-end markets, supporting a growing number of over 45 artisans across seven villages.
This approach extends to architecture. "There are other ways of building," asserts the architect Rozana Montiel. Known for her innovative community engagement practices and untraditional use (and reuse) of materials, Montiel is part of a generation of Mexican architects who are looking at providing alternatives to the peripheral, low-quality housing around Mexico City built mostly in the 1990s.
Her 2015 project Common-Unity has become a celebrated example of public space rehabilitation. The studio spent six months on-site at the San Pablo Xalpa social housing block in Azcapotzalco, a low-income, outlying neighborhood to the city's northwest. There, they worked with the inhabitants to reimagine the buildings' communal spaces and courtyard, which, over the years, residents had riddled with fences.
"We're not formal architects," explains Montiel, describing the engagement strategies that enabled the removal of 95 percent of the barriers, dramatically increasing access to the buildings' public spaces. The structure surrounding the courtyard now features blackboards, climbing walls, handrails, and nets, while a room that the architects were able to add is used for birthday parties, Zumba classes, and film screenings.
While a handful of practitioners in the city may reflect a positive shift toward social and sustainability awareness in their work, Godoy and Ballesteros agree that urgent change is needed at the educational level. And it looks like the private university Centro is paving the way. "The main objective is to raise students' awareness about the impact of their decisions," says Paulina Cornejo, director of the newly established social design program, which the school's 2,500 students will all participate in at some point during their studies, across disciplines.
As the city moves full steam toward its designation as World Design Capital, Emilio Cabrero, director of Design Week Mexico (the nonprofit organization managing the nomination), explains it presents "an opportunity to challenge and demonstrate our ability to use design solutions to address the social and urban challenges our city is facing." The year-long program will feature exhibitions, conferences, and design residencies, under the theme of socially responsible design, and is supported by the city government.
"I think it's a crucial moment for design," affirms Ballesteros as we discuss ARCHIVO's trilogy of exhibitions analyzing the past, present, and future of design in the megacity—a curated response to World Design Capital. "We're not going to survive, as a discipline and a culture, if we only think that design is about making furniture." —Benoît Loiseau
---
BOSTON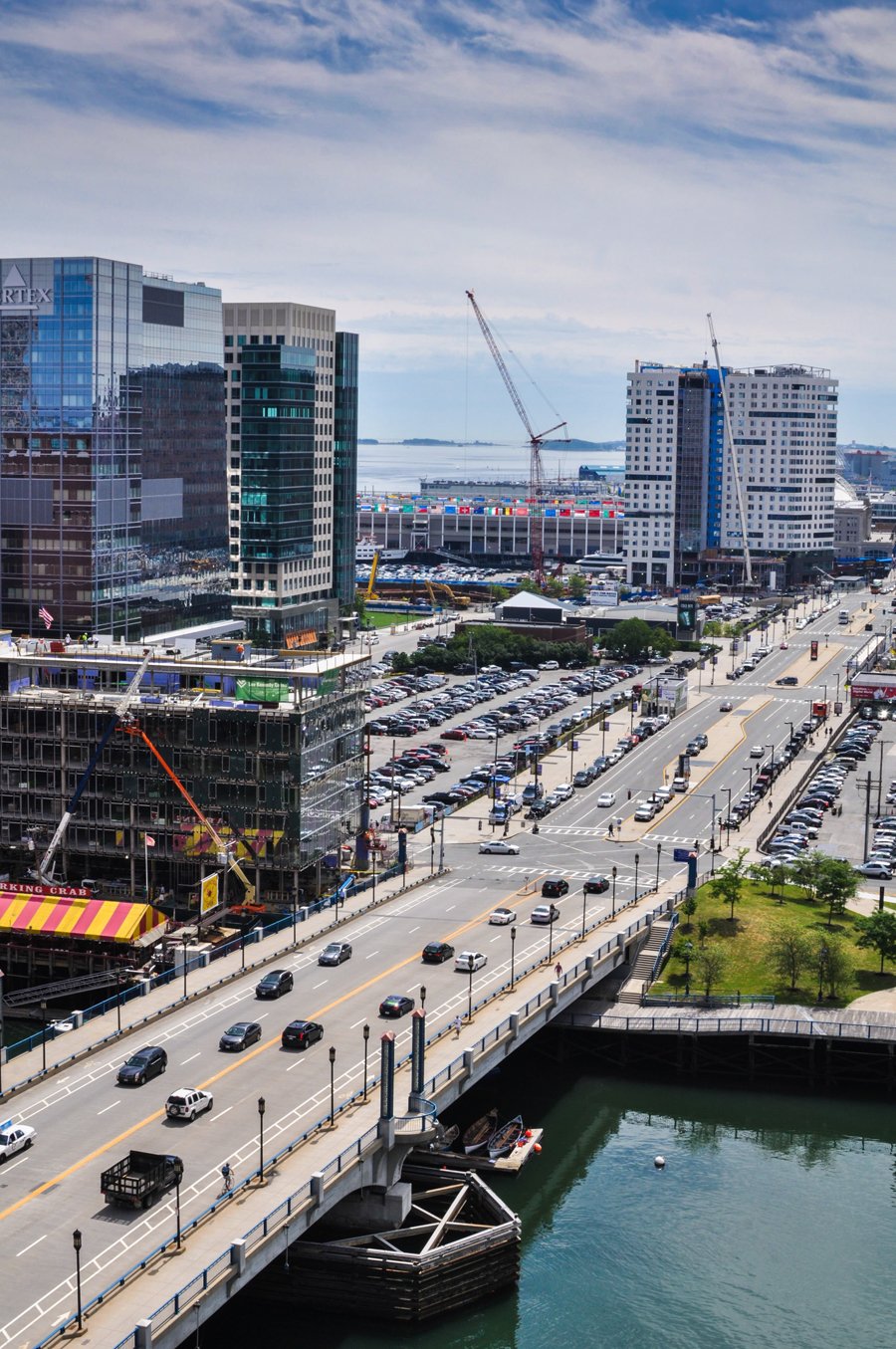 In almost any universe, the caliber of the Boston design community punches above its actual weight. Coupled with Cambridge—the academic mecca that lies just across the picturesque Charles River—it's part of an area that hosts many of the world's finest schools of design, beginning with the Graduate School of Design at Harvard and the School of Architecture and Planning at MIT. A world-class nexus of biotech, high tech, and health care—all shepherded by a teeming academic community— drives innovation and experimentation, expanding horizons and opportunities for design and designers and fueling the construction of innovation districts on the Boston waterfront and in Cambridge's Kendall Square. Boston's congenital liberal tilt and humanitarian leanings have even made it a center for socially conscious design.
And yet, despite its greater than critical mass of creativity, talent, and conscience, Boston can't seem to shake its reputation as a provincial design backwater. "There are dozens of design firms young and old here who are championing innovative design," says Eric Höweler, assistant professor of architecture at Harvard's GSD and cofounder of the design firm Höweler + Yoon. "Yet the clientele remains essentially conservative. You need to build thoughtfully in Boston, in a way that acknowledges contemporary practice but also respects the city's historic context. It's different from building in New York or Hong Kong or almost anywhere else."
It's not just history that hems in immortal design longings in Boston. In addition to an aesthetic traced by four centuries of history, Boston-based designers must also wrangle an uncommonly high level of urban density. Both are burden and birthright. "At first glance, a designer might look at these factors as baggage," says Megan Panzano, Boston architect and design critic in architecture at the GSD. "But these are also the factors that make architecture in Boston so successful. It's a legacy that spurs innovation and drives us to find more appropriate forms and language for this city."
One language that most Bostonians find appropriate is social justice. Design that Matters, based in Salem, north of the city, creates products and best practices for poor communities in the developing world. It has helped promote adult literacy in Mali with a microfilm projector that uses a solar-charged motorcycle battery, and adapted discarded automobile headlights into an affordable infant incubator. MASS Design Group, across the street from Boston Public Garden, applies its expertise in architectural design, master planning, and landscape architecture to hospitals and other public facilities in over a dozen countries in Africa and the Americas. "People graduate from our schools here and want to change the world," says Höweler. "They want to have an impact and not just produce objects for the privileged."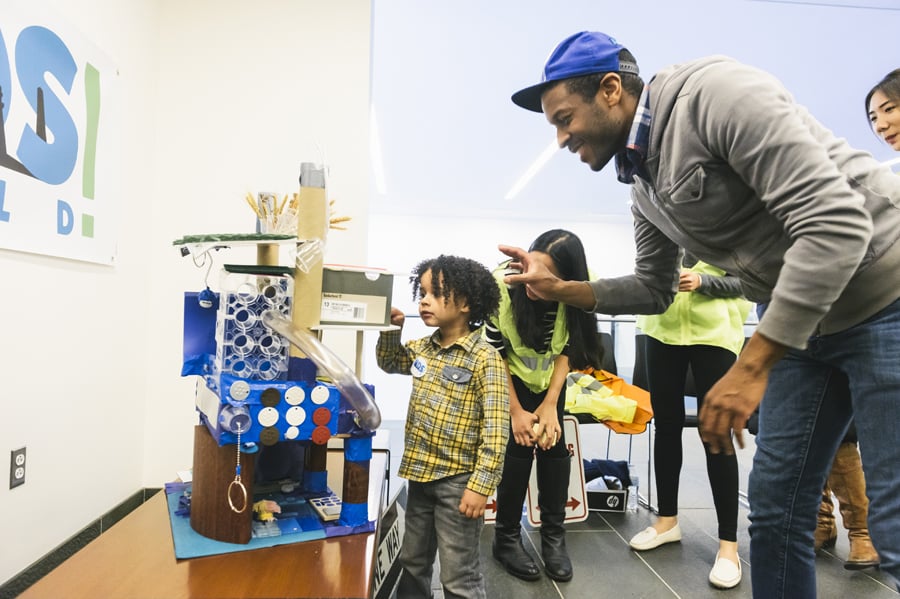 It is harder, although not impossible, for a designer to have an impact on the Boston skyline. Still, despite the density, there has been substantial development and building, particularly over the past three decades. Kendall Square, once a ragtag quilt of empty warehouses and listing factories, is now home to over 150 biotech, IT, and clean energy companies, including Google, Microsoft, and Novartis. Since the late Thomas Menino, then Boston's mayor, announced its creation in 2010, the South Boston Seaport District has been transformed from a waterside wasteland of idle factories and surface parking lots into the city's newest and most dynamic innovation hub—complete with hotels, office buildings, dwellings, and the Institute of Contemporary Art/Boston.
Yet neither of these wildly successful—and aesthetically attractive—industry clusters has produced anything close to an original architectural idiom. The sleek glass facades and rectilinear residential towers—functional, attractive, and at times even decisive—speak with a neutral accent. "I think this has more to do with the shift in design patronage than with Boston's history," says Nader Tehrani, principal at Boston-based firm NADAAA and dean of the Irwin S. Chanin School of Architecture at Cooper Union. "These days, we tend to design by committee. It's true nationwide. But in Boston, where they're so very good at democracy, they are more prone to succumb to this process than in other parts of the world. As an architect, I thrive on constraints. It's the only way to make great architecture. But committees are not constraints."
Boston's almost unparalleled research quotient—coupled with a strong and ineradicable blue-collar bent—makes it a hub for makers working on all scales, from nanotubes to fashion to big data to suspension bridges. The city is blossoming with spaces where designers, engineers, and tinkerers meet. In October 2016, Mayor Marty Walsh used a chain-mounted motor saw to cut the ribbon at Autodesk's new 34,000-square-foot Building, Innovation, Learning, and Design Space. Set above the city's dry dock—at the tail end of the Seaport District—the BUILD Space supports work and experimentation with almost any material used in construction and infrastructure. At MIT's Fab (Fabrication) Lab, students and researchers master the techniques and tools that help them design across a broad spectrum of industries—from thin-client computers to solar and wind turbines.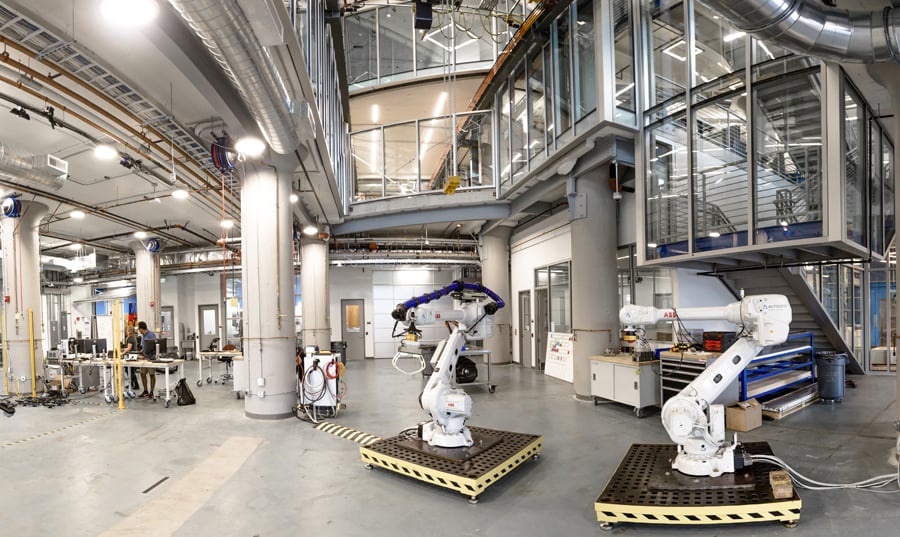 "I've always believed that the primary driver of design is industry," says Hashim Sarkis, an architect with offices in Cambridge and Beirut and the dean of the School of Architecture and Planning at MIT. "Here in Boston our biotech and high-tech industries are offering designers incredible opportunities to express their creativity. This is not just a place where design is happening. It's a place where design is being pushed to new frontiers. It's only Boston designers who sometimes think what's happening here is provincial. When you compare us with the rest of the world, it looks like a pretty exciting place." —Ken Shulman
---
MIAMI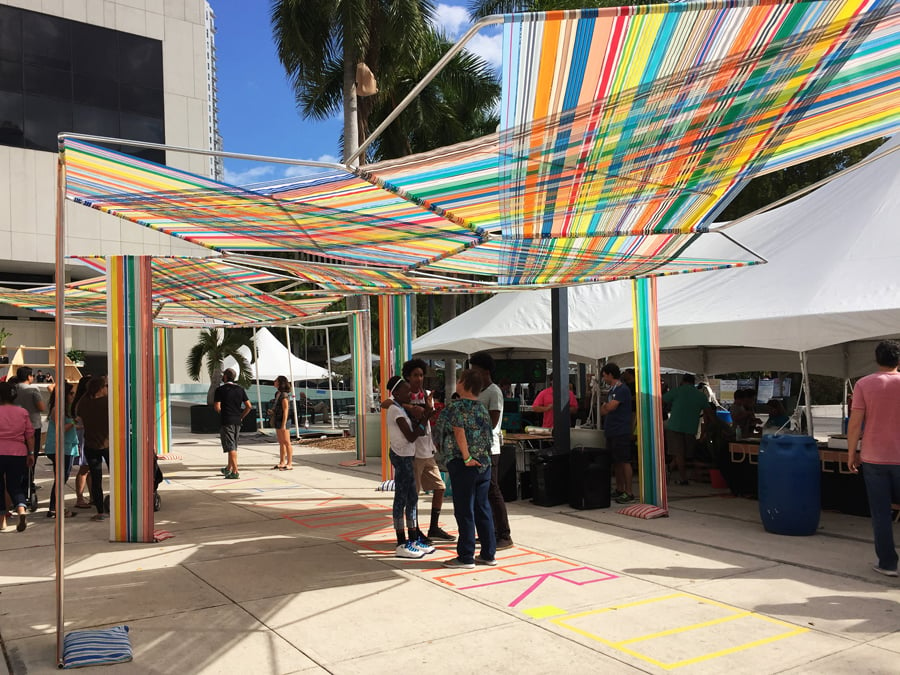 Miami is a city of surfaces, of flashy architecture and brag-worthy restaurant and hotel interiors. Its early reputation revolved around the adventuresome architectural work of Arquitectonica, the magnetic popularity of the Art Deco district, and the Technicolor lens of Miami Vice. Then came Philippe Starck, with his white-on-white lobby at the Delano, and developer Craig Robins, who began buying property in the Miami design district to lure in high-ticket home-design and fashion brands. The 2005 launch of Design Miami cemented the city's reputation as a design destination— for at least the week that Art Basel is in town. But what about the other 51 weeks of the year?
"While Miami has an emerging design community that is in many ways still in its infancy, we lack the infrastructure that other urban places have to easily bring people together, although this is now changing," says Erika Morales, the cofounder and creative director of the graphic design firm Lemon Yellow. In 2011, Morales worked with Thais Fontenelle, now the director of Minotti's Miami showroom, to launch a local design exhibition called Inventory. It was a good litmus test. Among those with work on view was the architect and designer Luis Pons, whose furniture and lighting are carried by NIBA Home, and Michelle Weinberg, whose rugs and hand-painted tiles garnered wide attention. Laz Ojalde, now part of the design duo AMLgMATD with Natalie Zlamalova, debuted shiny round Super-Pox wall hooks that were picked up by the e-commerce company AHAlife.
Fast-forward a few eventful years, and AMLgMATD's colorful web-wrapped aluminum Webstr stools were a hit at the 2016 International Contemporary Furniture Fair. Ojalde and Zlamalova are now represented by the Miami gallery Design Sublime, as is Weinberg. The art gallery owner Nina Johnson shows and cultivates designers, most notably the nationally recognized Miami-based Emmett Moore, who had his New York debut at the Patrick Parrish Gallery. The homegrown Deft Union started out in the display business but has since plunged headlong into furniture design. Nisi Berryman of Niba Home and Oscar Glottman of the eponymous Glottman both add local work to their mix.
It's not Brooklyn, but there's progress. Tom Pupo, an adjunct faculty member at Florida International University, has cofounded the makerspace Moonlighter, and MADE at the Citadel offers creative coworking spaces. "There are many opportunities for young designers in Miami, especially those with vision and drive," Morales says. "The fact that Miami has an emerging market means there exists a chance to influence it and to not get lost in the herd." —Beth Dunlop
---
PARIS
Last December, Parisian authorities announced that public transportation would be free on four consecutive days as pollution levels soared. Here, where the COP21 emission-cutting pledges were signed in 2015, car traffic poses considerable problems—Paris's air quality is among the worst in Europe.
Mayor Anne Hidalgo has sought to combat this problem by implementing some of the most progressive transportation policies on the continent. In April, a central highway running along the Seine was closed to traffic and a new pedestrianized park opened in its place. As Hidalgo previously stated, given that cities are a major contributor of carbon emissions, one of her key mayoral priorities has been to stimulate innovation in the move toward a city "free from polluting vehicles." Consequently, a new electric tramway will open in September 2018, diesel cars will be banned by 2025, and the network of bike lanes will double from 435 miles to 870 miles by 2020.
These measures, however, are relatively minor compared with the Grand Paris Express (GPE), a €30 billion extension to Metro lines 11 and 14 and four completely new lines. The GPE will improve connections between the suburbs and the city center, but also from suburb to suburb, with the aim of reducing car use, improving access to employment and education, and making the suburbs more attractive for real estate investment. Thirty-seven prominent architecture studios, including BIG and Kengo Kuma, have been enlisted through open competitions to design suburban stations worthy of the project's bold vision. "Our ambition is to participate in building the metropolitan heritage for the 21st century," says Philippe Yvin, board chairman of the organization overseeing the GPE. "Interconnecting the suburbs will have a tremendous impact for the economic and social development of 'Grand Paris,' allowing it to become one of the world's top cities for innovation and quality of life." —Crystal Bennes
---
TORONTO
"Design can change the world," Shauna Levy says. "At the same time, Toronto is changing dramatically, and we want to make sure that design has a seat at the table." Those two ambitions go together for Levy—president and CEO of the not-for-profit museum Design Exchange and the head of the Expo for Design, Innovation & Technology (EDIT), a new annual event that kicks off in September—and for the city itself. Now the fourth largest in North America, with a metro area housing more than six million people, it's a globally connected metropolis, deep with design talent but suffering growing pains.
First, EDIT—a ten-day ideas festival with 150,000 square feet of exhibitions explaining how design can provide "prosperity for all." Themed to the United Nations' Global Goals for Sustainable Development, the expo takes an expansive view of what the word design means. Its curators include the designer Bruce Mau, who built his career in Toronto and pioneered this way of thinking. "We're asking the design profession to use their powers for good," he explains.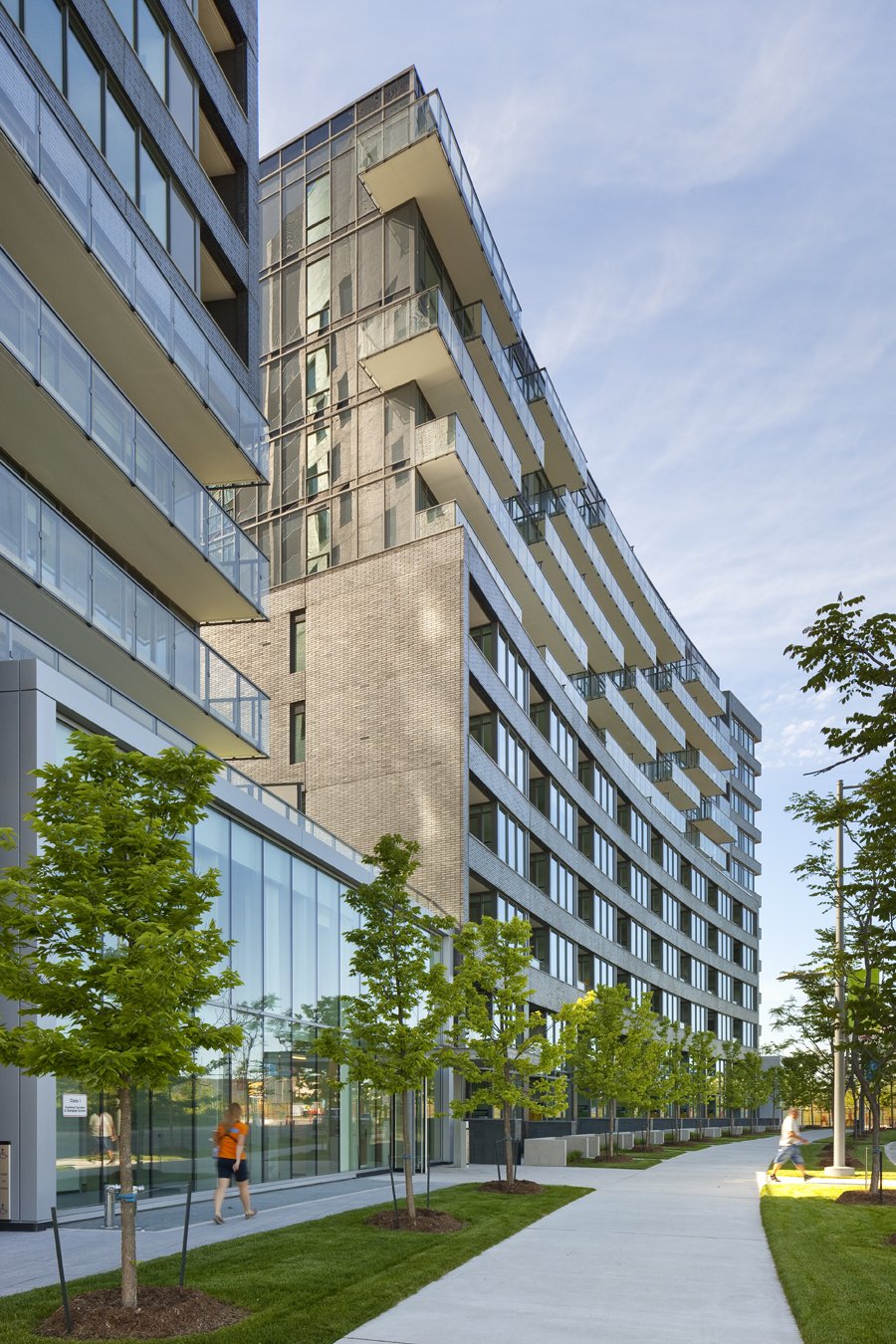 Meanwhile the site of EDIT, a 60-acre industrial complex, is being master-planned as an office hub by OMA New York. That suggests the scale of regeneration that is remaking the central city, which is projected to double its population to 475,000 by 2041. Nearby, federal and local governments have overseen the master plan of the Canary District, a private-public project that will include market condos and subsidized housing in a coherent mid-rise neighborhood designed by a team led by locals KPMB Architects, MJMA, and architectsAlliance.
Yet much of the area's population lives in car-oriented suburbs, and that proportion is only growing as immigrants choose to settle in them for reasons of affordability. Badly needed new transit is being built in the wrong places. (The latest approved addition to the subway system would add one stop, in a low- density suburb, at a cost of more than 3.3 billion Canadian dollars.) Yet there are bright spots: The Eglinton Crosstown LRT line, now under construction, will bring reliable aboveground transit and density to car-oriented neighborhoods. With a design led by architects Daoust Lestage and IBI Group, the 25 stations feature sleek architecture and robust landscape design. This is "a very good sign for the city," says Renée Daoust. "There's a real understanding here that they are building a public realm for the future."
Dealing with the past remains an issue as well: The Victorian heart of the city is struggling to make room for growth. The new home of the University of Toronto's architecture and design school, by NADAAA with ERA Architects and Adamson Associates Architects, sets a good example for how to add on to a Victorian Gothic building. "The question was, how do you not mimic the existing building, but speak to it in a corresponding way?" says Nader Tehrani of NADAAA. They found an answer: a new wing that shows, with forms that are spiky and radically contemporary, how design can deal with the past and also change the city. It's a place where students can develop designs that will move the city forward—and perhaps even change the world. —Alex Bozikovic
If you enjoyed this article, read our "10 Design Cities You Should Know 2019."
You may also enjoy "The 10 Best Cities to Live In (2016)."