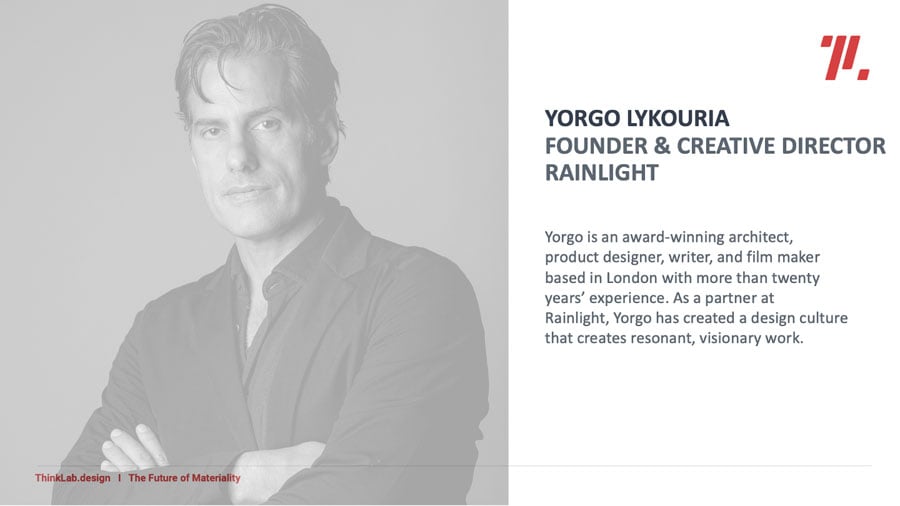 September 2, 2020
The Future of Materiality: 5 Key Insights from ThinkLab's Digital Seminar
A host of experts convened to discuss the future of clean, safe interiors—it has little to do with anti-bacterial surfaces and more to do with behavior and experience.
---
Last Friday, a virtual discussion titled The Future of Materiality: Exploring New Technologies, Ideas, and Inspiration for the Design Ecosystem brought together a panel of experts to explore the ways in which designers can rethink the use of materials in creating clean, safe interiors. Moderated by ThinkLab president Amanda Schneider, panelists included Yorgo Lykouria, founder and creative director, Rainlight; Suzanne Tick, founder, Suzanne Tick, Inc; Dr. Andrew Dent, EVP materials research, Material ConneXion; and Primo Orpilla, cofounder, Studio O+A.
Here are 5 key insights from the thought-provoking conversation:
There's No Magic Formula
While mitigating the spread of the coronavirus is of top concern, the panelists agreed that there is not one cure-all material that is going to keep people safe. "The simple idea of anti-bacterial and anti-microbial isn't always the best way. We need to use the technology where it's most suitable," Andrew Dent said. Widespread use of a material is, say, less effective than increased safety protocols such as washing hands and adopting new, healthy habits. Yorgo Lykouria agreed adding, "Antimicrobial finishes are not going to solve our problems, what is going to change our world is new behavior patterns and that begins with design."
Don't Abandon Beauty for Function
Performance driven solutions such as masks and plexiglass shields help keep people safe, but they also contribute to feelings of fear and anxiety. "The knee-jerk reaction is to create something that is coated and high performance but not beautiful or comforting to be around," Suzanne Tick pointed out. The panelists agreed it's important to make people feel safe, but that there is also room for beauty and fun. Primo Orpilla emphasized, "We don't want to strip away what designers have built over the last several years in the workplace and make it this cleanable, clinical experience."
Share Innovative Solutions to Drive Demand
From Colgate designing a recyclable toothpaste bottle to innovative alternatives to MDF, when there is a good idea or product that will contribute to human and planetary health, it's worth sharing that knowledge with others. "The challenge we often have is high volume and widespread use. Sometimes great innovations don't make it, not because they aren't great, but because there isn't a ubiquitous availability," Dent explained. "That is where collaboration can help."
Ditch Short-Term Thinking for Long-Term Gain
Rather than prioritize convenience for today, designers need to focus on the future. "What we've realized in the last six months is that we've all been able to change our lives because we've had too. It's all about self-preservation," Lykouria said. "We've changed our lives because it is in our own best interest. I wish we could apply that shift and pivoting we've done all across the world to the wider environmental concerns that we all face." Tick added, "After destruction comes creation. We have an opportunity to be in a very creative environment right now."
Design a New Way Forward
Perhaps this wasn't where we all thought we would be five months ago, but more than anything this pandemic has been "a great reset" and a valuable time for reflection. Orpilla concluded, "As humans, we need to cohabitate, we need to be next to each other because the best collaborations happen in the same room. The great reset has given us time to reimagine how that might work. This is a great opportunity for design in general, it shows us at our best."
You may also enjoy "Architects and Designers Urge Action on Healthier Policy Priorities"
Would you like to comment on this article? Send your thoughts to: [email protected]
---
Register here for Metropolis Webinars
Connect with experts and design leaders on the most important conversations of the day.