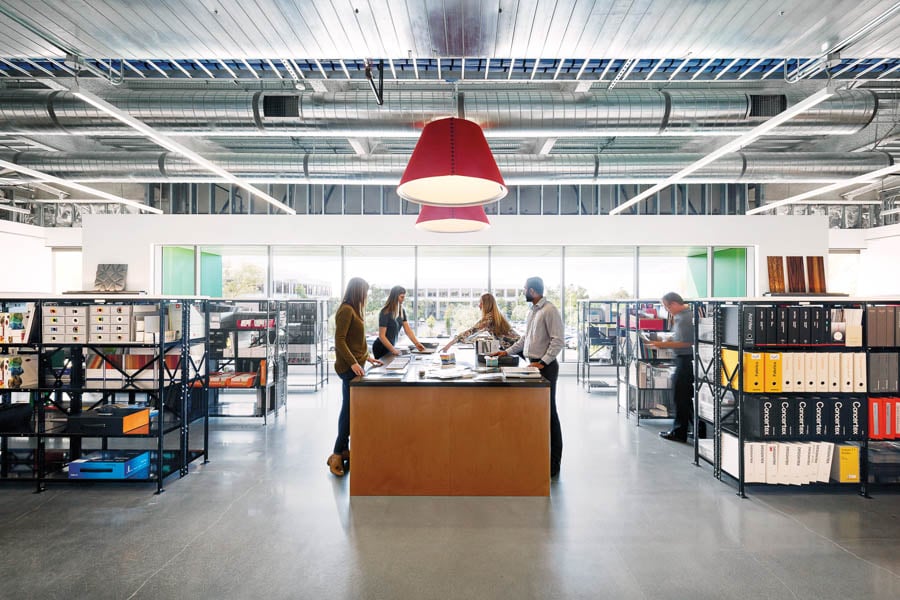 May 26, 2020
This Sustainable Office Does More with Less
Without touching the building's envelope or MEP, LPA has designed a workplace that consumes 70 percent less energy than comparable structures.
---
There isn't anything especially revolutionary, or even surprising, about an open-plan office with stadium stairs and exposed ductwork. Walk into design firm LPA's sunlit office in Irvine, California, and you might just think it a nice place to work. "It's not like we're doing things that are extravagant or way outside the box," says Rick D'Amato, a design director at LPA, of the firm's new self-designed office, which is certified LEED Platinum for commercial interiors.
Opened in spring 2019, the 55,450-square-foot workplace occupies three stories of a 15-year-old core-and-shell building owned by the Irvine Company—one that's fairly typical of core-and-shell structures across the country. What's unconventional is that, without having changed the envelope or core MEP systems, LPA reports that the space consumes an estimated 70 percent less energy than one of comparable size, type, and location.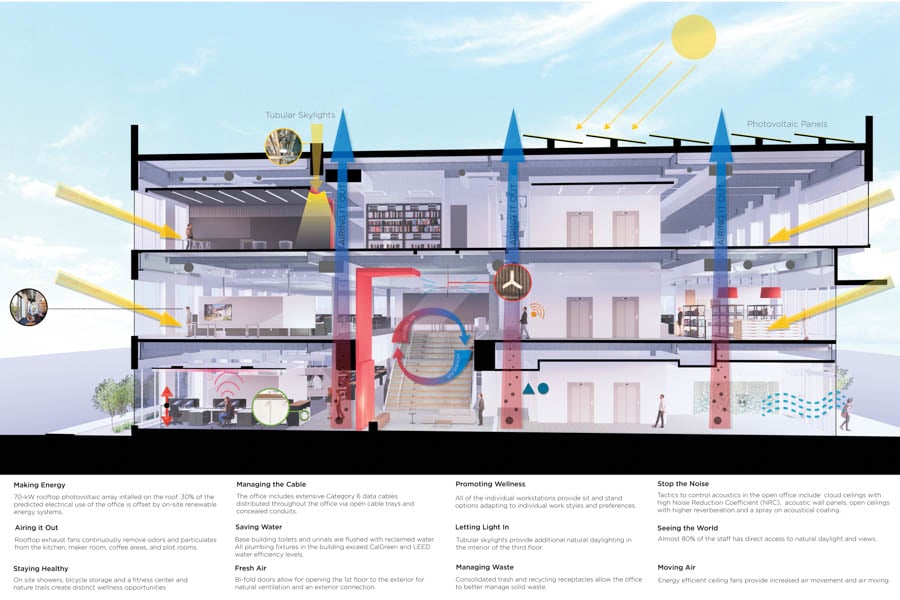 ---
The building industry is a major polluter, accounting for nearly 40 percent of the world's greenhouse gas emissions. As part of the push to fight climate change, the AIA 2030 Commitment calls on firms to reduce energy consumption for all new buildings, developments, and major renovations in their portfolios by 70 percent. But according to the AIA's most recent report, only 16 percent of signatory firms (797 at this writing) have succeeded in meeting that goal.
For LPA, interiors projects like this one present an opportunity to do "more with less," says Dan Heinfeld, the firm's president. Most such projects never touch the envelope or core MEP, which means that in order to cut energy use, lighting is often a first step. "[The 2030 Commitment has] a rating where you can meet the challenge by doing 25 percent better on your lighting power density," says Heinfeld. "That's not a particularly tough benchmark to hit in our state," he adds; most new projects in California already employ efficient lighting strategies to comply with the state's energy code.
---
From a conservation standpoint, the building's orientation—long southeast and northwest elevations and shorter on its southwest and northeast sides—wasn't optimal. "You get low sun angles with setting sun in the afternoon [on the southwest side], especially in the fall, which has some of the warmest days of the year in Southern California," says Erik Ring, director of engineering. The space planning and engineering teams worked together to optimize daylighting, placing glazed meeting and conference rooms in the core and collaborative and respite areas along the perimeter. Sit-to-stand workstations are removed from glare and solar gain but still get daylight and views of nature. On the third floor, six tubular skylights introduce natural light into the center of the floor plate.
Within the open plan, a zoned approach is advanced by efficient and programmatically tailored lighting, acoustic, and thermal controls. Drop systems with acoustic tiles imbue studios and work areas with privacy and a sense of intimacy; group work areas test a range of lighting solutions, including illuminated baffles; and the atrium and stadium stair area benefit from ceiling fans and applied funnel spray, which helps control sound. Some of the most effective solutions are decidedly low-tech, like desk fans: While the office's zone temperature is set at a generous band of 70 to 76 degrees Fahrenheit (a typical building has a band of 70 to 72) to conserve energy, the fans let individuals control their micro environments.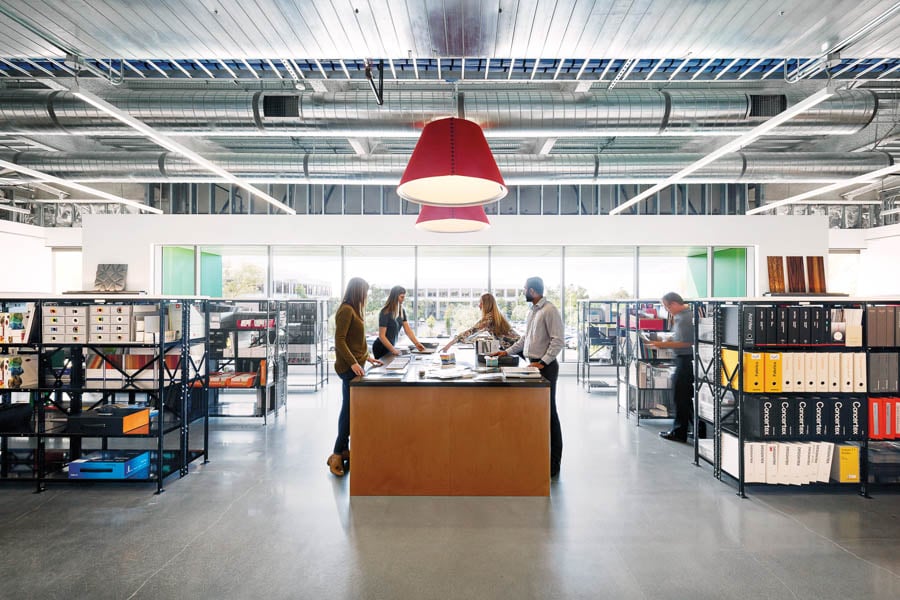 ---
Forty percent of the interior was left unfinished—largely in circulation and non-workspaces, where sound attenuation and plush aesthetics are of lesser concern. Instead, exposed structures, ceiling conduits (those ducts), and polished concrete slabs present teaching moments for employees and demonstrations for clients. In tandem with environmentally informed material selection, the spare look saved as much as 600 metric tons of embedded carbon, LPA reports, along with reducing energy use by 70 percent.
This was all before the 70-kilowatt solar array was installed on the roof, which LPA worked with the Irvine Company to produce. But even without it, the project uses 62 percent less energy than a comparable one. It seems, as LPA claims, that even straightforward renovation projects can dramatically reduce a building's energy consumption. To that end, Heinfeld says, designers can help tenants and landlords work together. "It isn't just about energy performance, it's really about building performance," he says. "And when you take that sort of attitude, it sets up a very different dialogue."
You may also enjoy "How Hacker Architects Put a Middle School on the Path to Net Zero."
Would you like to comment on this article? Send your thoughts to: [email protected]
---
---
Register here for Metropolis Webinars
Connect with experts and design leaders on the most important conversations of the day.