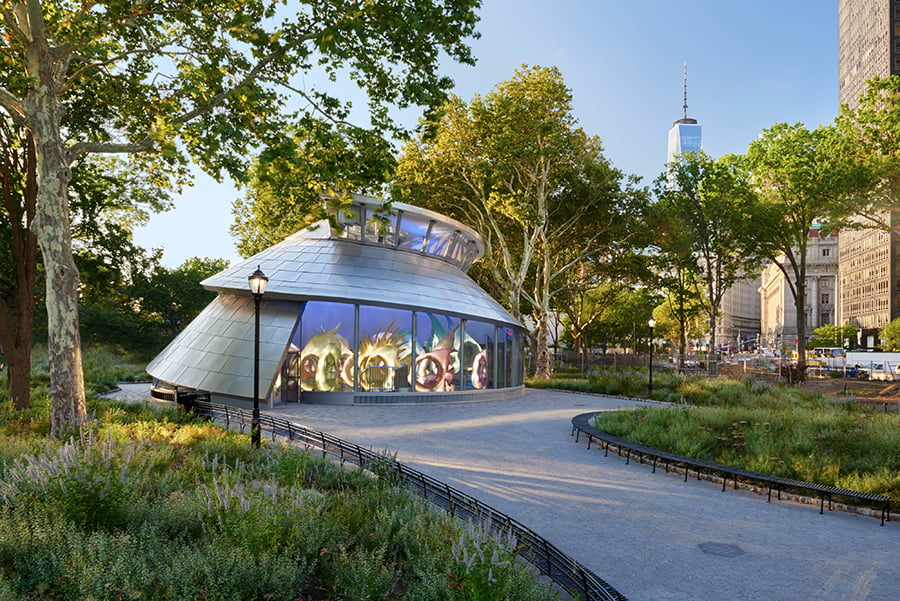 September 29, 2017
Top 10 Things to See and Do This Archtober
New York City's month-long celebration of architecture and design is just around the corner—these ten events should definitely be on your radar.
As New York City gets its first taste of crisp Fall air, that can mean only one thing for architecture and design enthusiasts: Archtober. We've collected our top picks (listed below in chronological order), though you can catch the full list of events here.
Scaffolding Exhibition Opening
Oct. 2
Center for Architecture (536 Laguardia Place, 6:00 PM to 8:00 PM)
This exhibit, curated by researcher Greg Barton, examines the history and applications of scaffolding, giving visitors an appreciation of its transformative qualities. If the show's subject matter doesn't pique your interest, OMA's Shohei Shigematsu designed the installation.
Archtober Goes Nordic: Nordic and US Trends within Healthy Cities at Building Level
Oct. 5
Danish Cleantech Hub (hosted at the New School, 66 W. 12th St., Room 404, 3:30 PM to 7:00 PM)
This event is just the first of a series of Nordic-focused lectures and discussions being organized by the Danish Cleantech Center. (See also: events planned by Design and Architecture Norway and the Consulate General of Sweden listed throughout the Archtober calendar.) But given the growing importance of wellness, this isn't one to miss.
Frida Escobedo Exhibition Opening
Oct. 6 **This exhibition has been delayed until Oct. 20**
Columbia GSAPP's Arthur Ross Architecture Gallery (515 W. 116th St, time TBD)
Dubbed No. 9, the exhibition will use archival photographs and documents to "[explore] the history of la Ruta de la Amistad ("Route of Friendship") in Mexico City—a series of nineteen monumental abstract sculptures by artists from seventeen countries, realized as part of the cultural program of the 1968 Olympics and integrated within the city's then nascent highway system." We're curious to see what Emerging Voices–winner Frida Escobedo has in store!
Public Art Fund Talk with Artist Ai Weiwei and Nicholas Baume
Oct. 12
The Great Hall of The Cooper Union (7 E 7th St, 6:30 PM)
Don't miss the chance to see renowned Chinese artist Ai Weiwei in conversation with Nicholas Baume, the Public Art Fund's director and chief curator. The pair will discuss Ai's upcoming citywide Public Art Fund installation, Good Fences Make Good Neighbors. "Taking on monumental sculpture, site-specific interventions on top of and in between private buildings, lamppost banners, and bus shelters, this project engages a diverse range of sites in all five boroughs, including a large scale installation on the North facade of The Cooper Union's iconic Foundation Building," says the Public Art Fund.
Open House New York Weekend
Oct. 14 to 15
Open House New York gives participants the unique opportunity to visit buildings and spaces they couldn't easily see otherwise. This year's list of sites isn't available yet—check here on Oct. 4—but last year included Eero Saarinen's TWA Terminal, The New York Times Building, and Via 57 West, to name a few.
Geostories: Another Architecture for the Environment Opening Reception
Oct. 17
The Cooper Union's Irwin S. Chanin School of Architecture (30 Cooper Sq., 6:30 PM to 8:30 PM)
Ann Arbor, MI and Cambridge, MA–based firm Design Earth was recently announced as a major exhibitor in the upcoming Venice Architecture Biennale. However, you can catch this exhibition of their drawings right here in New York. "Geostories is a manifesto…on the environmental imagination presented in architectural projects that engage the planetary scale with a commitment to the drawing as medium," says The Cooper Union.
Everything Water 4.0: 5 Years After Sandy
Oct. 21
Center for Architecture (536 Laguardia Place)
As recent extreme weather events attest, the threat of climate change and sea level rise isn't going anywhere soon. This day-long symposium "will present a range of ideas, from broad urban responses and water-related disasters to risk and security, creative interventions, and imaginative solutions to future challenges." Though be warned, tickets are $100 for AIA members and $125 for the general public.
Brooklyn Navy Yard: Urban Ecology Tour
Oct. 22
Brooklyn Navy Yard (BLDG 92, 11:00 AM – 1:00 PM)
The Brooklyn Navy Yard is packed with unique enterprises, from the 1.5-acre rooftop Brooklyn Grange farm to Rooftop Reds, a real, working rooftop winery. This two-hour walking tour will explore the Yard's urban farming and landscape architecture.
Never Built New York: Curator's Perspective with Special Guests
Oct. 29
Queens Museum (New York City Building, Corona, NY, 2:00 PM to 5:00 PM)
The Never Built New York exhibition compels viewers to consider New York's future by examining its unrealized ambitions. The show's curators Sam Lubell and Greg Goldin will host this unique discussion, though more details on the event will be forthcoming.
Building of the Day
Throughout October
Every day throughout the month, Archtober offers a tour of a unique New York building. This year's tours feature everything from Diller Scofidio + Renfro's Roy and Diana Vagelos Center (Oct. 29) to Paul Rudolph's MODULIGHTOR Building (Oct. 6) and the ornate Alexander Hamilton U.S. Custom's House. (Oct. 12).