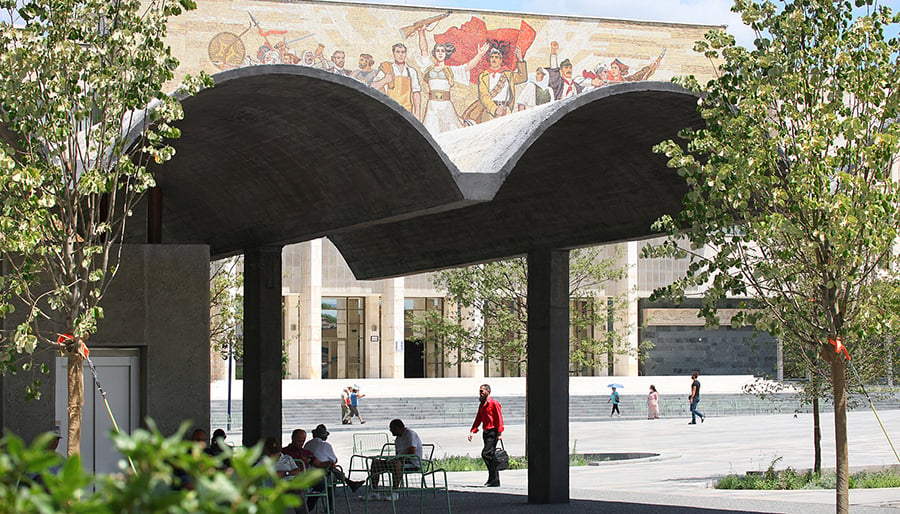 July 1, 2019
Metropolis Magazine's Top Design Cities of 2019
From Algiers to Tulsa, Buenos Aires, and beyond, these locales are where global trends and local influences mingle and synthesize.
---
As globalization marches on, it's become hard to speak of "authentic" or purely "local" culture, though travel publications may have you thinking otherwise. Considering cities as convergence points of flows may be more useful. For our annual Design Cities listing, we highlight ten cities on five continents with projects that draw from context, to be sure; but what makes them intriguing and instructive are their relationships to faraway influences and markets. Some of the cities featured in the following pages are regional centers, while others are metropoles. But all demonstrate that contemporary urbanism combines the traditional and the modern, the homegrown and the international, in crafting new understandings of place. – Metropolis Editors
---
Lima, Peru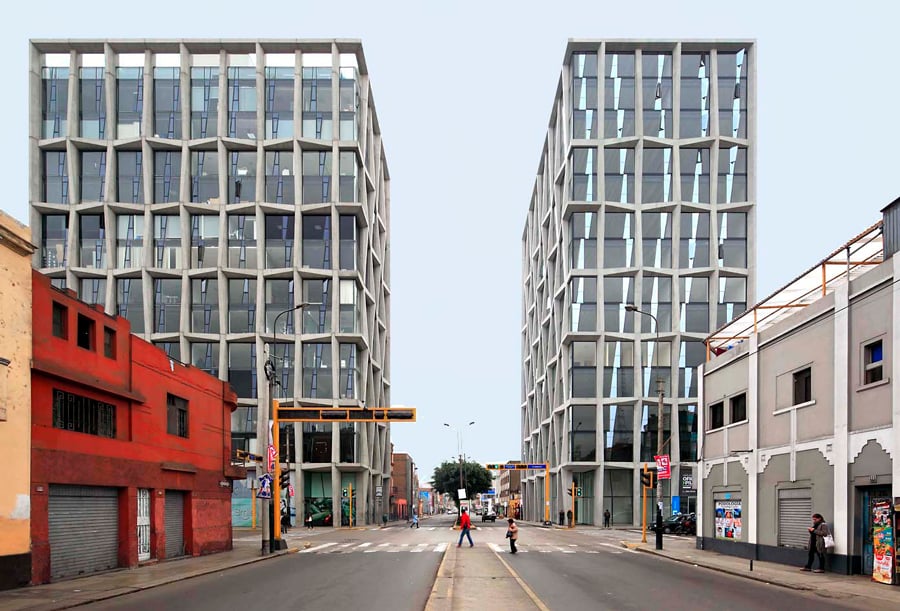 In one of Latin America's largest cities, an architectural duo marries traditional building techniques with a contemporary expression.
Peruvian architecture languished in the closing decades of the 20th century, a time riddled with internal social conflict and economic crises. Seeking to learn from different contexts, some young practitioners went abroad to study and work. Such was the case for Sandra Barclay and Jean Pierre Crousse, who developed their early work in faraway Paris.
By the late 1990s, however, the situation in Peru had changed, and the architects began making their way back home, initially designing beach houses for wealthy clients. While Barclay and Crousse availed themselves of such opportunities to build in their home country, they did so remotely, leaving France only after receiving their first major Peruvian commission—a memorial in the capital Lima dedicated to the turmoil that rocked the country in the 1980s and '90s. Opened in 2015, El Lugar de la Memoria ("Place of Remembrance") marked an important moment for Limeños and the local architecture scene alike.
Paradoxically, it was the experience of living abroad that prompted Barclay and Crousse and their cohort to re-investigate Peru's pre-Columbian architecture. "We were trying to understand what those builders did to answer to climate and to an immense abstract landscape, as design strategies that are still valid today," Barclay explains.
Their work takes ancient Peruvian building techniques and climate-specific spatial cues as key referents, exemplified by projects such as the Museo de Sitio Julio C. Tello, an archaeological museum for the desert town of Paracas, and the Aulario of Universidad de Piura in the north of Peru. These buildings shelter inhabitants from the elements while bringing in daylight through courtyards and wells, which are often planted with local flora. In Lima, a metropolis of nearly 10 million, the El Bosque Boutiques use a similar strategy, affording vegetation and creating open spaces in a dense urban area in dire need of both. The vertical Beehive Offices, also in Lima, navigates this density by externalizing the structure to maximize interior space.
Though Barclay and Crousse's office anchors the architectural community in the capital city, much of the duo's work lies outside it. Their buildings, scattered along the Peruvian coast, help put smaller, out-of-the-way cities and regions on the map. – Cristina Dreifuss-Serrano
---
Buenos Aires, Argentina
A local collective wants to tap into the megacity's underutilized and overlooked spaces.
The Riachuelo, or Matanza, River holds an important place in Argentine culture. Tango was born in its portside neighborhood of La Boca, a landing place for Italian and Spanish immigrants who arrived in Argentina at the beginning of the 20th century. The "little river" is still affectionately cited in tango lyrics, though the area has become associated with poverty and crime in recent decades—making it a particularly intriguing location for Paola Vega's 2016 installation "Esplendor" ("Splendor"), a large-scale painting on a span of the river wall.
Visible from boats, planes, and the riverfront promenade, the Monet-esque mural is a dreamy stylization of the water below. Completed with local art collective Triba, the piece epitomizes the goals of the organization. "We specialize in the reformation and enhancement of architecture," says Karina Kreth, an architect and creative director who helms Triba. "We're interested in the transformation of the city through the day-to-day."
It's fitting that Triba's latest installation, Mariana Sissia's "Ciclorama," was exhibited in another of the neighborhood's reclaimed landmarks: Usina del Arte, an old electrical power plant that reopened as a cultural center in 2011. Sissia describes the piece as a fluid visual experience. The circular installation appears to unspool, welcoming visitors to step inside. "It was an attempt to abstract the viewer from their own reality," Sissia says, noting that many visitors have walked out of the exhibition "modified in their usual rhythm."
A momentary escape without leaving the city, Kreth adds, is what the collective is aiming for: "Public art, and its inevitable connection with architecture, holds the possibility of enriching the everyday." – Bridget Gleeson
---
Tirana, Albania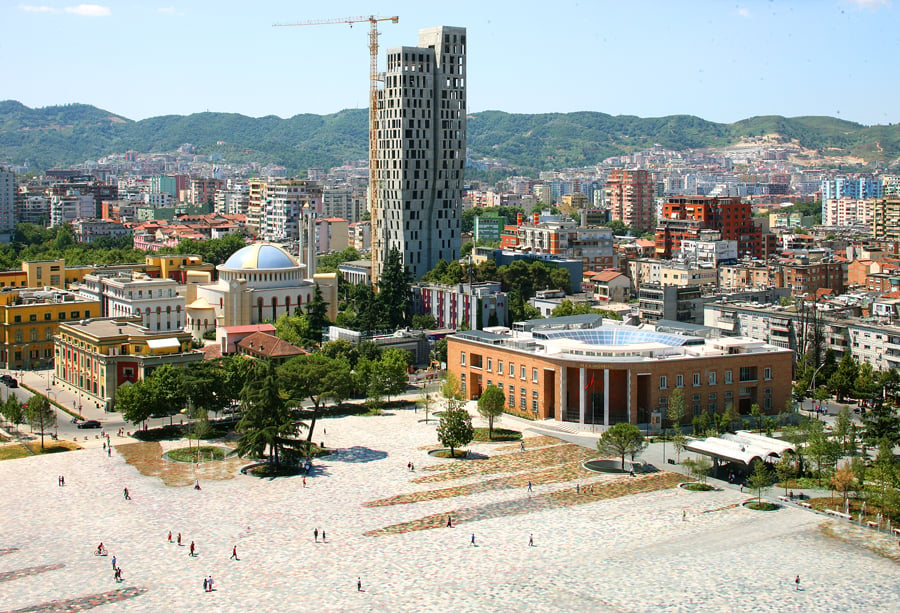 The 430,000-square-foot Skanderbeg Square should intimidate but doesn't. That has a lot to do with the plaza's intricate design.
To understand the current shape of Albania's capital city, Tirana, you must know two names. The first is Enver Hoxha, the communist ruler for four decades who rebuilt the country after the Second World War with Soviet and later Chinese support, then steered it toward extreme political, economic, and cultural isolation. The second is Edi Rama, Albania's current prime minister and a former mayor of Tirana, who also happens to be an artist.
When Rama took charge of Tirana in 2000, the city of some 400,000 people was on a chaotic path toward development. Decades of underinvestment were compounded by a rush of unsanctioned construction in communism's wake. So, in addition to painting the city's Hoxha-era facades with bright colors and patterns, Rama razed illegal buildings, planted trees, and oversaw an ambitious master plan, significant parts of which are only now beginning to materialize.
Skanderbeg Square, Tirana's civic heart, provides the best view of the transformation. The renovation of the square, completed in 2017 under the mayorship of Erion Veliaj after years of delays, was led by 51N4E, the talented Belgian practice that serves as something of an unofficial architect of the Rama regime. (The artist Anri Sala, a former student and close friend of the prime minister, collaborated on the project, along with landscape design firm Plant en Houtgoed.) The vast, empty square is in fact a low pyramid, with a gentle 3 percent grade that drains the water from fountains and elevates a person's eye level relative to the surrounding monumental edifices (the opera, national museum, and national bank, all in an official style).
From the square, one can also glimpse an emerging skyline of irregularly shaped high-rises. By 2024, if all goes according to plan, Downtown One, a 37-story tower designed by MVRDV, will dwarf both 51N4E's Plaza Tirana hotel and Archea Associati's 4 Evergreen. Perhaps by then, the market will have finally eclipsed communism. – David Huber
---
Valencia, Spain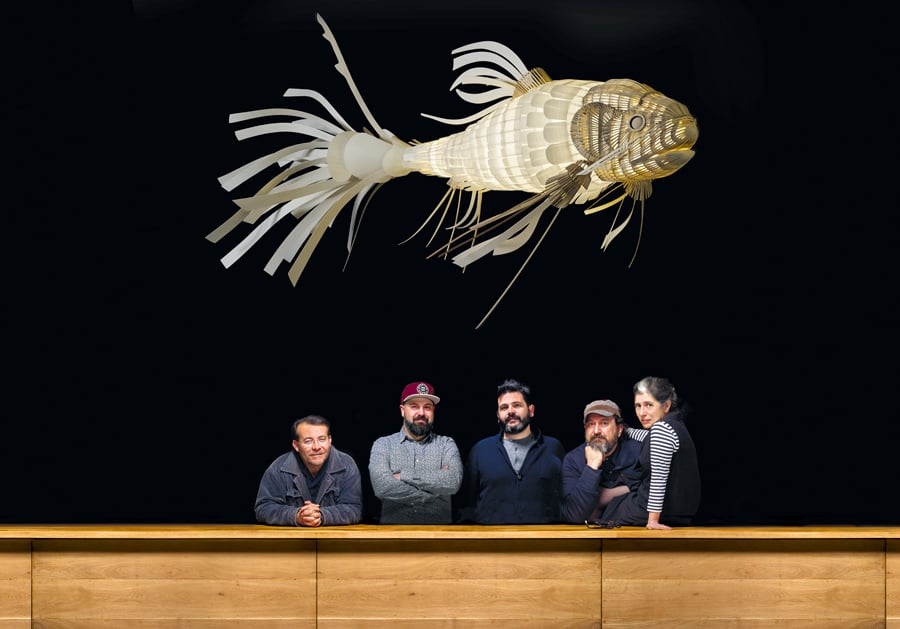 A Valencia studio's products draw upon the region's cross-disciplinary creative networks.
For LZF Lamps, a Valencia lighting manufacturer, happenstance has played a decisive role since the beginning. The company was founded in 1995 by Mariví Calvo, a Valencia artist, and Sandro Tothill, an Australian musician and transplant with a taste for adventure. The pair fell in love, and while putting together their first apartment, they came up with the idea of making light fittings with wooden veneers. "There were some lying around the house and we were struck by their translucence," explains Tothill. "We started playing with them, reinforcing the veneers with a special type of resin that Mariví had been using in her artwork." Since then, natural wood has become the signature element of LZF lights, supported by fine craftsmanship and imaginative design that pushes the material in unexpected ways.
Every product in the collection has a story to tell. To develop them, Calvo and Tothill have drawn in a rich cast of actors from outside the company. Artisans who craft fallas—the giant, often grotesque effigies burned during Valencia's most famous fiesta—have participated. So have musicians, comic book artists, and local creative studios such as Masquespacio, which directed Telling Tales, a richly visual campaign for LZF inspired by Hitchcock's Rear Window. This multimedia approach, says Tothill, keeps their products looking fresh and varied.
Koi, a giant light-sculpture in the form of a carp, is the star of LZF Lab, a program that invites artists and craftspeople to carry out complex projects. Koi has its roots in Barcelona studio Inocuo the Sign, which, inspired by the interlacing wooden skin used in LZF's Armadillo lamp (designed by Luis Eslava), imagined the koi character for an animated film. It ultimately took shape in the physical world as a sculptural light thanks to local craftsmen who used a traditional method to weave thin strips of wood, creating its scaly form and willowy tail.
Does the intimate, convivial creative scene in Valencia nurture serendipitous collaboration? "I am not sure," Tothill muses. "I have never worked anywhere else. The thing is, if you are a genius you work alone. If not, you work with other people." – Suzanne Wales
---
Tulsa, Oklahoma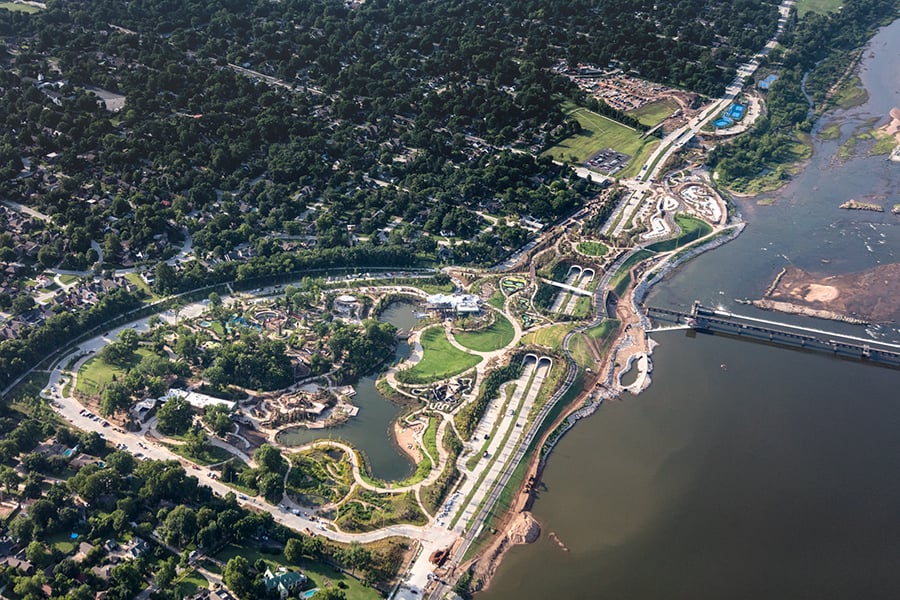 An expansive new landscape by Michael Van Valkenburgh Associates is energizing public life in the Oklahoma oil town.
Tulsa, Oklahoma, may not immediately leap to mind when thoughts turn to the best of modern design, but the Gathering Place hopes to change that. Visitors to the city's new public attraction can enter a cedar-and-maple lodge and curl up on a Womb Chair near a monumental fireplace to recharge their spirits and phones. Elsewhere in the park, they might take in live music from bands like the Roots, which played opening night as picnickers gathered across verdant expanses of lawns studded by ginkgo trees, near gurgling wetlands that twinkle in the sunset like miniatures of the nearby Arkansas River. There are countless other diversions, none of them particularly suggestive of T-Town: castles brushing up against tree canopies, giant slides shaped like blue herons, a "sensory garden," or, for more grown-up leisure, a Modernist boathouse serving cocktails on balconies overlooking the above.
With free admission to its 100 acres of playgrounds and skate parks and lawns, Tulsa's must-do amenity aims to counter the region's reputation, deserved or not, as a racist, parochial bit of flyover. Envisioned and largely funded by the George Kaiser Family Foundation, and designed by landscape architecture firm Michael Van Valkenburgh Associates, the park opened last year to raves and attendance rates more than double their projections. Its Mist Mountain and Water Maze offer relief from broiling summers, while the surrounding grottoes and stacked limestone paths are much more Andy Goldsworthy than Six Flags.
"We were really excited by the abundance of natural stone that was available locally," says Van Valkenburgh. "The textures and colors of the stone feel very at-home in this setting, especially when you are in some of the higher elevations of the park, where you can view more of the landscape, out across the Arkansas River."
The idea is to show off Tulsa's resources while providing free space for locals to imagine what else they could do in their own backyard. It might not fix the past, but it's a bright vision of a future. – Jesse Dorris
---
Memphis, Tennessee
A park in the city's long-neglected downtown illustrates that small, community-led changes are afoot.
Tennessee's second-largest city, Memphis, is beginning to recover from historic ills, even if high crime and poverty rates remain stubborn wounds. Urban sprawl has receded, and there is optimism about a return of investment to the downtown core. That mood is reflected in numerous adaptive reuse and infill projects, a new home for Ballet Memphis, and a bike-share system, to say nothing of a $75 million riverfront restoration and redevelopment plan. "Like many cities, Memphis is in competition to attract and retain a strong workforce by improving quality of life for residents," says architect Jeanne Gang, whose studio developed the riparian scheme.
Smaller in scale, and emblematic of the surgical and community-led moves to reshape the city, is the wedge-shaped Madison Avenue Park downtown. Opened in 2017 and designed by New York–based Davies Toews Architecture, the pocket park sits on an alley-facing rectangular lot where a Burger King once stood. Local lawyer Scott Crosby, who owns a stake in an Irish pub opposite the park, spearheaded the purchase of the site with help from foundation grants and private donations. (The nonprofit Center City Development Corporation now owns the property.) He then linked up with the PARC Foundation, which covered the design fees and construction costs.
In place of the fast-food relic, architects Jonathan Toews and Trattie Davies conceived a kind of surrealist stage set. "The PARC Foundation likes these odd Modernist things to add to the character of the city," says Toews.
Because the site is sloped, the husband-and-wife team designed the park as two adjacent triangles made of concrete pavers: One angles up toward the south, terminating at a concrete wall where movies can be screened. The other remains at grade and features concrete benches, trees, and grass. A vitrine cut out of the underside of the sloped wedge is home to rotating exhibitions from Memphis's Tops Gallery.
The small intervention is "trying to take advantage of weird adjacent scales" of the streetscape and remnants of signage on adjacent buildings, explains Davies. The project's four-year gestation period gave the architects an appreciation for slow change and imperfection—things Memphis will no doubt continue to experience in its evolution. – Laura Raskin
---
Dakar, Senegal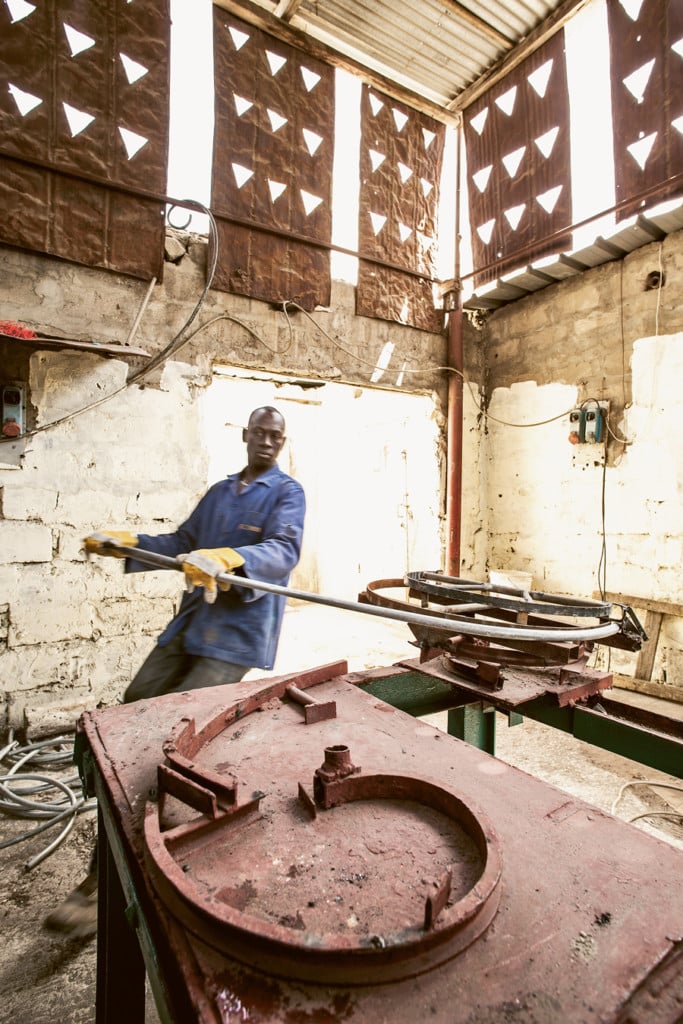 The Dakar Next initiative hopes to change how design and artisanship are valued in Senegal.
"In Dakar, we are all designers," says Bibi Seck, who divides his time between the Senegalese capital and New York. He is referring to Senegal's informal design sector, dependent upon artisanal manufacturing. "If my mother needed a table," Seck says, "she would call a woodcraft guy and make a basic sketch." That scenario persists in contemporary Dakar, though professional design services are considered too expensive, and artisans are left vulnerable to exploitation by a market that favors cheap labor.
Seck, who has designed contract furniture for Herman Miller and Nucraft in the United States, is hoping to change all that with his latest project, a design lab called Dakar Next. For the past decade, he has been trying to engage with craftspeople in a fair way. Although the first armchair he designed for Moroso in 2009 retails for over $2,000, affordable products, like Seck's $79 IKEA rocking chair, have hit the market as well. Through those projects, Seck has zeroed in on the one thing that must change if good design is to become ubiquitous in Senegal: labor practices.
With Dakar Next, "the artisans I work with make what I make," he says. "We share the costs of materials; we split the profits." Seck trains his partners to prioritize their own needs over the market's exploitative forces: "I ask, 'How much do you want to make?' If you want to make $1,000 a month, you have to divide that amount by the number of working hours." To understand how revolutionary that is, consider that even buyers or clients that are certified as "fair trade" by the World Fair Trade Organization are required only to pay artisans the minimum wage as defined by the local government—around $1,700 a year in Senegal. – Avinash Rajagopal
---
Algiers, Algeria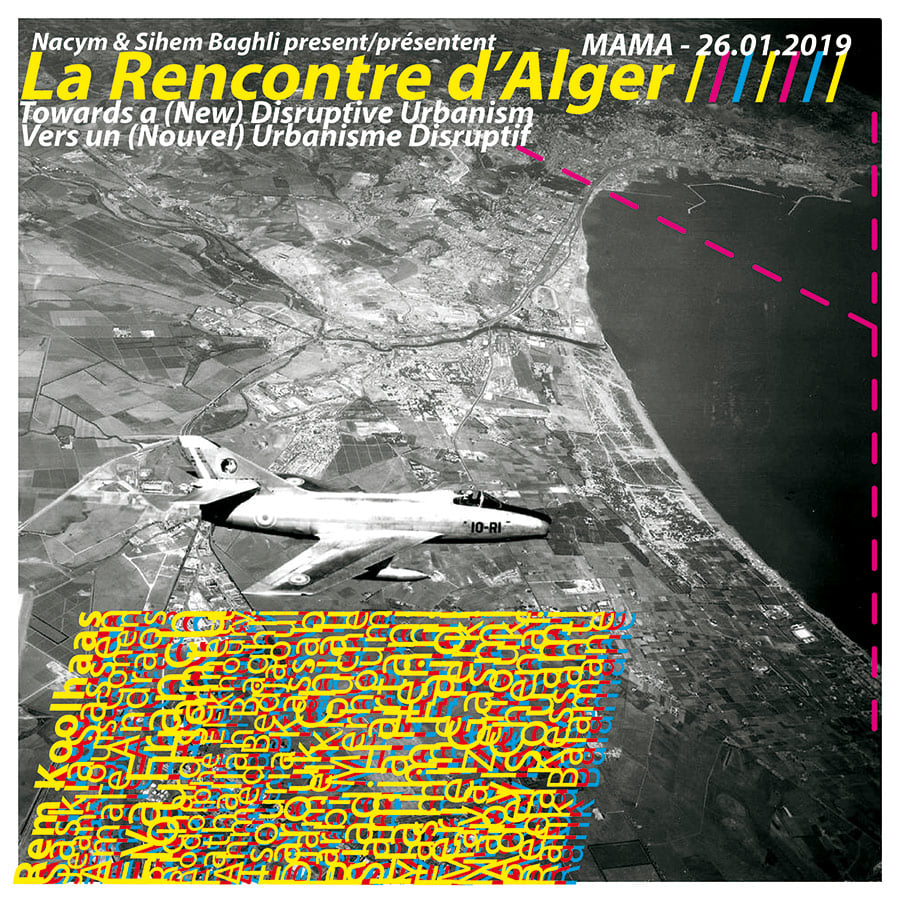 Amid political turmoil both past and present, the Algerian capital is ready for a new start.
A few weeks before Algeria erupted in protests in mid-February, with millions descending on public squares nationwide to call for the replacement of the entire political system, a small group of urbanists gathered at the National Museum of Modern and Contemporary Art, Algiers, to discuss an ambitious proposal: a bridge to be built across the Bay of Algiers.
If constructed, the ten-mile-long structure will utterly change the sight lines of a place whose history spans thousands of years. The architects behind the proposal, Nacym and Sihem Baghli, who also organized La Rencontre d'Alger ("Algiers Meeting") in January, say it would be no less than a founding element of a new Algiers, a city that still bears the marks of anticolonial revolt and brutal religious conflict.
The Baghlis first imagined the project in preliminary concept sketches and then in a competition brief for young professionals launched last fall: The bridge would stretch from the Ottoman fort at Tamentfoust in the east, beyond the Casbah in the west, touching down on the shore at multiple points, at an estimated cost, conservatively, of $1.5 billion.
Whether the idea is a metaphor to spur new thinking or a feasible project waiting to be realized became a subject of some debate among panelists in January, at the same time the competition awards were announced. Apart from some criticisms, it seemed from at least one panel that the Baghlis intend for their scheme to be taken seriously: Along with a couple engineers, a former minister of public works and a former head of the national business council specializing in solar energy infrastructure analyzed the technical and financial solutions that could be brought to bear.
Prominent figures who were supposed to participate, including Rem Koolhaas, Richard Sennett, and Saskia Sassen, didn't show up—last-minute changes, the Baghlis announced. One architecture writer ended up on a panel as a substitute, arguing for easing visa restrictions and opening borders to better reflect the present-day public mood of openness. But the point was made, an idea stirred up: Something unanticipated could emerge from civil society. A few weeks later, the country's infirm four-term president announced he would stand for a fifth term. A popular uprising soon followed. – Stephen Zacks
---
Jakarta, Indonesia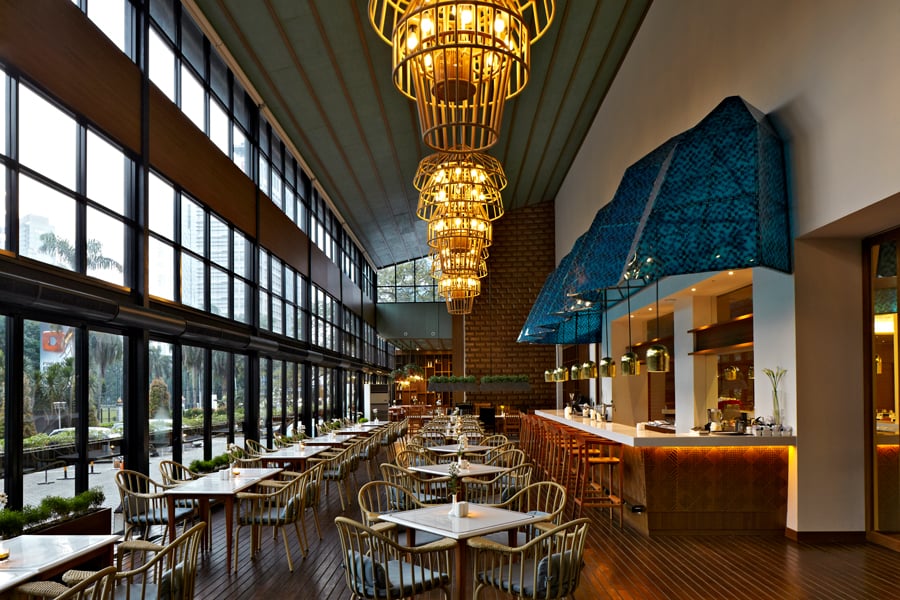 A designer takes a novel approach to traditional materials, making a statement about the potential for a regional design identity.
Alvin Tjitrowirjo describes his relationship with Jakarta as "love-hate." Since 2006, the designer has run his own practice, AlvinT, out of the Indonesian capital, a city with 30 million residents in its metropolitan area. With his studio, Tjitrowirjo has shown a knack for natty furnishings and interiors, many of them made using traditional local materials. "I wanted to do something that has roots of my own culture," he says.
Rattan, a climbing palm native to Borneo and Sumatra, features heavily in many of the brand's concepts. "As a designer coming from Indonesia, I think it's a good opportunity for me to sort of claim this material as Indonesian," says Tjitrowirjo. Jettison any preconception you might have of hokey Miami sitting rooms: AlvinT's rattan takes the refined forms of swooping parametric benches and vibrant lounge chairs. Products are all handcrafted locally.
Getting his fellow Jakartans to see the conventional material in a new light has been a struggle, says Tjitrowirjo. Although locals appreciate traditional goods, he says, this interest rarely translates to a contemporary aesthetic: "We've been colonized for so long [that we] feel that Western culture is superior to ours. It's driven the market downward because it prohibits our own culture from flourishing or progressing."
But maybe Tjitrowirjo is just ahead of the curve. A major Indonesian manufacturer, Vivere, has called on the designer as creative director. As resident tastemaker, Tjitrowirjo is using the platform to advocate a tradition-inflected but stylish look. "There's always that constant push and pull between wanting to make something for the market and wanting the market to follow you," he says. "Now it's time to pull the market toward what I want." – Lila Allen
---
Fukuoka, Japan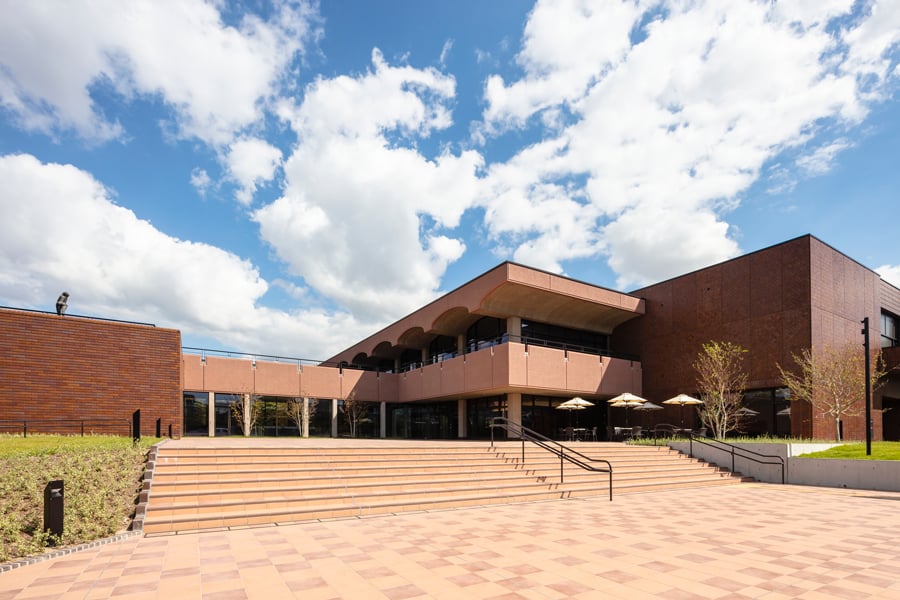 After a three-year renovation, the Fukuoka Art Museum reflects the coastal city's international links, both past and present.
Kunio Maekawa didn't import architectural Modernism into Japan, but he's known in the country as one of its most enthusiastic defenders—"one of the leading warriors of the Modernist cause," writes Jonathan M. Reynolds in Maekawa's sole English-language monograph.
The architect's command of overseas influences is on clear display at the Fukuoka Art Museum—which opened to the public in 1979 and again this spring after a three-year renovation—in the ancient city of over 1.5 million. Maekawa apprenticed with Le Corbusier and nurtured an international network of Modernists, and at the museum it shows: Barrel-vaulted ceilings, concrete pilotis, tiled terraces, and wraparound fenestration are so canonically Modernist, the building must have been considered passé during Postmodernism's ascent.
Much of the recent renovation, completed by Tokyo firm Azusa Sekkei, seems to have been an effort to counter the impersonal effects of those features—a primary aim, says museum director Kiichiro Nakayama, was to "make it a more approachable facility." To that end, the architects added a new café and shop and expanded the galleries to accommodate more contemporary works.
Nakayama adds that Fukuoka—roughly equidistant from Tokyo, Seoul, and Shanghai—functions as the "receiving tray" for Japan's south of both cultural events and growing numbers of visitors, who are after the city's laid-back beaches and renowned shopping scene. Hidden in plain view, Fukuoka is an unhurried respite from metropolitan Japan's more frenzied tendencies—not unlike Maekawa's architecture. – Akiva Blander
You may also enjoy "A Brutalist Landmark and Skateboarding Mecca in London Is Restored."
Would you like to comment on this article? Send your thoughts to: [email protected]