September 14, 2017
A Tale of Two (Fictional) Cities at the Chicago Architecture Biennial
A pivotal portion of the show explores the city in two different axes.
For returning visitors to the Chicago Architecture Biennial, the first thing to notice is the tighter theme and the more cohesive spatial organization of the disparate works—no easy feat when working with 140+ participating designers. Whereas before, installations of all shapes and sizes were stuffed into corners or haphazardly pinned to walls throughout the Chicago Cultural Center, now they are more thoughtfully grouped into clusters corresponding to sub-themes. The two areas that stand out are Horizontal City and Vertical City, which propose different ways of planning without digging into the minutiae of zoning law.
Instead, they are representational, imagining two very different kinds of city. Touchstones of Modernist historiography provide the impetus for both: Mies van der Rohe's 1947 master plan for the Illinois Institute of Technology (IIT), which artfully arrayed building blocks horizontally over a virtual tabula rasa, is invoked in the the Cultural Center's GAR Hall Gallery, while the 1922 Chicago Tribune Competition (and its subsequent rehashes) informs the "hypostyle hall" of towers in the Yates Hall Gallery.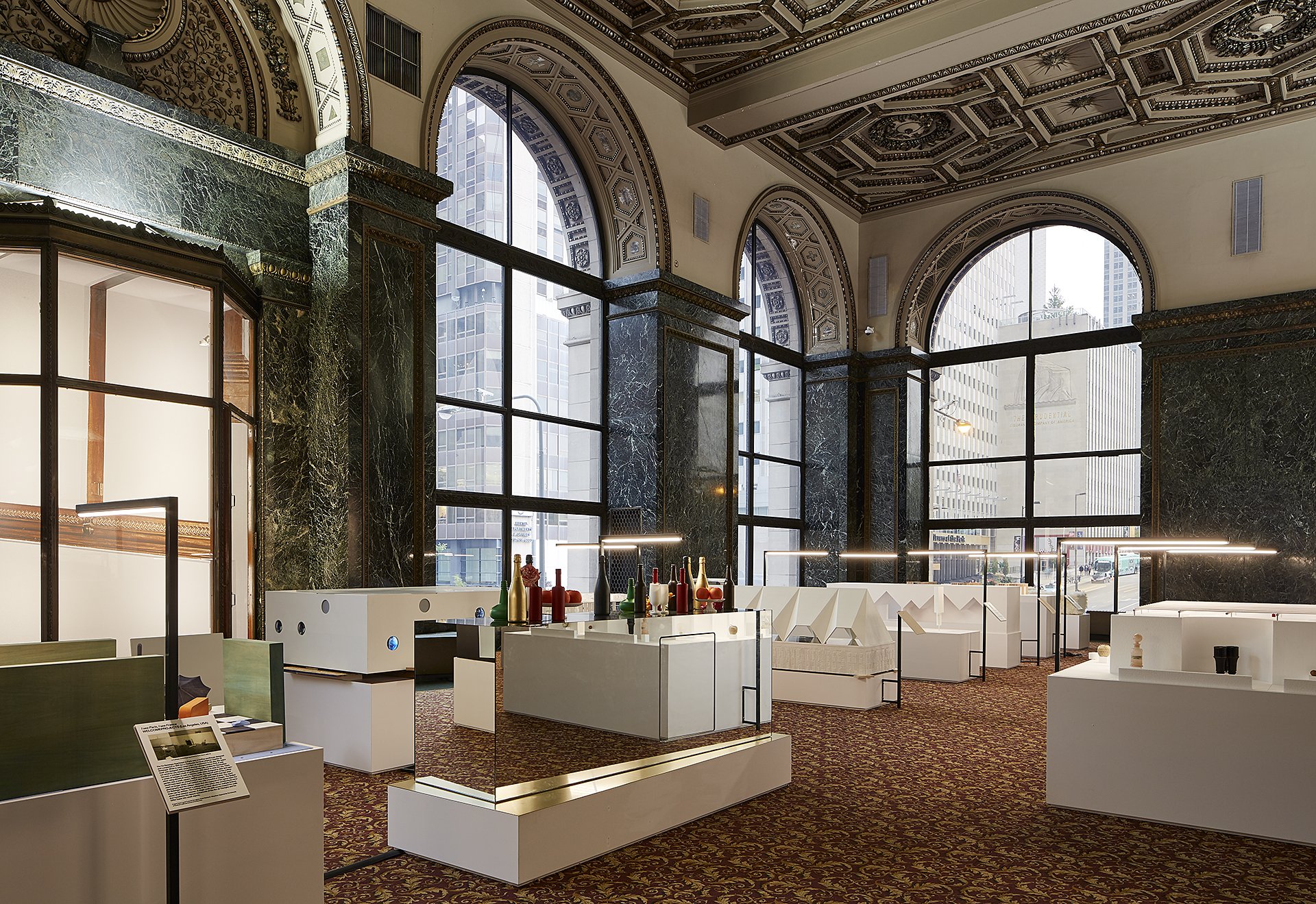 In GAR Hall, 24 plinths are arranged according to the figure-ground relationship established by Mies's famous plan. Scale models made by 24 designers (the numerology is drawn from the number of buildings initially envisioned for the IIT campus) are mounted on each base. These maquettes span the gamut of themes and materials—dollhouse-space and architectural miniaturization is explored by several participants including Laurel Broughton, whose I See Paris, I See France revisited the Le Corbusier deep cut, the Surrealist Beistegui Apartment in Paris (demolished in the Second World War).
Jack Self of the Real Foundation explored Miesian space while name-checking Freddy Mercury, while the Living's David Benjamin played with voyeurism, via Kisho Kurokawa's visionary (and now rotting) Capsule Tower in Tokyo. Formlessfinder and Los Angeles Design Group experimented with different casting processes that yielded interesting results—funereal, in the case of the former, and rococo, with the latter. Others, like Andrew Kovacs, offered more rambunctious, even indescribable pieces.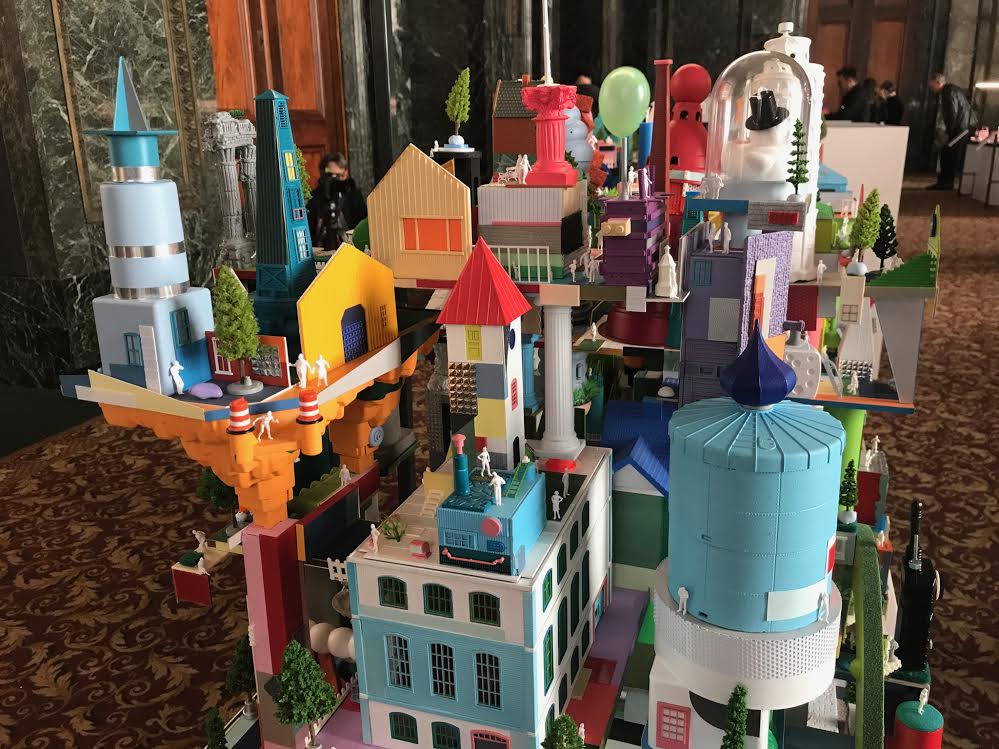 The story was very different in Yates Hall. For starters, the models were many times larger—16 feet tall—and the historical connection much clearer. Still feeling fresh nearly a century after its design, Adolf Loos's submission to the 1922 Chicago Tribune Tower Competition anchors the cavernous room at one corner, while Ludwig Hilberseimer's unimpeachably rationalist entry stands at the opposite end. In between are 15 towerlets, a few of which—like Lisbon firm Barbas Lopes's golden, tripartite structure—riff off these precedents.
MOS's & Another is typically insouciant (bolstered by a description stating that the project "couldn't care less or more"), while vaguely recalling Mies's early glass skyscraper designs. Tatiana Bilbao's offering is a piebald high-rise comprised of several plugged-in aesthetic and structural fragments, what Bilbao calls "vertical suburbs." Ensamble Studio's construction is saddled with a misleading title (Big Bang Tower), but misnomer aside, it is an admirably chaste array of steel beams.
These are a few first impressions, and both exhibits are more varied than these notes might suggest.
The Chicago Architecture Biennial opens September 16 and runs through January 7. 
Going to the Chicago Architecture Biennial? Don't miss our Top 10 Things to Do and See at the Chicago Architecture Biennial.