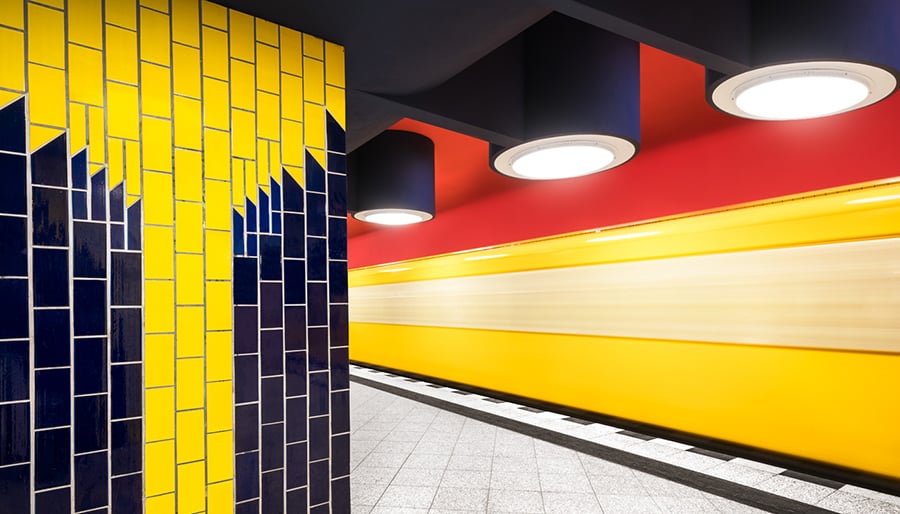 March 12, 2019
Inside Berlin's Surprisingly Eccentric Modernist Subway Stations
An exhibition at the Berlinische Galerie highlights how politics and a handful of architects greatly shaped the German metropolis's subway system.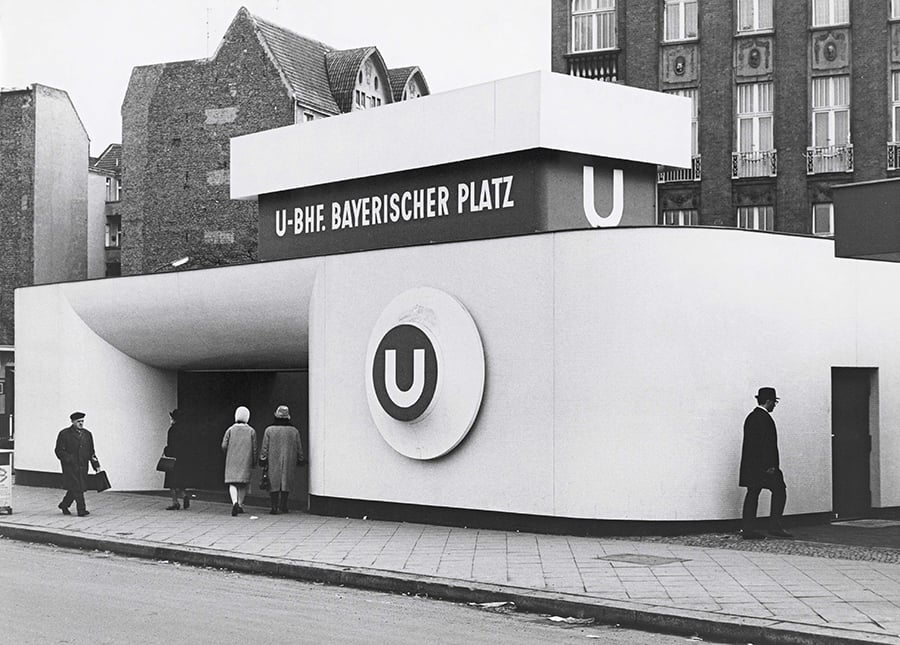 ---
Berlin's subway system is eclectic, to say the least. From Futurist to Brutalist and downright bizarre, the system—known as the U-Bahn—runs the architectural gamut. Some of its wildest stations are now presented as part of the exhibition Underground Architecture: Berlin Metro Stations 1953–1994, on view at the Berlinische Galerie in the capital's Kreuzberg neighborhood until May 20.
The U-Bahn stations' strange admixture of conventional and peculiar is largely thanks to a few architects who weren't afraid to impart their own aesthetic to the transit system. One was Rainer G. Rümmler, who designed most of the subway's postwar stations and livened up some of them with bold mosaics and platform murals. Meanwhile, Bruno Grimmek—a practicing architect who also designed office buildings, memorials, and universities—brought a Bauhaus-esque orderliness to many U-Bahn stations.
Berlin's history is also recorded in many of the stations' design. Just as the city was divided between East and West until 1989, so are the styles of its 170 stations. West Berlin's were designed using bold colors and with individual touches that reflected their respective neighborhoods, while East Berlin stations were designed more minimally and with uniform, muted colors.
Ursula Müller and Kati Renner, the show's curators, sought to highlight these factors in the exhibition, which focuses on U-Bahn stations realized between 1953 and 1994, a period that runs approximately from the subway's postwar expansion to its unification. "The metro stations here illustrate Berlin's unique role as a theater of the enduring East and West conflict, as it affected even metro design," says Müller. "These 70 metro stations built between 1953 and 1994 with their distinctive postwar and Postmodernist feel are still a defining feature in the daily lives of Berlin's residents."
You may also enjoy "Liven Up Your Feed: 12 Architecture Instagram Accounts We Love."
Would you like to comment on this article? Send your thoughts to: [email protected]