August 5, 2021
Can Underused Malls Help Build Healthy Communities?
A design research competition at DLR Group yields a plan to transform a shopping mall into a center for community health.
---
In communities across the country once-thriving shopping malls now stand vacant, their enormous parking lots devoid of activity other than the occasional graffiti. But what to do with these relics of the suburban retail boom? The question is becoming more urgent as the number of vacant or nearly vacant malls across the country continues to grow.
According to Retail Dive, more than half of all mall-based department stores are expected to close by the end of 2021, with a 20 percent projected decline in cash flow for traditional malls over the next two years. Empty mall spaces leave gaps in the community fabric, eroding local vitality and access to physical and social resources. But even if there was a market for brick-and-mortar retail, replacing a shuttered department store with a new one is not the solution most communities are calling for.
People today are actively looking for spaces that serve deeper community needs for education, health, housing, and social services. Development can be part of the solution by embracing its potential ability to strengthen community health. Under-utilized mall spaces offer incredible opportunities to apply a community-centered development process that champions health, resiliency, and equity in every urban and suburban center.
And while the trend away from mega-malls rises, trends across other market sectors become important to the potential use of these neglected sites. For instance, decentralizing healthcare from major hospitals to neighborhood-based health centers is on the rise, and education is being redefined in hybrid, virtual options that give new meaning to home-schooling.
---
Tackling the Challenge
Through an internal design competition, DLR Group's integrated design teams explored how context, history, and stakeholder priorities could lead to more values-driven and impactful design solutions for these vacant malls. We selected an underutilized and much publicized big-box site that has experienced economic, social, and environmental challenges: Baldwin Hills Crenshaw Plaza in South Los Angeles.
The design teams were asked to repurpose the site into a multi-use project that drew from diverse expertise, creatively addressing the economic, social, and environmental challenges surrounding the site. The teams anchored their process in the Model for Healthy Communities from Kaiser Family Foundation, a research-based framework that identifies six areas of focus for addressing community health:
Physical environment including housing, public infrastructure, and neighborhood safety
Economic stability for residents and businesses
Food with access to healthy options
Education resources available for literacy and training for all levels, from preschoolers to senior adults
Healthcare that is affordable and high quality for all
Social and cultural support systems.
The results of the competition form a roadmap for engaging the community and design teams in how to transform big-box properties through redevelopment. The roadmap outlines a more holistic, research-informed development process that emphasizes community health for any project. That process and lessons learned include: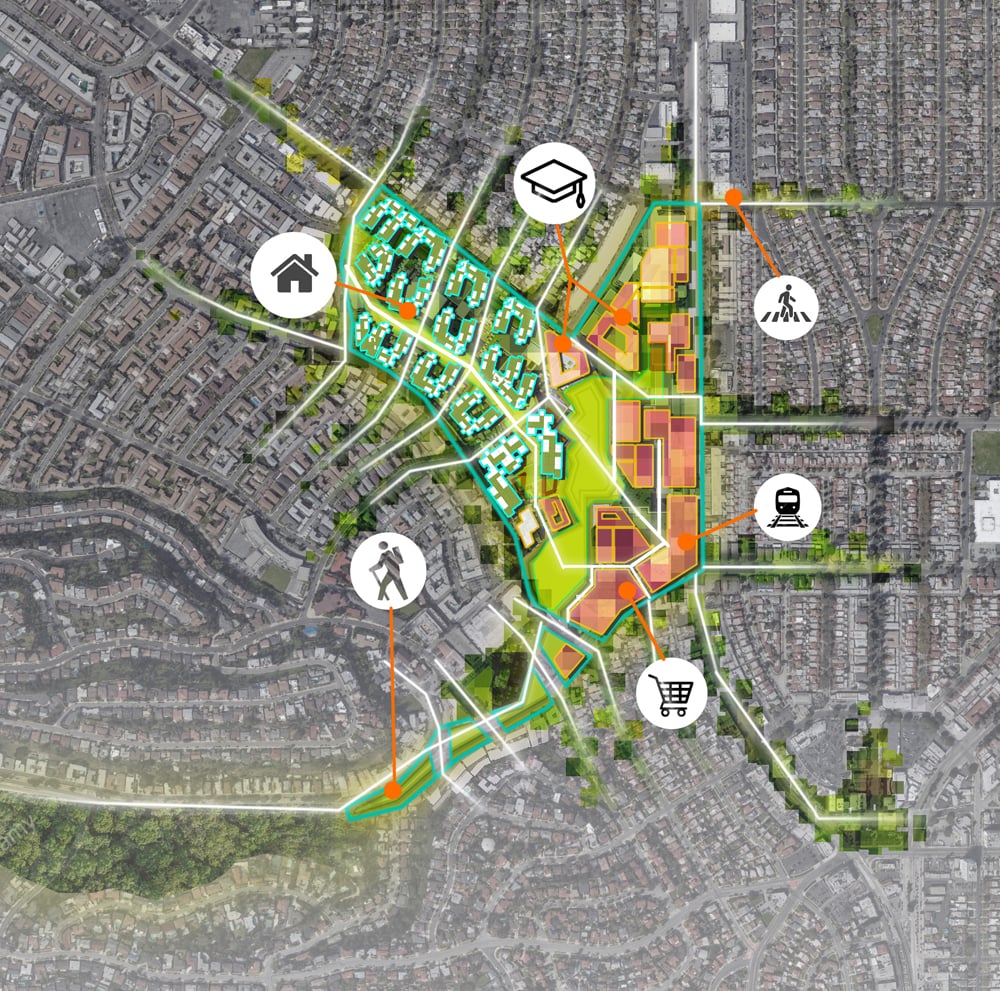 ---
Thinking Beyond the Site
Current Context—GIS analysis identified existing conditions of the built, social, economic, and ecological context around the site. This information included population demographics, income and education levels, access to assets and infrastructure, and the ecology surrounding the site. It's vital for architects and developers focused on serving the community to get a complete understanding of how these systems interact.
History—Beyond existing conditions, teams explored the history that shaped the community's current state. The timeline recognized the resiliency of the Baldwin Hills/Crenshaw community, which developed a thriving culture despite a history of systematic divestment and discrimination. The historic timeline included protests and periods of civil unrest triggered by systematic oppression, and it highlighted the community's continued advocacy for equity and ownership in shaping the fate of Baldwin Hills Crenshaw Plaza.
Stakeholders—Context and history provide a strong foundation for engaging the broader community on any project. Once these were considered, participants interviewed community members and role-played perspectives to develop a big picture of needs, values, struggles, and aspirations. These conversations helped designers balance stakeholder perspectives to identify design opportunities for a healthier community. Stakeholders include local residents, business owners, community organizations, local government, mall users, and potential developers.
Create holistic solutions through integrated design
Armed with contextual information, community history, and stakeholder perspectives, teams developed six highly diverse solutions that addressed the social determinants of health. Solutions integrated multi-family housing options within their shopping destinations, or education venues where children can attend classes within their own complex, or restorative justice features that incorporated cultural event spaces, a crisis center, vocational training, and a worker-owned co-op. Each design featured a development that was both a community resource and a regional destination.
Although designs varied in their components and approaches, they had one thing in common: they built upon the rich cultural heritage of the Baldwin Hills and Crenshaw communities. By re-adapting the existing mall space, projects honored the social and cultural history that provided the foundation for the community's relationship with the place.
Instead of proposing ground-up redevelopments that could be considered "foreign," many teams maintained existing tenants, brought in new local businesses, and repurposed existing buildings. They learned from what already worked on the site, like the Pan African Film Festival and large-scale community organizing, and enhanced spaces to serve those needs without severing cultural ties.
---
Finding the Power to Reshape Communities
Design elements aside, location matters in redevelopment. As cities densify, the land available for large-scale mixed-use developments (which require anywhere from 20-30 acres) is dwindling. Underutilized malls may be one of the few remaining areas that can accommodate these developments. Why build new when we can build upon existing zoning, physical infrastructure, and social infrastructure that may support the success of a project?
These investments have the power to reshape entire communities. Investing in places like the Baldwin Hills Crenshaw Plaza can counteract the decades-long patterns of divestment from communities of color, bringing renewed activity and vitality to neighborhoods that have long been calling for it. And dying malls don't just impact tenants and neighbors; they cause diminishing sales tax bases for entire municipalities. Densifying and reinvigorating existing mall structures can provide the tax base to support broader investments and services.
Now more than ever, it's critical to reimagine how big-box malls can become engines of community transformation. And an approach grounded in context, history and stakeholder perspectives can apply to sites around the country. Whether an underutilized mall plagues a mountainous college town, the heart of Los Angeles, or suburban New Jersey, it can benefit from a context-specific process that unearths and addresses its unique needs, challenges, and aspirations. By adopting this process, developers, communities, and municipalities can co-create an equitable, healthy, and resilient future.
A paradigm shift (from facilities-first to community co-creation) will require visionary developers to pave the way. But this future isn't far off. Some developers are already pursuing catalyst projects that reinvest in underserved communities and embrace a community-centered process. One example is our urban development and design project at Freedom West 2.0 in San Francisco, a housing co-op and mixed-use development with MacFarlane Partners that maintains and expands community ownership.
As more developers follow suit, the inward-facing malls of the past can transform into vibrant community centers. Through a holistic redevelopment process, we have the power to repair our physical, economic, and social infrastructures to create a better future.
---
Jose Sanchez is the design leader for DLR Group's Mixed-Use Studio with extensive domestic and international experience. He can be reached at [email protected].
Grace Corsi is a GIS data analyst in DLR Group's Research + Development Studio.
---
You may also enjoy "100 Years After the Tulsa Race Massacre, the Story of Greenwood Continues"
Would you like to comment on this article? Send your thoughts to: [email protected]
---
Register here for Metropolis's Think Tank Thursdays and hear what leading firms across North America are thinking and working on today.