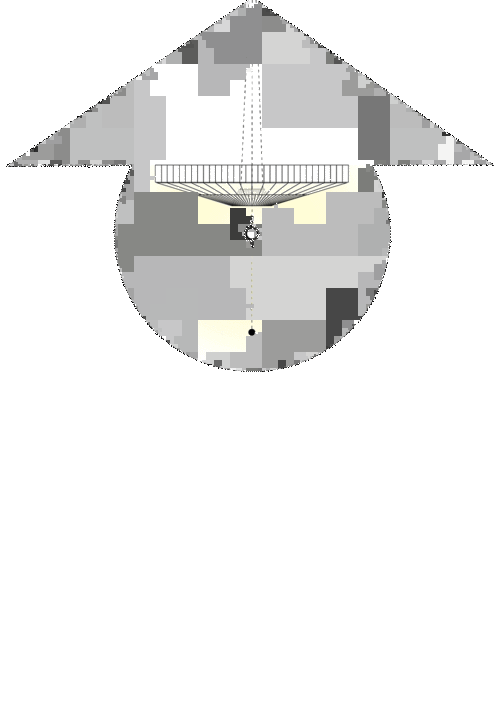 May 3, 2018
Design Duo Vantot Wants to Reinvent How We Use LEDs
The Dutch studio, which just presented two lighting designs at Milan Design Week, aims to unlock the creative potential for LEDs in lighting fixtures.
---
Visitors to this year's SaloneSatellite might have spotted a set of metallic, V-shaped fixtures delicately arrayed on thin wires. The striking design actually conceals a neat trick—the exposed wires both stabilize the luminaire units and power them.
Dubbed Current Curtain, the product comes from Vantot, an Eindhoven-based studio founded by Design Academy Eindhoven graduates Esther Jongsma and Sam van Gurp. It is the latest in the pair's sculptural experiments with LEDs. In 2016, the studio designed their Polar Play fixture, which is entirely made of conductive copper that powers a series of LED lights without the need for wires. In 2017, they upped the ante with Current Currents, a modular system that uses charged wires as scaffolding for lighting units. Current Curtain updates this latter set, offering stainless steel and aluminum finishes in addition to the original copper.
There is also an interactive element to Vantot's designs. Its 2014 Exploded View pendants put a twist on classic dimmer by allowing users to manipulate the light source by pulling on a string; just as the disk of light swings from side to side, so does its intensity ebb. The analogue design "was about a return to simplicity," van Gurp says, to a time before smart phones and the seamless control they enable.
---
While the Current Currents series and Exploded View pendants creatively exploit the unique properties of LEDs, Vantot has employed simpler ways to differentiate their offerings from conventional LED fixtures. The 2015 Limpid light uses hand-blown, sandblasted glass lampshades to soften and contain light. "We see a lot of glass lamps that don't actually transmit that much light. It becomes much more about the shape and not the function," Jongsma says, explaining that the design aimed to offer an alternative. "When turned off, the Limpid light vessels become relatively invisible," claims van Gurp, who adds that the "light gives it a defined shape." (Some lights in the Limpid series are tinted darker hues, however.) Produced by Dutch manufacturer Eikelenboom, the series has already garnered a lot of attention among American architects and interior designers.
---
Jongsma and van Gurp believe that designers have just scratched the surface of LED's potential. It's no coincidence that they still live and work in Eindhoven, a hub of advanced LED research. (The city was essentially founded by technology giant Philips, which built housing and factories there in the late 19th-century. Though the company left in the 1970s, Eindhoven has remained an important hub for innovation thanks to a leading technical university, major research facilities, and a thriving business sector.)
"Some of the leading LED engineers we've worked with are just a bike ride away." Jongsma says. "They've let us into their world because of a mutual desire to explore the potential of this technology," van Gurp adds.
You may also enjoy "Designer of Iconic '60s and '70s Lighting, Robert Sonneman Is Still Producing Striking New Fixtures."