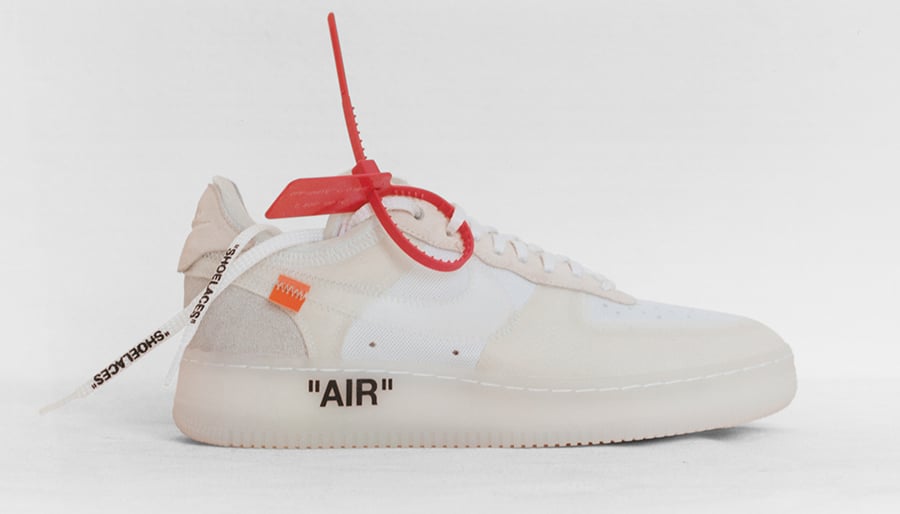 July 15, 2019
Virgil Abloh's MCA Exhibition Reveals the Power—and Limits—of Design Disruption
Hemmed in by quotation marks and material double-entendres, the IIT College of Architecture–educated designer can't break through the brands he uses to define his work.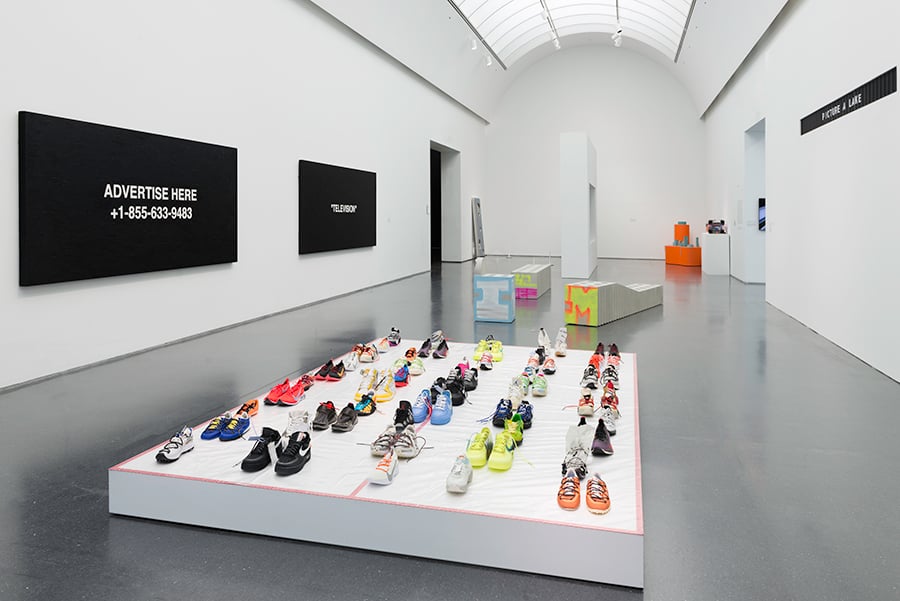 ---
Architecture is an attractive medium for the trendsetter-turned-multidisciplinary designer and artist Virgil Abloh. Because buildings are often the face of the establishment, they are ripe targets for subversion—Abloh's calling card.
So it's no surprise that bits of buildings are strewn throughout Figures of Speech, Abloh's first solo museum exhibition now open at Chicago's Museum of Contemporary Art (MCA).  In one of the museum's largest galleries, a shimmering vinyl print of an ornate Neoclassical building hangs loosely over a scaffold, its limestone permanence rendered flouncy and sagging at the fluted columns. Pink Panther approximates in pink insulation foam the locally famous Alexander Calder sculpture Flamingo, which sits at the base of Mies van der Rohe's Federal Center. A pair of Miesian I-beams painted with safety stripping crop up elsewhere under the title "Manchester, Illinois," a riff on designer Ben Kelly's iconic club the Hacienda in Manchester, England.
This recontextualization from the U.K. to Illinois brings Abloh home. A Rockford native, he graduated with an architecture degree from Chicago's Illinois Institute of Technology (IIT), before finding himself playing consigliere to Kanye West. (In 2010, Abloh was named creative director of West's Donda enterprise.) With his Off-White label, launched in 2013, and through collaborations with numerous fashion brands, Abloh has quickly emerged as one of the most influential designers of his generation. Encompassing art, design, and architecture, his work certainly has crossover appeal, which may explain why the MCA seemed so eager to lend Abloh its platform.
---
Organized by chief curator Michael Darling, Figures of Speech features 121 works, many of which were commissioned especially for the MCA. Taking up much of the museum's top floor,  the show is grounded in fashion, but also flatters Abloh's other interests. The curatorial arc begins with Abloh's string of popular streetwear fashion labels and culminates with his appointment as artistic director of menswear at Louis Vuitton, positing him within an archetypal European luxury house. Abloh's success marks the integration of streetwear—that is, fashion influenced by urban youths and inexorably linked to hip hop culture—firmly into the establishment, and so validates the perspectives of African Americans and people of color into the predominantly white design canon.
The work at the MCA is text- and graphic-heavy, plastered with logos and disjunctive brand signifiers; a sort of anti-fashion and anti-art that's radically decontextualized. Quotation marks are Abloh's weapon of choice, and he applies them to clothes and art objects. We know they're art objects because the Helvetica text says so. Or does it? Abloh says he's a "stark critic of being a critic," and that "the only truth that I've found is building a mountain of ideas."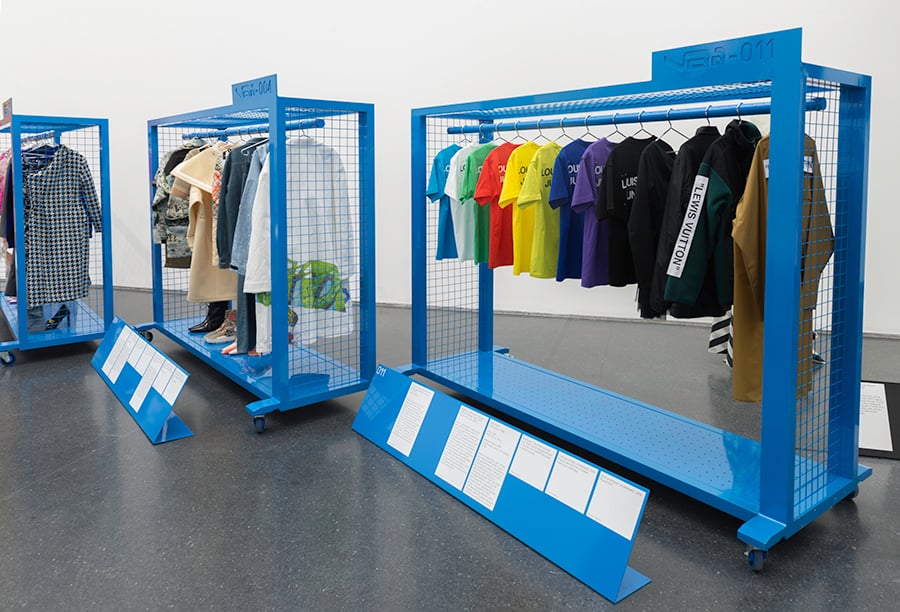 ---
But what is the idea behind the basic North Face jacket with the label "LEWIS VUITTON" pinned onto an arm sleeve? It's the kind of one-note joke Abloh could have filled a gallery with before breaking for lunch. Among a series of Nike prototype sneakers Abloh designed, one has the phrase "Not Air" printed beneath the swoosh; another simply says "Air." A rug calls out the swindle of Abloh's earlier Pyrex Vision streetwear line: "It's highly possible that Pyrex simply bought a bunch of Rugby flannels, slapped PYREX 23 on the back, and re-sold them for an astonishing markup of about 700%." (The quote is itself taken from a Complex article, in which the writer expresses incredulity at Abloh's appropriation of tartan shirts by now-defunct Rugby Ralph Lauren.)
In each case the quotation marks call into question the source of a statement and the sincerity with which it was made. This framing makes the viewer hyper-aware of Abloh the artist. It's an intensely puckish and personality-driven intrusion, and not particularly welcome. A flag outside the MCA reads "Question Everything," but the bounds of Abloh's inquiry are narrow.
This was all thrilling when Marcel Duchamp painted "R. Mutt," on a urinal 100 years ago. (Abloh is fond of saying "Duchamp is my lawyer," when copyright flags get raised.) But the sting of provocation is long gone, and what's left of Abloh's antics is a kind of meme-fashion, or performative graffiti with much less sense of craft than any respectable spray-paint muralist.
---
Abloh's design language is defined by re-mixing, aggregation, and collage, which are themselves taken from the internet's scrambling of visual culture, as documented by MCA banner 2018 exhibition, I Was Raised on the Internet. In this way, Abloh has a partner in Samir Bantal, director of AMO, the research division of Rem Koolhaas's OMA, who designed the Figures of Speech exhibits. Both Abloh and Bantal—and by extension, OMA—have a similar interest in cracking culture open and cataloging whatever oozes out.
Abloh is transfixed by brands and their seemingly omnipotent power to assign value, and by his own ability to disrupt these signifiers. He presents his work as existing on a spectrum between the "tourist" and the "purist," between wide-eyed elation at inclusion and the steely gaze of a seasoned veteran. There's tired commentary on the arbitrary nature of value in art and fashion; on how putting some text on a T-shirt makes it worthy of display in a museum or worth the $344 they're charging at the pop-up store on the fourth floor. Certainly, Abloh's entire approach seems to encourage bootlegging and re-appropriation of his own works. But the overall feeling is one of self-expression through material acquisition—connoisseur culture that can't envision a world beyond the brands corporations use to situate themselves in a market.
Abloh's creative origin point is streetwear, and it's a shame there's not more of it in the show. Although major fashion houses have co-opted streetwear—a phenomenon also illustrated in Abloh's own ascendance—the genre still retains a bit of subcultural mystique that places it beyond the polished corporate marketing of mainstream fashion. Its DIY aesthetic, guided by a young and decentralized network of designers, seems like it could still give expression to an authentic reflection of urban life. But Figures of Speech offers little imagery of streetwear enthusiasts simply wearing these clothes in the spaces typical to them—not something the average MCA visitor understands intuitively.
---
It's especially disappointing because streetwear calls for a very specific architectural context (the city) that Abloh is well positioned to mine. The time he spent at IIT on Chicago's South Side was formative; a historic school that's been fundamental in promoting Modern architecture, IIT also happens to be adjacent to a significant streetwear-savvy community. This is exactly the sort of cross-pollination Abloh channeled in a recent photoshoot he conducted for the New York Times. On location at Mies's S. R. Crown Hall, models glower in front of graffiti murals, pose in the model shop, and skateboard beneath the hung roof, wearing charcoal black cloaks and hyperbolic parkas. Abloh clearly loves these Modern architecture icons (he also shot at a standout shuttered Modernist school by Perkins+Will), and the MCA show could have similarly found better ways to remix design disciplines, rather than depending on context-less winks and nods.
Abloh and his story are powerful signifiers of widening acceptance of people outside the white and Euro-centric world of fashion. His art offers social commentary on the ways commerce uses black bodies to sell products, but it never coalesces into a durable critique. His strongest narrative, rather, is his own biography. "I started out screen-printing shirts on the South Side of Chicago, to convincing the head of the biggest luxury group that I should steer the one of the arms of their biggest [departments]," he says.
---
Abloh's origin story is conveyed in the show through a mural cataloging his personal style and design influences. But throughout, Abloh's trail-blazing path and personal identity are asked to carry too much weight; to become the critique themselves. "Fashion is slowly changing," says AMO's Bantal. "The people that broadcast the message are changing. Virgil's a good example of this."
At the exhibition's opening, Bantal called Abloh's appointment at Louis Vuitton an "Obama moment for fashion," and he's right in perhaps more ways than he intends. Like Obama, Abloh crossed borders that meaningfully opened the door for people with different ethnicities and experiences, but both couldn't, or wouldn't, translate this change into any sort of material or economic reality. More people like Abloh may well be let into this exclusive club, but the same cycles of consumption, waste, and inequality in fashion won't be bothered by his quotation-mark smirks. Abloh and Obama have never had remotely the same job. But the artist's quotation marks and two-dimensional material caricatures question the value of luxury, brands, fashion, and design, and let the query hang in the air, at a time when the culture and our politics needs definitive answers.
Virgil Abloh: Figures of Speech runs June 10–September 22 at The Museum of Contemporary Art Chicago.
You may also enjoy "7 Highlights From Jerusalem Design Week That Asked: East of What?"
Would you like to comment on this article? Send your thoughts to: [email protected]