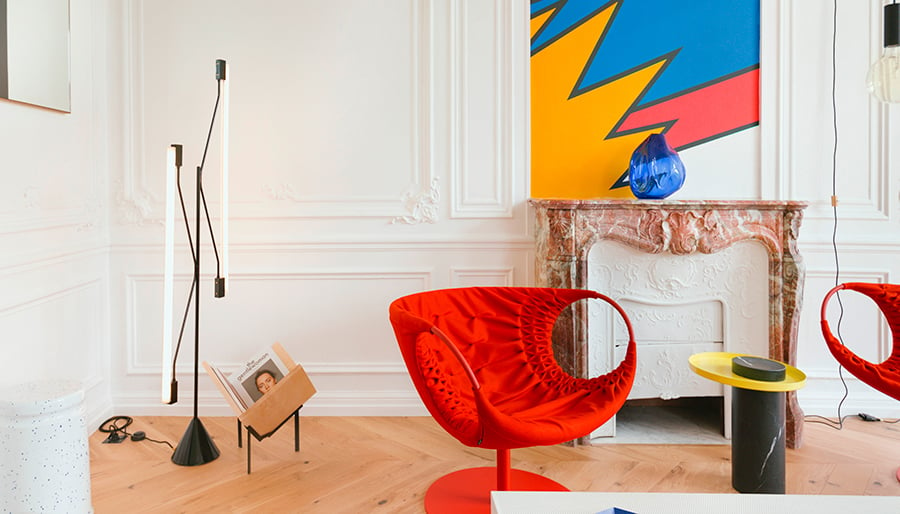 February 25, 2019
WeWork Is Retraining a Generation of Architects to Think in Terms of Data
Data influences WeWork's real estate deals, construction sequence, and design choices. There's a sense that acquiring data literacy makes architecture relevant in a tech-dominated era.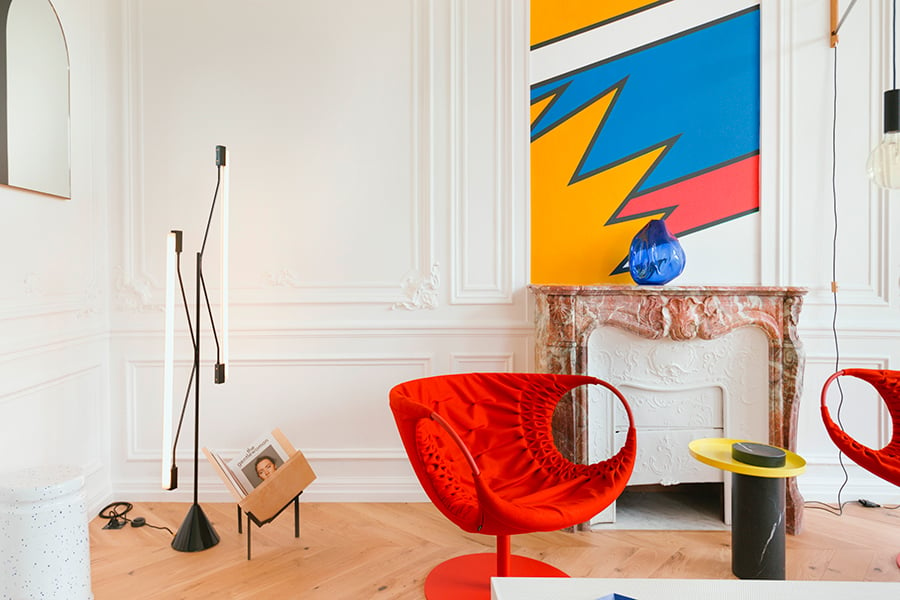 ---
There are T-shirts floating around WeWork's New York City headquarters that say "Buildings equal data." The nano manifesto hints at a conviction that architecture should be shaped by a methodical study of how people utilize spaces instead of unique aesthetic signatures. More than that, correlating digital information with physical structures is good business—it has quickly become a core strategy for the eight-year-old, $47 billion company racing to expand its footprint globally.
It's hard to overstate how essential data is to WeWork's operations. Specifically, architectural data. Nearly four years ago, the company underscored this dependency when it acquired Case, a BIM consultancy whose expertise WeWork relied on even in its early years (it was founded in 2010). With David Fano, Case's cofounder and a renowned expert in BIM, appointed as chief growth officer at the time of the acquisition, WeWork began integrating analytics throughout its value chain at an ambitious scale and a pace greater than that of its competitors and even the largest architecture firms.
Today data influences WeWork's real estate deals, construction sequence, design choices, even the way desks are arranged in the offices it manages. Its data-collection methods, employing app-based surveys and room sensors among other tools, are designed to measure the perceived "vibe" of a particular space. In doing so, WeWork is nurturing a cadre of analytics-minded architects who are as interested in databases as they are in drawings.
---
TAILORED TO FIT
Data has very much shaped WeWork's bold growth plan. (Part of this plan included a recent branding change to The We Company.) The start-up, which has doubled its membership every year for the past five years, now has about 400,000 members in nearly 30 countries, and it is opening two million square feet of office space every month. To support this global expansion, WeWork employs about 900 architects, interior designers, engineers, and builders who screen and rely on analytics at every juncture of their job. A significant fraction of WeWork's creative workforce is focused on Powered by We, an in-house development company that builds and operates corporate offices for large enterprise clients such as GE, Microsoft, and HSBC.
WeWork's data crunching begins long before a new office opens, or even before a CAD drawing is prepared. By looking at a database containing millions of geographic information points around the world, its real estate analysts can pinpoint which properties are worth considering. From experience, they know that proximity to conveniences such as gyms, coffee shops, and transportation hubs is paramount to WeWork members.
But WeWork's prowess with data really shines during the design phase. Drawing on aggregated intel from all its properties, WeWork has generated a catalog of pretested design solutions for each room in the office, or its "kit of possibilities," says Liz Burrow, director of workplace strategy. "The idea there is that you don't need to reinvent the wheel. A meeting room is a meeting room, and it's pretty universal…. The ratios of those types of spaces and how you configure the space are actually pretty baked [in]."
---
Using this "kit of possibilities"—reconfigurable, interlocking spatial modules—WeWork can build out its ideal workspace anywhere on the planet. There are variations on meeting rooms, desks, kitchenettes, wallpaper, bookshelves, reception desks, and bike racks. Designers can spec modifications or embellishments, but one-of-a-kind components are rarely designed. "The word 'tailor' is really important and very specific," explains MIT-trained architect Nicolas Rader, who helms Powered by We's design team. "It's not 'custom.' We still need to be able to leverage all of the understanding that we've built through the data collection."
Working closely with manufacturers, WeWork has amassed warehouses full of prefab units that are ready to go. Inevitably, a kind of uniform WeWork look does emerge: warrens of glass-enclosed meeting rooms, bold graphic walls, a profusion of phone booths, quirky seating pods. Rader shrugs off this tendency toward monotony, explaining that it's a relief not to have to start from scratch with every new project: "My team actually has the most fun. We get to figure out how all these pieces of the puzzle fit together."
WeWork's robust databases, coupled with insights harvested from user feedback, also give designers cultural insight when planning offices outside the United States. For example, communal rooms are purposely larger in Argentina because workers tend to gather during lunchtime. In Japan, where it's not unusual to wait 15 to 20 minutes for an elevator, WeWork designed lobbies with piped-in music to help pass the time. "We wouldn't have known that had we not used analytics to study cultural behavior," says Rader.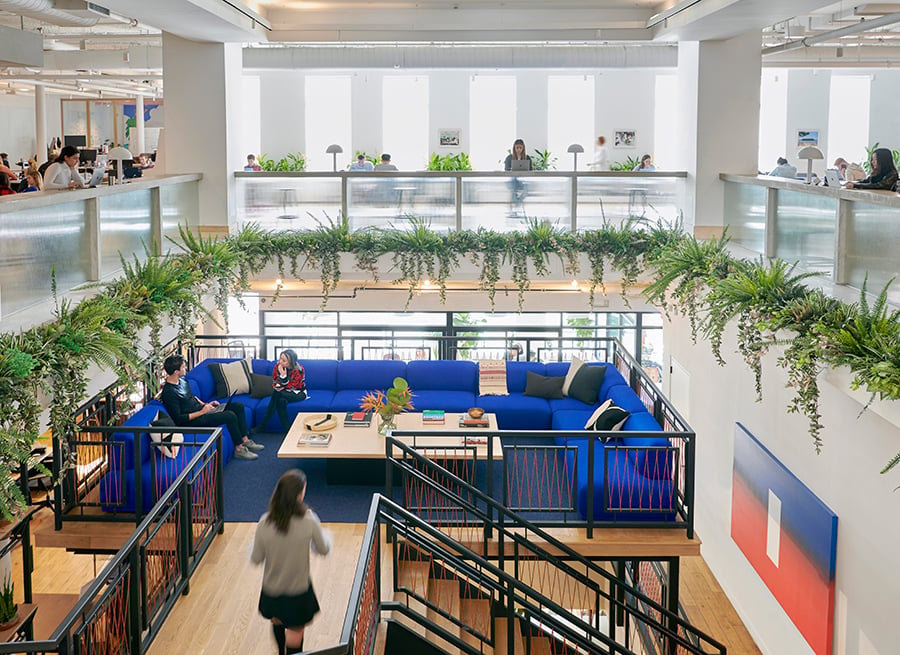 ---
This acuity with data analytics is a draw for bottom line–oriented enterprise clients. "WeWork's insights-driven approach to designing the space has been incredibly valuable to us," says Marc Montanaro, head of HR for UBS Group Americas. The Swiss financial services company tasked WeWork with refreshing three floors of its Lincoln Harbor campus in Weehawken, New Jersey, with hopes of transforming it into a vibrant collaboration hub. Spatial analytics, Montanaro explains, helped improve major architectural elements such as an awkward lobby and large conference rooms that often remained unused.
"The way people work is undergoing a fundamental shift, and more enterprise leaders are recognizing the correlation between physical space and performance," observes Fano. Even after the UBS campus reopens later this year, WeWork says, it will continually improve and reconfigure the space based on real-time data.
RETRAINING ARCHITECTS
In its exuberant embrace of data-informed decision making, WeWork is a vital training ground for new thinking. There's a sense at the company that acquiring data literacy makes architecture relevant in a tech-dominated era. "Oftentimes architects drive themselves into irrelevance," notes Rader, who worked at Snøhetta before joining WeWork in 2017. "[They] forget that there's that social or human point to it. They forget that there's a way of understanding information and data and a different way to drive dialogue."
But a hard-core devotion to data can cut both ways. Any conversation about collecting user information today arouses suspicions of privacy breaches and spying—an issue that the tech industry is grappling with. With sensors in many nooks and fully monitored areas, how does WeWork assure its members—and employees—that the information it collects won't be used maliciously? Shiva Rajaraman, WeWork's chief product officer in charge of technology, described its operation as a "balance of precision and privacy." In a recent interview with CNBC, he explained that WeWork isn't necessarily interested in capturing individual activity per se, but in behavior patterns and aggregated insights that will allow it to gauge the efficacy of its workplace solutions.
"I think we've supercharged a practice that was really antiquated," adds Burrow. "We're training a new generation of architects to think differently about what we can do for the world."
You may also enjoy "10 of Our Favorite Designs, Exhibitions, and Hot Spots from Mexico City's Zona Maco."
Would you like to comment on this article? Send your thoughts to: [email protected]