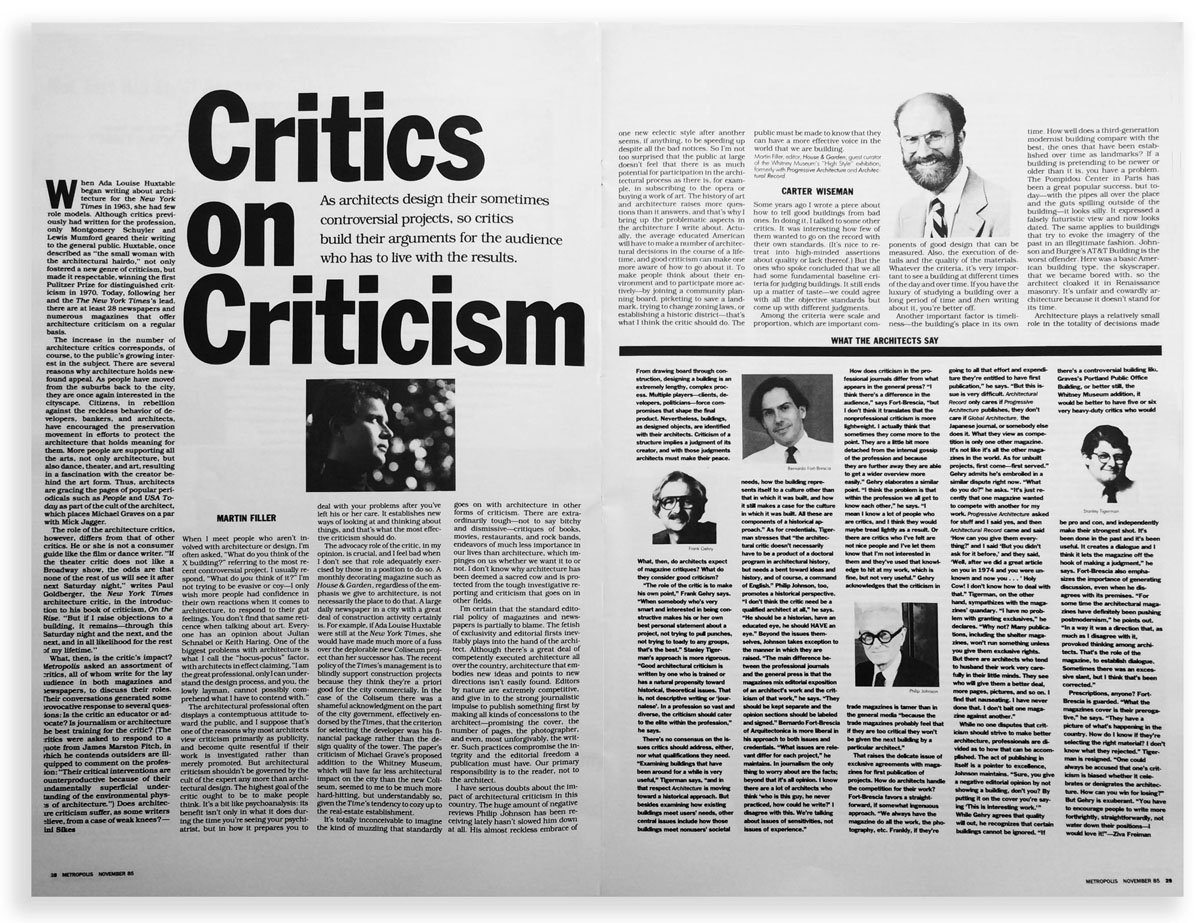 August 12, 2014
What Is the State of Design Criticism?
Leading architecture and design critics ponder the future of their profession.
A feature spread from the November, 1985 issue of Metropolis
---
Thirty years after Metropolis's first critics round table, today's influential voices weigh in on their role, and the future of criticism in the digital age.

The Fundamental Stuff of Life
To reclaim its relevance, design criticism must break free from the navel-gazing circus of design weeks and biennales, salones and triennales, and focus on the real world around us. It must be proactive and provocative, not passive and responsive, seeking out stories rather than following the lead of the PR sales pitch. Design doesn't happen in the hermetic tents of trade fairs and product launches, but in hospitals and schools, subways and sewers, places where the marketing machines won't deign to tread. Critics must escape from the glossy silos of the arts and style sections, because design is not a lifestyle commodity—it's the fundamental stuff of everyday life.
Oliver Wainwright is an architecture critic at the Guardian.
Design as Content
Over the past tumultuous decade, design criticism has shown itself to be robust and resilient enough to withstand the tremors of an ever-shifting media landscape. While traditional print outlets have made many missteps in their ongoing transition to the web, critics themselves have adapted more readily, creating new formats and functions for their writing and activism. Innumerable crises declared and eulogies read have, it seems, been premature or overstated.
The state of design criticism remains strong. That being said, we have also begun to recognize some of the limitations of design discourse on the web. Maintaining a ridiculous and unsustainable pace, many of the behemoths of online publishing have displayed a regrettable tendency to reprint or merely rephrase press releases distributed by design offices and product manufacturers rather than taking the time to assess or engage with design in any meaningful way. Instead of attempting to aggregate every interesting project that comes our way or filling column inches by wishing an annual happy birthday to all "starchitects" living and dead, we must find a way to make sense of the perpetual flood of content instead of trying to consume it all. This will require time and careful thought, two things that are unfortunately in short supply.
Michael Abrahamson is architectural historian at the University of Michigan and editor of Fuck Yeah Brutalism.
Seeing Clearly
Being a critic today means having a light grip on the joystick. One moment you're closing in on a story you've been tracking for months, and the next you're picking off a news item to post online in 15 minutes or less. You keep one eye on exquisitely detailed luxury design, another on planning at the urban scale, and try not to lose sight of everything in between. Ideally, you're fluent in the history of rent control, financing mechanisms for transit projects, traffic-calming techniques, advances in concrete technology, flood management, sustainable design, and a score of other wonky subspecialties.
In other words, it's a job nobody can really do justice to. So we do our homework, stumble toward a point of view, and try to remember that critics are people, too—end-point users of buildings, products, infrastructure, and cities, just like everybody else. And, also like everybody else, we've got a right to our opinions. Our claim to a paycheck is that we (hopefully) put in the labor to justify those reactions, and spend time converting them into prose that readers want to read, thereby encouraging others to join what might otherwise be a pretty hermetic conversation. The more voices who compete with ours, and the more vigorously they argue, the more successful we can claim to be. (I hope it doesn't happen too often, but I take a certain pride in the phone call from an incensed reader who announced that she was going to cancel her subscription, so outraged was she by a judgment I'd expressed in print.) What's missing from this creative cacophony, thank goodness, is a tone of Olympian authority or impermeable ideology. We lack blinkered oracles, and instead content ourselves with civilized, if somewhat chaotic, conversation among people who care about an ever-lengthening list of topics. It's a privilege to participate.
Justin Davidson is architecture critic at New York Magazine.
Paying for Criticism
What's missing from the discourse? Money. We have more voices, with more distribution, writing criticism than ever before, but they are being paid less. This makes it difficult to consider the sweep of an architect's career, to do in-depth reporting, even, increasingly, to visit projects at all. The building review is starting to disappear, replaced by a portfolio of images paid for by the architect. Critics ponder reception, reputation, rants, but not the built work that's the foundation of practice. Critics promote better discourse but not necessarily better buildings. It's interesting that money is at the bottom of architecture's present-day problems too—we can't have a more diverse profession unless architects start being compensated properly for their time, stop doing poorly paid competitions, and push back against the insane hours. Same goes for criticism: Who can afford to do it? Who can take the time to think and look, when another $250 blog post, written off someone else's reporting, is forever due? That the quality is as high as it is, is a testament to criticism as a vocation, not as an ongoing profession.

Alexandra Lange is opinion columnist at Dezeen.
More Thinking, Less Snark
The oft-predicted demise of architectural criticism for general readers is not going to happen, because smart editors know that our subject strikes a chord. This translates to good play in print and clicks aplenty on the web—but only if critics pay attention to their surroundings, to buildings as they shape the world in which we live, rather than wallowing in architecture as a self-absorbed parlor game where insiders snark knowingly about design twists and turns. The critical thing for us to remember is this: architecture is the most important art form we have—not because of aesthetics or cultural implications, but for its impact on the here and now.
John King is urban design critic at the San Francisco Chronicle.
The Trojan Horse Strategy
Design today has become a form of enquiry, power, and agency. With it, the role of any event that seeks to represent and disseminate design has also fundamentally changed. We have to look beyond the object; question the commissioner's motivation and engage in conversation about the object's necessity, its consequences, and the impact it has on a society. Design has an integral social aspect and the designed object should not be disconnected from its relationship with the user and the impact on people's everyday life. Design is advancing into an experimental, collaborative territory where it is employed and implemented as a tool to question and transform ideas about industrial production, public and private space, and preestablished systems and networks. The materialized object is still relevant as a tool, as a solution, as an agent or provocateur, as a Trojan horse, as value and as metaphor, to make us aware of a situation and to develop strategies and tactics to change systems and the powers that occupy a system. It's no longer the object in itself where design discourse takes place, and consequently this shift asks for a repositioning of design criticism.
Jan Boelen is head of the Master program for Social Design and the Master program for Design Curating & Writing at the Design Academy Eindhoven; and artistic director of Z33, Hasselt.
Proposing Futures 
Ironically, while the world of print shrinks like a balloon in liquid nitrogen, there's more writing about architecture and design than ever before. But this discourse is utterly atomized—a universe composed of tweets, Facebook posts, blogs and other channels, and media authored by almost anyone. The net result is an exponential rise in the sheer volume of opinion. It's this that challenges the traditional role of the critic. If everyone's a critic, then what should criticism—and those fully paid-up critics who still manage to cling on—do? My hunch is that criticism (or writing about architecture and design) needs to move on from opinion and become an active rather than reactive thing—a way not only of describing the world but of making it. Criticism, in other words, that draws on its core values of independence and expertise, but projects these forward as a propositional act.
Sam Jacob is the principal of Sam Jacob Studio, professor of architecture at the University of Chicago and Yale University, and director of Night School at the Architectural Association. 
Inclusivity Is Good
It's easy to bellyache about the Internet's effect on design criticism—about its preference for simplistic images over complicated ideas, for example. But it also has a tremendous capacity for spotting bullshit when it sees it, and that makes it a priceless tool for cutting through the morass of jargon and platitudes that frequently creep into the language of design. The Web is giving us the chance to involve a massive new audience in a discourse that's long been interpreted as rarefied. And it's absolutely critical that we not dismiss it—or its commenters—out of hand.
Kelsey Campbell-Dollaghan is design editor at Gizmodo.
More Poetics
1.
Everyone holds a device.
Citi-Bike stand, next corner.
Restaurant, The Little Prince.
Jogger in fuscia sweats.
Some new trees.
Rent is going up.
Au revoir, Pret a Manger?
The neighborhood.
The nightmare.
2.
Let us now pile on Zaha, who,
Although it's uncouth, has spoken the truth:
Architects don't really matter,
Nor does our critical chatter,
Unless folks are affected,
And the planet protected.
Workers may die,
Just let our pig fly!
Michael Sorkin is a prolific author, architecture and planner—and a long time resident of Greenwich Village.
A Useful Bullshit Detector
Today's effective design criticism—writing that shapes the built environment through constant interrogation—is encoded by the programmers who write design software. Or posted by the home-decoration bloggers who practice public self-critique and private pleasure. Meanwhile, designers and critics uncertain of their own work have taken refuge in the appearance of virtue: in the reduction to mere feature and subject the social justice and environmental sustainability that should by now constitute design's universal and definitive premise.
In personality profiles that displace criticism, a vicious circle persists between writers who are consistently bamboozled by a performed archetype—that dreamy technocrat who spends half a year in airplanes and hotels and likes wood, stone, and light—and designers who therefore play that obsolete role all the more. Content is provided by writers with extraordinary expertise in literature, art, music, commerce, and popular culture, but without the strange and sprawling knowledge, generally inflicted during the study or practice of architecture, that discerns the expert posturing that is many designers' conditioned response to the possibility of patronage—and detects bullshit. Thus, in fact and print, we inhabit a landscape of willful ingenuousness and callow serenity.
Fortunately, the built environment is already in new hands. A prototypical culture of craftspeople, robustly artisanal and acutely technical, with radical access to tools and to one another, is rendering the current mutual failure of designers and critics ever more boring, folkloric, and harmless. And a new writer culture will learn something from this new maker culture, and design criticism will recover from its current dereliction.
Thomas DeMonchaux is a writer, critic, and teacher at Columbia University Graduate School of Architecture, Planning and Preservation.
Just Added Value?
I only recently noticed the ad for the curated gifts from the New York Times online store. Oh please! The only thing new in this selection is the word "curated." French design critic Olivier Assouly notes that, today, art criticism is a practice that's used to camouflage the commercial dimension of expensive merchandise. People who buy curated items are made to believe that they are not ordinary consumers but enlightened connoisseurs. It's the Paola Antonelli effect. The hugely popular and talented curator of architecture and design at MoMA has helped transform design criticism into a mere brand strategy for her department. What is design criticism today? It is evaluation as added value.
Véronique Vienne teaches at the Paris College of Art and is a correspondent for Design Observer.
Keep a Watch on Reality
Having closely studied the history of design criticism in the US and the UK since the 1950s, I learned that design criticism is constitutionally inclined toward crisis; at regular intervals critics subject themselves and the genre to bouts of self-loathing and despair, as they identify among dwindling readerships and collapsing newspaper column inches yet more evidence for their imminent annihilation. This is not to belittle the hardships suffered by those critics sidelined in the wake of the current media upheaval, but just to remind us that design criticism has always been an uncertain field. I see these moments of self-reflection, during which design critics are acutely self-conscious about their purpose, their role in society, as crucial to criticism's ongoing evolution.
A nimble, multiple-media-wielding contemporary critic has never had a better moment in which to find an audience. Our students are trained to deploy their critical ideas through video, podcasts, exhibitions, events, across all variants of online media, and via platforms of their own devising. What sets them apart. I think, is that their work is based on rigorous research and reporting, personal conviction, and robust argument—hallmarks of good critical thinking, whatever the medium. It's essential that design should be considered in its infrastructural context, with a focus on its social implications, and its entire lifecycle. So this means it's not enough to merely talk about new products in their eternally box-fresh state; we have to redirect design discourse so that it also considers what happens to buildings and objects beyond the seductive renderings and promotional photography supplied by designers, developers, and manufacturers. How do these things actually get used, repaired, and disposed of, and in what ways do they impinge upon our daily reality?

Alice Twemlow is chair of the School of Visual Art's Department of Design Research, Writing & Criticism.
Amplifying New Voices
If, like me, you read architectural magazines from the past century, you realize that several themes persistently reappear. One is the constant criticism of architectural education—it has never been appropriate for practice, apparently. Another is the lack of respect for the architect—we have never had enough, apparently. And yet another is the paucity of architectural criticism. In the first issue of Architectural Design in November 1930, the editorial, entitled "A Challenge to Mediocrity," decries the fact that "other arts are subject to the frankest criticism, but that the art of Architecture has so far been, to a great extent, immune." Sir Hugh Casson, in a talk called "100 Years of Architectural Journalism," delivered at the Architectural Association in 1948, cited the common complaint that the "twenty-five journals recording contemporary building and providing material for architectural history [ . . . ] were uncritical." He continued, "buildings good, bad . . . and indifferent were presented without any attempt at criticism." So while there is presently much critical introspection on the state of architectural criticism, it has ever been thus. Architecture requires criticism for its validation. If nobody discussed it or debated it, it would cease to be considered a part of culture.
So, if architectural criticism dies, architecture dies with it. But I would suggest that, actually, architectural criticism is in rude health. Ignore those—and there are many of them—who suggest otherwise. It is, of course, changing more rapidly than ever, and the best of it is not to be found in the places or formats it used to be found. But there are more architectural history and theory PhDs than ever, more platforms for debate, more of an architectural culture industry.
Reyner Banham and Ian Nairn weren't recognized as prophets in their own time, but now we thrust greatness upon them. We have our Jonathan Meades and Owen Hatherley and Kieran Long and Sam Jacob, and more waiting in the wings if you're willing to give them time and space and perhaps pay them occasionally to think and write. What's missing from the discourse? More voices. More viewpoints. Alternative views. The blog and the Internet allowed a new set of voices to challenge the previous hegemony. But this has become a new hegemony to be challenged. It rapidly becomes ossified and dogmatic. That's how architecture likes it.
Steve Parnell is a lecturer at the Department of Architecture & Built Environment, University of Nottingham.
An Informed Synthesis
As the edges of the media have blurred and dissolved—largely in positive ways—so too has the idea of the critic. And just as many non-journalists have found a voice and a platform, so have many designers become critics, without giving up being a designer. This has led to a more interesting critical landscape, as designers are able to speak directly to both wide audiences and niches within the industry. The most compelling new terrain is the apparent unstoppable rise of technology as a cultural force. Thus the new arena for design criticism is technology. The tech press is both largely uncritical and devoid of a design sensibility. Similarly, the design press is woefully ignorant about contemporary technology and its sheer cultural force. So the most productive, powerful, and potent area to sketch out would be writing about and reflecting on technology and design together, and situating that within both the tech and design media. This is not simply a "What would Reyner Banham do?" question— although that's not a bad question. Instead it veers well beyond simply technology, products, and services, delving further into the powerful strategic possibilities of design, and finding analogies in the practices of interaction design, service design, strategic design, etc. This form of engaged criticism could enable a rethinking of design, and even become a kind of design in itself. With a few honorable exceptions, this informed synthesis is still largely missing from the discourse.
Dan Hill is executive director of Futures, at the Future Cities Catapult.
Local Matters
Criticism isn't dying; it's changing. The big issue today is the digital age: Do we use its myriad tools to raise criticism to new levels of insight and interactivity? Or do we become tools of our tools and produce nothing but shallow tweets and click-whore noise? The New Yorker no longer has an architecture critic, but that doesn't mean criticism doesn't matter. It especially matters when it's local, when it engages readers, and shows them that the contours of the built environment shape the contours of their lives. Digital technology transcends space, but, more than ever, as Inga Saffron's richly deserved Pulitzer attests, criticism achieves global significance when it is intensely local.
Blair Kamin is architecture critic of the Chicago Tribune.
Own the Chatter
We need to surface smart, young voices from the world of design and beyond—thinkers who can talk about objects and cities and people and ideas and culture in a way that engages and inspires a larger audience. We need a new generation of writers who will not only participate in the dialogue, but who will also take ownership of the conversation.
Alissa Walker is urbanism editor at Gizmodo.
Analogue Isn't Dead
The rise of the internet, blogging and tweeting has undoubtedly led to a vast increase in debates and discussions about design beyond those of established critics. Some of this talk is fascinating, adding to our knowledge of design, but all too much is simply the stuff of received opinion multiplied thousands of times, of exhausted cliches and even, sadly, abuse. What I can't help feeling is that so much of this digital talk is far removed from the real, solid, tactile and sometimes sensuous objects shaped by design and made by hand or machine. Nothing really beats experiencing—in a good, old-fashioned analogue way—real objects in real time and space. What design discourse needs anew is a sense of the value of real, everyday objects and spaces, of how they feel, function and endure, how they look (of course) and why they matter. Digital, in other words, needs analogue: without this discipline, design and design criticism will be increasingly in danger of seeming senselessly promiscuous, amorphous and vapid, with all that's solid melting into hot air.
Jonathan Glancey reports on architecture and design for the website BBC Culture.
Know Your Limits
What's missing from the conversation? The things that are really hard to get right: What technologies will truly transform design? I'd like to read something that isn't just a breathless celebration of 3-D printing. How can we deploy technology in the service of fighting climate change? Minimizing resource usage? Instead of vertical farms (of which I've seen countless slick design renderings), how might technology help transform industrial farming?
We hear a lot about social-impact design, but what we don't get enough of is the postmortem. Did that design firm that flew to Africa for a week achieve long-lasting results? Or was its intervention an unmitigated disaster? We rarely find out. As Rob Walker wrote in his assessment of the design work in Hale County, Alabama: "It's worth celebrating design's social successes, but it's also worth openly assessing the limits."
Let's also assess the limits of design criticism. Not everything can be a thought piece, but can we at least look at a travesty like the "The Anti-Loneliness Ramen Bowl, which is designed to safely hold your iPhone in view while you eat" and pause before blogging about it? Design criticism needs to get back some of its conscience; it also needs to embrace context. At Dwell, I grew tired of writing about the single family home as an object. Those stories didn't go far enough: What about the street the house was on? The neighborhood? We need to be interested in not just design details but the bigger picture. What a building or product looks like is one thing. How it performs, how it responds to, rebels against, helps shape culture—let's look at that. Finally, there is no shortage of thoughtful critics out there. They need to be better matched to venues (and paid a living wage). Websites that ask writers to post five (or more!) times a day—that's not design criticism, that's churn. No one can read that much—and no one should be expected to write that much.
Allison Arieff is a contributing columnist at the New York Times.