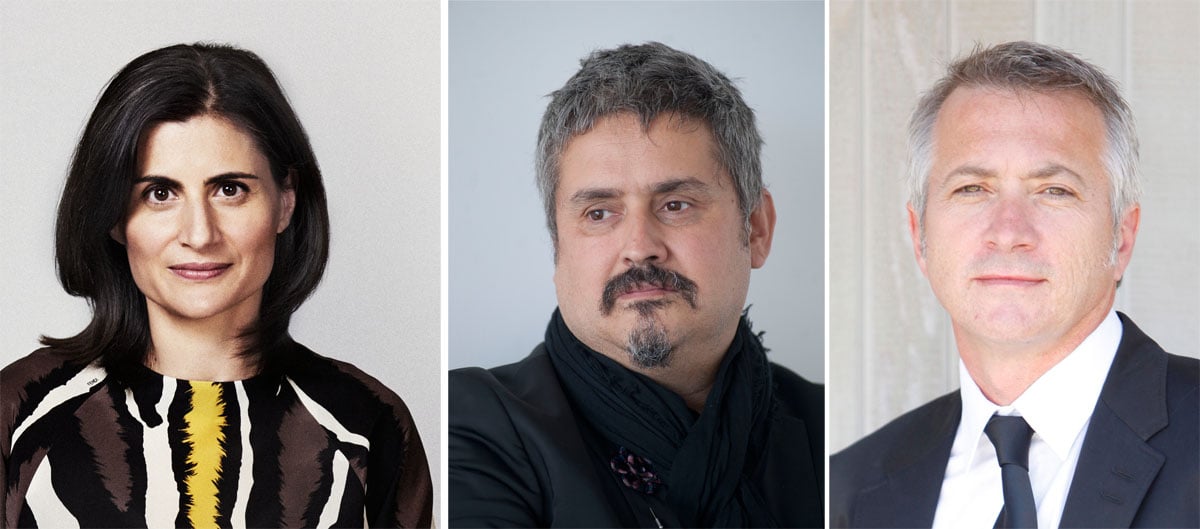 October 21, 2014
Why Design Education Matters
Three leading educators on the continuing importance of design schools
Left: Amale Andraos, dean of Columbia GSAPP; Middle: Hernan Diaz Alonso, graduate programs chair at SCI-Arc; Right: Christopher Scoates, director of Cranbrook Academy of Art
Courtesy (left) Bjarne Jonasson, (middle) Michal Czerwonka, (right) Cranbrook Academy
Education is changing, but where is it going? In the first of a series of design dialogues, leaders from Columbia University's Graduate School of Architecture, Planning, and Preservation (GSAPP); Cranbrook Academy of Art; and Southern California Institute of Architecture (SCI-Arc) weigh in on framing a curriculum, finding jobs for recent graduates, and making connections to the outer world.
Why should someone invest in design school today?
Amale Andraos, dean of Columbia GSAPP: Design education combines particular expertise with the ability to work collaboratively, build teams across different fields, and visualize the forces shaping the built environment. As we increasingly face the challenges of climate change across scales and the globe, I think the ability to re-present, which is at the foundation of design education and thinking, is more critical than ever.
Hernan Diaz Alonso, graduate programs chair, incoming SCI-Arc director: Design has been an important aspect of our culture for a very long time. The opportunities open to designers today are clearly unprecedented, mainly due to the shifting nature of contemporary culture, which promotes a peculiar mix of hyper-specialization and intellectual holism. Designers are required to constantly negotiate between these extremes and to be an expert in their projects. This means having to be fluent in skill sets ranging from theoretical writing to cutting-edge fabrication methods. Dexterity is mandatory, and this is definitely something that contemporary design education stimulates and fine-tunes in students.
Christopher Scoates, director of Cranbrook Academy of Art: The critical and public definition of what constitutes art and design practice has changed dramatically over the past 25 years. So it's imperative that design education address the new cultural space of the twenty-first century. It's a designer's job to turn things upside down and explore both the limits of future thinking and the limits of existing technology, with the goal of setting a broad viewpoint on problem solving. Designers are on the front line of figuring out how humans interface with completely new products, services, and spaces. That seems like a good reason to invest in design education.
Is there an area that is a particular strength, or shortcoming, of American design education, compared to education elsewhere?
AA: I'm not sure what is particular about American design education, as it seems that the various education models today are in close dialogue regardless of national boundaries. Historically, I believe it's been easier for young practitioners in the U.S. to get actively involved in academia with a great amount of flexibility. But I think the evident success of this model has led it to becoming more generalized.
CS: Practicing art and design today requires an in-depth knowledge and understanding of global issues—economic, cultural, political, environmental and technological among others. In Tokyo this past February, Musashino Art University held The Global Design Education Forum drawing on speakers from London, Cologne, and the U.S. with the goal of discussing the globalization of design education. We live within a dynamic network model today, which challenges preconceived notions of pedagogical opportunities. Our greatest strength should be our ability to look outside the U.S. and connect to Asia, Europe, the Middle East, Africa, and South America so we can gain greater understanding of design education on a global scale.
HDA: I would say that, as far as my experience, the whole educational system in the U.S. offers several unique opportunities in terms of discussion and speculation. This might in part be due to the much higher financial capital that is available to education in this country. At the same time or perhaps because of this, American universities still attract the most gifted researchers and practitioners from all over the world. The way in which the educational system is run, managed, and updated, beyond the individual differences of specific departments, or even of entire universities, is in itself a great strength. This trait extends to design education too. One of SCI-Arc's clear strengths is the international diversity of our students and faculty, who come from 50 countries. It's true that a rather urgent problem to tackle is how expensive getting a design degree of any sort has become. Because this challenges how we can maintain diversity among the students, we need to make a collective effort to boost the funding and scholarships available at our school if we don't want to run the risk of losing substantial amounts of talent.
Studios have always been a mainstay of design education. In what ways is studio culture different today? Is it still the central focus of a design degree?
CS: Digital media has assumed an ever-greater presence in the studio, regardless of whether one is a designer or an artist. What marks a critical difference in today's studio, however, is that the "studio" can be anywhere that technology takes it. At Cranbrook, the studio is not simply the mainstay of design education—it is the exclusive focus.
HDA: At SCI-Arc, studio culture has always been and still is central to our curriculum today. By integrating the disciplinary diversity brought about by the wide range of seminars available at SCI-Arc, we have been able to generate a much more open and dynamic studio culture, laboratory-like.
AA: I find one of the biggest challenges of design education in general is to find ways to better integrate the classroom and the studio, and create a more systematic feedback loop between seminars for example—whether history and theory, visual studies or technology—and the design work in the studio. Studios are still the heart of experimentation, but I think the workshop model, for example—which can be shorter than a semester but highly focused and enabling in-depth exploration that integrates lecture-type sessions, research and design—is an interesting hybrid of studio and classroom.
How would you characterize your approach to shaping a curriculum? 
CS: It's always been my philosophy to provide a more expansive approach to art and design. I think we should engage contemporary cultural expression in a larger context, rather than isolated in the narrow silos of conventional genres—demonstrating that art and design have a broad vitality and relevance. Cranbrook Academy has the great fortune of having the Cranbrook Art Museum as a resource, which can provide another means to extend the curriculum and develop programming that complements and sheds new light on the work done in studios.
HDA: A good curriculum should contain a series of clear ethical principles and pedagogical intentions for the institution to follow. It should be able to behave like an ecosystem—come into existence organically and be able to change and adapt. At SCI-Arc, this notion of adaptability is greatly facilitated by our administrative structure. We are an independent school, not attached to any other department or centralized university body. SCI-Arc is quite antiestablishment in this sense. We don't have tenure, for example, and that requires a constant desire for innovation and reinvention, both in our ideas and in our methods.
AA: As an architect, I like to frame the idea of curriculum as a spatial question. How do we connect the different rooms and spaces for learning, making, and interacting? What does a space of collaboration look like? What are the more private, reflective spaces? What kind of furniture does each require? What kind of equipment and technology? I think GSAPP has a legacy of redefining its curriculum through reshaping its spatial modes of practice—from the effects of the "paperless" studio to the launch of the Studio-X global network, which literally and figuratively expanded the school's territory of investigation. I would like to rethink the interior of Avery Hall [GSAPP's architecture building] and its relationship to the campus, as well as to the constant mediascape around us, to reimagine what a creative space of experimentation and learning looks like.
The National Council of Architectural Registration (NCARB) is working towards providing easier paths to licensing, and even licensing upon graduation. What do you make of these developments?
HDA: As someone who was educated in Argentina, where the architectural license comes with the degree, I am completely in favor of this easement. Integrating licensing in the curriculum of a school would demonstrate a less obsolete understanding of our field—architecture today is a much more fluid environment today. The idea that no matter where you studied, or whom you studied under, you have to undertake the exact same series of tests and examinations is outdated.
AA: I am encouraged to hear that NCARB is reexamining its licensing path, especially if one considers the smaller numbers of women licensed for example, as a sign that there could be improvement. It's a question of timing, of encouraging early licensing as well as of finding ways to make internships abroad count, since many young graduates choose to work internationally first before coming back to the U.S.
Finding jobs remains a big priority for recent graduates. Are there any specific ways in which you hope to address that?
AA: I would very much like to focus on that issue. There are many great architecture firms in New York alone, and, because of my background and my practice as principal of WORKac, I personally feel connected to a large network of younger architects doing interesting work all over the world. Enlisting those connections to encourage internships very early on, here and elsewhere, will be one of my priorities.
CS: A central responsibility of educators is to keep abreast of developments in the field so that young designers can participate in deep discussion about the discipline's future. It's also important to support and promote design practice and its implicit challenges. At Cranbrook Academy, we teach art and design to graduate students and have, for many decades, created a culture of innovative learning and collaboration that pushes disciplinary boundaries in unprecedented ways.
HDA: There is no doubt that one of our priorities is to train versatile professionals who can thrive in today's architectural job market. But it is equally important that we help develop cultural agitators who have the imagination and courage to change the status quo. SCI-Arc graduates, for example, end up in all sorts of design roles in architectural offices from the very beginning of their careers. We do our best to maintain SCI-Arc as a point of convergence and contamination for these diverse design approaches, and we keep the students in close contact with various professionals through presentations and seminars at the school.
As you look forward to the next five or ten years, what perspectives or skills do you think are going to become essential for young graduates to have?
CS: I would encourage all young graduates to never look exclusively to traditional design or art fields for answers or approval, but instead draw upon a much broader map of philosophical experiences, questions, and concerns for developing their practice.
HDA: One of the skills that is going to be most essential to young graduates is a clear understanding of the ethical boundaries of the field. These notions are in urgent need of being clarified and redefined. As ever-accelerating technological advancements allow us to move into completely unknown territories, we are increasingly less versed in judging what should and shouldn't be done. We are therefore compelled to draw up and test not only innovative aesthetic criteria, but also, and especially, ethical ones. Our objective is to enable our students to have an active role in those realms while retaining what we believe to be the fundamental essence of architecture. In a nutshell, we want to be visionaries and radical innovators, while at the same time living and operating in the "real world."
AA: Today's students definitely need to have a combination of high-level design thinking and expertise with a great amount of flexibility and adaptability. It's not an easy time for architecture, but I think our graduates have a strong sense of leadership, creativity, curiosity, and entrepreneurship, which has rendered them historically quite agile at carving out new territories for meaningful practices.
How do you see your school changing under your leadership? 
AA: Columbia GSAPP is already very engaged with the world around us and with cities globally. We have a highly diverse student body, which makes it a thrilling environment to be in. I want to continue to promote diversity, and strengthen relationships with a number of key institutions on campus and in New York City— as well as nationally and internationally—around shared interests and concerns. In particular, I will bring my strong focus on environmental concerns to start a number of conversations.
HDA: My time as director is not going to start until September 2015. And I have to say that Eric Owen Moss truly did a great job and I think our school is thoroughly on the right track. What I will look for when I take over is "radical continuity." The idea is not in the least to abandon the past and start afresh, but to capitalize on and maximize the excellent results Eric achieved at SCI-Arc. We want to continue demonstrating how the work we stand for can be an agent of design and cultural change. Through a better understanding of how we can increase the awareness of who we are and of our agenda outside Los Angeles, and outside the United States, we aim to reach out to industries and cultures that might not be currently in our repertoire. For instance, we are promoting exchanges and collaborative projects with various schools in Asia, India, and Latin America, and we hope to be able to have SCI-Arc outposts in a range of countries soon.projects with various schools in Asia, India and Latin America and we hope to be able to have SCI-Arc outposts in a range of countries soon.
CS: I look forward to forging a future that builds upon the international reputation and history of innovation that has made Cranbrook Academy one of the world's leading centers for artistic excellence, while increasing the profile of new media. Old media won't be replaced, but, rather, the designer will learn to interact and play with it in a new and complex dynamic. This convergence of content and media is challenging the traditional relationships among all those in the larger cultural sphere including designers as well as artists, curators, museum directors, filmmakers, producers, and musicians. I strongly believe in the commitment to new art and new ideas and I will encourage debate, exchange, and collaboration within and beyond the Cranbrook Academy campus.
Do you have any words of advice for your incoming students?
AA: Be insatiably curious, independent, and ready to learn as much as you can from your friends and colleagues.
CS: Explore the margins where disparate disciplines come together.
HDA: Never be afraid, never compromise, never sell out and everything will be glorious!