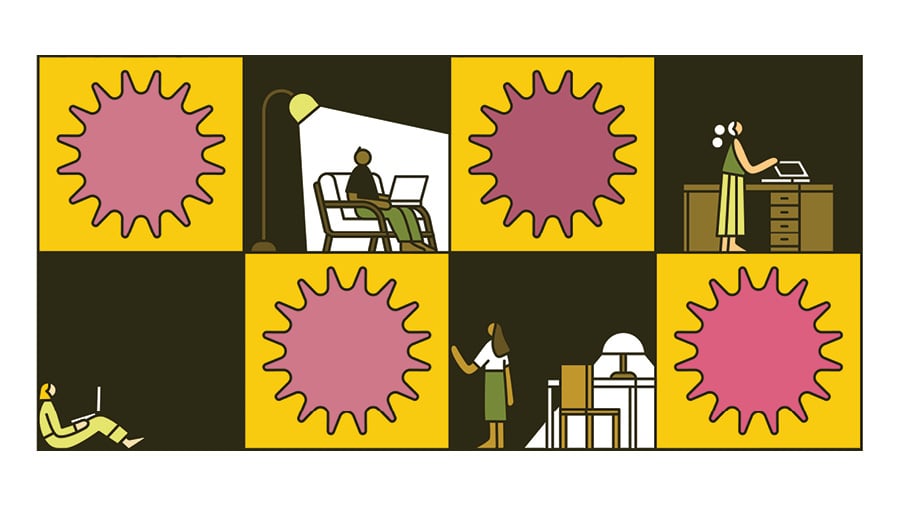 June 10, 2020
The Workplaces of the Future Must Aim to Combat Loneliness
For some, quarantine has created options for work-life balance, but for others it means a devastating loss of everyday connections.
For many office-goers at the moment, work is happening at home and online. But eventually, we will agree on guidelines, establish protocols, and find a vaccine for the novel coronavirus. Then the office will make a comeback, as will the coworking space and the café. We will also find that work can happen anywhere and be supported in any way we want—if we make the right decisions now.
In our June issue, Metropolis tracked five concepts—loneliness, public health, neurodiversity, remote work, and experience management—that anyone involved in the design of workplaces needs to start taking seriously. Paying attention to them won't take us back to business as usual. It will inspire us to do it better than it was done before.
---
Looking back on architecture school, I reminisce about the days when my sleep-deprived classmates and I moved through campus as if in a haze, juggling classes and all-nighters, slurping instant ramen and taking naps under our desks. It made me wonder, "What is there to miss about that?"
Well, everything. It's the collective sense of purpose, the tangible community, the raw emotion and authenticity that spending so much time with others exposes. My classmates and I saw one another at our best and worst, and that familiarity grew into trust. We were in this mess together.
As we navigate COVID-19, we are learning new ways to bond. Social support has never been more important, and yet some people believe the constant onslaught of Zoom calls leaves little room for emotion. These days you might feel like just sharing an emotion requires a calendar invite. When is the time for casual? When is the time for reading others' body language to figure out whether they're open to talking, if they need a friendly ear, or if they could be that ear for you?
This quarantine proves that many office-goers can work from home and remain productive. For some, that has created options for work-life balance, but for others it means a devastating loss of everyday connections that provided structure and warmth. Former U.S. surgeon general Vivek Murthy warned that the COVID-19 crisis could launch not only an economic slowdown but also a social recession—a fraying of social bonds that causes harm for years.
It's not just our mental health taking a hit. Researchers have linked social isolation and loneliness—the subjective sense of isolation—to a host of poor health outcomes including heart disease, dementia, sleep loss, depression, and reduced life expectancy. It's no surprise, then, that workers who report feeling lonely take more than twice as many sick days as workers who aren't lonely, according to a Cigna U.S. workplace study released in January. ¹
Amid this uncertainty, we may find that our feelings about the office have changed. Perhaps the idea of the office as a culture builder once struck some people as trite or contrived, but we see now that we need—we crave—a place to talk to colleagues face-to-face, shoot ideas back and forth without accidentally talking over someone else.
As we look to an undefined tomorrow with an increased awareness of our innate wiring for connection, how can designers revisit the workplace to magnify its role as culture builder? ² The first challenge is to make it safe for people to see each other in real life while maintaining social distancing, through either design choices or protocols. But we must also improve the virtual workplace. For instance, our in-house research at HKS shows attending virtual social hours increases staff happiness by 15 percent. Let's tap into our creativity to build physical and virtual spaces that leverage our natural comfort with tight-knit, small groups and that adhere to safety guidelines. ³ None of us wanted this, but together we can mold a future that we do want.
—
¹ This past January, Cigna released its Loneliness and the Workplace 2020 U.S. report, based on a survey that found, among other things, that three in five Americans classify themselves as lonely. It analyzes loneliness across different regions as well as job functions.
² Erin Peavey's full report on how architects and designers can preserve and elevate human connection through their work, Connecting IRL: How the Built Environment Can Foster Social Health, can be found here.
³ Peavey's virtual SXSW panel on combating isolation during the pandemic and the role of the built environment, Connecting in Strange Times: The Antidote to Loneliness, can be found on YouTube.
—
You may also enjoy "The Latest Workplace Design Initiative? Neurodiversity"
Would you like to comment on this article? Send your thoughts to: [email protected]
---
Register here for Metropolis Webinars
Connect with experts and design leaders on the most important conversations of the day.