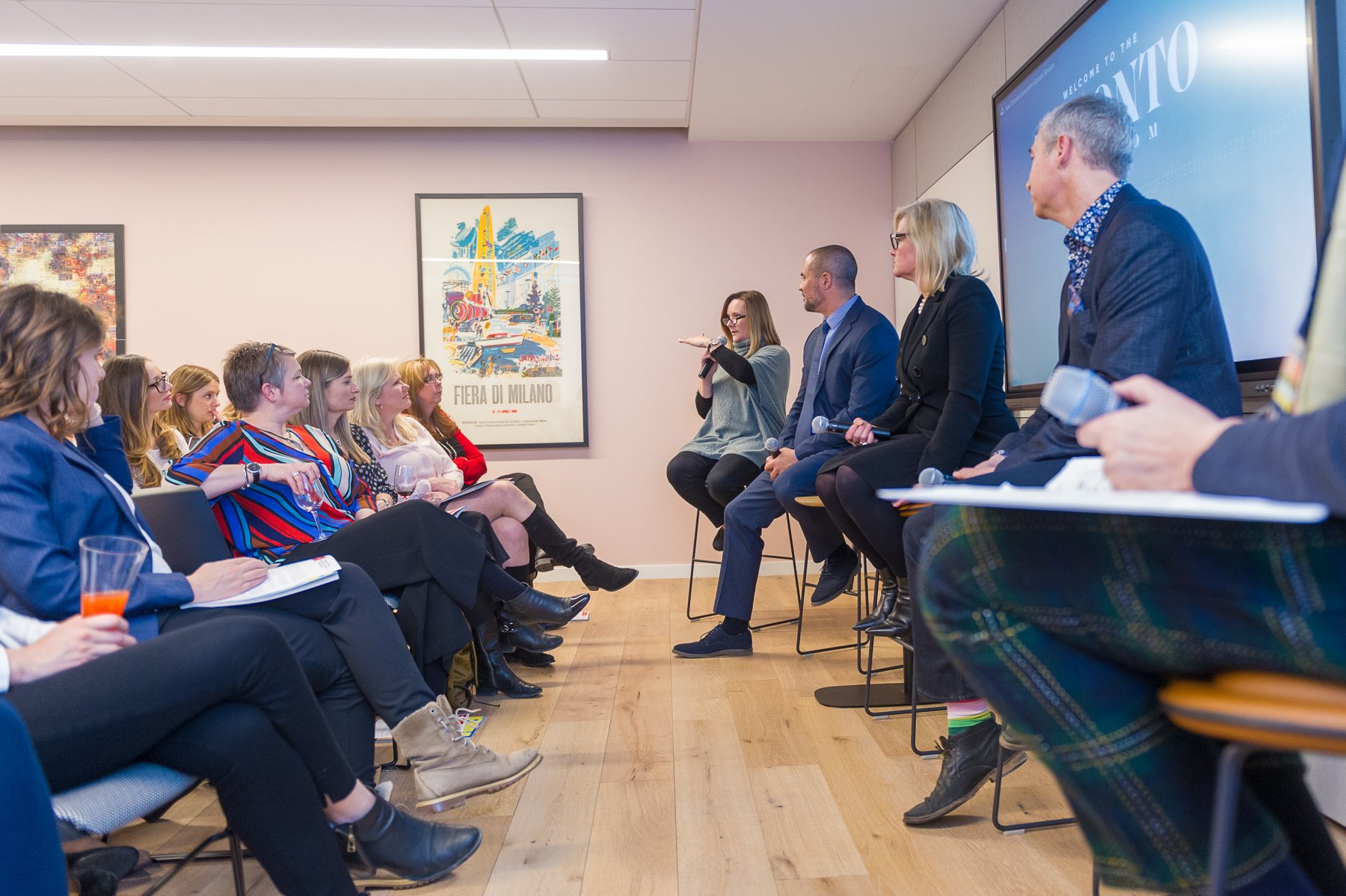 June 20, 2019
Engaging Employees in a Digital World
If people can work from anywhere, how can workplace design help keep employees connected to each other and the organization?
As technology transforms what it means to show up to work, how can companies keep employees in brick-and-mortar offices engaged while retaining the best talent? Recently, at Haworth's Toronto showroom, Metropolis director of design innovation Susan S. Szenasy led a discussion on this question with the designers, human resource professionals, and business leaders shaping the future of the office. The consensus? Focus on material results that can be measured experientially—and try not to get distracted by the hottest gadgetry on the scene.
Chris Campbell, Digital Adviser at JLL Digital Solutions, opened by saying that it's important not to let clients be immediately seduced by the latest app. Instead, designers should caution them to think through a game plan when implementing new workplace technology.
"If there's a shiny object that helps to save time and increase productivity, helps employee engagement or attract talent, and is measurable, then by all means, let's look at that," he said. "Going after the shiny object for the sake of the shiny object is not a wise choice."
Beck Johnson, a senior specialist in global workplace research at Haworth, said her team has been "focusing on focus work—what happens to people when they're presented with different kinds of distraction." "When I hear the word 'productivity,' I cringe," she said. "It's really about 'performance,'" a more holistic metric.
Cathy French, who's responsible for the experiences of 80,000 employees and 24 million square feet worldwide as the Director of Global Design and Workplace Strategy for the Royal Bank of Canada, agreed. French spoke about the need to create positive, human-focused spaces to facilitate a better day-to-day experience at work.
"People have come to expect things to fall from the ceiling," she said. "Hot coffee to just show up, wine flowing, et cetera. That takes time, effort, resources and funding."
Barry Nathan, Associate Director and Practice Lead for the Interior Design IBI Group, said that a challenge to his business now is that much of the innovation is "being led by other industries," while Haworth's Johnson said she worries designers tend to "miss a whole bunch of people" with varied needs or desires.
"There's a lot of humanity that doesn't get put within those [design] buckets," she warned. "So clients will say, 'How do we get our people to innovate faster?' I'll say, 'Let them slow down.' And they look at me cross-eyed."
Sometimes, it turns out, what people need most is being able to take time and space away from tech while at work.
*All images courtesy Haworth