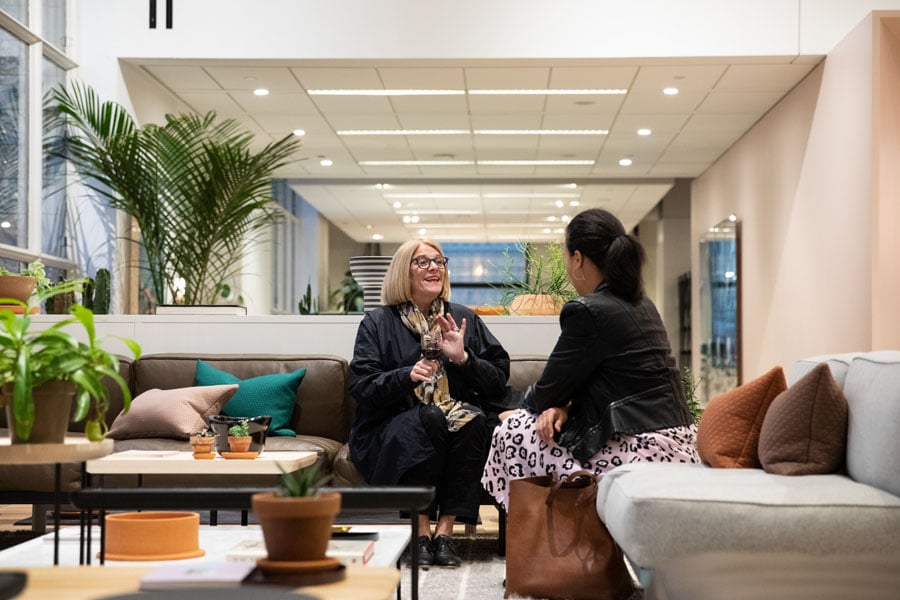 January 21, 2020
Finding a Line of Best Fit for a Future-Proof Workplace
At a recent event at Haworth's New York showroom, panelists discussed how designers can optimize office spaces in order to keep up with technological shifts.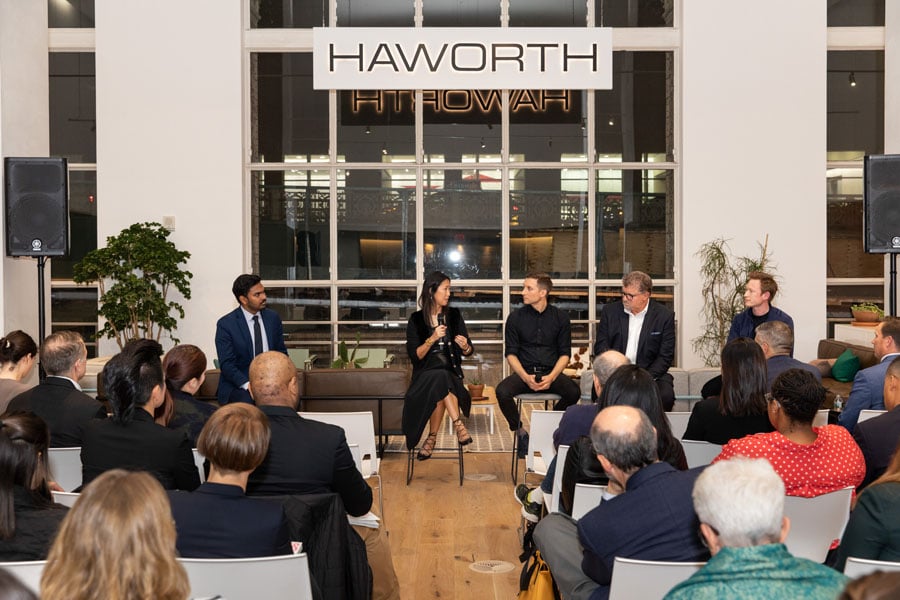 ---
Digital technology is integrated into nearly every aspect of the workplace, completely altering workflows. Journalists, previously armed with a notepad and pen in their pocket protector, are now jotting notes on their phones—a gesture that older generations can misread as being inattentive. At a recent panel at Haworth's New York showroom, speakers discussed technology's impact on the office and how designers can optimize spaces to better engage employees and shape workplace culture.
Employee engagement involves serious consideration of how and why spaces are created. As a design experience leader at Gensler, Jean Anderson strives to craft environments that cater to various work styles and personalities so that employees feel a sense of autonomy. She champions designing with intention and interconnectivity in mind. "What's really important is all the spaces you create are connected from a digital standpoint—all the furniture you design should be an ergonomic work setting where people, even in lounges, can work and truly be tetherless," she told the guests assembled at Haworth.
Chris Butterick, operations director at LinkedIn, elaborated on Anderson's point. He believes in fully understanding staff workflows to optimize processes based on specific needs. "At its core, the form this usually takes is a connection between[a] manager and their team," he said. "If you're optimizing for those relationships, that really facilitates a high degree of engagement with the company and with their teams."

Every office is different, and each industry has its own needs. To account for those differences, Joe Yacovone, a managing director at JLL, stresses the importance of evaluating the behavioral patterns of how employees are actually interacting with their space. In Yacovone's experience at a large real estate company, employees "don't rely on conference room reservation systems because they want those coincidental collisions to go on in the workplace. They're all going for the shared work spaces and the flexibility of working wherever they wish." 
As companies dive deeper into the digital realm, international collaboration and remote access have emerged as increasingly efficient modes of work. But navigating the strange limbo between virtual and physical space can be a big problem. According to Haworth design leader Nicolai Czumaj-Bront, a solution requires looking at problems from a holistic perspective and treating the virtual world as a space unto itself. "With technology, you're not really in that time or in that space at any moment because you can easily be somewhere else," said Czumaj-Bront. "We are spatial people and we need that connection with others."
For Metropolis's editor in chief, Avinash Rajagopal, who moderated the talk, technology made it possible to virtually connect with his family in India on a frequent basis. He didn't see why companies couldn't do the same: "If you're intent upon it and the stakes are high enough, you can create that sense of space and connection, no matter what technology you're using."
You may also enjoy "Designing with Empathy For Inclusive Workplaces"
Would you like to comment on this article? Send your thoughts to: [email protected]