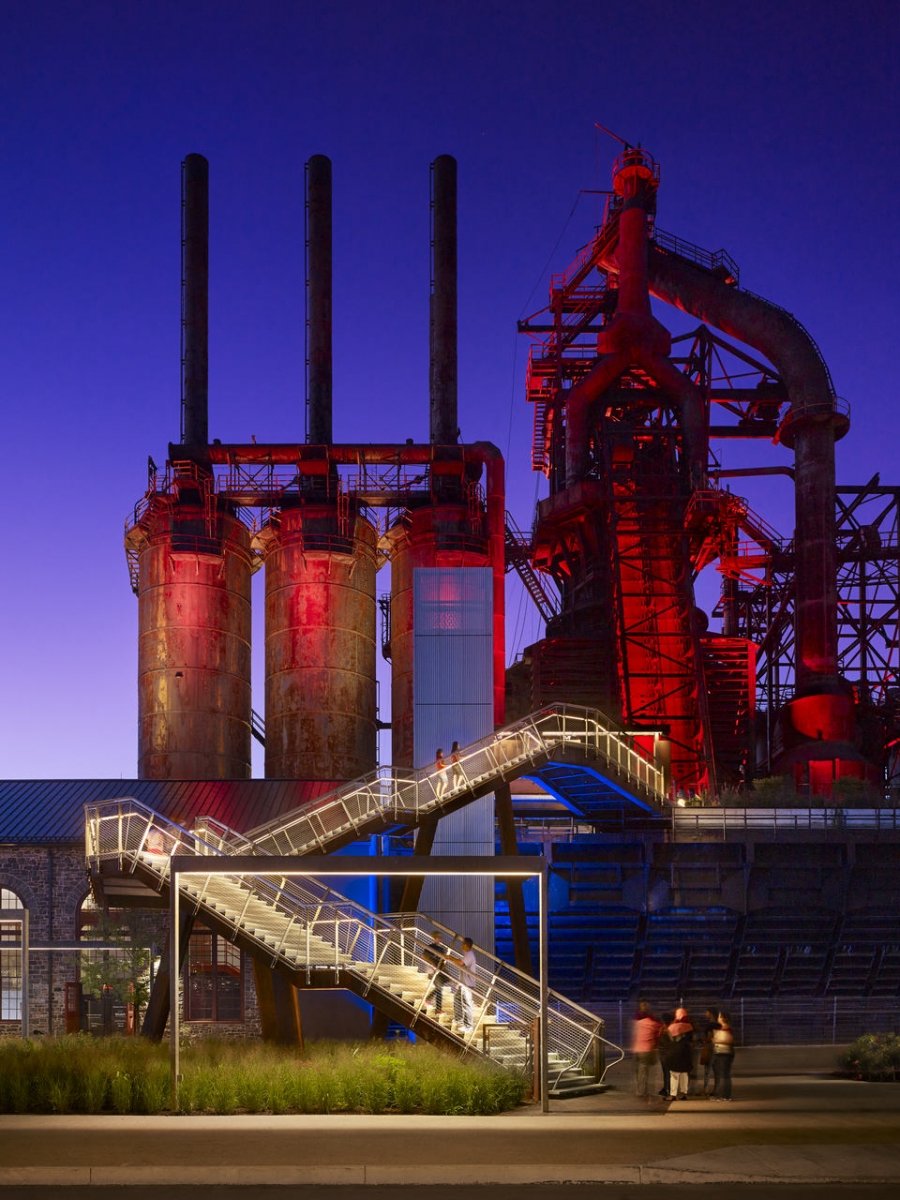 February 8, 2017
Five Urban Projects Transforming America: The Rudy Bruner Award Finalists Announced
The finalists for the Rudy Bruner Award for Urban Excellence include an urban infill project for homeless women and children, a steel plant-turned-cultural center, and Chicago's much-lauded Riverwalk park.
Bruce C. Bolling Municipal Building— Boston, MA. A complex integrating public school headquarters, community meeting space, retail, and transit.
Courtesy City of Boston, © Anton Grassl / ESTO
---
In the New Orleans neighborhoods of Treme and the 7th Ward, 46 historic homes, once vacant and blighted, have been given new life. Today, these rehabilitated single-family houses are the homes of formerly homeless women and children.
The Iberville Offsite Houses by Redmellon—an urban infill enterprise that works with non-profit organizations—are just one of five initiatives chosen as finalists for the Rudy Bruner Award for Urban Excellence, which recognizes designs that reinvigorate spaces and "contribute to the economic, environmental and social vitality of American cities." In June, one will be selected to receive the Gold Medal prize of $50,000 to enhance their works. The other four will be gifted $10,000 each for the same purpose.
Other finalists chosen this year include the Bruce C. Bolling Municipal Building, a project to revitalize and reintroduce a sense of community to the area around Dudley Square in Boston, Massachusetts, by integrating a public school headquarters, meeting spaces, and retail and transit spaces. The SteelStacks project, also a finalist, transforms an abandoned steel plant into a center for performance arts and entertainment in Bethlehem, Pennsylvania.
Additional finalists include the La Kretz Innovation Campus + Arts District Park in Los Angeles, a demonstration facility for a clean-tech business incubator to promote clean energy in the city's economy, and the Chicago Riverwalk Phases 2 and 3, a project to re-beautify the pedestrian park near the Chicago river and provide it with amenities for locals and visitors alike.
RBA staff will soon begin site visits to each finalist project in preparation for the committee's selection of the medal winners in June. The process will be documented on our website, so stay tuned for first-hand accounts of these five extraordinary urban projects.
SteelStacks Arts and Cultural Campus—Bethlehem, PA. Transformation of an abandoned steel plant into a mixed-use cultural and entertainment district.
Courtesy Halkin Mason Photography
La 
Kretz

 Innovation Campus + Arts District Park—Los Angeles, CA/ A demonstration facility promoting clean technologies and the city's green economy.
Courtesy Benny Chan/Fotoworks
Chicago 
Riverwalk

 Phases 2 and 3—Chicago, IL. A pedestrian park providing access to the river and new waterfront amenities.
Courtesy Christian Phillips
Iberville Offsite Rehabs I & II — New Orleans, LA. The rehabilitation of 46 scattered site historic homes for homeless women and children.
Courtesy Kronberg Wall