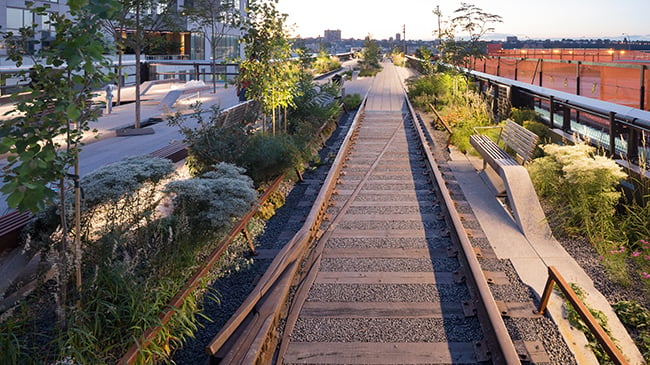 July 1, 2016
Looking Back: Metropolis Turns 35
On our 35th anniversary, we reaffirm our belief in the importance of history.
Spanning 1.45 miles, the repurposed High Line reinvigorated New York City's Chelsea neighborhood.
Courtesy Iwan Baan
---
On June 10, I traveled to Philadelphia—the city that gave us our Declaration of Independence in 1776—to take part in the creation of another declaration. I was joined by more than 700 attendees, all brought together by the Landscape Architecture Foundation at the University of Pennsylvania. We represented landscape architecture, architecture, academe, manufacturing, and media from all over the world. As we gathered in the majestic Irvine Auditorium, we admired its dramatic expression of collegiate Gothic, a popular style that flourished from the 1890s to the 1920s and continues to grace our most beautiful campuses. The domed ceiling and decorative ornamentation at Irvine reminded us of a time when Horace Trumbauer, its architect, was inspired, like many others, by medieval structures like Mont-Saint-Michel and Chartres.
The day was filled with rapid-fire statements of bold ideas that will shape the future of landscape design and our environment. But first, our attention was called to another historic document. This one, issued in 1966 from Philadelphia's Independence Hall, is called "A Declaration of Concern." It was written and signed by six leaders in landscape architecture, including the charismatic, photogenic, and brilliant Ian McHarg, whose book Design With Nature would be published in 1969 and lead the way to our reengagement with the natural environment and responsibility for keeping it green, healthy, and beautiful.
The 1966 declaration came at a time when environmental degradation in the U.S. was at its most virulent: Rivers caught fire, thick air pollution covered cities, bodies of water became sewers, and our very existence on Earth was threatened by our arrogant and uninformed exploitation of natural resources. The declaration's signers urged "a new, collaborative effort to improve the American environment." They called upon their field to be a "key to solving the environmental crisis…[and to be] a profession [that deals] with the interdependence of environmental processes." The document went on to advocate that "those who plan for the future must understand natural resources and processes. These are the basis of life…. They must know geology, physiography, climatology, ecology to know why the world's physical features are where they are; and why plants, animals, and man [woman, and child] flourish in some places and not in others."
Much of what we talked about this day was informed by the 1966 declaration, but in a new, global context. Clearly this original call for collaboration among many experts is more crucial now than ever. And we know so much more than we did 50 years ago! To remind us that the earth is a fragile, interdependent system, several presenters showed the now-familiar image taken from Apollo 17 on December 7, 1972.
The idea that a small group of people, like the six men in Philadelphia in 1966, can change things for the better is alive and well. Some of the projects Metropolis has covered through the years illustrate the power an individual or a small coalition can have, including:
01 Ryan Gravel's extensively researched and brilliantly argued 1999 master's thesis in architecture and city planning at the Georgia Institute of Technology, which formed the basis for the redevelopment of Atlanta's BeltLine, now in full swing. Centered on old rails and the distinct neighborhoods that grew up around them, the plan reclaims buildings and encourages new street-facing structures; makes room for walking and biking; and emphasizes the natural environment, which invites one and all, regardless of age or race, to become part of a new way of living in a city being choked by its overgrown car culture.
02 New York's High Line park (see "Friends in High Places," December 2005) was the dream and passion of two intelligent and well-connected gay men, Joshua David and Robert Hammond, who understood that involving a large and committed constituency was key to transforming the old, rusted railbed that once transported goods in Manhattan. It is now seen as an example of sensible and sensitive development that makes room to grow and flourish in a crowded urban place and reuses an outdated, but historically important, place-defining infrastructure.
03 Landscape architect Mia Lehrer's thoughtful design and skillful advocacy for rediscovering and reviving the Los Angeles River has been going on for more than two decades (see "Mia Lehrer & the L.A. River," July/August 2014). Her proposal to reclaim the once-buried waterway and bring new life and energy to neighborhoods along its path has become a rallying cry as the City of Angels rethinks its sprawl, builds massive mixed-use downtowns, and connects with its special climate and terrain.
These developments show a new understanding of local assets and the enormous amount of specialized knowledge it takes to realize them. History plays into this vital reengagement with place and nature and has always been important to us at Metropolis. On our 35th anniversary, we reaffirm that the connection to the past grounds us, helps us understand our world, and locates our moment in time in the continuum of human knowledge.