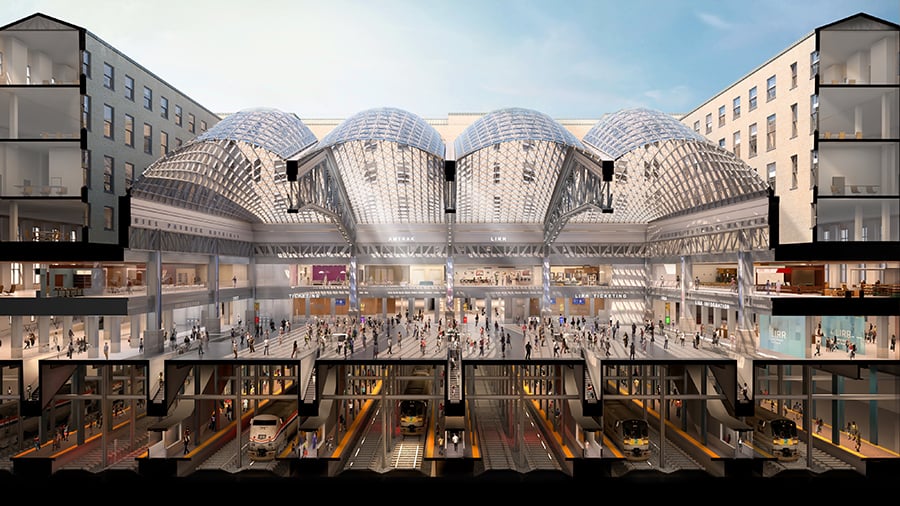 February 9, 2018
As Technology Reshapes Cities' Economies and Daily Life, We Risk Widening Inequality
The relationship between the built environment and the internet is evolving as more cities rely on technology to facilitate urban life. In recent years, New York City has been particularly focused on becoming a leader in urban technology, championing a number of initiatives, from the CitiBike network to expanding the availability of free WiFi. As […]
---
The relationship between the built environment and the internet is evolving as more cities rely on technology to facilitate urban life. In recent years, New York City has been particularly focused on becoming a leader in urban technology, championing a number of initiatives, from the CitiBike network to expanding the availability of free WiFi. As the experience of the city becomes increasingly defined by technology, the opportunity gap between those who have access to technology and those who don't carries increased urgency, and narrowing that digital divide is a fundamental mandate for those innovating in the urban realm.
On October 18 at the New York offices of SOM, Metropolis's director of design innovation Susan S. Szenasy led a conversation about how innovations in technology can be harnessed to best support the city's growth. As the city continues to expand—the NYC Department of City Planning estimates the population will grow from 8.5 million in 2016 to 9 million in 2040—how do architects, technologists, and policymakers leverage and create technology that makes the city a more livable, equitable space for all its residents?
The panelists agreed that we must begin with a conversation about shared goals. "The big problem is that technology has moved more quickly than our ability to understand how it's changing us," noted Raju Mann, director of land use at the New York City Council. While there is generally a lot of enthusiasm around "the new," it would be a mistake to embrace innovations without first testing them against our values. According to Mann, we must always be thinking about the city's collective vision and how technology can help to translate and apply those goals at different scales.
---
While urban technologies are often associated with democratic ideals of greater and greater civic engagement, in practice they tend to be more insular. "What we usually see with urban tech is very vertical and very siloed," explained Constantine E. Kontakosto, professor of urban informatics and director of the Urban Intelligence Lab at NYU's Center for Urban Science and Progress. "The civic tech space has been focused on certain types of communities, historically. The idea of how we can bring technology to underserved communities who don't have large economical development projects is what we're really interested in." But there is also room for optimism. The increasing amount of data being generated in the city has the potential to guide the types of questions we ask and help us make sure we are addressing the right ones. "The problem the agency sets out to solve is rarely the one we end up solving because once we start pulling in different sets of data we can see new patterns and insights," said Mann.
Even as this tech-informed process unfolds, SOM's design director Colin Koop underlined that we must question the potential consequences of designing cities that people can't comprehend. "We struggle to communicate. Someone who's seeking to take a technological approach to a problem and solve it in a way which should benefit individual lives—whether that's through a shorter commute, better public spaces, lower utility bills—ultimately realizes that if people don't understand it, they're going to be inherently suspicious of it. If we don't bring people along then we risk tearing at the fabric of the social construct that ties us all together," Koop remarked.
Along those same lines, urban critic and author Karrie Jacobs cautioned that there is a crucial difference between a high-functioning city and an optimized city, which may lose the everyday frictions and surprises that define city living. "Is an optimized urban environment still an urban environment," she questioned. "Do we want to rationalize everything?"
Through small-scale manufacturing, Clare Newman, chief of staff & EVP at the Brooklyn Navy Yard Development Corporation is exploring ways of leveraging technology and high design "to forward and advance a vision of a city with more equitable jobs." The Brooklyn Navy Yard is flourishing now as a "place-based economic development initiative" for "skilled craftspeople and blue collar talent as well as the talent sectors that are so crucial to New York." Newman's focus through her work is on ensuring that "in a rapidly urbanizing city, we still have a diverse workforce and truly diverse employment opportunities."
The question of craft is not divorced from technology, as David Gilford, senior director of technology and design firm Intersection brought up. Like material objects, algorithms, interfaces, and code may also benefit from a local approach, he said: "We often think of technology and software as something totally abstract but it's also made by people who are living and working in a particular environment. I think a lot about the difference of what would get developed by a technologist in a suburban office park versus by someone working in a tiny co-working space in Brooklyn. As they develop code that becomes part of the city's they're influencing, that is fundamentally different than the abstraction of some smart people in a room thinking 'I know what New York wants.' As we talk about what the future of craftsmanship is and the future of jobs … the consideration of who is creating this technology and how they're part of the city itself is going to be really important to keep in mind."
The Think Tank discussions in New York were held October 18 and 19. The conversations were presented in partnership with Corian Design, Sunbrella Contract, DXV/GROHE, Staples Business Advantage, and KI.
You may also enjoy "CES 2018: Watch Our Interviews With Three Smart Cities Experts."