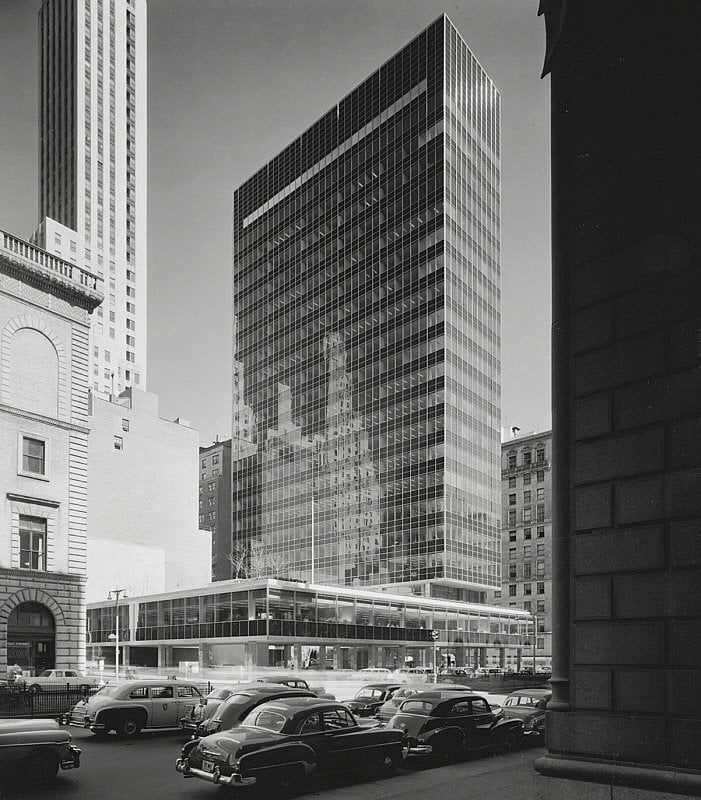 January 5, 2016
Venerable Institutions, Iconic Products, and Key Texts Mark an Anniversary in 2016
Skidmore, Owings & Merrill is celebrating its 80th anniversary this year. Courtesy SOM © Ezra Stoller/Esto There are many reasons to celebrate architecture and design in the coming months as these venerable institutions, iconic products, and key texts mark an anniversary this year.​ 150th School of the Art Institute of Chicago Courtesy Jaclyn Rivas A […]
Skidmore, Owings & Merrill is celebrating its 80th anniversary this year.
Courtesy SOM © Ezra Stoller/Esto
There are many reasons to celebrate architecture and design in the coming months as these venerable institutions, iconic products, and key texts mark an anniversary this year.​
---
Courtesy Jaclyn Rivas
A collective of studio artists founded the Chicago Academy of Design in 1866. The Great Fire destroyed that building in 1871, but the institution survived to become one of America's largest art and design colleges.
120th 
Swarovski
A 325-page coffee table book recently published by Rizzoli shows how the Austrian company's crystals have played a starring role in design history, from the film Breakfast at Tiffany's to the 2012 Venice Architecture Biennale.
105th
Frank Lloyd Wright builds Taliesin
​
Courtesy Andrew Pielage
The name of Wright's home in Spring Green, Wisconsin, built in 1911, is Welsh for "Shining Brow." It was declared a National Historic Landmark in 1976.

Courtesy Steelcase
100th
Steelcase 601 desk series
As wood furniture fell out of favor due to concerns about fire safety, the Metal Furniture Company (now Steelcase) built its first series of steel office desks as part of a bid for a large government project in Boston.
Brothers-in-law Louis Skidmore and Nathaniel Owings first worked together on the Century of Progress exposition plan in Chicago in 1933, but then went their separate ways. But a 1935 meeting at Paddington Station in London rekindled the partnership, and the architecture firm was founded on January 1, 1936, at 104 South Michigan in Chicago.
The Piaggio Group is releasing a special series of three Vespa Settantesimo models—the Primavera, the GTS, and the PX—to celebrate the Italian scooter's birthday.
Courtesy Knoll
Risom began to officially work on the 600 series, the Hans G. Knoll Furniture Company's first collection of specially commissioned furniture, in 1941. The company's first catalogue in 1942 advertised 15 of these pieces, including the classics now known as the Risom Lounge chair and the Amoeba Table.
​
Courtesy Carl Hansen & Søn
When Hans Wegner designed this chair in 1956, it proved so complicated to produce that only one prototype was ever made. It later turned out that Wegner was simply ahead of his time—the CH2Ø was finally put into production in 2005.
Courtesy Herman Miller
Irving Harper came up with the design of this Herman Miller icon over the course of one weekend to take advantage of a new production method for cushions. The manufacturing process never fulfilled its promise, however, so the cushions had to be fabricated by hand.
A handful of Italian furniture manufacturers came together in 1961 to create a platform where local design could be promoted for the export market, and they ended up founding one of the design world's most important annual rituals.
The manufacturer of affordable office furnishings has grown in the past 50 years to encompass solutions for elder care and acute care, as well as furniture for government offices in the United States and Canada.
50th 
Complexity & Contradiction in Architecture
One of the finest arguments ever made against purism and for "messy vitality," Robert Venturi's text for Postmodernist architecture was published by MoMA in New York.
Courtesy Collective Design
35th
Memphis Group
The colors, materials, and forms first unleashed by a group of young Italian architects in Milan's Arc74 showroom on September 18, 1981, have enjoyed a return to favor in our own decade.
30th
Cappellini Thinking Man's Chair
This early Jasper Morrison design, prototyped for an exhibition in Japan, was initially called the Drinking Man's Chair—the discs at the ends of the arms were intended to hold glasses. The name was changed before Cappellini began producing the piece in 1989.
Courtesy Flexform
Designer Antonio Citterio wanted the structure to disappear, putting the emphasis on the contents, so he made the walls of the Infinity bookshelf as thin as possible. Leather boxes in different colors added another layer of compositional possibilities.