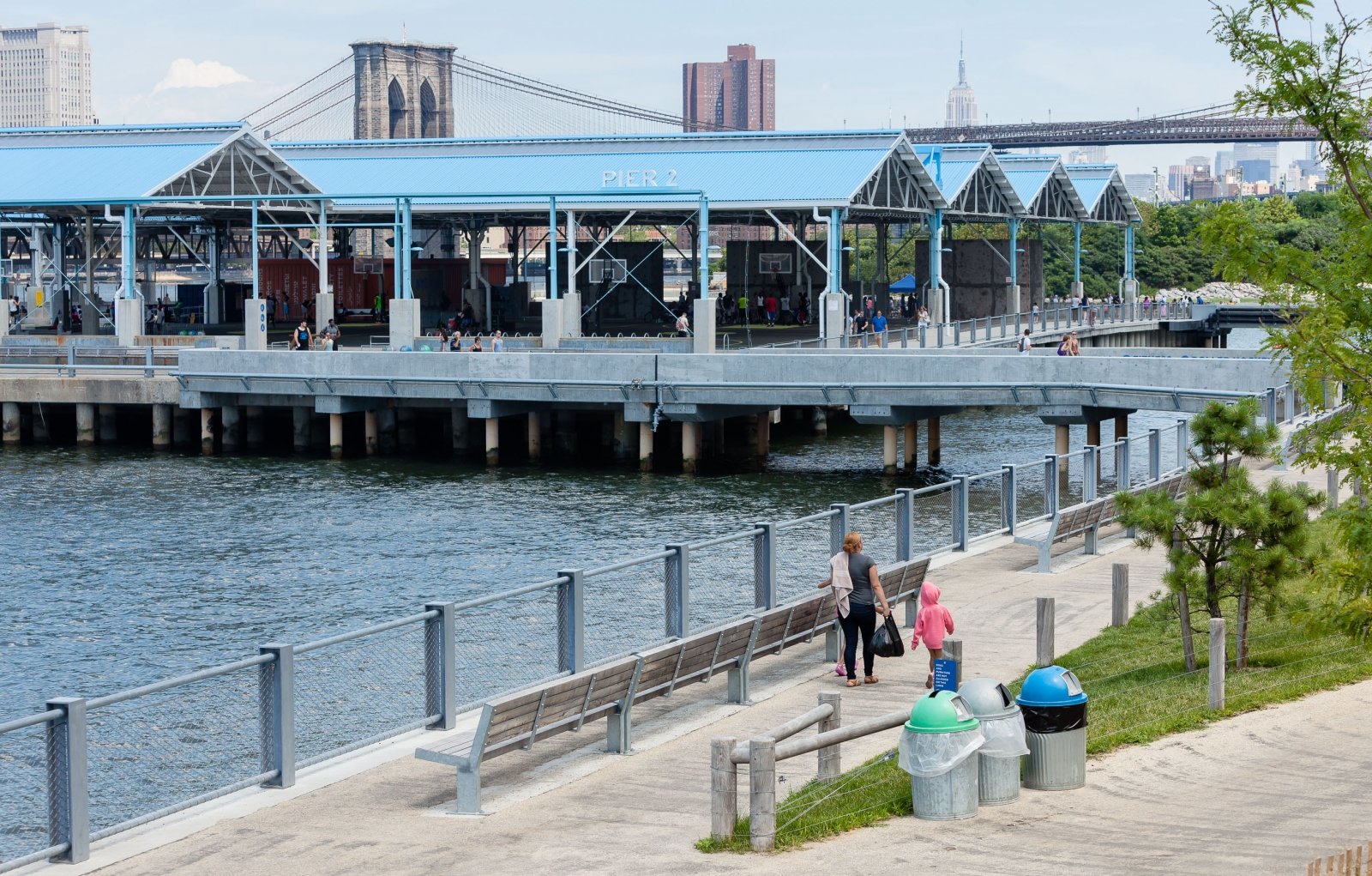 October 6, 2015
Your Guide to Archtober 2015
Don't miss these 12 programs from Archtober 2015.
A still from the film Barbicania by 2015 Metropolis Gamechangers Ila Bêka & Louise Lemoine. The feature-length documentary, which revisits London's famous Brutalist arts center and high-end housing complex, will be screened at the Architecture & Design Film Festival, one of several programs that are part of Archtober 2015.
Courtesy Ila Bêka & Louise Lemoine
---
It's once again Archtober in New York City. The annual event, now in its fifth year, unites the city's architecture and design community for a full month of lectures, behind-the-scenes tours, film screenings, and exhibitions. This year's lineup looks especially promising, with special focus on affordable housing, coastal resiliency, landscape urbanism, and the history of Modernism. While there are perhaps too many events to choose from, here are our top picks for this year.
Shelter: On Housing
Vitra Showroom
October 7, 6–9 pm
This panel discussion will tackle tough and timely questions regarding today's housing issues. The central focus will rest on what roles architects do (and should) play in addressing housing shortages, how to make housing more resilient in the face of natural disaster, and how to introduce affordable housing back into urban centers.
Inventing Preservation
Museum of the City of New York
October 8, 6:30 pm
Common wisdom has it that the modern preservation movement began in the 1960s, with the fight to save McKim, Mead & White's Penn Station. But, as this lecture will bear out, the movement can actually trace its origins to the 19th century, to the efforts of a series of pioneers, women's garden clubs, and civic organizations. The discussion will investigate how the early triumphs and failures of these figures led to the preservation strategies of today.
Brooklyn Bridge Park
Hidden History of the Brooklyn Bridge Walking Tour
South Street Seaport Museum
October 8, October 15—12:15 pm
The Brooklyn Bridge is an iconic structure, but many of the thousands of people who cross it each day have no idea what hidden spaces and historical twists and turns are imbedded in its structure. Though it won't cross the span of the bridge, the "tour" offers a rare glimpse into its construction and its secrets.
Urban Ecology Bike Tour
Brooklyn Navy Yard
October 11, 11 am
Explore the thriving natural environments that grow among the gigantic industrial buildings of the Brooklyn Navy Yard. Visitors cycling through the site will have a chance to learn about green roofs, urban farming, and stormwater management. They may even see a few oysters.
Drawing Ambience: Alvin Boyarsky and the Architectural Association
Arthur A. Houghton, Jr. Gallery, Cooper Union
Opening reception: October 13, 6 pm
On view through November 25
Alvin Boyarsky presided over one of the most energetic moments of architectural experimentation while chairman of the Architectural Association School in London in the 1970s. Boyarsky collected some of the fruit of this foment in the form of drawings by students and other community members. Works on display at the Cooper Union include drawings by the nascent OMA, John Hejduk, Eduardo Paolozzi, Daniel Libeskind, and Archigram's David Greene and Michael Webb, among others.
New-New York by Superstudio (1969)—one of the stunning architectural drawings that will be on display at Cooper Union.
Courtesy the Collection of the Alvin Boyarsky Archive
Architecture & Design Film Festival
Bowtie Chelsea Cinemas
October 13—18
Now in its seventh year, the New York Architecture & Design Film Festival will offer a strong roster of films over the course of its six-day run. Some of the must-sees include The Chief (2010), a visually stunning depiction of the daily operation of an Italian marble quarry. The Land of Many Palaces (2014) documents the struggles of nomads and herders from Inner Mongolia as they are by turns lured and coerced into urban living. Of course, there are also cinematic profiles of well-known architects to be taken in, such as films about Paul Rudolph, Ove Arup, and David Adjaye, among others.
Architecture & the Cuban Revolution
Goethe-Institut New York
October 15, 6:30 pm
The Goethe Institut, in collaboration with the Austrian Cultural Forum, will present two films by Florian Zeyfang, Lisa Schmidt-Colinet, and Alexander Schmoeger, which revisit Modernist architectural experimentation in post-revolutionary Cuba. Microbrigades: Variations on a Story (2013) investigates the post-1971 legacy of groups of workers who were encouraged to build their own multi-unit housing projects around the country. Institute Above-Ground (2015) tells the story of the rural schools initiative—a government policy meant to decentralize education—through the lens of the Instituto Tecnológico de Suelos y Fertilizantes "André Voisin," which eventually became an army prison before falling into ruin.
Wikipedia Edit-a-thon: Women in Architecture
Solomon R. Guggenheim Museum
October 15, 12–8 pm
Inspired by the petition to retroactively award Denise Scott Brown the Pritzker Prize, this program, now in its third year, invites participants to increase the number of Wikipedia articles on women in the architecture and design fields. The event is preceded by a panel discussion moderated by Mary McLeod and Victoria Rosner on pioneering women in American architecture. Participants will have to bring their own laptops and power cords, but Wikipedia experts will be on hand to teach n00bs how to edit and add pages.
Microbrigades, 2013
Courtesy Florian Zeyfang, Lisa Schmidt-Colinet, and Alexander Schmoeger
AIANY Freshkills Park Boat Tour
Chelsea Piers, Pier 62
October 17, 1:45 pm
Freshkills Park is a sprawling wetland on Staten Island that was once a major landfill. In the years since the landfill has closed, Freshkills has gradually been transformed into a park in a succession of stages. This boat tour sails up the Kill Van Kull into the heart of the park, and is the only way to check it out from the water.
Inside the Four Seasons and Other New York Landmark Interiors
Museum of the City of New York
October 20, 6:30 pm
The authors of Interior Landmarks: Treasures of New York will take attendees behind the scenes of some of New York's most beloved landmarks, including City Hall and the Tweed Courthouse, Loew's Paradise Theater, and the Four Seasons Restaurant, revealing the often unnoticed struggles to preserve them. Sometimes landmark status isn't enough to keep buildings from being submerged in the tide of real estate speculation.
AIANY Boat Tour: The Future of Waste
October 23, 1:30 pm
Infrastructure geeks will love this event. Attendees will join Robin Nagel and Vaughn Arnold from the New York City Department of Sanitation on a three-hour exploration of the city's waterborne waste transfer network. New York has a long history of transporting its trash by water, and many sites associated with that history are still visible, and even still in operation. Many contemporary sites will also be discussed, including the new West Village garage, and the Spring Street Salt Shed which, appropriately enough, looks like a gigantic salt crystal.
Jamaica Bay Fall lecture series
Jamaica Bay Wildlife Refuge
October 11, October 18, October 25
The National Park Service is presenting a series of lectures on the history and ecology of Jamaica Bay throughout October, an important spotlight on this critical yet often overlooked New York waterway. On October 11th, Eli Sands will discuss the role of the Army Corps of Engineers in constructing and altering the Bay; on the 18th, Danae Alessi will give an overview of the diverse flora and fauna of the Bay, and how land use decisions affect them; and finally, on the 25th, Fern Lan Siew will recount the role of Robert Moses in designating Jamaica Bay as a wildlife refuge, and the many infrastructure projects he built around it.