October 4, 2019
8 Hospitality-Grade Products for Next-Level Living
The availability of attractive, hospitality-grade products on the market means everyday consumers can live the high life at home.
Sometimes there's no better way to gauge what's happening in an industry than to go straight to the source. So in conceiving a special series on hospitality, we turned to AvroKO, a global full-service design bureau founded in 2001. Currently working in 25 cities in 14 countries, the studio has delivered crowd favorites—from hotels like the Hoxton in Chicago and the Eaton in Hong Kong to eateries like The Zodiac Room and Saxon + Parole in New York. Stepping in as guest editors, AvroKO shows the extensive reach of hospitality across design typologies, from health care to retail and living.
---
Tritan Crystal Wineglasses by Schott Zwiesel
In addition to it's elegant form, this wineglass is exceptionally resistant to breaks and scratches, and is dishwasher safe.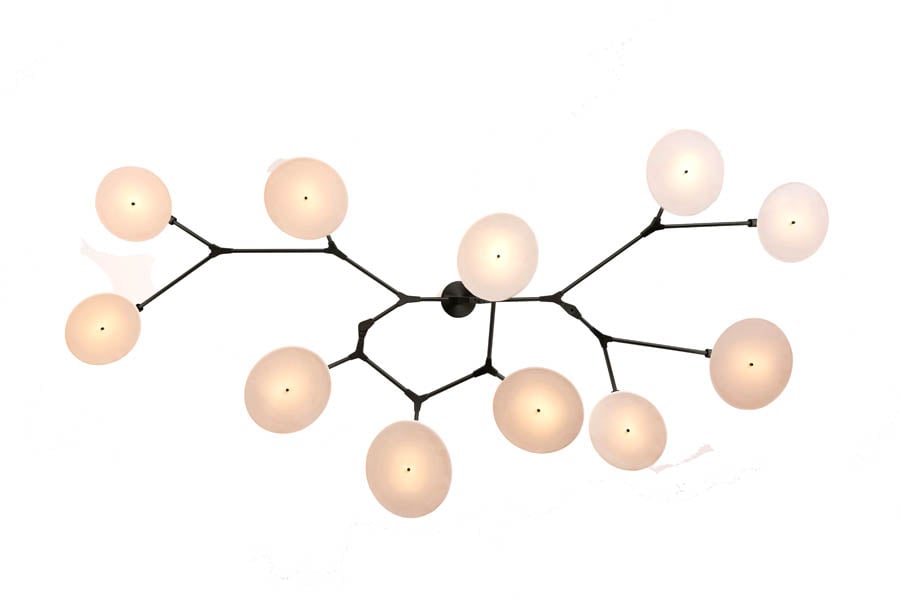 Disc Lighting by Lindsey Adelman
Nothing sets ambience quite like the right lighting. Lindsey Adelman has earned a reputation for her organic modern fixtures, which always take an interior to the next level. This piece comes in four finishes and features soft, glowing discs that resemble berries on a vine.
Luxe Chef Aprons by AvroKO for Tilit
Tilit produces restaurant-approved workwear with serious panache. This apron has a handsome leather detail at the neck and the body is made of 100% American milled cotton. The brand also offers a waxed cotton version for extra durability.
Brightliner by AvroKO for Stellar Works
AvroKO collaborated with Stellar Works to create this line of furnishings with hospitality for-the-home needs in mind. Chairs come with high-rubcount, stain-repellent fabrics, and high, adjustable support and wraparound arms that offer a sense of security.
Tiles by AvroKO for Exquisite Surfaces
These handmade concrete tiles come in a range of patterns and colors for versatile installation, while providing nearly indestructible surfaces for the kitchen or home.
Made from sustainably harvested Swedish fir and pine, potato starch, citrus peels, and other natural materials, these sound-absorbing panels enhance environments both visually and acoustically.
Ceramics by AvroKO for Connor McGinn
A culinary professional–turned–soulful ceramicist, McGinn creates handmade, nonporous tabletop pieces that are hard to break and simple to clean. This set features an excellent thumb grip, so it's also easy to carry.
Bartenders love YUKIWA tools— they're functional and elegant, and they sound amazing when shaken. Because they're made from high-quality materials, they'll also serve users well for years.
You may also enjoy "These 6 Products Show That Modular Living Is Going Luxe."
Would you like to comment on this article? Send your thoughts to: [email protected].