October 20, 2011
#artdesignbrazil Energizes the World
Warm and exhibition-happy, the Brazilian art and design world is showing the rest of us that the moment is theirs now, a samba way past the Campanas and green and yellow T-shirts at H+M. A steady stream of art and design events plus the country's booming economy are just two reasons Brazil is hot and […]
Warm and exhibition-happy, the Brazilian art and design world is showing the rest of us that the moment is theirs now, a samba way past the Campanas and green and yellow T-shirts at H+M. A steady stream of art and design events plus the country's booming economy are just two reasons Brazil is hot and visible now. These include the recent BOOMSPDESIGN;  CasaCor (at 25 is the world's second largest architecture and decoration event, running through October); and the much anticipated 2012 Sao Paulo Art Bienniel, which will have, for the first time, an international curator based in New York City, Luis Perez-Oramas, the Latin American Art Curator at The Metropolitan Museum of Art. All this activity translates to the prominence of Brazilian talent. You can just imagine the multiple design confabs and collabs with brands being cooked up right now, anticipating the upcoming events of the World Cup 2014 and a proposed green, first-ever in South American Olympic Games in Rio, in 2016.
A house in Paraty, by Marcio Kogan.
What exactly is this intrinsic design culture that Brazil owns? Why is it rising to the top of global trends? We went to Sao Paulo to find the answers at BOOMSPDESIGN where prominent Brazilian and international players in the art/design/architecture gathered. Here we found a dizzying array of ideas and latest projects in both formal and informal settings. It was so Brazil! Imagine a party where designers Karim Rashid, Dror, Matali Crasset, and Harry Allen; architects, Ruy Othake, Chad Oppenheim, and Guilherme Torres; and urban art interventionists such as FriendsWithYou and Green Provocateur mingle and cross-pollinate.
Like an open air focus group, with perspectives from every sector, our survey  began with the Brazilian architect defining the local vernacular: Marcio Kogan, of studio mk27, whose newest homes will grace the mountainous acres of resort developer Emmanuel Rengade's Fazenda Catucaba, a former coffee plantation turned organic, unplugged retreat, a forward expression of living green.  Brazilian designers and manufacturers ranged from the new generation that included Carolina Armellini and Paulo Biacchi of Fetiche Designs; the longtime leader in sustainability, Etel Carmona of Etel, the furniture manufacturer farming and producing from their own sustainable forest; and the Brazilian leader on the international scene, Esther Schattan of Ornare, the preeminent local manufacturer of luxury storage systems, with showrooms in the US. The director of the conference,  Roberto Cocenza and New York-based participating architect and designer Dror Benshetrit, brought  their multidisciplinary global perspectives, theme for many we spoke with.
We wanted to define what, exactly, Brazil is adding to the global design dialog and what is new and timely about it.  We wanted to know if Brazilian designers worked for the benefit of everyone in society or if design is an elitist thing and asked if events and exhibitions like BOOMSPDESIGN can have an impact in communicating Brazil's design sensibility to the world market in a sustained way.
Perhaps the biggest news is that we barely heard the expected terms like "tropical modernism", "Niemeyer" or "Brasilia".  Clearly the moment belongs to the creatives working now and this moment is increasingly belongs to Brazil. From the mouths of those in the know:
Brasil is warmer. From her open-air showroom with sunshine pouring in, Etel Carmona intoned, "Brazilian design is more focused on the relationship of human beings, it is somehow warmer. We love to receive guests at home; we are always surrounded by lots of people. This Brazilian way of life is reflected in our design. The usage of our tropical woods, the importance of the craftsmanship, creativity allied with functionality, are some relevant points that add to the global design dialogue."
A cabinet by Etel, using local wood.
Roberto Cocenza succinctly described the warmth of Brazil as "happiness, colors, raw materials mixed with industrialized materials." He specified that "pride of manufacture is important," in that Brazilians "are happy to produce beauty" for example, "at ViaLight design, workers are proud to show their families pictures published in the press of lamps they have manufactured by designers such as Karim Rashid, Harry Allen, Brunno Jahara and Andre Cruz." We especially warmed to Emmanuel's description of "warm" design as "fresh, convenient, retro, and very much linked to the culture of Brazil."
Brazil is a happy exhibitionist. As a world-traveling manufacturer exploring the international scene at events like the Milan Furniture Fair and Miami's Art Basel, Esther Schattan, director of Ornare, has supported BOOMSPDESIGN since its beginning four years ago because of "synergy with its values, innovation, creativity, inspiration, culture, art and lifestyle."
"I remember some of the big names who have participated in BOOMSPDESIGN over the past four years. We've had names such as Sérgio Rodrigues, with his good humor and charm, Craig Robbins with the urbanization of Miami focused on design and art, Karim Rashid who designs objects ranging from cutlery to buildings, Christian H. Hallot of H.Stern showing the creative process of jewelry with incredible interventions of Carlinhos Brown. Lately we have had Dror Benshedrit and Chad Oppenheim. The exchange of information between professionals in Brazil with the world is wonderful.
"We are open to every creative experience and are happy to show it," adds Roberto, "we put together many thoughts and styles spread around our style and all our international guests work and proposer as well from this mix."
Etel mentioned that "this exchange certainly provokes the discussion internally and this impact can be seen through the space dedicated on the international media to Brazil in recent years."
Fetiche Designs told us that "An event like BOOMSPDESIGN puts Brazilian design and architecture in discussion, in vogue. Showcasing of successful projects proves that the design is an excellent investment, not only for the development of the industry but of the entire Brazilian society."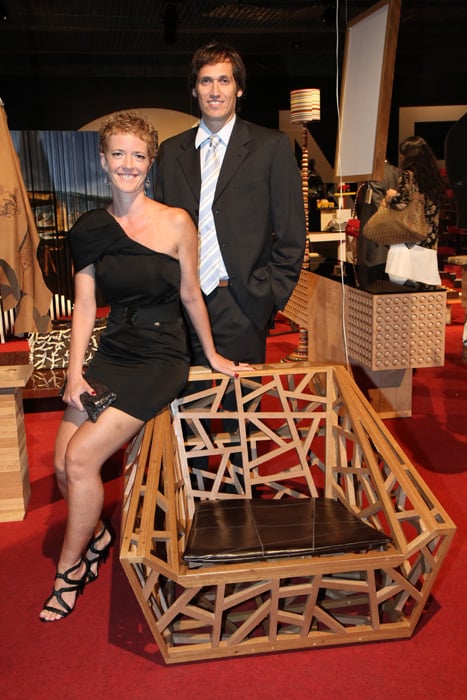 2One for Onare.  Chair made from recycled materials
Brasil is Multiculturalism. A melting pot culture can produce a singular vision in multiplicity which Marcio poetically defined as the "ability to improvise, the importance of multiculturalism, a decentralized vision of the world, an un-perfect aesthetic, the beauty of future possibilities, self-irony…" Roberto adds, "Remember that Brazil's colonizers were mainly Portuguese, Spanish, Italian, Japanese, and German–all with traditions of hand craft skills" on top of which they "added their cultural influence, food, music." Emmanuel, who also lives in Europe, noted, "Brazil design is immediately identifiable, as a unique combination of various recycled epochs, materials, and forms blended into one very unique style. Just like the country itself works."
A kitchen by Ornare.
Brazil is Sustainable. Perhaps the most defining contribution of pioneering Brazilian thought will be the incorporation of natural sustainability, from resource management to fair workers rights. This  concept is intrinsic to pioneer companies such as ETEL, who put it this way, "Development without deforestation. Respect for the earth and for its peoples. In 2001, ETEL Marcenaria became one of Brazil's first furniture companies to achieve FSC (Forest Stewardship Council) certification and in 2002.…embodied in Aver Amazônica," the establishment of their own lands to provide responsibly harvested woods "in Xapuri – the land of ecological sustainability pioneer and martyr Chico Mendes." Ornare, who also receives the FSC certificate, has an active environmental awareness program of recycling, reuse of waste and environmental preservation, and works with NGOs, passionately expressed their happy exhibitionist side with their "2One project". 2One paired art and utility by inviting architects to join artisans from the fine arts, design, and fashion jewelry to develop a singular object whose main source was the raw material, scrap wood and leather, from Ornare's manufacture. "We thought about a design concept, which reaffirms the idea that nothing is created, everything is transformed. It is  a sustainable action which transforms and remains in luxury objects" Etel told us.
A home in Paraty, designed by Marcio Kogan.
Brazil is High Design, Mass Appeal. Dror's response to whether designers create for the elite vs. mass market reflects the growing international perspective that is at home in Brazil: "There are many designers who fall into either or both categories, in all parts of the world. I think that gradually people are beginning to understand that the two can go hand in hand. Once your mind thinks about design and how to improve the built-environment, it doesn't separate the high-end from the socially aware idea. You think of the whole spectrum. For example, our invention QuaDror…it started with a high-end design project for Swarovski, which afterwards lead to five years of investigation and experimenting with the geometry that I invented …(which) eventually inspired us to explore a structural support system that could address the issue of habitat in unprivileged areas or for disaster relief. "
An emergency home, based on the QuaDror structure.
QuarDror pop-up building
Roberto ticked off a few Brazilian examples from a long list including "Glauco Diogenes, an illustrator, who designs for Taschen and also designs shopping bags that are sold for about $5 for Tok Stok (the Brazilian version of Ikea). Architect Ruy Othake designed the upscale Unique Hotel as well as a beautiful residential project in a favela. There is Jose Machado, who designs furniture for with children's facilities for less-privileged communities and Marcelo Rosenbaum, who is developing projects with Piracema Design Laboratory responsibly working with Capim Dourado, a golden grass found only in Brazil fabricated into jewelry and baskets."
Etel mentioned that although "Brazilian design started elitist with some very important architects such as Gregory Warchavachik, Oswaldo Bratke, Branco & Preto and even Zalszupin designing the furniture for their houses," now you see the "Campana brothers designing a flip flop for Melissa, companies such as Electrolux investing in design products, the Guto Indio da Costa Spirit fan case and the success of companies like Tok & Stok based on democratic design."
Emmanuel pointed out that "In Brazil like elsewhere, there was an attempt, in the 1960's particularly, to do design for the masses, very simple, inexpensive and convenient, but beautifully designed objects or furniture. Some were definitely a success and maybe none more than the legendary Havaianas!"
Etel added, "With the improvement of our economy, not only our designers but also the industries are investing more in accessible and democratic design." Marcio is less enthusiastic, saying, "Clearly, there is a lack of public initiatives to promote good design as a part of the solution for our long list of social problems. On the other hand, through the very few opportunities we still can find, designers play an important role in society to question, provoke, seduce or intelligently mock on our own ills."
The structural members of Fetiche Designs furniture are all metal re-bars.
Brazil is low-tech, low impact. Designer Paulo Biacchi of Fetiche Design, who recently launched a collection of elegant chairs and tables using common rebar, said, "The low industrial investment in design and technology forces Brazilian designers to find their identity in the adversity, obliges designers to innovate production processes using low tech. This technical limitation exercises the creative power, opens up opportunities for a new thinking, a new way of making things. Brazilian designers are creating products that have an emotional charge, products that make clear the human presence in their productions.
"Every day we use a large numbers of utensils that make life easier and that are the result of a design process, be it good or bad design.  Since the earliest creations in the Stone Age, over and over, we are turning the 'natural world' into a 'world of objects'. This is evolution.  This is innovation. Belief in innovation is belief in the development of the Brazilian society and Brazil is still at the beginning of this process. Maybe we are starting this revolution from the top of the pyramid. Is this bad? We don't know."
Brazil is not forgetting its heritage. Clearly this unique "top of the pyramid" line to a natural heritage, usage and simplicity shows that Brazil is adding something new and fresh to the world of design. Rawness or natural impact is not an affect; it is part of the language.
"Brazil's creativity utilizes man power, equipment and raw materials that have been available in the country in the past industrial and current industrial period," said Roberto. "We are looking to our incredible past, and near past, having both hindsight to the lifestyle of native people, their culture, skills and materials, music as well as foresight to the future of uses, shapes and lifestyle. I think the new generation of Brazilian designers are looking more and more to their heritage." Marcio sees this as the "ability to improvise…a decentralized vision of the world, an un-perfect aesthetic, the beauty of future possibilities, self-irony…" Roberto sums up the Brazilian offering to the international market and design lovers, as "contemporary thoughts with a Brazilian soul….We are looking to the international scene and I think this is the main and most important move we are doing."
The Egg Chair, by Etel interiors.
Brazil is talking a global design language. As far as a sustained impact of the current scene and all the events and attention on Brazil, Roberto talked about brands such as "Ornare, Vialight design, NDT BRAZIL, Mekal and by kamy, as a few of our clients and partners who have developed or are developing projects with internal designers due to BOOMSPDESIGN editions."
After a tour of their extensive manufacturing facilities and seeing the highest quality tech, design and worker comfort we understood why Ornare celebrates its 25th anniversary, producing  "a national product…in line with the international market." They are uniquely positioned to reflect on how the dialogue within and outside of Brazil's borders has and is changing. Esther agreed, saying, "the advances are numerous in design, technologies and materials. It is an honor to work with renowned architects as Patricia Anastassiadis, Marcelo Rosenbaum, Carlo Colombo, Arthur Casas and so on.  The Brazilian furniture industry is more advanced and it is up to date with trends in the world, not only in design but also in access to the latest technologies."
From the perspective of architecture, Marcio commented that  "Every movement generates more movement, I think BOOMSPDESIGN enhances and helps promote Brazil´s abundant creativity." On the event's impact on his connection to the international pulse of the design industry, Dror stated emphatically, "I think it has a great impact in Brazil and beyond borders. The event involves a wide selection of local and international designers, design thinkers and design enthusiasts. It triggers a great dialogue and education, and creates a lot of international exposure for all parties involved. It's a great way to bring people together, to learn and be inspired by what is going on around the world….It has spread recently and the whole world started to turn their attention over to Brazil."
Beyond generating business for artists, designers, companies and their practice of integrating low impact and sustainability, the progress in protecting the Rainforest as lungs of the world to the planet, is no small co-incidence to Brazil. Stewardship, respect for culture and tradition is forward thinking and Brazil is clearly the model for the world, happily exhibiting not just new design, but perhaps energizing  world sustainability.
Tweet with the hashtag #artdesignbrazil to add to this global dialogue.
Jade Dressler is a curator and consultant for consumer brands and private clients on art and design, from content to exhibits, from interiors to clothing collections and has a habit of spawning art interventions in far-flung locales like Portal do Sul on 10,000 acres in Brazil or urban Milan with the Green Provocateur project.