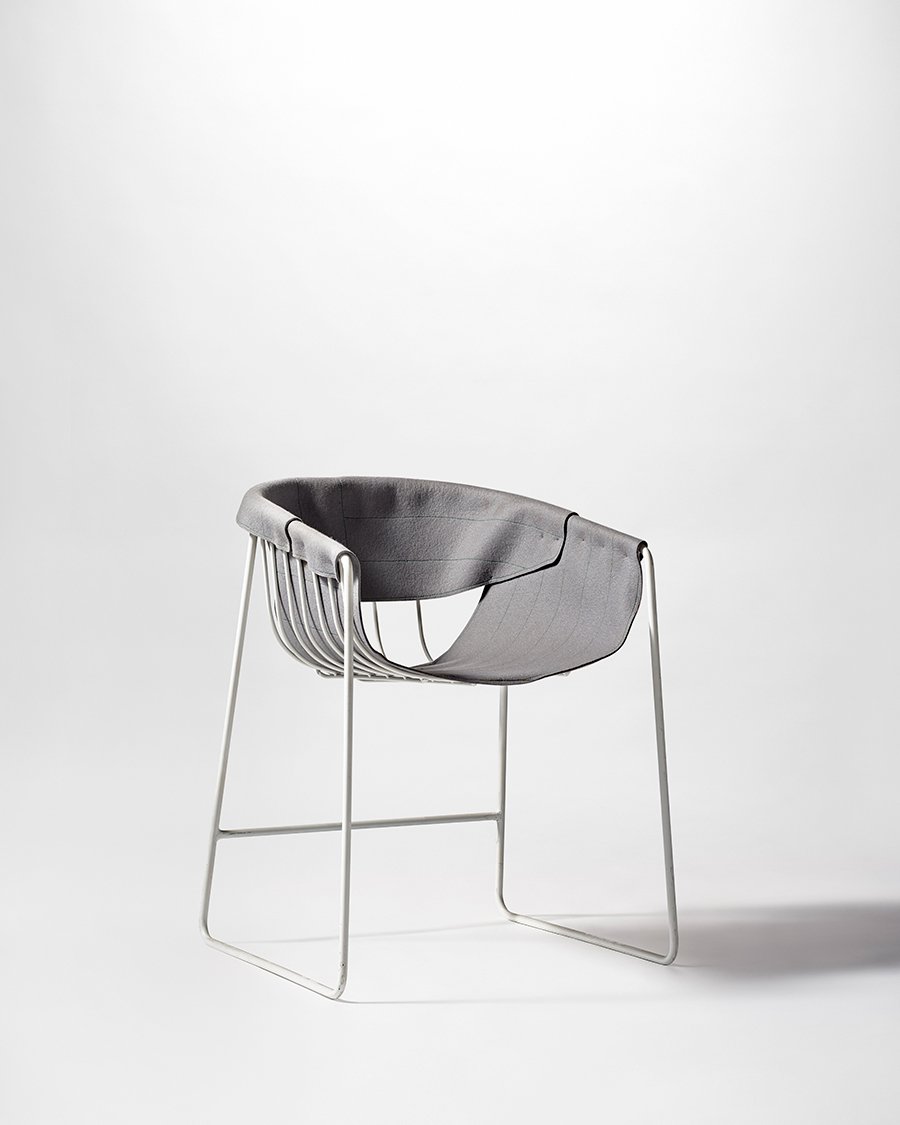 March 22, 2019
How Blu Dot Designed Two of Its Newest Chairs
Like any good design company, Blu Dot is a master of problem solving, and two new chairs were carefully developed through extensive sketching, modeling, and prototyping.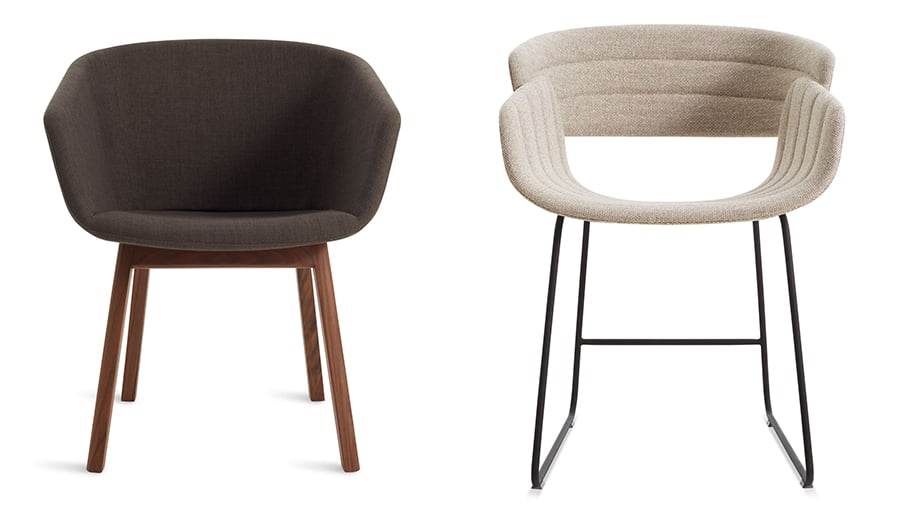 ---
Among the phalanx of prototypes that greet visitors to Blu Dot's Minneapolis headquarters is a full-scale cardboard sectional sofa, whose cushions issue a warning to the overzealous: DO NOT SIT. It's an ironic welcome for a National Design Award–winning company known, among other things, for its seating. But the prototype, aside from alluding to Blu Dot's irreverent attitude, speaks to the brand's maker spirit and appreciation of old-school design chops. With its in-house team, the enterprise has produced some of the most memorable, ubiquitous, and yes, Virginia, affordable! furnishings of the past 20 years.
The newest additions to its collection, launched this winter, are no exceptions. Like any good design company, Blu Dot is a master of problem solving, and two new chairs—Host and Racer—each respond to a gap within the company's assortment, though they followed markedly different paths to get there. Living up to its name, Host, a comfort-forward dining chair, adds a distinguished end piece to a table setting; Racer, meanwhile, offers a casual and ultra-sturdy seat to the line.
Somewhat unconventionally, the starting point for Racer was its base: a sled leg with the durability required of contract settings. Scott Smrstick, the chair's lead designer, imagined its construction as two overlapping components that make up the seat and back, kissing at the ends to lend the seat an air-light geometry. Early visions paired the bottom with a wire-basket seat and slipcover, which would slide onto the skeleton like a tea cozy. But according to Blu Dot cofounder John Christakos, the wire-centric designs proved problematic. "We liked them a lot," he says, "but they were feeling too 'outdoor.'"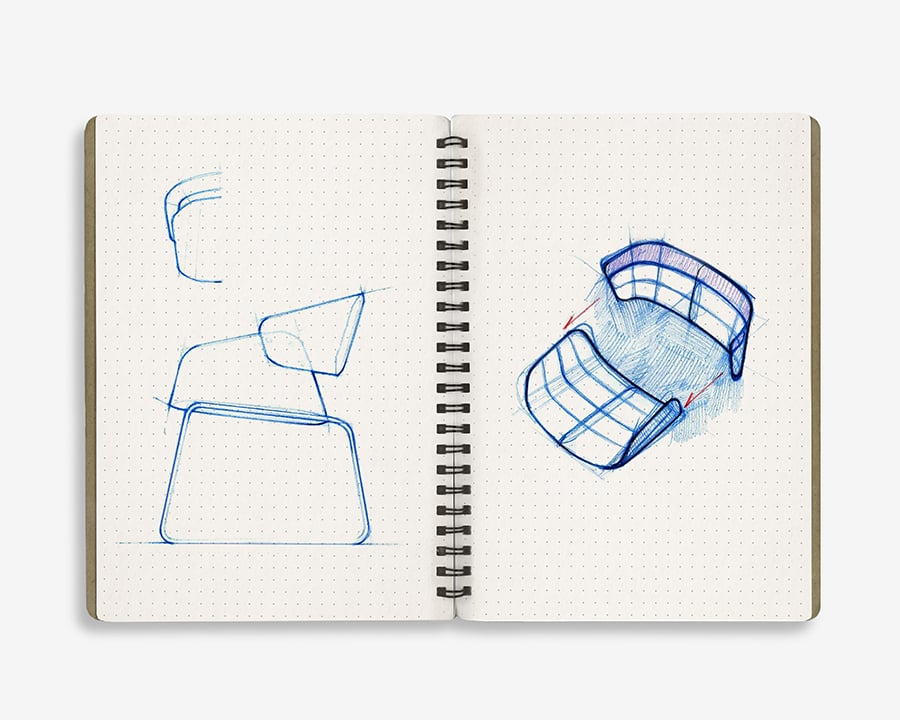 ---
Compounding the problem, says cofounder Maurice Blanks, were the mechanics of the frame. A steel-and-felt prototype let the team experiment with the spacing of its structure: Too loose of an arrangement, and a sitter lacked support; too tight of a grid, and the body lost the integrity of its design. (Even the Bertoia chair, after all, needs its cushion.)
Finally, aiming for a Goldilocks version that would be comfortable but still taut, the team opted for an upholstered bent-plywood bucket seat and back. For a finishing touch, the designers added a quilted stitch, which runs along the chair's intersecting components. "That sort of stitch detail helps break down the scale," says Christakos.
For Host, by contrast, the brief foregrounded comfort, calling for a soft seating option for dining. The design started with its fully upholstered shell, produced using a method that Blu Dot's manufacturing facility in Thailand had already mastered. That component is formed from molded polyurethane foam, a process also used for the company's Neat chair. (Spanish manufacturer Vondom employed similar technology in its Suave collection.) "You've got a frame that gets embedded in a form, and then the foam is injected all around it," says Blanks. "The foam creates the shape, but the form provides the structure. Then the chair is upholstered over that molded form."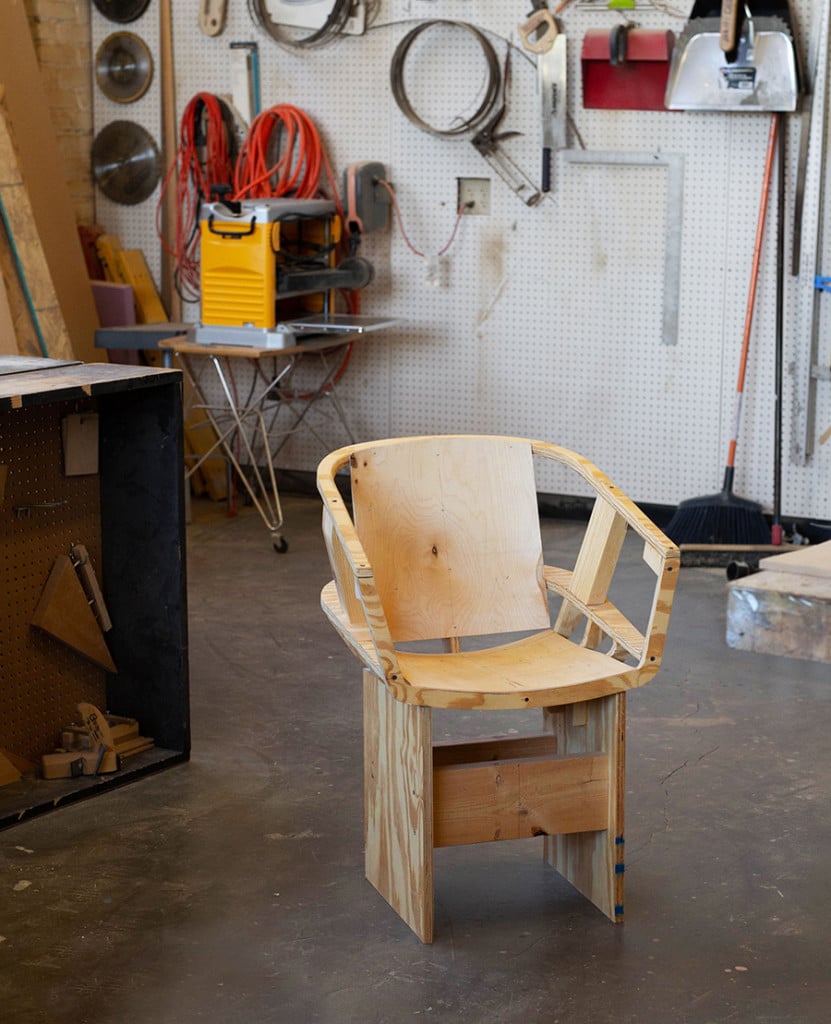 ---
In early iterations, Host had a more pronounced, faceted appearance, but Brad Bray, a senior designer who shepherded the project, eased that profile over time. "You get an idea and keep hitting it with different grains of sandpaper," he explains. Throughout development, the team created lo-fi foam-core constructions, 3D-printed miniatures, and CNC-milled prototypes to provide visuals. The finished product is an open-armed addition to the line, which couples a supple bucket back with solid wood legs, available in white oak or walnut.
Host and Racer stayed on track thanks in part to what Christakos and Blanks call the "steady drumbeat" of the company's weekly design meetings, which include employees across departments, from engineering to sales. It's a lot of cooks, but this level of integration allows the team to stay ahead of production bottlenecks. "You get buy-in," says Blanks, "and you also get a much better product."
You may also enjoy "Explore 16 Designs From Phaidon's New Book Bubbletecture: Inflatable Architecture and Design."
Would you like to comment on this article? Send your thoughts to: [email protected]