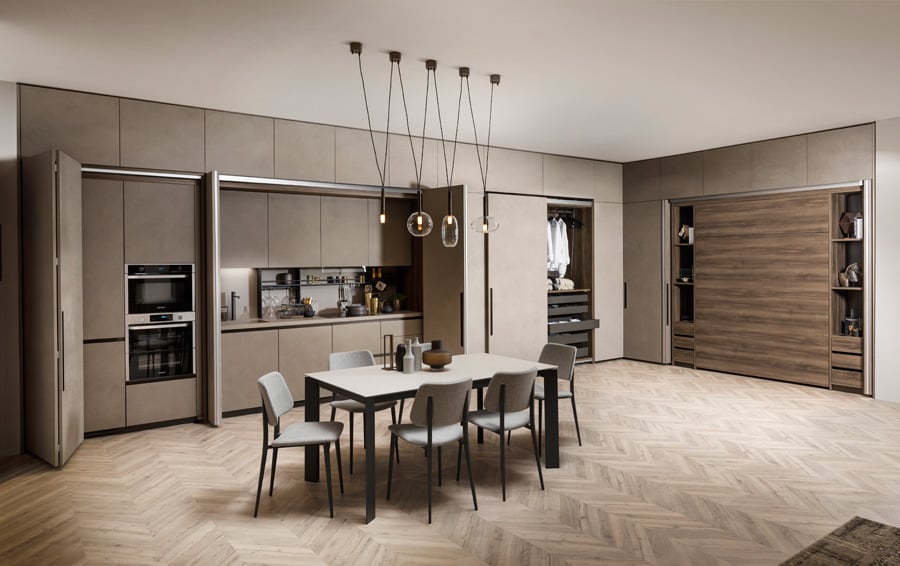 September 4, 2018
This Modular System Transforms Even the Tiniest Living Spaces
Box Life, designed by Rainlight for Scavolini, lets residents maximize storage and conceal appliances through a series of folding panels.
While city living is appealing for many, the compact nature of apartments in dense settings underlines the need for smart organization and multi- functionality. Box Life, a new modular solution from Scavolini and designed by Rainlight, addresses these challenges with an emphasis on style. Clients can choose from a number of modules— from bookshelves to closets to kitchen appliances—and use hinged or sliding panels to hide sections as they please.
With this opportunity for configuration, the entire room becomes a transformative blueprint, able to transition from entertainment space to office to bedroom by concealing or revealing different features. As Rainlight creative director Yorgo Lykouria explains, Box Life "is intended to be a system, so you can take the components and assemble them in a way that makes sense for you."
The sleek folding panels that slide into the unit's pockets are made of argil, a clay-based material with a concretelike texture that lends the surfaces a tactile, earthy quality. Covering Box Life's countertops, sinks, and backsplashes is Fenix NTM by Arpa, a self-repairing nanotech material. Finishes are customizable, but Lykouria suggests keeping them simple. A parade of textures can create chaos, he explains: "With multiple doors open at once, you still want it to look organized."
Tailored for today's urban dwellers, Box Life's freestanding modules emphasize dynamic flexibility over permanence. While most clients may not rearrange their apartments on a regular basis, those who do can just add another module. And if clients move, Box Life can move with them.
You might also like, "In Hong Kong, Foster + Partners Converts a Landmarked Modernist Building Into an Opulent Hotel."