October 15, 2019
Davis Updates a Classic Executive Chair for Contemporary Needs
The M75 Executive Chair from Davis Furniture is based on the brand's landmark Motion Chair and reinvented for the 21st century.
Sponsored by:

"With our heightened state of thinking and communication, our interiors need to be a lot quieter than they used to be," says Jonathan Prestwich while describing Davis Furniture's new M75 chair, which made its debut at NeoCon this past summer. The chair was inspired by a Davis classic, the Motion Chair, designed by Burkhard Vogtherr in 1987. Together with Vogtherr, Prestwich aimed to reimagine the classic executive chair for the contemporary workplace. To do this, the designers had to consider how the ways in which we live and work have changed over 30 years.
Prestwich explained that the increase in communication and advancements in technology leave us highly stimulated, "Our lives today are very different compared to the 1980s," he says , "with all of these apps that we use all the time and all the information that we are constantly being fed, the last thing we need is a room that is busy." That idea applies to the furniture within the room as well. The goal of the M75 is to take away distractions and provide users with a chair that is both visually calm and works with the body without the need for adjustment.
For Prestwich, the Motion chair of the 1980s communicated aspects of assembly and how the product worked mechanically. "That just isn't relevant today," he tells Metropolis. "We wanted to make a simple, beautiful structure that didn't necessarily communicate anything other than comfort and lightness—a chair that is as quiet as possible." To achieve this, there are no visible components to the seating mechanism—the only adjustment controls are located discreetly underneath the seat. The geometry of the chair allows the user to act as a counterweight for the movement of the seating mechanism, thus eliminating the need for the mechanism itself to be visible.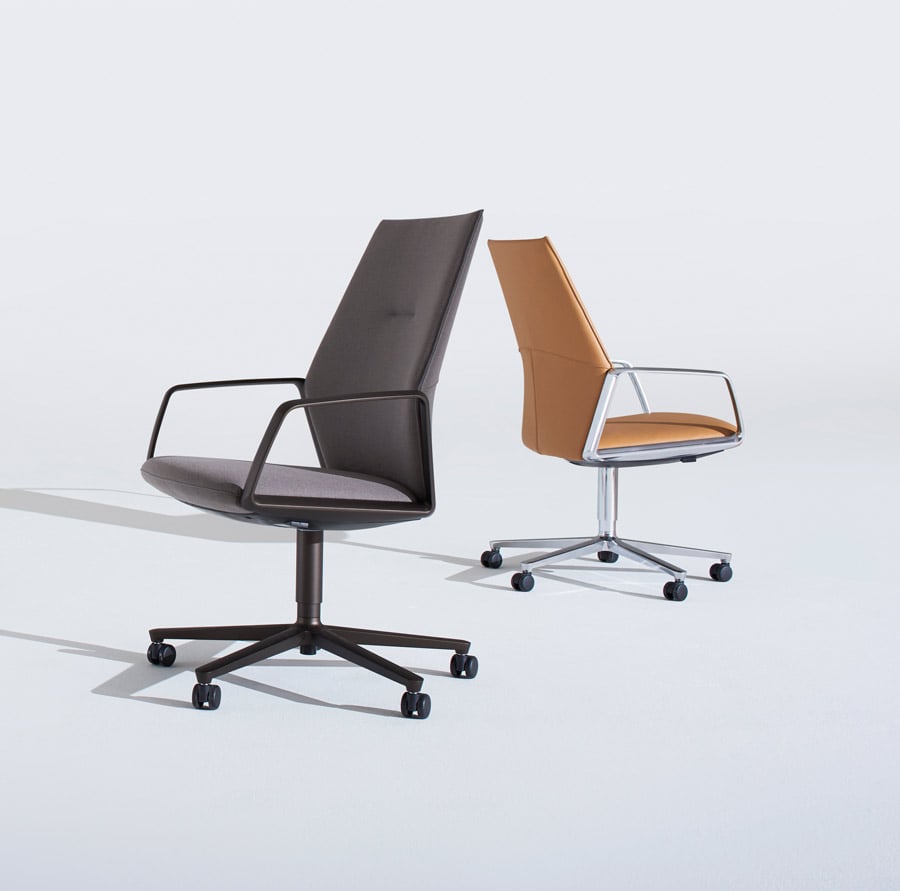 The M75's designers created a completely new chair while preserving the qualities of comfort and movement that made the Motion Chair unique. The M75's four-year development process began with re-thinking the Motion Chair's mechanism. "We start with the concept and then we split the project in two: aesthetics and function," Prestwich said, explaining the design process, "We make a model for the aesthetics and a model for the function. They can be really crude to begin with but they allow us to test the comfort and the geometry." While testing the two models in parallel, they slowly begin to influence one another, eventually coming together to form a chair that melds comfort and beauty.
The designers went through at least five prototypes to get the design just right. The result is a sleek, streamlined chair that features variations in back height and armrest. Users can choose a mid or high back as well as an upholstered, polished aluminum, or powder-coated aluminum armrest. Though the dimensions are similar to those of the Motion Chair, the M75 is slightly slimmer as well as more sustainably and materially conscious. "We try to be efficient in our use of materials. We know that you can achieve comfort without putting a load of foam in a chair," Prestwich says. "In the end, our goal was to make the chair as intuitive in its working and elegantly simple in its aesthetics."