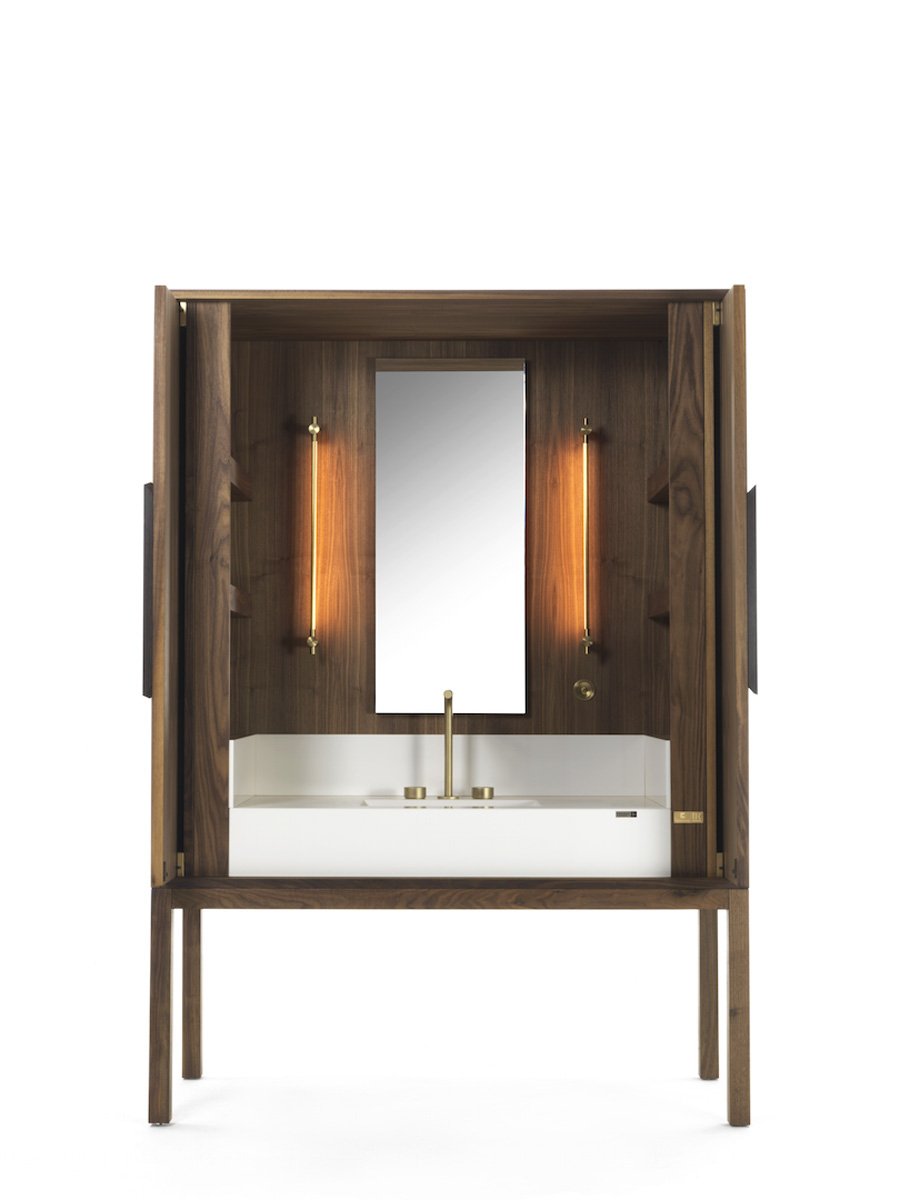 April 5, 2018
Cosentino and Riva 1920 Team Up for the Ultimate, Swiss Army Knife Vanity
The new DeKauri Vanity combines a cabinet, sink, mirror, and fixtures into a single show-stopping piece of furniture.
DeKauri, a freestanding sink-and-vanity unit by Cosentino and Riva 1920 that turned heads at the Kitchen & Bath Industry Show in January—and is sure to turn more at Salone del Mobile this month—is a study in contrasts. Bringing together hip Brooklyn-made lighting, classic Italian furniture, a Naoto Fukasawa–designed fixture, a Dekton surface, and 50,000-year-old Kauri wood, the unit is an all-in-one, statement-making piece. One of the project's main pleasures, says DeKauri's designer, Daniel Germani, was its ability to integrate high-tech products with heirloom-quality craftsmanship.
And no detail here has been neglected. DeKauri's double-doored exterior is made of bog-harvested Kauri wood from New Zealand—a millennia-old material renowned for its luminous quality. Once opened, the cabinet reveals mirror-framing LED surface-mount lighting by Juniper, a Brooklyn-based manufacturer. Narrow wooden built-ins line the side panels, providing storage for cosmetics or other sink-side necessities. The basin is a modest, rectilinear design from Dekton.
For the unit's hardware, Germani selected the über-sleek Aboutwater collection, a collaboration between Boffi and Fantini. The subdued form of the faucet—AF/21 by Fukasawa—is in keeping with the designer's signature elemental style.
Aside from its dreamy material lineup, DeKauri presents an opportunity for a bathroom sink to be placed outside the washroom. The inspiration for the piece, Germani says, derived from the typology of the credenza: the elegant, often highly decorative sideboard that has been a fixture in Italian homes since the Middle Ages.
"It makes us rethink how we see bathroom organization," says Germani. "I can easily envision this in an open-concept bedroom where the sleeping space and the bath flow into one another."
You might also enjoy, "Keiji Takeuchi's New Chair for Geiger Gives People the Freedom to 'Sit the Way They Want."