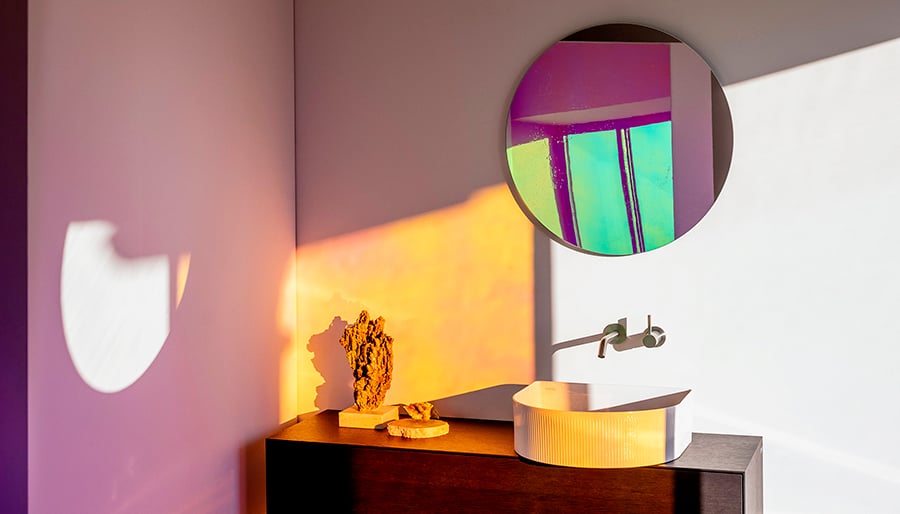 March 6, 2019
Trend: Ornamental Minimalism
Kitchen and bath products are embracing the moment's more-is-more take on modernism.
---
Kitchen and bath products are specially suited to modernism's prescriptions, existing by definition to meet the most humble of everyday functions. But the persistence of stylistic flourishes—the flirtatious curve of a sink, the blooming bulb of a knob—is proof enough that we crave pleasure in the routine. A fresh crop of kitchen and bath designs meets in the middle, embodying a kind of ornamental minimalism.
Patricia Urquiola's Sonar collection for Laufen, which debuted in Milan last year and officially launched in the United States in December, sets a clear tone for this aesthetic moment. It makes use of Laufen's thin-walled SaphirKeramik, but embellishes the architectural restraint with a subtle three-dimensional relief, inspired by waves.
In this article, you'll find similarly tailored profiles, free of formal excess, that have been softened by surface details, whether that be a texture or high-end finish—kitchen or bathroom versions of a mod shift dress rendered in brocade. Call it a quiet rebellion against the cold steel trends of a few years ago and a softening toward our daily human tasks.
You may also enjoy "L.A.'s Milla Chocolates Pairs Its Luxurious Sweets with a Restrained Jewel Box Interior."
Would you like to comment on this article? Send your thoughts to: [email protected]