October 12, 2016
Down to Business: Studio 13&9 Takes on Modular Workspaces
The Graz-based duo has begun experimenting with workspace furniture that's both playful and sleek.
Designed for the Dutch manufacturer Lande, TRIGON is a modular table system based on the 60 degree angle, giving it maximum spatial and functional flexibility.
Images Courtesy 13&9
---
Since first making their U.S. debut at the 2013 edition of WantedDesign, the Graz-based duo 13&9 has been very busy, greatly expanding their range of products and, in the process, collecting numerous awards (including several Best of Neocon, Architizer A+ and Metropolis Likes awards in 2015 and 2016).
Composed of Anastasia Su and Martin Lesjak (who is also CEO at INNOCAD Architecture), 13&9 takes inspiration from both nature and architecture; the results almost always strike the perfect balance between cool and whimsy. As Su says, "We want our designs to tell a story, to have an emotional impact on the users." Case in point, the BuzziPouf (for BuzziSpace), an ottoman-like piece designed with the goal of "activating both the mind and body."With a convex wooden base, BuzziPouf sways gently as one sits on it. "We wanted to create something that is playful and intuitive, that can take you out of your sitting routine," says Lesjak. "It's great to watch as people immediately smile once they try it," adds Su. The BuzziBalance collection was launched earlier this year at Neocon, to great accolade.
The BuzziPouf (for BuzziSpace).
The duo will be exhibiting at the upcoming Orgatec that takes place in Cologne October 25th-29th. Here is a first look at are some of the new designs they will be premiering there:
TRIGON: Designed for the Dutch manufacturer Lande, this modular table system is based on the 60 degree angle, giving it maximum spatial and functional flexibility. The non-traditional geometry enables a design fluidity perfectly suited for the evolving contemporary work space. Storage, acoustic, and privacy components are also available.
---
PETRAM:  Storage in the workspace has been deeply transformed by the digital revolution. With the Petram system, also created for Lande, 13&9 address this challenge by suggesting storage become more interactive. Thus the modular system (inspired by cliff topography; seen on the left) can be assembled into a landscape-like format that allows for sitting and desk areas, or become a gathering structure for casual work interaction.
---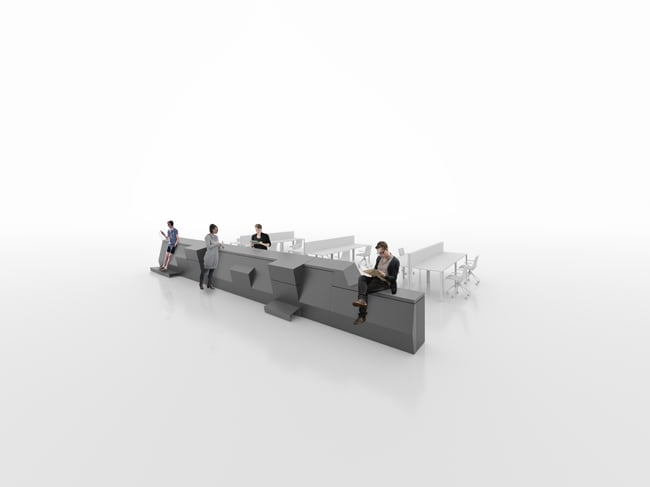 LEAN: Designed to circumvent long extended periods of sitting, the Lean system, made for Quinze & Milan, invites various positions between sitting and standing (leaning, lounging, etc.), taking an ergonomic approach that puts user comfort and health first. The modules can also be arranged to create meeting islands or even serve as room dividers.
---
Anastasia Su and Martin Lesjak of 13&9