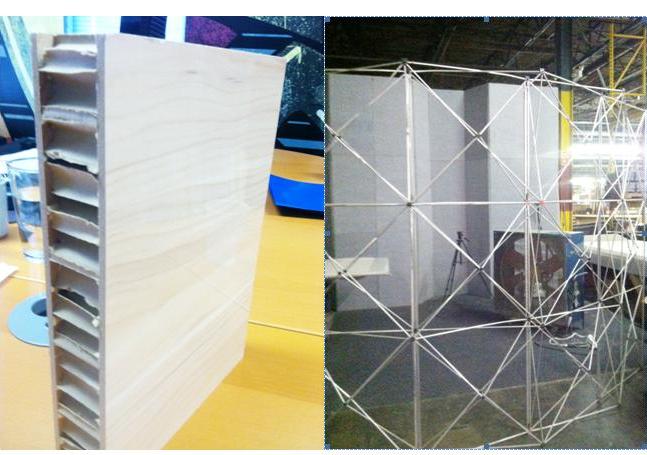 August 20, 2013
Eco-conscious Trade Show Architecture
Nomadic, lightweight, reusable, compact structures on the trade show circuit
As the owner of a small architecture firm, I've done a fair bit of thinking about the marketing of architecture. But I haven't done a lot of thinking about tradeshow exhibits – in other words, the architecture of marketing. A recent visit to the production facility for a tradeshow design/build company called Sparks opened my eyes to the ins-and-outs of this special design typology – structures designed for a marketing blitzkrieg in a sunless convention center. This was a good opportunity for me to catch up with how tradeshows are responding to economic shifts and new audiences.
I learned that the huge costs associated with cross-country shipping and on site union labor – unions charge by the pound to unload the trucks — force ingenuity.  Structures must be super-light and easy to assemble because some of these nomadic exhibits get broken down and reassembled 40 times. The emphasis on lightness and ease of assembly has moved construction materials away from laminate and plywood towards materials like aluminum, foam, fabric, and cardboard.
I haven't used zippers in my construction details lately but tradeshow booths use a lot of fabric stretched over aluminum frames held in place with zippers, plastic press-in gaskets, or the old-fashioned plate-and-screw.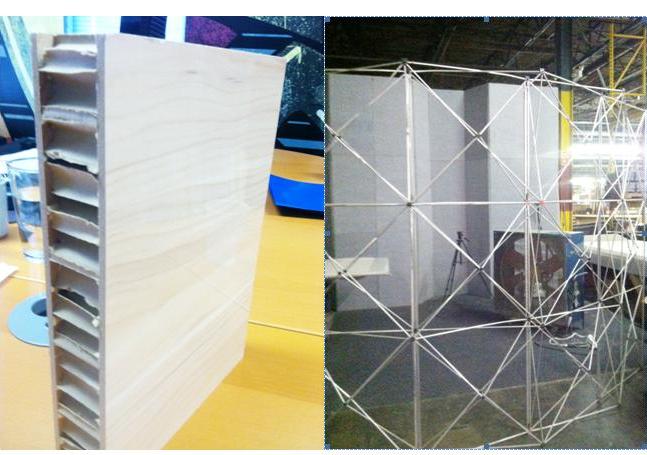 Tricell panel and aluminum frame.
Courtesy Juliet Whelan
Tricell makes a recycled cardboard core wall panel which Sparks uses in their kiosks.
Sunless convention center halls lend themselves to light projections and video screens. I've heard it said that tradeshows are "the most competitive landscape on earth." No doubt it's a game of one-upmanship to hawk your wares in a room of direct competitors. Interactive computer displays and large scale video projections grab attention (weightlessly) with complete flexibility.
Located in Philadelphia, Sparks is huge for an urban facility at 300,000 square feet. The 100,000 square foot manufacturing shop stocks some very fun toys. Signage and graphics vie to explain content and grab customer attention at the trade show. Sparks' printing technology includes decorative films which they can weld with a heat gun onto a wild range of surfaces — from concrete block to wood paneling.
Image printed on film and welded to concrete block wall.
Courtesy Juliet Whelan
They have a giant printer that can print graphics directly onto pretty much anything up to 2″ thick (including egg-crate foam and acoustic ceiling panels).  And to the thrill of those of us who dabble in graphic design, the machine prints white ink, too.
Super-large format printer and acoustic ceiling tiles direct-printed.
Courtesy Juliet Whelan
Their giant spray booth comes equipped with scrubbers to filter out VOCs. A drying booth heats up to 120 degrees to dry things quickly. They use a range of ultra-durable finishes to withstand the constant installation and disassembly of the displays, including a gorgeous high gloss paint that bites into surfaces as slick as laminate (I have this but failed).
My eyes have been opened to seeing tradeshow architecture as a realm of delicate, ephemeral structures — light nomadic architecture that unfurls in a dark hall and then collapses down to pack off to the next stop.
Juliet Whelan owns Jibe Design, an award-winning firm creating architecture that weds profound design with environmentally responsible solutions.