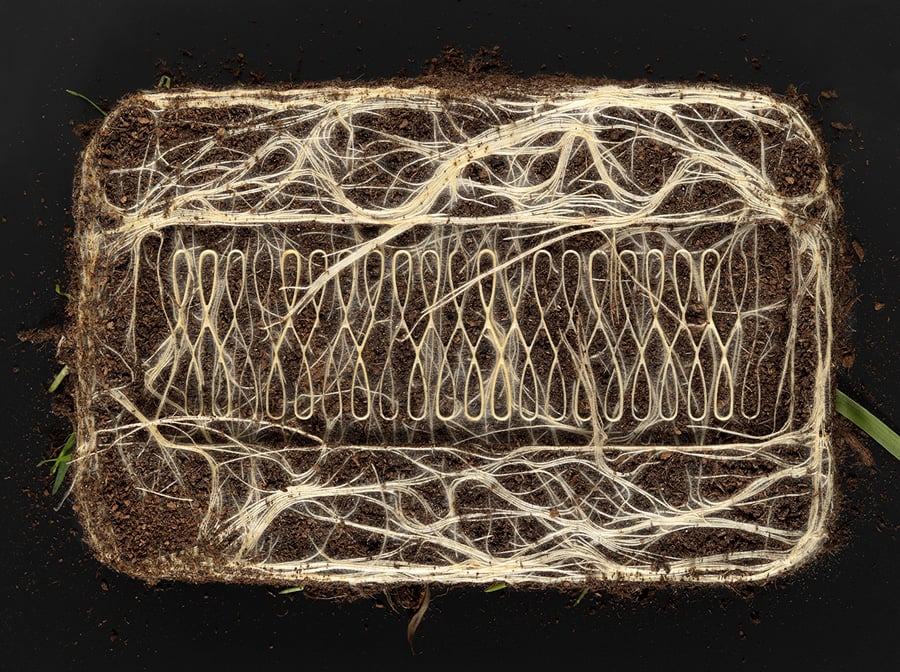 December 6, 2017
These Designers Are Turning to Nature for Subversive Solutions
Why shouldn't our objects be environmentally digestible, like the other earthly elements that keep us alive?
It seems to have started with mushrooms. Recall the Living's Young Architects Prize–winning pavilion at MoMA PS1 in 2014, for which architect David Benjamin created an igloo-like structure in the museum's courtyard, using 10,000 compostable mushroom bricks that each took a week to grow (and that carried a very faint scent, reminiscent to some of fermented soybeans). Still explored by young designers as architectural building materials, mycelia have in recent years been embraced by product designers as diverse and resilient components in lampshades, packaging, furniture, and even clothing. Mushroom-made designs may not yet be mainstream, but they are attractive to a younger generation of makers widening their approach to biodegradable materials.
Treading lightly on the environment, these concoctions reimagine product design in ways that are not only sensible for our increasingly environmentally tragic times but also sensuous, offering tactile and narrative ruminations on the cyclical nature of life and death. The 20th-century ideal was to create mass-produced plastic and metal products that would last forever. By contrast, a new class of product designers places a premium on creating something ephemeral that decays gracefully, taking to nature-based materials like modern-day foragers, harvesters, and hunter-gatherers. Consider them design's equivalent of the food world's locavores or freegans, sticking it to the Man one material revolution at a time.
"Think about some of the concerns of the plastics that are currently in everything—from sea salt to 94 percent of American tap water, which, as it was reported, contains plastic fibers, as do a vast survey of beers," says Dr. Andrew H. Dent, executive vice president of research at Material ConneXion. "I could see that there is a desire to move away from that very synthetic, very uniform way of producing products, and to think, 'What else can I use?' A lot of designers are becoming more conversant in material knowledge and what something can do. There's a willingness to investigate and explore hidden potentials of waste materials we have."
At Milan Design Week in April, emerging talents at the Lexus Design Award 2017 turned to vegetal matter as their primary medium. Inspired by culinary uses of the banana leaves found plentifully in her native Peru, the ECAL-trained designer Paula Cermeño proposed Platanaceae, a series of sterilized natural bandages die-cut from the broad green leaves, which carry natural soothing properties. "My interest in leaves as cooking tools led me to find applications of leaves in other, less explored fields," she says. Her research led her to discover traditional medical uses both locally and abroad: "There were even reports of a hospital in India that grew banana plants in the hospital garden, from where they would collect the leaves, sterilize them, and apply them to burn patients." In Cermeño's iteration, the leaves are cut to accommodate the body's contours, combined with minimal bio-adhesives at the edges, and vacuum-sealed for freshness. After 24 hours of use, the bandages simply dry up and biodegrade.
Jia Wu, a young Chinese designer and recent graduate of London's Royal College of Art, collaborated with Max Lamb, her program mentor, to produce a working prototype of her Player's Pflute entry: a deconstructed kit of parts made to transform any variety of fruits and vegetables into temporary woodwind instruments. A clever take on the notion of playing with food, Wu's design serves to lower financial entry barriers to musical education, allowing for musical experimentation at a low cost.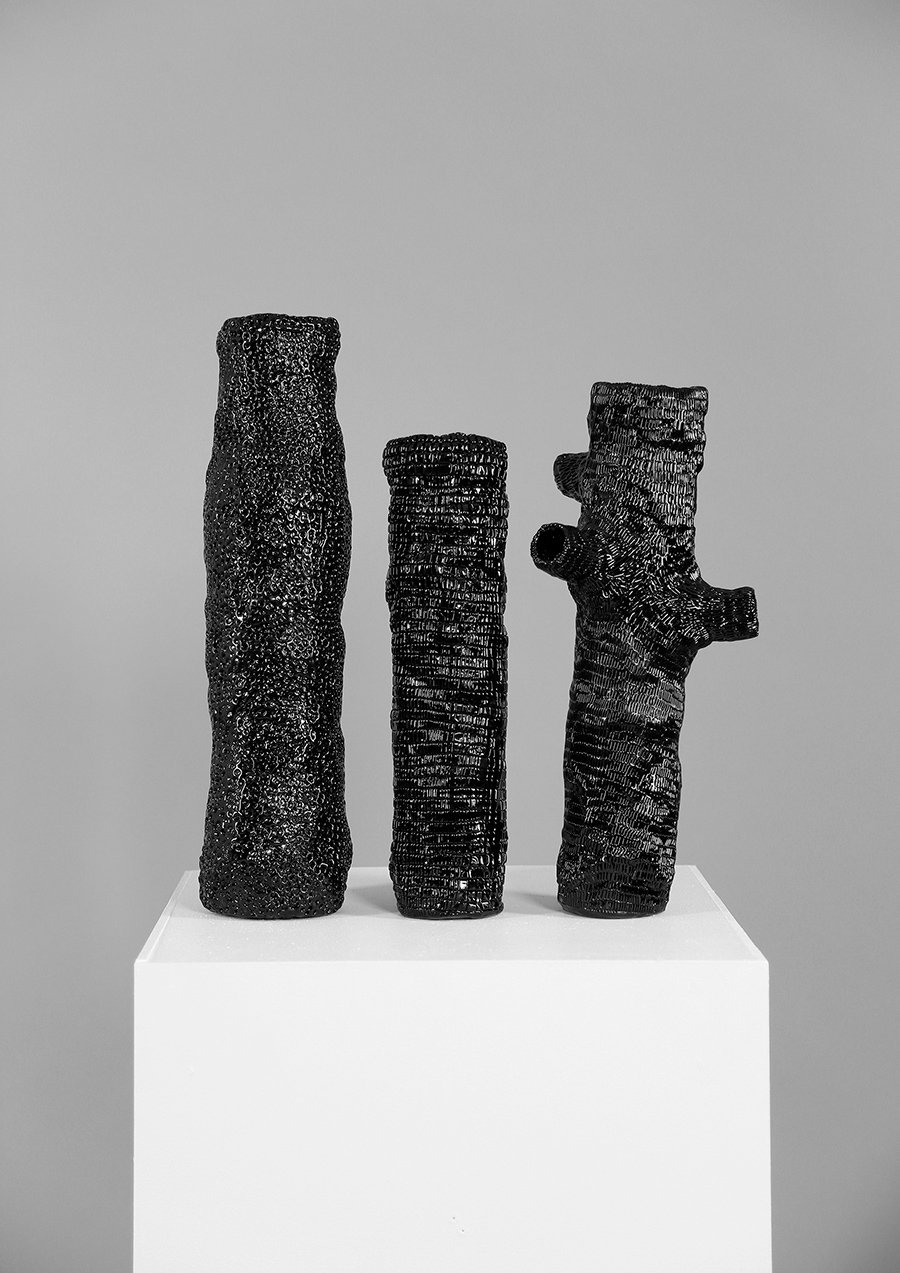 The daughter of a beekeeper, French designer Marlène Huissoud toured the international design week circuit this year, showing her eerie and artful sculptural works made from propolis, a biodegradable resin collected by honeybees. She transforms this material into a dark, obsidian-like glass that is either mouth-blown or applied as a lacquer for vases and furnishings, many of which also incorporate silkworm cocoons. "The smell is part of the pieces," she says, noting the slight musky scent. She also considers the insects her collaborators: "For me, I never really work with conventional materials; I like to experiment in new territories and find new ways of making."
While the Netherlands-based artist and photographer Diana Scherer—who was named a fellow of the biennial New Material Award last year for her Interwoven rugs and textiles—wouldn't have fancied herself a material innovator, these days she works primarily with wheat and oat grass seeds, which she harvests in her studio to produce otherworldly, intricate root formations that look like knotted rope or woven textile. Scherer, who notes with amusement that she is increasingly referred to as a designer, harvests the roots around a sort of "template" to grow the patterned designs, which stay fresh for five to seven days, just long enough for her to photograph and document them before they dry or unravel. "It's not strong enough at the moment to make a real carpet or rug. Right now the capability is mostly to exhibit the idea and further explore the possibilities and speculate," she says. Collaborating with university scientists and ecologists, Scherer focuses on studying the potential of roots as a material, for which she says there's been no real precedent.
Several of the designers honored with the New Material Award turned to reimagining untapped waste or abundant overlooked materials. For his Salt Pup project, Eric Geboers created micro-shelters—trial structures intended for larger architectural applications—using a mixture of sea salt, starch, and water, in what reads like an optimized recipe for papier-mâché, the familiar craft material made possible from the contents of a kitchen cabinet.
Many other young graduates have followed suit, working with local materials ranging from pine-needle waste from the timber industry to skim-milk surplus from dairy processing to create durable yet, importantly, impermanent designs. These aren't myths of alchemy, but lo-fi, logistically strategic responses that critically underline an array of natural materials that are routinely overlooked or discarded as part of industrial design. And why shouldn't our objects be environmentally digestible, like the other earthly elements that keep us alive? Through alternative methods of material sourcing, this crop of makers demonstrates that industrial processes are in need of reevaluation, increasing the appetite for designs that, like us, eventually turn to dust.
You may also enjoy "Tomáš Libertíny Blurs the Line Between Craft and Nature."