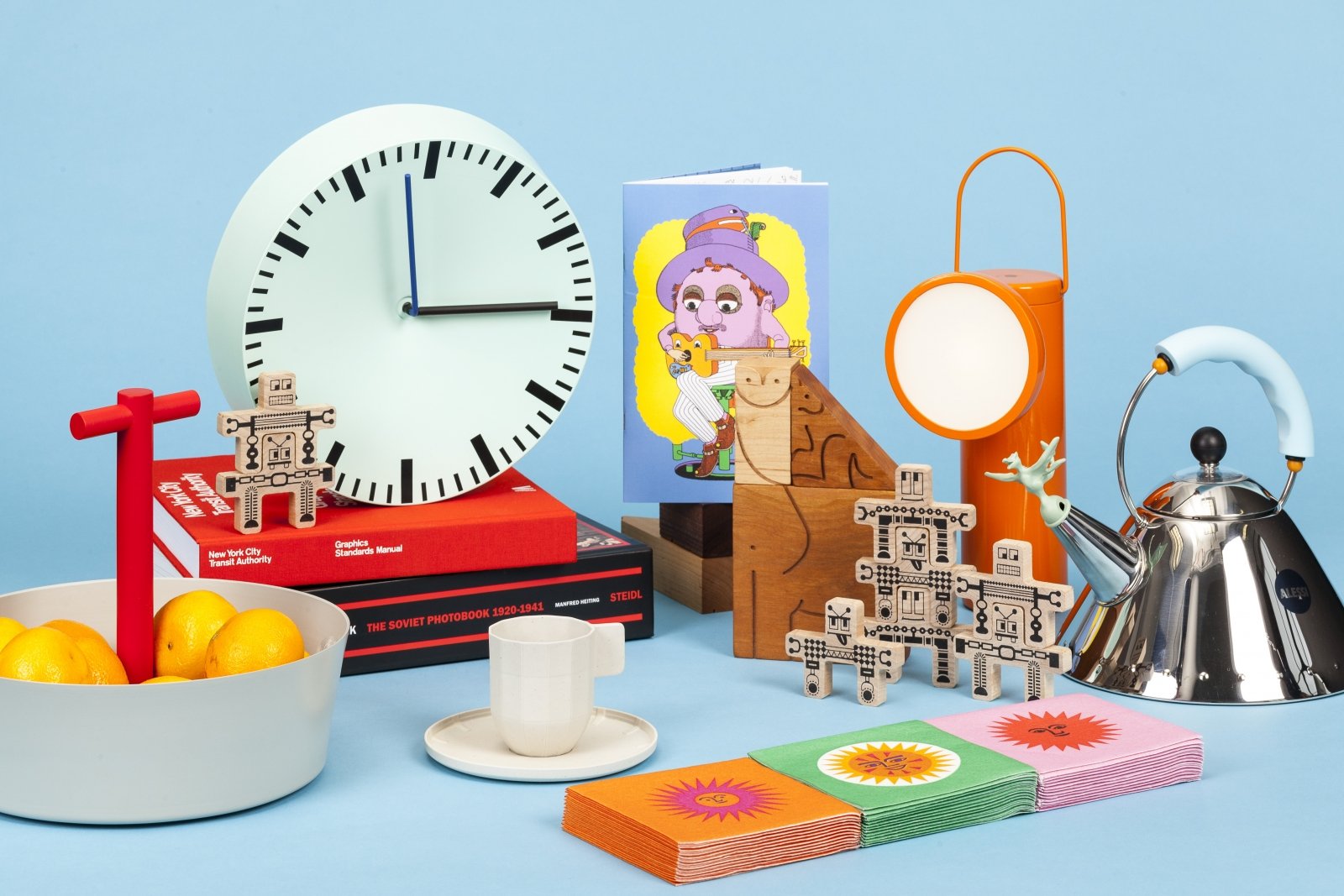 November 24, 2015
Give Good Design: Metropolis's 2015 Gift Guide
Our holiday guide to the best stocking stuffers, desirable devices, and grand gestures
Staged photography by Nicholas Calcott; all product images courtesy the brands and manufacturers
What's a holiday without gifts? Half the fun of the season is trawling through the goodies created by and for design lovers—so here's our mix of stocking stuffers, desirable devices, and grand gestures.
Design
Eat and Drink
Play
Travel
Wear
Read
Give
---
---
Juniper M Lamp, $220
British designer David Irwin was inspired by the lamps carried by 19th-century miners, and his modern-day, carry-anywhere version is just as hardy and multifunctional. The lightweight M Lamp runs for 18 hours on a single charge, so it's a perfect road-trip companion.
Studio Medium Bow Incense Burner, $100
Design finally enters the world of incense burners, a product category unfortunately associated with hippies. Designer Greg Papove has given this burner what he calls a "neo-Memphis" aesthetic, finally offering a viable alternative to the ubiquitous scented candle.
Emeco Alfi High Back Chair, $325
Since 2010, Emeco has focused on recycled and sustainable materials, and the 2015 collection designed by Jasper Morrison is no exception. The seat is made from reclaimed postindustrial waste, and the legs are made of responsibly harvested wood for a breathtakingly simple overall effect.
Menu Corner Shelf, $44.95–$159.95
By simply giving bookends three surfaces instead of two, designer Kyuhyung Cho elevates them to the level of sculpture. The spare geometrical forms have great presence on a desktop or a wall, with or without books.
Hay Analog Clock, $89
Those charmed by the bulky appeal of Modernist analog wall clocks might appreciate this edgy update by American-born, Sweden-based designer Shane Schneck. The concave surface is inspired by barometers, and comes in mint green or white.
Divoom Aurabox, $65
This little black box can be a powerful five-watt Bluetooth speaker, a lamp, a thermometer, or an alarm clock. It can even be programmed to be a 10-by-10-pixel canvas for digital art.
Santa & Cole Maija Lamp, $700–$800
The Maija lamp was postwar Finnish industrial designer Ilmari Tapiovaara's greatest hit; it was also his only lighting design. The louvered light has been brought back to life by Spanish manufacturer Santa & Cole, with an update for LEDs.
---
---
Alexander Girard Cocktail Napkins, $5 for set of 12
Girard was undoubtedly a master of motif, a fact celebrated by these festive napkins. Available in four colorways, each set bears an evocative solar-themed graphic, handpicked by Vitra and the Girard family.
Hay Paper Porcelain Drinkware, $18–$38 per piece
The Dutch duo Scholten & Baijings have always emphasized the centrality of the design process to their work, and this tea set—comprising porcelain cups, saucers, and plates all shaped and creased to look like construction paper—very literally embodies that ethos.
Jamie Wolfond and Samantha Anderson's General series of basins and containers is wonderfully spartan, almost cerebral in its stoic remove. The coldness of the aluminum-spun bowl is nicely foiled by the hard maple handle.
Alessi Tea Rex Kettle, $200–$220
This playful riff on the late Michael Graves' classic replaces that original's beloved (and much filched) bird whistle with a cartoonish avatar for the mightiest of the theropods. Released this fall, the Tea Rex celebrates the 30th anniversary of Graves and Alessi's breakthrough.
Marimekko Purnukka Chopping Boards, $42
These jar-shaped boards feature Marimekko's trademark Purnukka pattern, which will add a charming note to any kitchen surface. Made of birch plywood, they are available in green or yellow and in two sizes.
Seletti Inception Dish Rack/Desk Organizer, $110
This countertop piece by Luca Nichetto re-creates, in flexible blue, pink, or gray silicone, the most famous scene from Christopher Nolan's 2010 mind-bender Inception—only Nichetto substitutes Manhattan skyscrapers for the film's Escher-esque Paris.
Diesel Living Machine Collection Drinking Glasses, $43 for set of 3
Resembling the table-top figures that populate Purist still lifes, these tumblers evoke the Modernist notion of functional beauty that was to follow the standardization of every aspect of life. They're glasses fit for the Machine Age.
Smeg Blender, $250
With its die-cast aluminum body, polished chrome trimming, and suite of retro colors, the blender instantly brings to mind the classic Greek diner, which, ironically, belies SMEG's Italian roots.
---
---
Tree Hopper Toys, a small, Chicago-based company, is gaining a reputation for witty, well-crafted wooden blocks and puzzles. Its endlessly entertaining Whoa-Bots make great gifts for young and old alike.
Studio Dunn Animal Blocks, $125
Rhode Island–based Studio Dunn's furniture and lighting earn their reputation for being "timeless" by adding a dash of classic Americana to modern forms; the company's animal blocks embody its principles of simplicity and sustainability, while also being totally endearing and cute.
Miller Goodman Heartshapes, $100
Whiz-bang techno-trinkets are the bête noire of British toymakers Miller Goodman, who are determined to lure kiddos away from screens with their charming wooden toys. Though unlikely to permanently replace an iPad, these HeartShapes are bound to delight for years to come.
Ustwo Land's End, $8
After years of back-to-the-drawing-board mishaps, virtual reality appears poised to be the next luxury item you can't remember life without. Wow your gadget-loving dad with award-winning Ustwo Games' gorgeous, hallucinatory, immersive game for Samsung's Gear VR.
Captivating, colorful, and, best of all, cheap, these 3D-printed spinning tops from UAUProject, a young design studio in Warsaw, are a cool distraction—and cheerful office decoration—for deskbound buddies.
Doodl Club Coloring Books, subscribe at $7 an issue
The zany, Mad magazine–worthy illustrations in these artist-made coloring books have universal appeal, making a monthly subscription the perfect present for your favorite niece, nephew, or stoner cousin.
Sonambient: Recordings of Harry Bertoia, $98
Perhaps best known for the ethereal chairs he designed for Knoll, Harry Bertoia spent the last two decades of his life constructing "sound sculptures," using metal rods to produce strangely evocative tones. This box set contains recordings of all of these, as well as loads of ephemera: the ideal gift for midcentury-design completists.
---
---
Herb Lester Hotel Notepads, $18.50
If books are the best way to travel with one's mind, there's now no reason one can't also bring back a souvenir from those trips. These notepads are from notable fictional properties like Agatha Christie's Bertram's Hotel and the Taft Hotel from The Graduate.
Punkt MP 01 Phone, $329
In a world of information overload, this uncomplicated mobile phone, designed by Jasper Morrison, offers basic calling and texting. It comes with nifty design features like a molded pattern on the rear, making it comfortable to hold and easy to place on any surface.
This macro-photo lens, for photographers on the go, transforms the iPhone's camera into a digital microscope or loupe. You can choose from three levels of magnification and achieve nearly 100x magnification when you combine it with the iPhone's digital zoom.
Cosy Column, $162
This comfy accessory, by Katrin Greiling and Martin Schliefer, is a commentary on the state of Europe, expressing the designers' concerns and love for Greece and Europe. Not only is the column a soft pillow, it's also a convenient place to store extra blankets.
Biomega OKO Bike, $2,295–$2,695
This state-of-the-art carbon-frame e-bike designed by Marc Newson is chainless, and is fitted with a carbon belt drive and a lightweight electrical power bank. In fact, at less than 45 lbs., it is one of the lightest commuter e-bikes in the world.
Delsey Starcktrip Luggage, $220-$680
Designed by Philippe Starck, this range of bags and trolleys adds more than zip and panache to your trip—the nanotech material is water-, bacteria-, and burglar-proof; the silent wheels are sturdy and easy to maneuver; and there's even a secret pocket for documents.
---
---
Mondaine Helvetica 1 New York Edition, $540
Blame the New York subway all you want for making you late; at least it inspired this snazzy series of watches. With that ubiquitous Helvetica font on the face and the exact Pantone colors used on Massimo Vignelli's subway map on the underside of the band, this is a subtle tribute to an aging, but still reliable, transit system.
Fakoshima X Ria Keburia Sunglasses, $495
For those unafraid of the fashion avant-garde, these sunglasses supply so much more than UV protection. The almost infantile forms and bright ice cream colors are reminders of a joyful time when eye appeal mattered more than runway cred in one's sartorial choices.
Sam Jacob Studio Plank Scarf, $38
Architecture and design practice Sam Jacob Studio has made its first foray into fashion accessories with this neck accoutrement, which mimics the two-tone wood pattern of planks. The scarf is part of the studio's investigations into material transformations.
Welcome Companion Diary Clutch Wallet, $680
Los Angeles-based designer Laurel Consuelo Broughton creates bags and accessories that cleverly play with architectural archetypes and scale. Designs like the Diary Clutch Wallet offer witty sight bites that are nonetheless wonderfully crafted and functional.
Setting a new standard for online fashion retail, Zady focuses only on goods that are kind to the environment and likely to last a good portion of your lifetime. Among its covetable offerings is this sturdy, abacuslike key holder by Japanese goods purveyor Postalco.
Hem X Arthur Arbesser Arch Throw, $119
Milan-based fashion designer Arthur Arbesser lends one of his signature patterns—arches inspired by the stylized repetition of 1930s Italian architecture—to a collaboration with German design studio Hem. The cozy throws, perfect for snuggling, are made from New Zealand wool.
Handbag Raincoat, $34
'Tis the season of dreary days, and the risk of getting caught in the rain is dishearteningly high. Even the most luxurious purse won't fare well in the rain, so cover it up with this protector, which features a nifty Velcro closure to keep out any stray drops.
Matt & Nat Paxx Backpack, $168
"Elegant" is a word rarely, if ever, used to describe a backpack, but Montreal-based accessories brand Matt & Nat is used to defying expectations with its luxurious non-leather goods. This beautiful bag makes a thoughtful gift for that hard-to-shop-for vegan friend—not to mention the planet.
Max Mara Whitney Bag by Renzo Piano Building Workshop, $1,750
Those looking to secure a memento of the new Whitney Museum (and willing to splurge) can sling this limited-edition number over their arm. Inspired by the new building's facade, only 250 bags are being produced.
---
---
Ladislav Sutnar: Visual Design in Action, $80
Out of print for decades, Czech émigré Ladislav Sutnar's 1961 book is a spellbinding encapsulation of the tenets of modern graphic design—each layout is illustrated with Sutnar's own work. The facsimile is accompanied by a booklet of scholarship on Sutnar.
Fantastic Cities Coloring Book, $15
Canadian artist Steve McDonald presents the urban landscape as a canvas for creativity—dozens of painstakingly rendered streetscapes from cities including San Francisco and Istanbul offer several fun and therapeutic hours with crayons.
The Family of Man, $35
Edward Steichen's monumental show—with 503 images by 273 photographers—opened at the Museum of Modern Art In January 1955, and then traveled to 37 countries. This 60th-anniversary edition celebrates what was perhaps the most ambitious photography exhibition of all time.
The Soviet Photobook: 1920–1941, $150
Acclaimed avant-garde writers and photographers worked with some of the best printing plants and bookbinders in the USSR to create some of the finest pieces of Soviet propaganda in the form of stunning photobooks. This tome brings together 160 of the best, along with hundreds of supplemental illustrations.
Statement and Counter-Statement: Notes on Experimental Jetset, $27
The first publication on the work of Amsterdam-based design studio Experimental Jetset, this breathtaking collection of works is structured more like an archive than a monograph. It also includes an anthology of texts produced by the studio over the past two decades.
Barbara Kasten: The Diazotypes, $60
Kasten used a process akin to architectural blueprints to produce these artworks based on photographs of a female model in a chair—unlike anything the artist produced later in her career, making this a highly collectible publication.
NYCTA Graphics Standards Manual, $55
In 1970 Unimark's Massimo Vignelli and Bob Noorda produced a groundbreaking standards manual for New York's subway system. A reissue by Jesse Reed and Hamish Smyth, associate partners at Pentagram, allows anyone to own a piece of graphic-design history.
---
---
Revisit Langhorne Stool, $850
This stool celebrates two great American traditions, storytelling and craftsmanship—it bears Mark Twain's middle name and is crafted by Erickson Woodworking. A quarter of the profits from its sales will go toward ranger education programs, supporting storytelling in America's national parks.
Ashoka Global Venture Fund, $25
The nonprofit Ashoka has been at the forefront of supporting social entrepreneurship. The Global Venture Fund, set up in 2006, uses donations to invest in leading social enterprises tackling issues like poverty, abuse, corruption, and environmental degradation.
The Center for Urban Pedagogy (Cup) Box Set, $75
This set collects 14 of the nonprofit CUP's foldout posters on everything from renters' rights to health insurance. Not only are these masterful pieces of information design, the proceeds also support the organization's important work in demystifying public policy.
Chicago Architecture Foundation Membership, $70
Individual members get a free ticket for a companion on the foundation's famous tours, invitations to exclusive events, and a discount on parking as well. But the real benefit, of course, is easy access to some of the most famous architecture in the United States.
Docomomo International Membership, $65
Globe-trotting architecture enthusiasts will find this membership extremely handy—not only does it contribute toward the protection of Modernist marvels, but members also receive discounts for entry to important sites all over the world.
GiveDirectly, $50
Consistently rated among the top charities in the world, GiveDirectly urges donors to do just that—their money is transferred directly to the extreme poor. A recent third-party evaluation found that recipient households were significantly more prosperous and less hungry.
Wolfsonian Patriot Membership, $1,000
Few museums examine the intersections between politics and design as well as the Wolfsonian-FIU in Miami Beach.The Patriot-level membership benefits include private curator-led tours, copies of all the museum's publications, and passes to select events during Miami Art Fair Week.