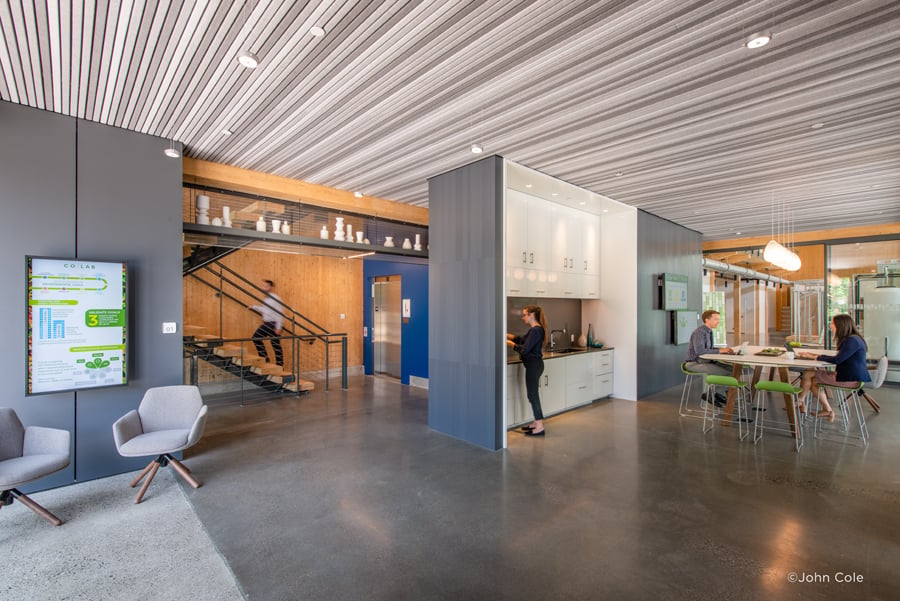 October 9, 2020
The Future is Felt
New acoustical products from Hunter Douglas Ceilings and CertainTeed use this ancient material to meet the needs of contemporary spaces.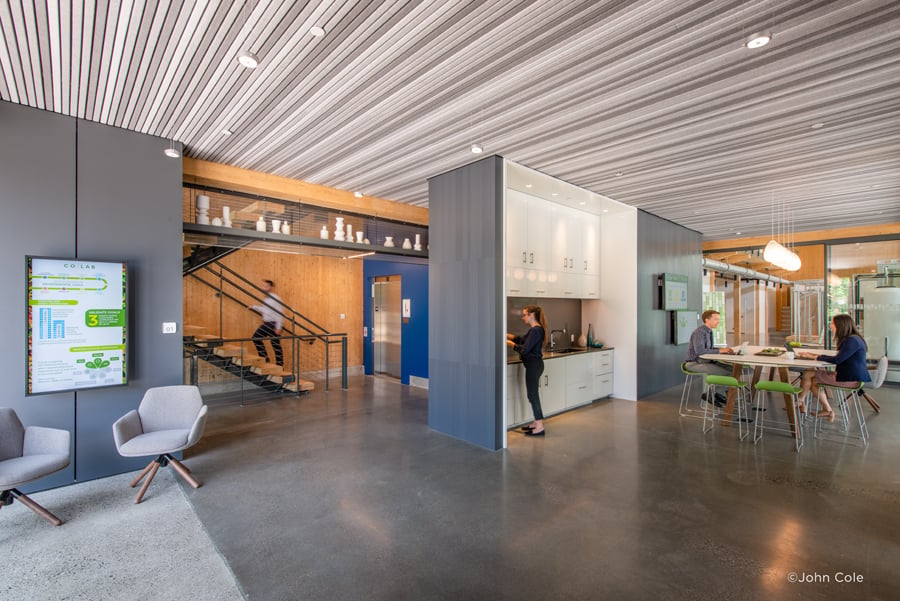 The soft, wooly texture of felt has long been embedded in our collective tactile memory. As the oldest known textile, it has been used for survival, for fashion, and now it's transforming workplace interiors. An innovative product collection by Hunter Douglas Ceiling & Wall Products exclusively from CertainTeed, which include HeartFelt™ linear felt systems, Techstyle® large-format panels, Baffles, and Open Cell systems—demonstrate how the age-old textile can provide a versatile and ecologically responsible ceiling solution for almost any contemporary interior.
Architects and designers that work on a range of interiors—from offices and classrooms, to arenas and other large-scale commercial spaces—are turning to felt to bring ceiling planes to life, as well as to effectively mediate a project's myriad acoustic needs. For instance, in a space where wall-to-wall coverage is a requirement, Techstyle offers a large-format monolithic look to minimize unsightly connections, while still creating visual interest. The HeartFelt line includes two modular options: a traditional linear format and Levels, which adds varied depths and reveals that add aesthetic dimensionality.
A large lobby with both public areas and more intimate gathering nooks might require various levels of acoustic control throughout. CertainTeed Felt Baffles and Open Cell systems offer custom panel sizes and shapes—from soft undulating curves to more idiosyncratic formations. Installed over targeted areas, they can create spectacular sculptural configurations while managing noise control locally.
Felt ceiling systems from CertainTeed also offer a wide range of color options to suit the vibe of any space. HeartFelt and Techstyle systems are available in timeless neutrals while Felt Baffles and Open Cell, with 18 standard colors as well as custom options and printed branding available, can add a pop of color, or even become a room's centerpiece.
For applications requiring a suspended ceiling installation in a standard grid, Techstyle Felt Acoustical Ceilings provide the same level of performance, but in large-format, monolithic panels. The Baffles and Open Cell products offer yet another level of flexibility: seamless retrofits. Easy plenum access, a lightweight yet durable structure, and preassembled 'out-of-the-box' panels eliminate the need for drilling or field cutting, allowing the systems to be installed with wire hanger or by attaching to an existing grid. But no matter the color, shape, or configuration of CertainTeed felt products, the material's gentle, yet robust texture lends a dimension of calm and softness to any setting.
The movement towards felt ceiling systems is especially valued for its environmental credentials—CertainTeed's Baffle and Open Cell products comprise 60 percent recycled PET content from plastic soft drink bottles and all four products are GREENGUARD Gold, according to product manager Taylor Hemingway. "Preventing plastics from ending up in oceans or landfills by using them in CertainTeed products is a critical piece to our sustainability initiatives for this product," she says.
So, gone are the unimaginative—and sometimes downright dismal—drop ceilings of the past. While acoustics have long been a crucial component of architecture, new products such as those from CertainTeed are pushing designers to be more daring and creative when it comes to noise control. With versatile, customizable, and easily installed felt ceiling systems, imagination can truly run wild.