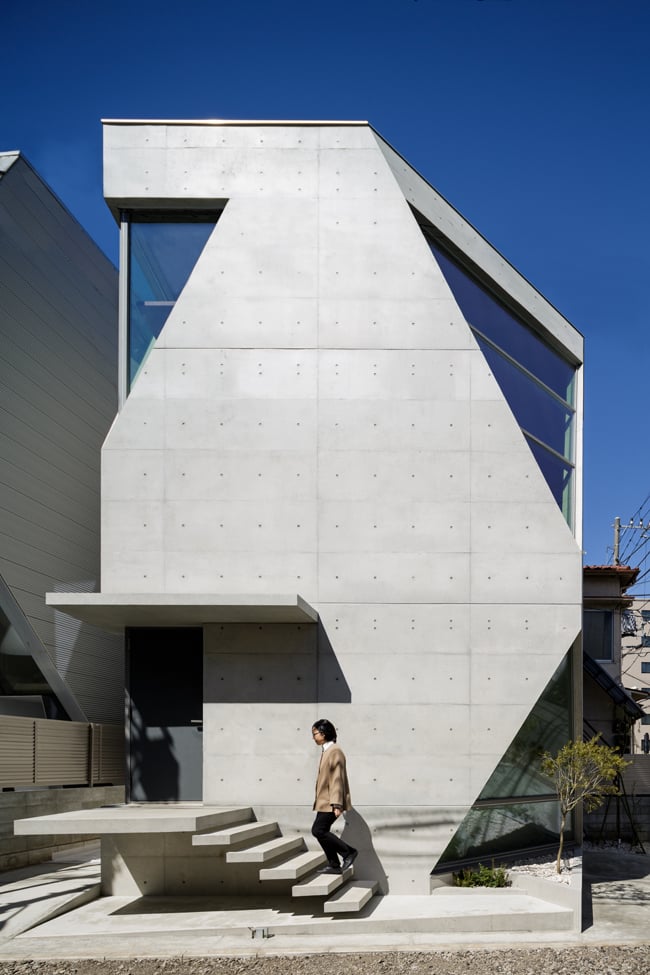 August 12, 2016
Tokyo House Tests Environmentally-Friendly Concrete Made From Volcanic Ash
For this unique home, Atelier Tekuto teamed up with experts to develop an environmentally-friendly concrete made—not from sand—but volcanic ash.
Dramatic slices on the corners of this building bring in sunlight and make the three-story structure seem bigger on the inside than it actually is.
Courtesy ©Atelier Tekuto
---
The Japanese firm Atelier Tekuto has specialized in developing new construction methods in the course of designing over 200 houses. When a midcareer couple, both chemists, knocked on the firm's door requesting "a challenging piece of architecture that is environmentally friendly," the architects took the opportunity to invent a 100 percent renewable concrete material for the R Torso C House in Tokyo.
Rather than using sand as its fine aggregate, shirasu concrete uses the volcanic ash produced by a fast-moving current of gas and rock known as a pyroclastic flow—a natural resource found in abundance in the south of Japan's Kyushu island (the last volcanic activity in the region was this past July). "River sand is scarce in Japan, while the use of sea sand in construction is on the verge of being banned," says Atelier Tekuto's principal Yasuhiro Yamashita. "Shirasu concrete can bring big economic benefits to the region."
The firm teamed up with experts from the University of Tokyo and experimented for a full year with the composition of the concrete, performing quality tests and making mockups to meet legal requirements and obtain government approvals. In all this, Roman engineers were the role models—the builders of the Roman Empire are said to have used ash from pyroclastic flows in concrete structures such as the Pantheon 2,000 years ago. The Japanese version has a different composition, is made of local ingredients, and is adapted to contemporary building standards.
Yamashita claims that not only is the concrete environmentally friendly, but also that its high density, absorption capacity, and natural pozzolanic reaction (which gives it the properties of cement) make it particularly strong and durable.
Atelier Tekuto does not make a secret of the composition of the buildings' skin. The benefits of shirasu are freely shared on a newly established digital platform called the Regional Material Utilization Network (RMUN) in the hope that this will help "develop and vitalize regions all over Japan, and in any [volcanic] nation for that matter."
Courtesy Jérémie Souteyrat
Courtesy Toshihiro Sobajima
Courtesy Toshihiro Sobajima
Inside, Atelier Tekuto managed to pack a lot into the tiny home.
Courtesy Jérémie Souteyrat
Wooden doors screen off a room styled after ones in traditional Japanese houses
Courtesy Jérémie Souteyrat
Courtesy Jérémie Souteyrat
Courtesy Toshihiro Sobajima
Courtesy Toshihiro Sobajima
Courtesy Jérémie Souteyrat
Courtesy Jérémie Souteyrat
Courtesy Jérémie Souteyrat
Courtesy Jérémie Souteyrat
Courtesy Jérémie Souteyrat
Courtesy Jérémie Souteyrat