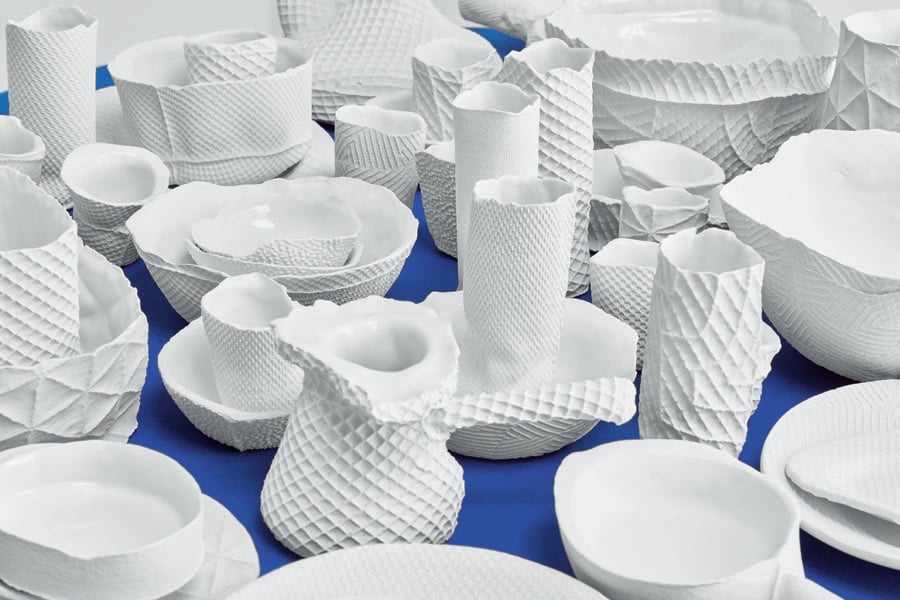 September 8, 2020
Kvadrat Demonstrates the Versatility of its Febrik Range with Knit!, an Interactive Digital Exhibition
The Danish textile giant brings together 28 designers from across the globe to explore the possibilities of knitted textiles.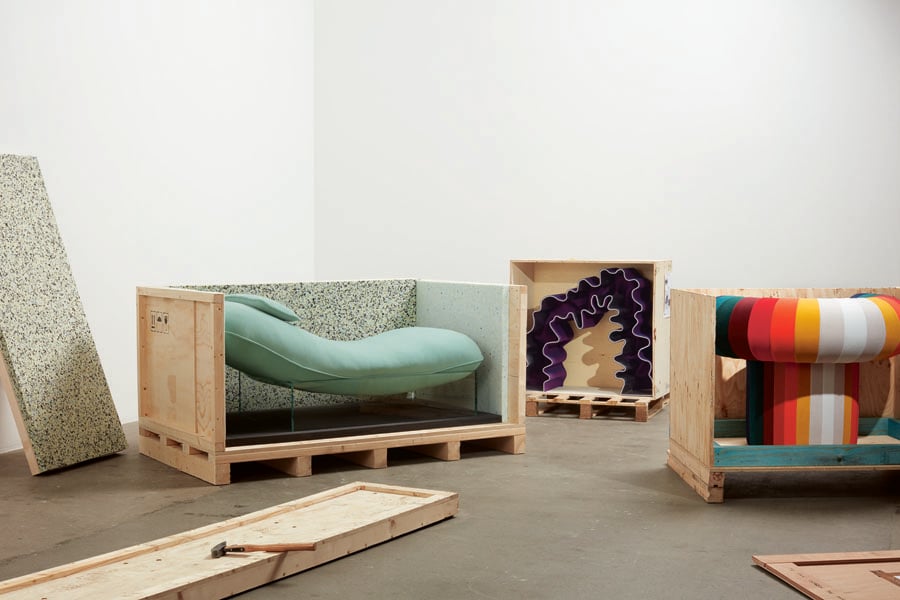 ---
Known for its mediatized Raf Simons collaboration and strong trend-setting aesthetic, Kvadrat has grown into one of the world's leading design brands. With the incorporation of several European textile manufacturers in the past decade, the Danish company now encompasses a wide range of products, from drapery to acoustic solutions. The recent acquisition of boutique Dutch textile producer Febrik in 2018 has added a whole new range of fabrics to its already dynamic gamut.  
Developed as part of the company's fourth annual Design Project initiative, Knit! is a diverse exhibition that includes interactive installations, architectural elements, modular furnishings, and conceptual objects. The exhibition debuted on September 3 as part of the citywide 3 Days of Design Copenhagen event and brings together 28 emerging and established talents from different disciplines, who were given free rein to create one-off works—the only requirement being they had to incorporate Kvadrat Febrik knitted textiles.
---
"If we had asked the designers to just work with upholstery, they would have all produced sofas," Febrik cofounder Renee Merckx says. "We wanted to keep the brief as open as possible and let the material guide the designers' process. Some explored the elasticity of knits while others focused on colors and texture."
While Australian designer Adam Goodrum's curvilinear Conversation Series settees were created using various colorways of the Gentle 2 textile, Marie Sloth Rousing's Dressed Up wearable chair concept employs the Apparel and Drop knitted fabrics. The Plecto, Gentle 2, and Drop products feature prominently in Objects of Common Interest's Doric Columns, Kinetic Object, which emulate the movement of industrial circular knitting machines. Malmö Upcycling Service combined blue Razzle Dazzle textiles with compressed waste Really Solid Textile Boards for the architecturally-inspired Knit Together room divider. Other applications include rectilinear waiting room chairs, garment straps, and an interlocking play system for children.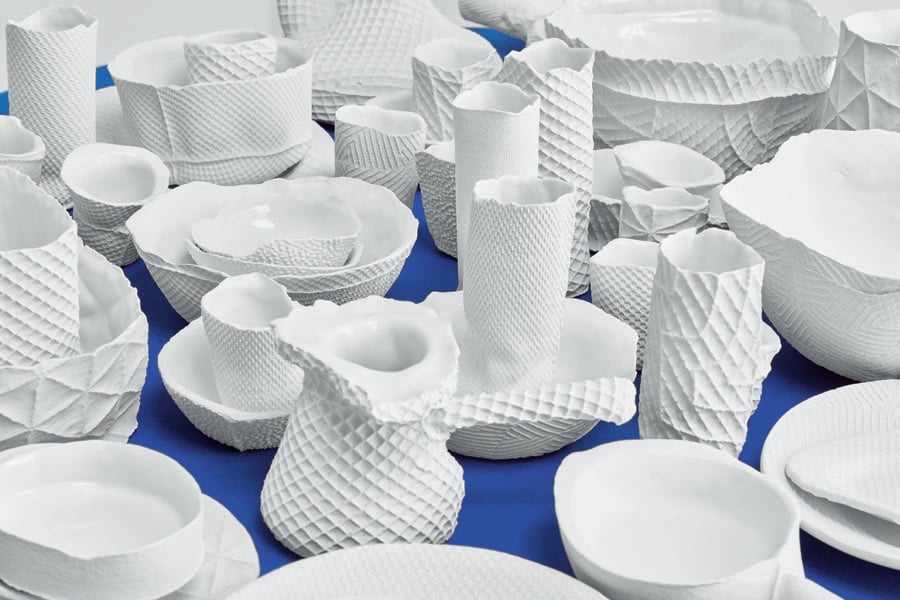 ---
Perhaps the most inventive of the 28 projects is Lebanese designer Paola Sakr's Sundays, an evocative ceramics tableware collection created using a wide range of Kvadrat Febrik knitted textiles to make flexible molds. The young designer developed a casting and firing process in which each fabric leaves its imprint on the various vessels, plates, and bowls. Rather than incorporate the knitted textiles in the finished results, Sakr employed the material as part of the process. In doing so, she was able to accentuate the textural quality and pattern of each variant. 
"Kvadrat's Design Project program was born out of a desire to inspire people to use our materials in new and surprising ways," Kvadrat senior vice president of marketing Njusja de Gier says. "The idea is to also create a stage for emerging designers, who can bring what they've learned from this initiative back to their own practice." 
---
The participating designers were selected by five industry-leading curators, hailing from their respective regions. While Merckx focused on the bountiful design community in her native Netherlands, de Gier and Victoria & Albert Museum contemporary design curator Johanna Agerman Ross chose international talents. Finnish, Italy-based design consultant Anniina Koivu focused on Southern Europe, and renowned New York-based industrial designer Jeffrey Bernett tapped the North American scene. The curators also acted as advisors throughout the design process. 
Knit! was initially going to be unveiled during Salone del Mobile 2020, but due to the COVID-19, the brand opted for 3 Days of Design instead. Presented throughout its Nordhavnen, Copenhagen showroom, the bespoke pieces were displayed in a contextualized setting, next to the shoppable textiles. On September 3rd, Kvadrat launched a digital walkthrough of the works, as situated. An interactive floor plan allows "visitors" to explore the different pieces as placed in various parts of the sprawling complex and listen to each designer's statements. Separate groups of work will travel to different Kvadrat outposts worldwide as the global situation improves in the next year. 
You may also enjoy "Li Edelkoort's Sweeping Survey of the Neo-Materialist Movement Leaves No Stone Unturned"
Would you like to comment on this article? Send your thoughts to: [email protected]
---
Register here for Metropolis Webinars
Connect with experts and design leaders on the most important conversations of the day.