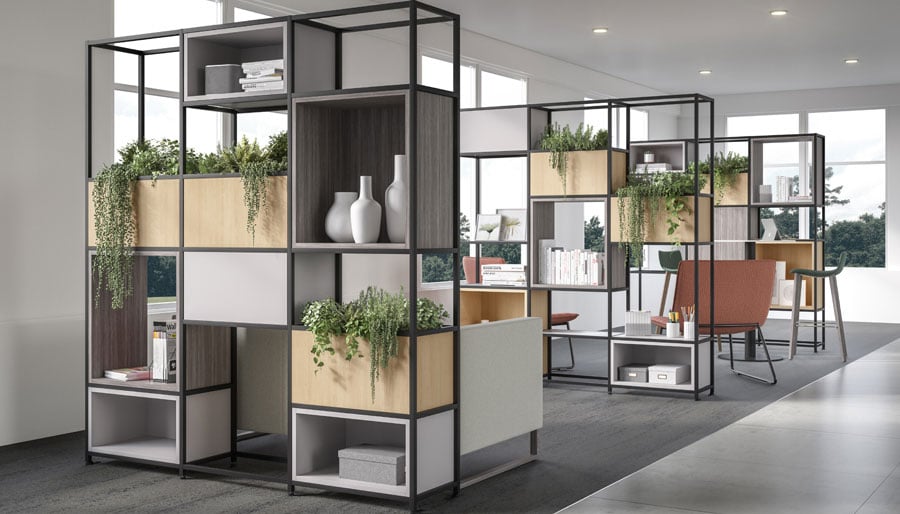 February 6, 2020
Lochlyn is a Storage Solution for Virtually Any Space
The new storage and display system from National combines organization and exhibition in infinite permutations.
Sponsored by:
---
Lochlyn is a storage and shelving system that establishes space division while providing an opportunity to showcase the objects that inspire, striking a delicate balance between organization and exhibition. Designed by Don Woods, National's industrial designer, Lochlyn is a response to the enormous pressure we put on interiors. Today, an interior environment needs to embrace the open plan, while accommodating private spaces. At the same time, it has to feel homey and show a dose of personality. It's a lot to ask, but Lochlyn does it all.
This sleek storage and space division offering is an elegant way to add storage and personality to commercial or home environments. Woods's contemporary design is appealing to the eye, but it's unobtrusive, allowing users and interior designers a great deal of freedom to make Lochlyn their own, and the scalable design means it can be at home in a large workplace or a residential setting.
Combining storage and shelving into a single modular unit allows for applications at every scale. Lochlyn's metal frame design can be built to be small in stature or grand in size, depending on what the space and the design require. Lochlyn can also be configured with a variety of storage solutions, it accepts cubbies with open tops, open fronts, and pass-through options. It can also be used with trays and shelves.
As a semi-transparent storage solution, Lochlyn also creates an elegant space divider or privacy walls that incorporates the warm wood and metal tones into the feeling of the room. The cube and shelf units can be deployed in myriad spaces, to create cozy and welcoming nooks or open storage for highly productive functional spaces. The idea behind its versatile design was to make a blank canvas on which the user could create their own masterpiece.
From storage to biophilia, Lochlyn promotes creativity and supports productivity; it's a storage solution for any space, one that balances the need to store things neatly, with the possibility of displaying elegant or necessary objects on open shelves. Lochlyn combines craftsmanship and creativity, allowing the user to fill in the blanks with design touches, media integration, coffee bar supplies, editorial displays, or whatever else they dream up. The possibilities are nearly endless.