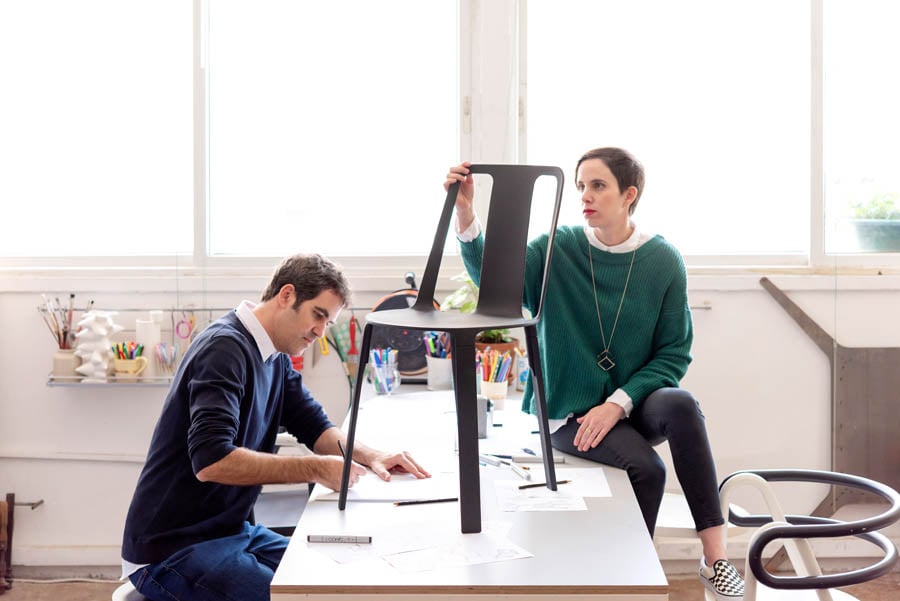 January 9, 2020
A New Chair Tests Magnesium's Potential
The Vela Chair from Magis shows how the high performance metal stacks up against plastic.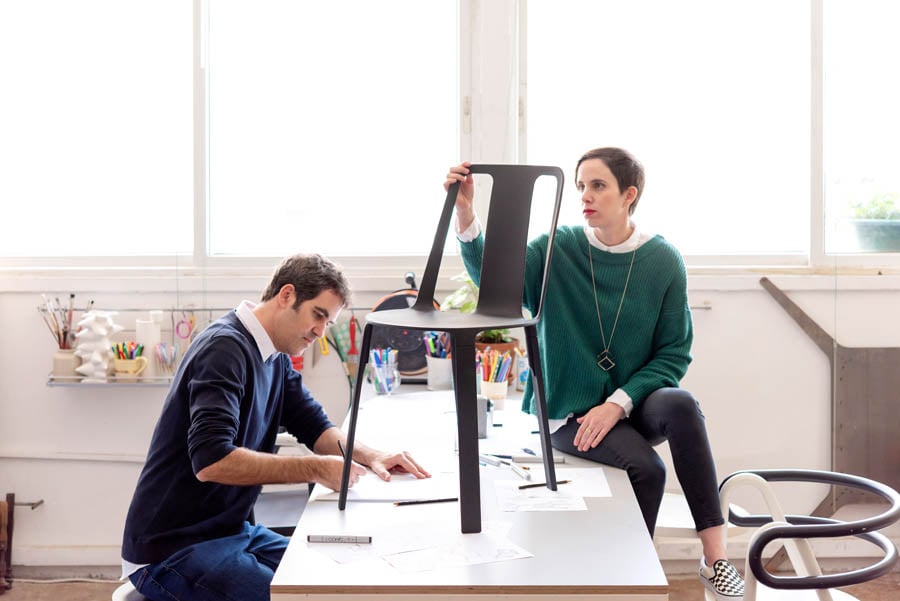 With its impressive strength-to-weight ratio and vibration-dampening qualities, magnesium has long been a go-to metal for structural applications, and for precision-engineered parts like orthopedic implants and aerospace components. But Vela, a superlight and impossibly thin chair due to be released by the Italian furniture powerhouse Magis in 2020, promises to bring the high-performance material into restaurants, offices, and countless other everyday settings—and, in doing so, makes the case for this earth-friendly metal as a viable alternative to plastic.
Magis first approached designers Gilli Kuchik and Ran Amitai in 2017 with what the couple describe as a "dream project": an invitation to design a chair that celebrates the unique material properties of magnesium. "Magis as a company is very much technologically driven," says the manufacturer's CEO, Alberto Perazza. Kuchik adds: "The majority of our products are generated by the desire to experiment with a given material or technology."
To get a sense of the material's attributes, Kuchik and Amitai examined magnesium aerospace components. Since the element weighs 33 percent less than aluminum and 75 percent less than steel, the designers decided the best way to show off its surprising light-as-air quality would be to design a stacking chair—an object that begs to be picked up.
Speaking with magnesium manufacturing specialists in Israel (where Kuchik and Amitai are based), the pair learned that molten magnesium flows more easily through a mold than common metals like aluminum—an advantage that allows it to be die-cast with much thinner walls. The duo abandoned their initial designs around thin structural members and began to treat the metal more like a molded plastic shell. "Understanding that we need to use the magnesium as a skin and not as a skeleton was so key for us in the design process," says Kuchik.
Vela's design integrates clever features that enable both indoor and outdoor applications in residential or public settings. The large cutouts in its one-piece seat and back shell not only reduce weight but also create handles for easy lifting, and allow water to run off the seat without the telltale drainage holes specific to outdoor furnishings. Its extruded magnesium legs have a compact footprint, to make possible the chair's perfectly vertical stacking, rendering it ideal for cafés and restaurants. A somber palette of six finishes allows it to work equally well in a variety of environments, and avoids the bright colors associated with plastic furniture.
More so than other design materials, magnesium's advantages extend to its environmental impact. The eighth most abundant element in the earth's crust, magnesium is industrially produced throughout the world, is fully recyclable, and is more durable than plastic. Its low melting point means that it requires less energy to manufacture, and its light weight takes less fuel to ship. While plastic may have had its place in the 20th century as an alternative to wood or steel, magnesium points a way forward, says Kuchik. "We think this material has a very interesting future."
You may also enjoy "Reducing Waste in Air Travel Will Require More Than Just Bamboo Utensils"
Would you like to comment on this article? Send your thoughts to: [email protected]