November 25, 2020
Metropolis Gift Guide 2020: Wares + Wearables
This holiday season, Metropolis's editors are highlighting our recommendations for the best design-minded gifts.
Even the winter of our discontent can be made calm, given the right creature comforts. That's why those objects associated with self-soothing—calories and clothing—usually make the best gifts.
WARES
Crockery in Black Basalt $196 (pitcher), $73 (small bowl)
Each piece in this dinnerware set by UK designer Max Lamb is slip-cast from hand-carved plaster molds to achieve its textural rocky finish. The cavity is glazed for functional dining.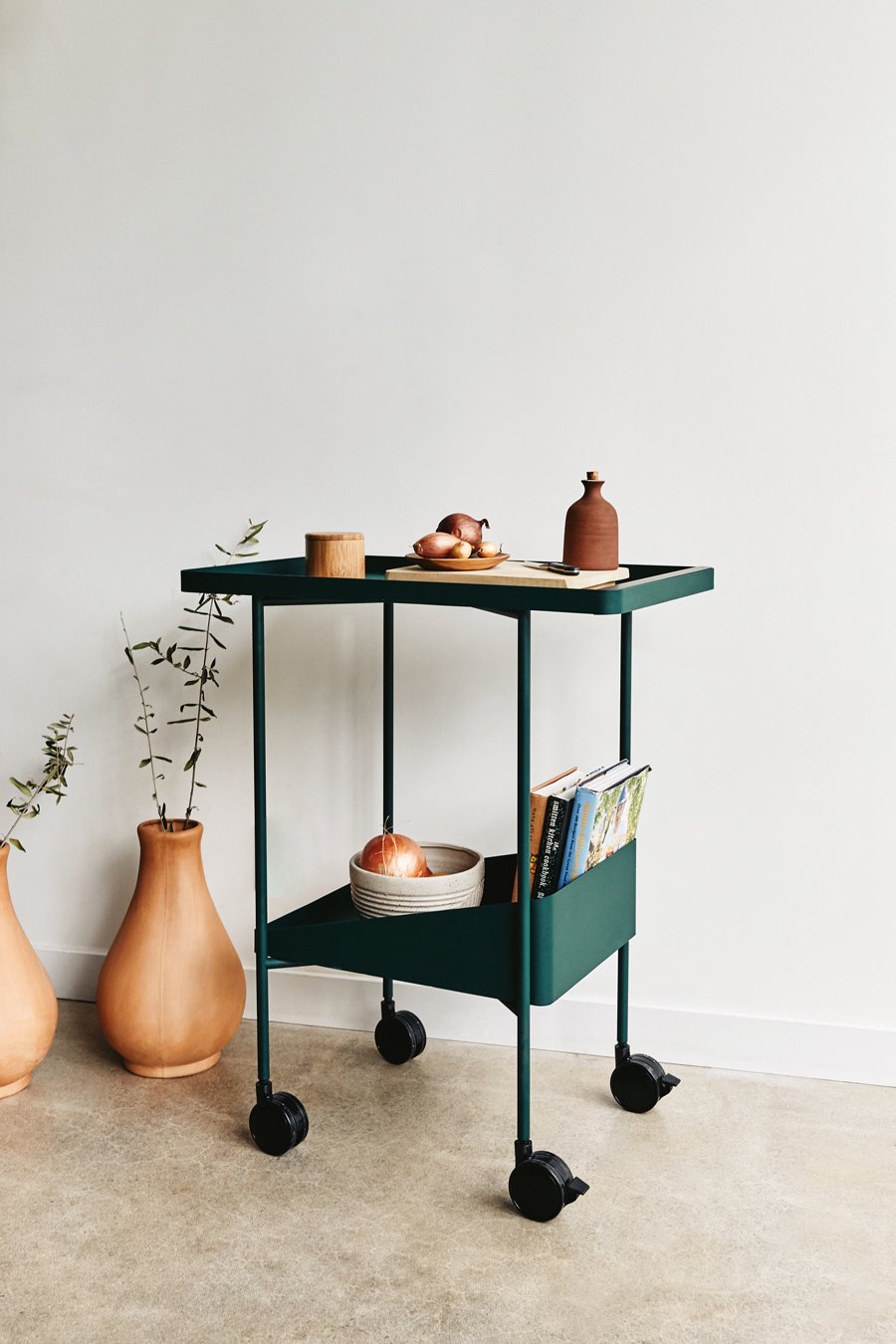 Barbican Trolley II by Visibility $395
Equally useful in the kitchen, pantry or bar, this welded steel cart provides sturdy compact storage for recipe ingredients. Four finishes are available; and all are food- and drinks-friendly because they're free of harmful metals and formaldehyde.
Otto Cooler (Price upon request)
This ice bucket is part of a collection of Lasvit glassware by designers Yabu Pushelberg. Alternating radial and tangential cut lines give the clear, handmade vessel a dramatic texture. Also available are a matching carafe, decanter, vases, and glasses of various shapes intended for wine, whiskey, highballs, and water.
Poisson Round Tray $336
Part of the GNR Collection Chandigarh, this 13.8″ unglazed porcelain tray is among three inspired by and named for a northern Indian city master-planned by Le Corbusier in the 1950s. The platters, developed for Cassina by Ginori 1735 and the Corbusier Foundation, bear imprints of the designer's bas-reliefs in the storied city, which is now a UNESCO World Heritage site.
Winter Seasonal Teapot + Plaza Small Modern Cups $264 (pot) $19 (per cup)
Known for its products' cozy, small-batch aesthetics, Heath Ceramics has imbued a familiar kitchen staple with its hallmark craftsmanship. The cups and pot shown feature a Light Grey and Grey Whale Gradient glaze, respectively.
WEARABLES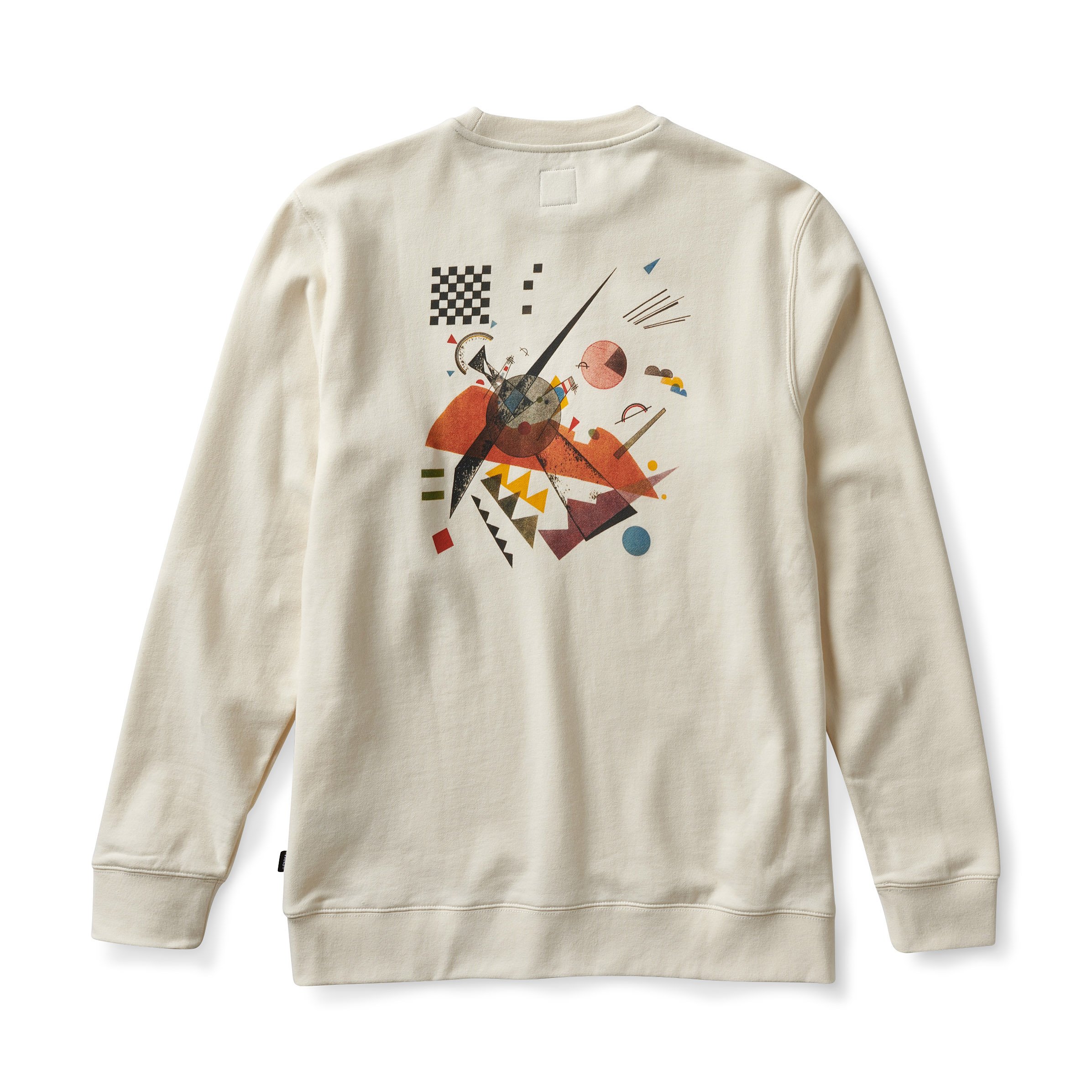 VANS x MoMA Kandinsky Crew $80
This sweatshirt with Vasily Kandinsky's artwork cleverly screen-printed on its back is the product of a fun collaboration between the skater clothing brand VANS and the Museum of Modern Art. The top is an 84% cotton-16% polyester blend for easy care and comfort. Matching sneakers, baseball caps, and T-shirts are also available.
Vertere $185
Architect Moshe Safdie designed this wristwatch marked by a dynamic Moiré pattern—a small-scale, moving sculpture. The manufacturer Projects Watches prides itself on such collaborations to produce what it calls affordable wearable artwork.
Converse x Denim Tears Chuck 70 $120
Without the artist David Hammons, this sneaker by clothing designer Tremaine Emory might not exist. When Hammons created the African-American Flag for a 1990 exhibit in Amsterdam titled Black USA, his intention was to revive enthusiasm for Marcus Garvey's now century-old pan-African flag. It worked: 30 years later, Hammons' artwork (and the spirit it represents) is being hyped everywhere and on everything.
A-Pack Large by Leon Ransmeier $420
What appears to be a neat tote is also a durable backpack. The waterproof, waxed-cotton canvas bag and the adjustable nylon straps are Maharam's. A zip closure, four pockets and a 28-liter capacity make it an all-weather, multipurpose must-have. Measuring 12 3/4″ wide x 18″ high x 7″ deep, it is also available in a small version.
Earlier this year, the National Organization of Minority Architects issued a bold call to action, asking the design industry to banish racism; reach out to and advocate for those in need; vote, and engage everyone in the manner you'd want them to engage you. In short be BRAVE. Now anyone can wear that activist acronym on their sleeves.
You may also enjoy "Metropolis Gift Guide 2020: Design & Technology"
Would you like to comment on this article? Send your thoughts to: [email protected]
---
Register here for Metropolis's Think Tank Thursdays and hear what leading firms across North America are thinking and working on today