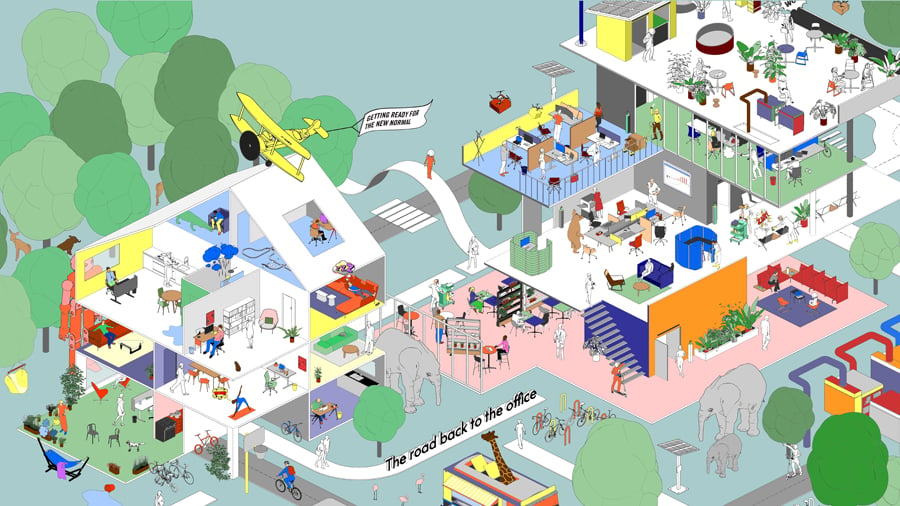 June 16, 2020
In Time for NeoCon, Vitra Predicts Material Trends for Post-COVID Offices
The Swiss manufacturer makes some surprisingly transparent forecasts for the post-COVID office, including that fewer chairs will be necessary.
Like every company transitioning to new and varied ways of working following the global shutdown to stem the spread of COVID-19, Swiss manufacturer Vitra is mulling how to return to offices amid the gradual lifting of restrictions this month. So, it has created white papers for clients ticking off practical, if somewhat predictable, hypotheses on what to expect—continued social distancing inside of buildings, more work-from-home arrangements, etc.
Yet a closer read of the reports also reveals surprising predictions about the furnishings that will be specified most as a result of the pandemic response—especially surprising for a furniture company. "A good physical office environment gains importance in a time of crisis: it becomes a place of gathering and social interaction—a place that reflects corporate cultural values," declares Nora Fehlbaum, CEO of Vitra.
Given Vitra's legacy of collaborations with designers such as Jean Prouvé and Verner Panton, its post-COVID materials forecast might warrant consideration by industrial designers and specifiers. We culled the highlights here, in time for the virtual edition of the annual contract furniture conference NeoCon.
FEWER CHAIRS
Perhaps the most astonishing admission to come from a manufacturer and archive of the some of the world's most iconic chairs is that fewer will be necessary in post-COVID offices. In line with a vision for fewer occupants, the report illustrates a pre- and post-COVID office differentiated by a nearly 50 percent reduction in the number of chairs.
LESS FABRIC
Despite its own upholstered offerings and the fact that textiles have enjoyed a boost in resimercial designs, fabric upholstery could lose some of its attractiveness, because its viewed as harder to disinfect. By contrast, materials such as real and faux leather and plastic will gain in relevance, as they're seen as easy to clean. (The company is planning a new leather-covered version of seating it debuted last year.)
MORE WOOD
Given its naturally antibacterial properties, wood may increase as a chief material in workplaces. (The company references Finnish architect Alvar Aalto choosing wood as the main material for his 1933 Paimio tuberculosis sanatorium, now a children's rehab center.)
MORE METAL
Brass and copper were mentioned as "self-disinfecting" finishes the company predicts will emerge as surfaces in office landscapes that have mainly featured tubular steel as the metal of choices.
LONG LIVE LAMINATES
Designers should also prepare for clients to be drawn to more wood-related materials such as fiberboard, laminates, and other resin-coated panels as robust and durable alternatives to veneer.
The most important quality: flexibility, says North American president Melissa Shelton: "We've been experimenting with agility in mind. That just evolves as the needs change."
You may also enjoy "5 Workplace Concepts to Start Taking Seriously, After COVID"
Register here for Metropolis Webinars
Connect with experts and design leaders on the most important conversations of the day.