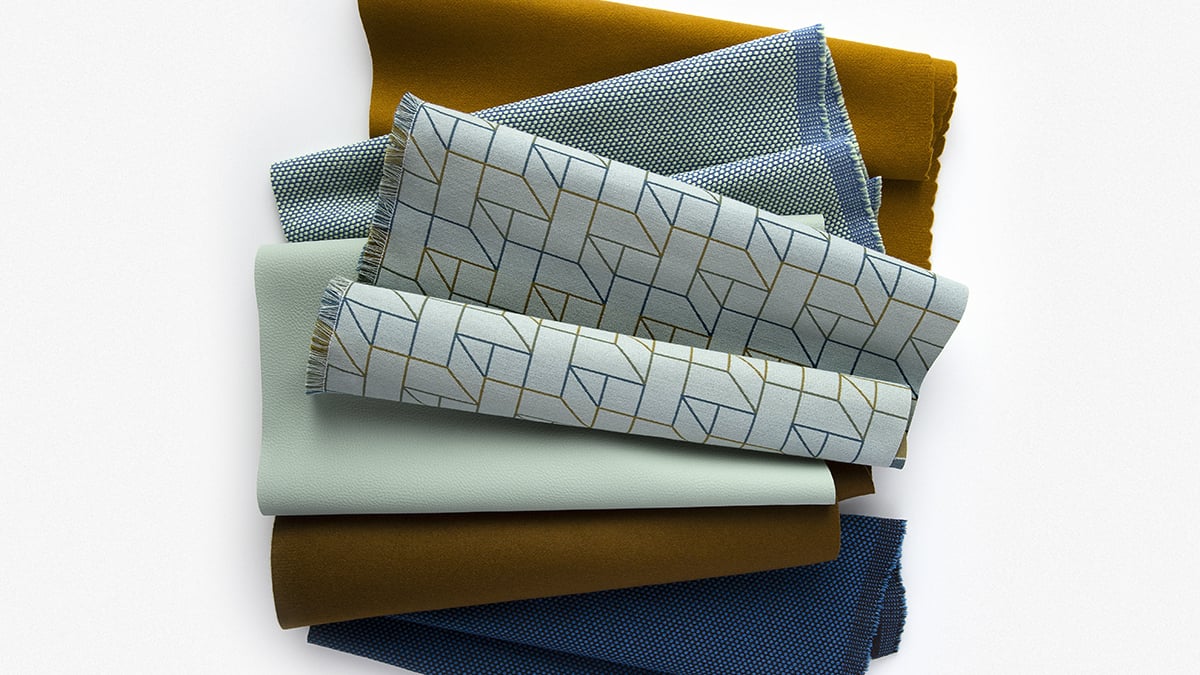 June 18, 2020
6 Innovative Textiles and Soft Surfaces from NeoCon
A collection of the best soft surfaces debuted on NeoConnect shows that pre-pandemic concerns such as recyclability of materials and low-carbon initiatives continue to be design priorities.
---
Exhibitors convening virtually for this year's digital edition of NeoCon, dubbed NeoConnect, include a number of innovative textile and surface manufacturers. And among them, there's a product suitable for every space. The following new releases, for example, reveal that pre-pandemic concerns such as recyclability of materials and carbon neutral initiatives continue to be design priorities. Review our findings here.
RUGS
Shaw Contract
---
Shaw Contract's Rugs program is a new tool for designers looking for custom rug options. Featuring collaborations with designers such as Adriana Jaroslavky, Trish Andersen, and Rockwell Group, the program offers bold patterns within six categories: abstract, geometric, graphic, organic, painterly, and tradition.
"Rugs are a foundational piece that complete the built environment by adding character, warmth and improved acoustics," explains Reesie Duncan, Vice President of Global Design for Shaw Contract. "With this new program, designers are able to create a custom look for every project without added time."
HOLLY HUNT 
---
HOLLY HUNT's 2020 releases, features three new designs to the Beyond Borders collection: Angles, Coastline, and Moving Parts. Coastline, a high-performance rug, is made with 100%  Sunbrella acrylic, while Angles and Moving parts are a combination of natural silk and wool. Each rug in the Beyond Borders collection is hand-produced in Nepal, taking up to 5,000 hours to create. The collections Color Program features over 100 colors in both vibrant and natural hues.
CARPETS
Interface
---
Interface's Thread Story, designed by David Oakey, features six carpet tiles inspired by the woven techniques of Bauhaus patterns. The collection is made with recycled nylon and is carbon neutral across its life cycle.
Mohawk Group
---
Mohawk Group's Living Product Certified Smart City collection is a carpet plank system that "explores a future in which the urban environment nurtures its citizens through sustainable development" and are inspired by the patterns and textures of transit maps of major cities including New York, London, Berlin, and Shanghai.
Following the framework of the Living Product Challenge Petal Certification, Smart City has a net positive impact on both environmental and human health. Its design and development were informed by the Gensler Cities Climate Challenge as well as the AIA 2030 Commitment. Constructed out of Mohawk's Heathered Hues yarn system, the textures create a warm aesthetic all while being Red List-free.
COVERINGS
Pallas Textiles
---
Pallas Textile's new collection is inspired by the French word Dérive meaning to "drift through new places, letting the landscape and cityscape inspire you." Each of the four patterns in the collection—Drift, Jaunt, Roque, Nomad, Wander, and Trek—aims to evoke the sentiment of travel and the narratives of city life.
Jaunt, a silicone and polyurethane hybrid available in 15 shades, aims to simulate an aerial view of cityscapes. Wander, a phthalate-free PVC, is offered in 21 shades. The patterns can be applied to a variety of applications from rugs, upholstery, and wall coverings.
LUUM Textiles
---
LUUM's Second Sight, designed by Suzanne Tick, is described by the manufacturer as the "Architect's Textile"—each weave and graphic pattern is inspired by architectural motifs and building structures, "allowing the interior environment to reflect the exterior" while the saturated colorways offer a sense of play.
The collection's four upholstery fabrics—Top Coat, Vector, Flex Wool, and Construct—contain 75 percent recycled or renewable fibers and place emphasis on more sustainable material options such as wool, silicone, and recycled polyester. Flex Wool is comprised of a wool and nylon blend providing added durability and stretch.
You may also enjoy "In Time for NeoCon, Vitra Predicts Material Trends for Post-COVID Offices"
Would you like to comment on this article? Send your thoughts to: [email protected]
---
Register here for Metropolis Webinars
Connect with experts and design leaders on the most important conversations of the day.