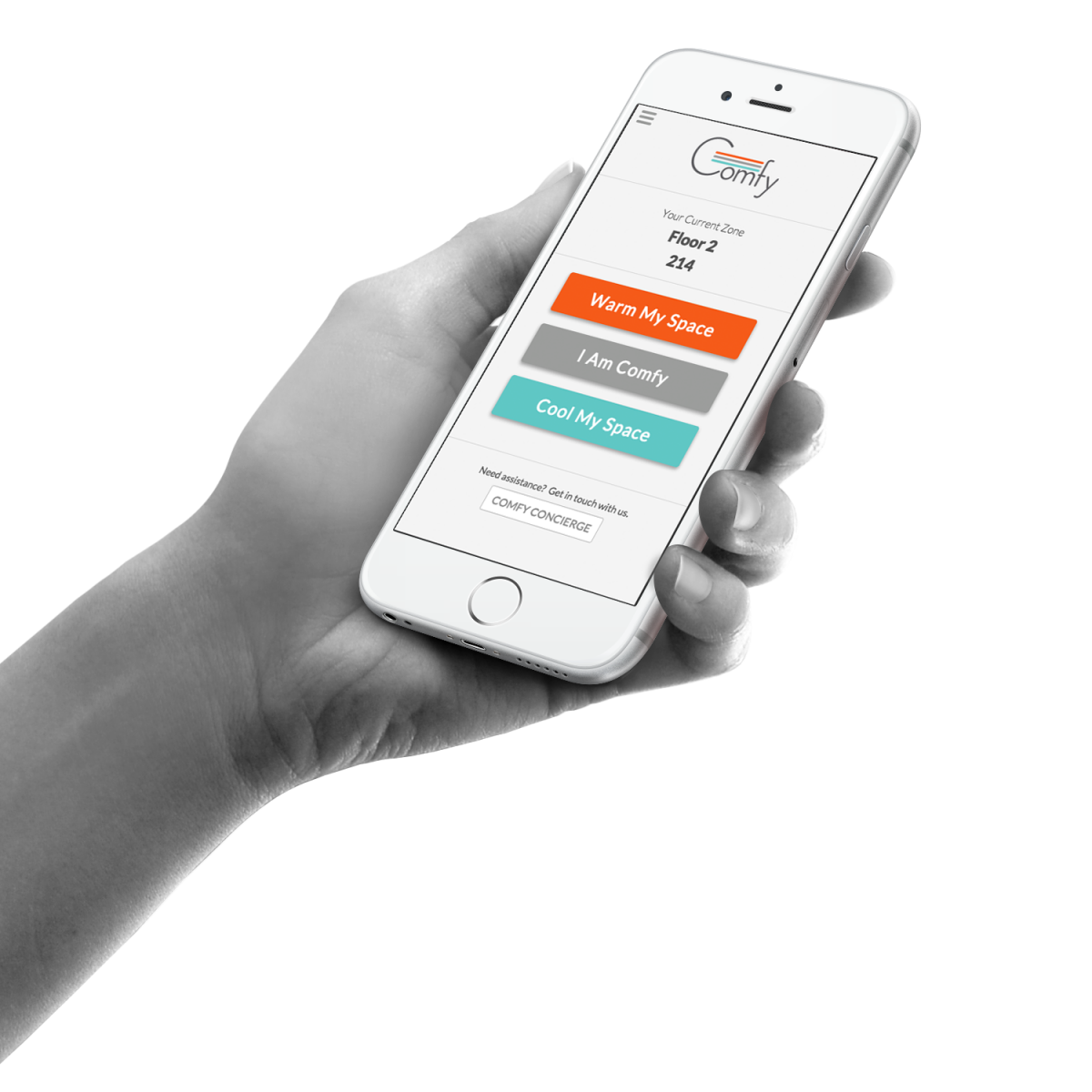 November 4, 2015
New App Allows Employees to Personalize Temperature Control
Physical comfort and energy savings come together in a new app by Building Robotics.
Comfy software was designed by Building Robotics to hook up to a building's HVAC system, allowing employees and users to personally control the temperature of their surroundings.
Photo via https://projects.invisionapp.com
How does your office feel today? Chilly? Toasty? The answer depends on who you ask. Now Building Robotics' Comfy software, designed to hook up to a building's HVAC system is about to make personalized temperature control accessible by just touching your smartphone or browser.
Oakland, California-based Building Robotics–a group of engineers, designers, and building industry experts–believes they can reimagine building controls through advanced computing and thoughtful user experience. Here's their breakthrough idea: People have different needs; delivery tailored to those needs can make us more comfortable, happier, and productive. In addition, Comfy produces efficiencies sought by facility managers and building owners who are always looking for quantifiable sustainability improvements as well as dollar savings.
After six months of Comfy's application at Glumac's Los Angeles engineering office in the Aon Center, the reports are positive. Mechanical designer Kameron Beeks, compares its effectiveness to occupancy sensors saving energy with lighting: "Comfy allows us to only use the necessary energy to keep occupants comfortable and reach for our goal of Net Zero."
Building Robotics' Lindsay Baker offers a sobering look at the many factors that play into the temperature wars in the workplace. She blogs, "Women Chilly At Work? Yes, But It's Complicated," revealing that many stories in the media gloss over the research details and lean toward headline-worthy points. Ultimately, she adds, the Comfy data shows that there is no big gender divide when it comes to temperature comfort. The truth is that people simply have different comfort ranges and that accommodating these ranges is good for people and good for energy effectiveness in workplaces of all scales.
The interface of the Comfy software app, designed by Building Robotics.
Photo via https://projects.invisionapp.com
Let's admit that Americans habitually over-cool spaces in the summertime ("Enduring Summer's Deep Freeze, http://nyti.ms/1dElrA4), and segment of our population suffers from the cold in the middle of a heat wave. Tailoring the temperature to individual users means effective application of HVAC energy by giving users three choices when they log in on Comfy: "I'm too hot," "I'm too cold," or "I'm comfy."  The first two result in a change in the temperature around them. Over time, the system "learns" user preferences and optimizes the heating and cooling system accordingly. The app's developers claim that Comfy-equipped buildings realize energy savings of up to 25 percent.
But the benefits go beyond energy and financial savings: Temperature discomfort for an eight-hour-or-more stretch can be truly distracting and unpleasant. Adjusting the thermostat is likely to increase employee productivity and general "satisfaction" with the work environment, beyond the initial boost associated with the novelty (and empowerment) of personal control.