November 5, 2019
How It's Made: Parachilna's Ghost-like Lighting Fixture
Designed by Toronto-based Partisans, no two versions of the piece are the same.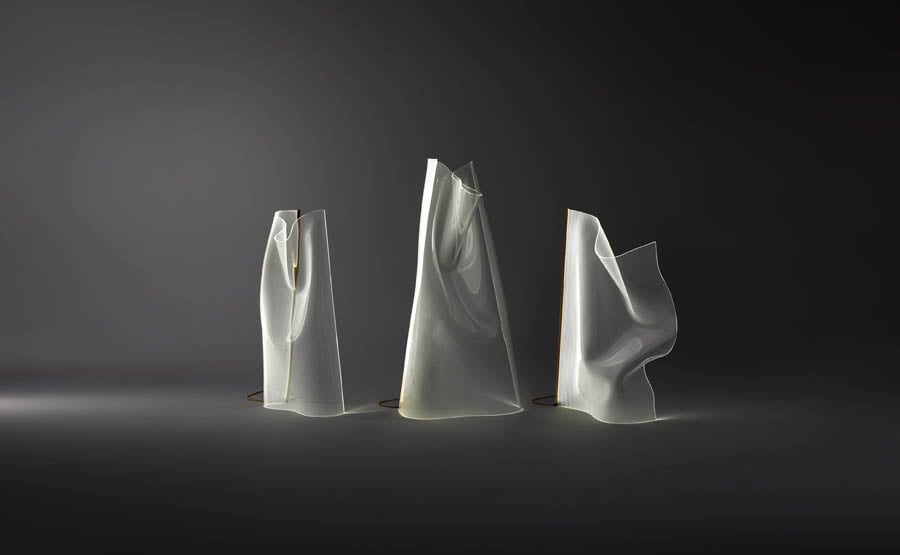 An architecture firm with product-scale acumen, Toronto-based Partisans has translated its unorthodox inventions into buildings, urban solutions, and now lighting. The studio's newest release is the Gweilo collection of light fixtures for Spanish manufacturer Parachilna, which debuted at ICFF earlier this year.
Alex Josephson, a Partisans cofounder, says his team initially imagined the design as a light wave sculpted by hand. It took five years for the phantasmal idea to come to life as a lamp. To produce it, he used a thermoforming technique that allows the sculpting of acrylic sheets while they're still hot—a dangerous but deceptively simple process that Partisans showcased at the Toronto Interior Design Show in 2017. Impressed with the studio's showroom-turned-factory, Parachilna requested manufacturing rights on the spot.
The fixture's light source is an LED strip embedded in an edge of its gold-anodized aluminum profile, which generates an optimal path for light to travel. Turned on, the fixture itself melts into the background, glimpsed only by its glowing rays.
Click through the slideshow to hear more from Josephson on the ghost-like fixture.
You may also enjoy "To Make Its Glass Fixtures, Original BTC Turned to a Storied Traditional Glassmaker in the U.K."