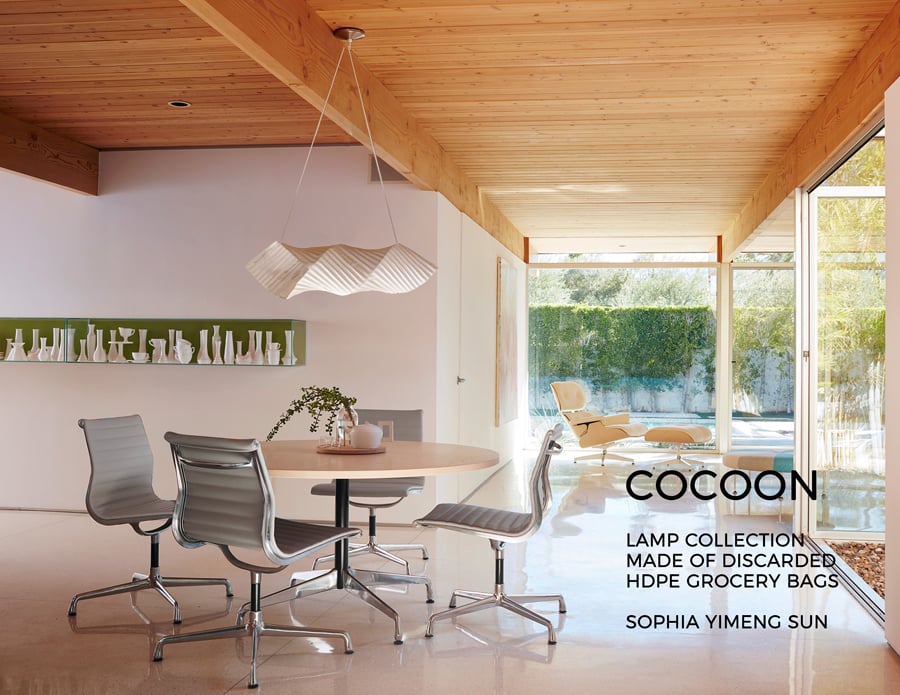 September 10, 2020
Pratt Students Convert Everyday Waste into Viable Products and Materials
The new Material Lab Prize recognizes emerging talents who create designs and composites out of reclaimed waste.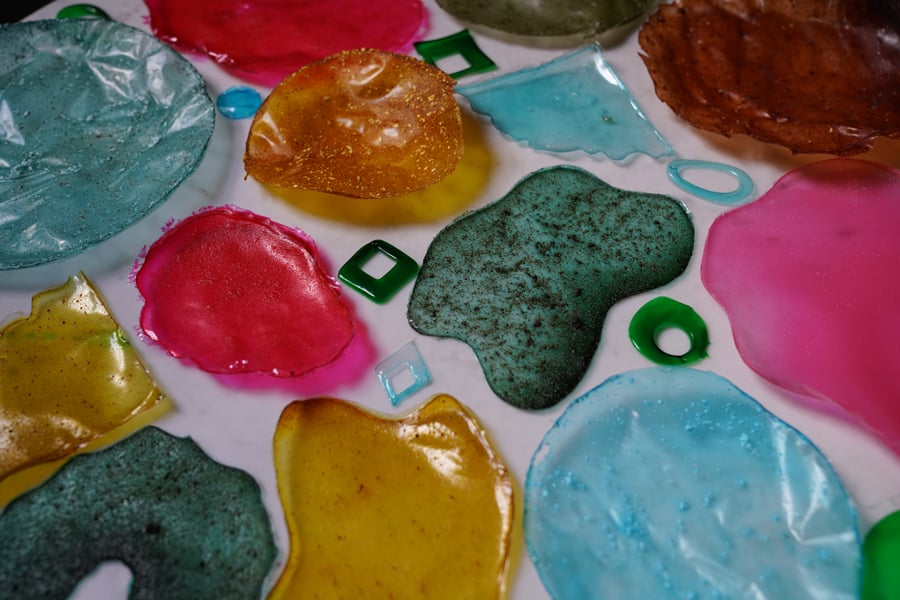 It's estimated that 8 million tons of plastic bags end up in the ocean every year. The mounting global waste crisis seems like an insurmountable obstacle, and it's hard to imagine how design can offer any real solutions, especially since the discipline is so complicit in the proliferation of consumer goods, rapid industrialization, and the fossil fuel economy.
Nowadays, the design world is working hard to backpedal and make amends. Though a growing number of independent practitioners and institutions have made a valiant effort to investigate and uncover the causes of these deep-seated evils, they've only recently applied their findings to developing applicable methodologies. Major manufacturers have begun to follow suit and scale up these discoveries but are slow to implement real systemic change. With superficial greenwashing still rampant in many sectors of the design industry, the challenge of transitioning to a fully sustainable circular economy is as daunting as ever.
One of the underlying objectives of this new mandate is finding ways to repurpose the waste streams that already exist rather than extracting raw materials from the earth and depleting what remains of our natural resources. The other is to shift the way we think about design, production, and consumption. Like with most contemporary issues, the best course of instigating change is on the educational level, and recent years have seen a propagation of student projects and academic awards focused on alternative eco-friendly materials. Not yet subject to the constraints of the "real world," students can learn, adopt, and experiment with new methodologies and materials. In turn, they can bring that absorbed knowledge and experience into their professional careers, and the design community can learn much from their inventiveness.
Leading New York art and design school Pratt Institute launched its first-ever annual Material Lab Prize late last month. Developed by the institution's new 25 thousand-sample library and research center, the grant program honors students who engage in material exploration. These emerging talents look at the global waste crisis, not as an impenetrable barrier, but as an opportunity for fresh alchemic ideation, whether it be new types of functional products, workable materials, or production processes.
"Nearly all young designers are reckoning with the ethics of making new things during an ecological crisis. At Pratt, exploring materials that might otherwise become landfill truly permeates the studio culture," Pratt Material Lab manager Jay Lemire reflects. "That being said, students aren't always aware of what's going on in other departments. We created the prize to foster an interdisciplinary dialogue and showcase some of the most forward-thinking work created on campus."
Bolstered by a stellar jury of renowned mid-career designers who incorporate research and salvaged materials in their own practices, the Material Lab Prize was carefully awarded based on various criteria. The panel—comprised of lighting designer Joseph Algieri, fashion designers Dara Douglas and Tara St. James, architectural designer Carlos Arnoldo Gamez, and art-led designers Misha Kahn and Pat Kim—scrutinized every submission based on creativity, innovation, and applicability.
2021 Masters of Industrial Design candidate Sophia Yimeng Sun was given the top accolade and a $1,000 prize for her Cocoon lamp. The luminaire features a pleated, helical lampshade derived from single use bonded HDPE plastic grocery bags. With her pared-back prototype, the up-and-coming designer demonstrates how one of the worst types of waste could easily be reused in various home furnishing applications. The lamp illuminates like one of Isamu Noguchi's Akari sculptures. In that vein, the jury was particularly impressed by the design's aesthetic and elegance.
In addition, entries that didn't necessarily result in finished products were given special commendations. "Occasionally, completed products with non-traditional materials tend to close the conversation," juror Misha Kahn explained. "Whereas research projects that suggest a range of potential applications can be more generative."
Asad Jawed Ahmed's Homeware Using Newspaper Wood project, an investigation into repurposing newspaper for a wide range of household applications, garnered the Industrial Design graduate second prize. Sustainable Design Certificate Program student Julia Brière received third prize for Avocado Waste, an open-ended research project exploring how bioplastics could be sourced from avocado pits. Experimental student projects like these show us what a more sustainable design future could look like, but the question remains; is the rest of the design industry ready to change and embrace more innovative solutions?
You may also enjoy "A Student Project Sheds Light on Local Materials."
Would you like to comment on this article? Send your thoughts to: [email protected]
---
Register here for Metropolis Webinars
Connect with experts and design leaders on the most important conversations of the day.