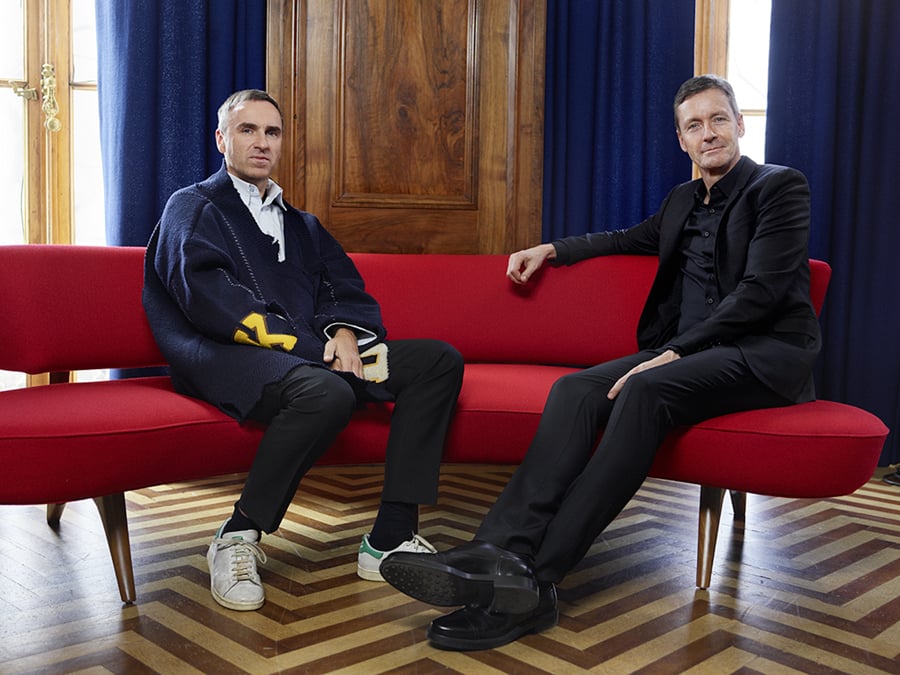 April 25, 2017
Raf Simons Champions "Feminine Fabrics" for New Kvadrat Collection
For the fourth iteration of fashion designer Raf Simons's collaboration with Kvadrat, things have taken a decidedly whimsical turn.
A shadow cuts dramatically across half of Raf Simons's face as he sits in a near-empty room of the National Academy Museum building in New York. "I closed the curtains because I wanted to create a kind of Twin Peaks mood in here," he says, gesturing toward the expansive space that will host the launch of his latest collaboration with Danish textile company Kvadrat later this evening.
Simons and Kvadrat CEO Anders Byriel have eschewed the austere gallery spaces in which they've hosted previous collection launches. The regal neo-Renaissance mansion is anything but stark, home to a grand marble staircase, parquet de Versailles wood floors, Doric pilasters, and other conspicuously ornate details. This particular room is empty, except for the crimson Vladimir Kagan sofa and the Finn Juhl Pelican armchair that we're sitting on. Both are upholstered in a different fabric from the new collection, as are the procession of Zanotta "saccos" (less elegantly put: beanbags) in the hall, and Noguchi Freeform sofas and ottomans in another grand salon.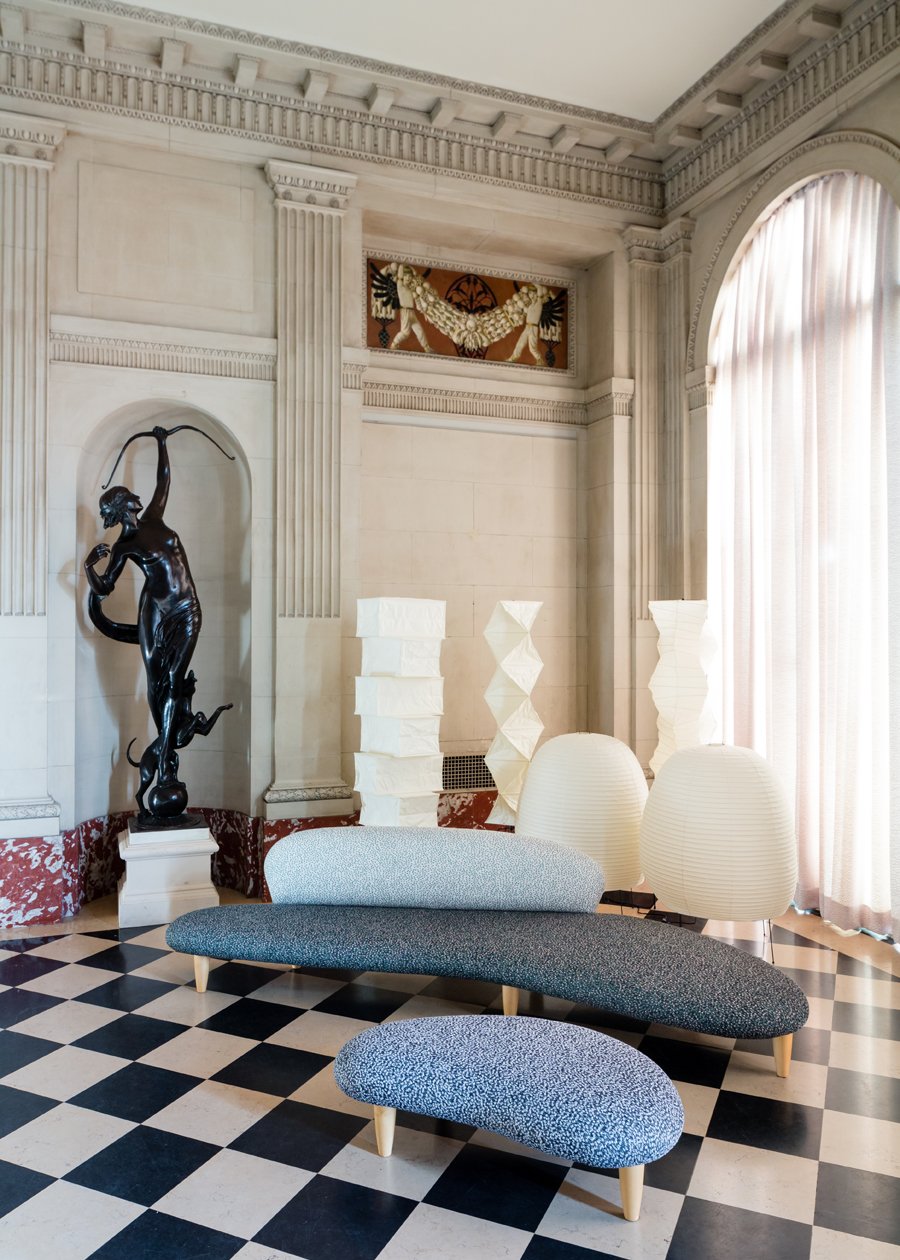 "You have very different perceptions here," Simons says. "If you see this Kagan here in a clean white gallery, I think it's a completely different feeling. For me, it now becomes surrealist, with a kind of mystique, almost sexual and maybe dark. I think Twin Peaks. I think Dalí. I think a lot of things that I wouldn't think about if I saw this piece in a gallery. I would just think, 'Ah, sublime, a Kagan,' because I like Kagan."
The theatrical facial shadow might be a happy coincidence, but it's indicative of the reaches of Simons's imagination. His conversation evokes a youthful fascination with everything, a habit that perhaps stems from his childhood in rural Belgium, which he acknowledges had a dearth of cultural stimulation—his only access to art in any form was the designs on album covers at his village's sole record store. When Simons finally experienced "art" for the first time—through curator Jan Hoet's 1986 Chambres d'Amis exhibition in Ghent—it catalyzed a dormant creativity that has since driven his work at the artistic helms of Jil Sander, Dior, his namesake label, and now Calvin Klein, where he is chief creative officer.
In fact, Simons seemingly has so many thoughts about everything that it's tempting to engage him in a game of word association—offering up random terms to elicit his inevitably well-formed thesis on each topic. But today's subject is the fourth iteration of his collaboration with Kvadrat. The partnership came about after Simons started using Kvadrat's textiles for outerwear in his collections for Jil Sander. Byriel sensed an opportunity and reached out to Simons through their mutual friend, art director and graphic designer Peter Saville (whose works, incidentally, the fashion designer had admired in his many childhood visits to the record store).
Simons was no stranger to industrial design—he had studied it before a career in fashion took his fancy. For Byriel, it was appealing to work with someone who could easily straddle the two disciplines. "I think in fashion there's more freethinking," he says. "There's maybe a little bit too much discipline in interior design."
Along with new colorways from previous Kvadrat/Raf Simons collections, this year's new textile—Ria—lends an unprecedented sense of whimsy to the collaboration. Simons took his inspiration from the pastel hues of pointillism, weaving two tones of textured yarn through a contrasting base color to achieve a diffused, romantic effect, evocative of the oil-painting techniques of Georges Seurat and Paul Signac. The shift from the bold, stronger colors and graphic stripes of his earlier Kvadrat collections to a softer, dreamy aesthetic had always been Simons's intention. "I'm very interested in trying to be feminine with fabrics," he says. "I sometimes miss femininity in 21st-century design." It's also no coincidence that the furniture pieces showcasing the fabrics at tonight's launch are decidedly voluptuous in form.
"Some people might see fashion as something superficial," says Byriel of Kvadrat's ongoing collaboration with Simons. "But, especially in high fashion, there's a lot of craftsmanship and there's a very different way of doing things. And for us, as a relatively big company that feels like we are very in control, I see Raf as somebody who's challenging us and coming in with very different visions. We never would have gone back and started with pointillism."
Byriel adds that he's looking forward to seeing how Simons's recent move to New York to work with Calvin Klein will influence the creative tangents of future Kvadrat collections. Though Simons himself admits that he has yet to quite make himself at home in his new city, he appreciates the opportunity to discover a new world of artistic and design stimulation. But, just as he has done with his fashion collections, he remains as shrewd as ever about what he creates. "Our world has become so much about stuffing people like geese with product—the fashion industry already has that nature a little bit," he laments. "I really want to build on something that is long-lasting but also inspiring."