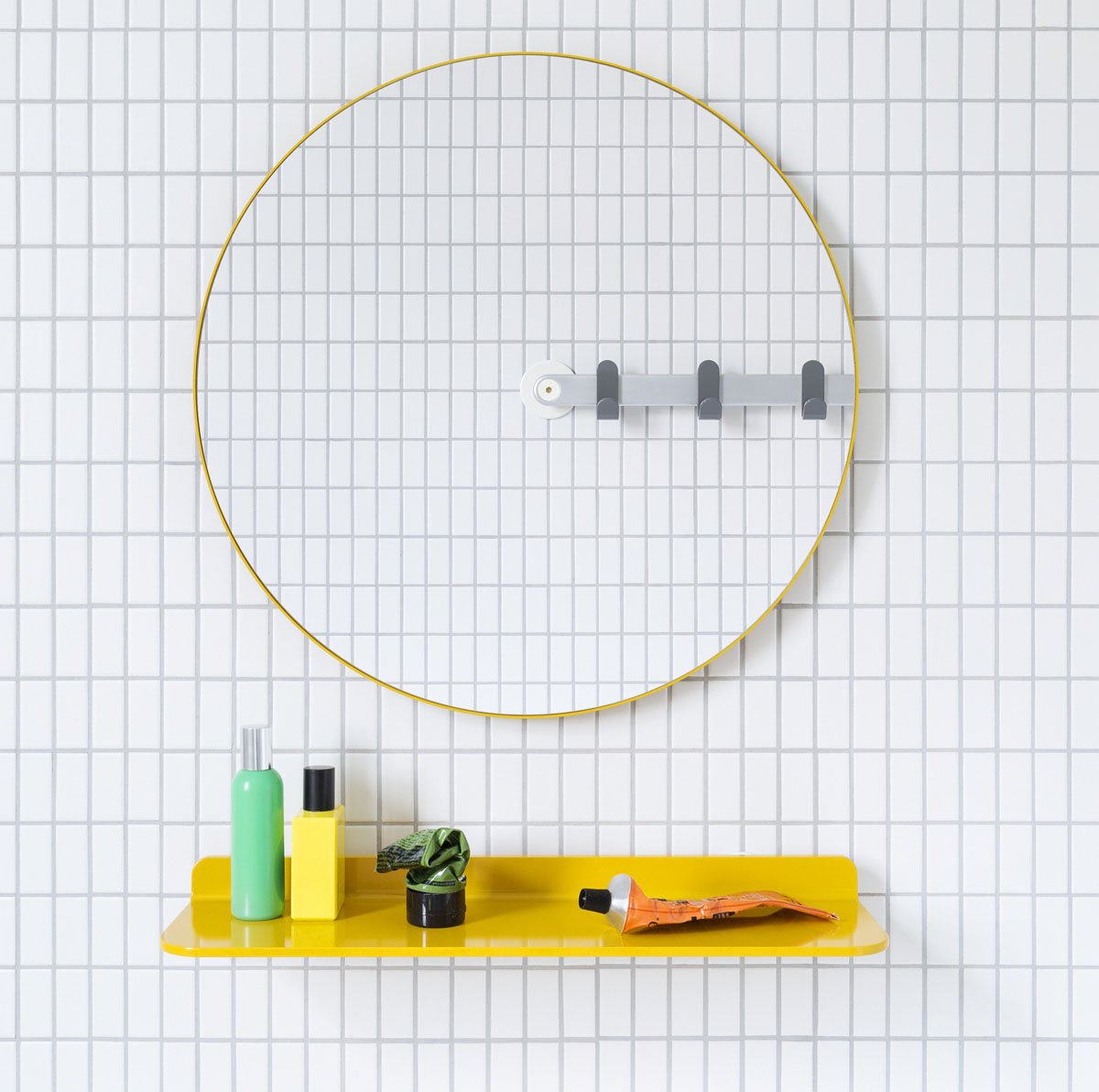 September 10, 2014
Sabi Space System Is the Perfect Baby Boomer Bathroom
The Sabi Space system is a sleek bathroom solution that plays both to millennials and the aging.
All images courtesy Sabi
London-based MAP Project Office's bathroom products for Sabi were designed with older consumers in mind, but they're certain to delight users of any age. The products, which can be installed without drilling holes in tiles, are simple, ergonomically sound, and beautiful. Here MAP's director, Jon Marshall, and Sabi's founder, Assaf Wand, explain the thinking behind their meticulously designed Sabi Space system.
---
1. Redoing the Bathroom
Jon Marshall: In the initial research we did with older consumers, we found that they're just as interested in beauty as younger people, and that they have quite a playful sensibility. The bathroom came out very strongly as a place where they didn't feel empowered to create the space that they wanted. They wanted it to be a designed space to match the rest of their home.
The level of design of products for the bathroom didn't seem to be satisfying across the board—not just for older consumers, but for all consumers. We wanted something that felt bright and fun, ageless and timeless. It took a while to get that right, but I think we've been quite successful.
2. A Complete System
Clockwise from top right: Peg, the basis of the system, to which all the products attach; Hanger; 24-inch Hang Rail; Caddy, with removable pot and hooks; Roll, a toilet paper dispenser; Hoop, a flexible silicone ring; Hold, a revolutionary oval grab bar; Towel Rail; Shelf, comes in 18-inch and 24-inch options; Wall Mirror; 18-inch Hang Rail; Movable Mirror.
3. The Eureka Moment
JM: We'd originally thought that the basis for the whole system would be a rail and everything would hang off it. It was only once we prototyped it that we called Assaf and said, "We've had this eureka moment; it's not a rail system, it's a peg system!" Our thought was that people would put accessories on the pegs. For example, if you put the Caddy on and decide it's in the wrong place, you can take it off and leave the peg there to hang things from.
In terms of installing the pegs, there's the easy choice, which is 3M tape. You peel it off and press the peg on in its desired location. For the first few minutes, you can move it around a bit, then gradually the glue solidifies over the following day.
Assaf Wand: The entire system—putting it on the wall, the easy-to-assemble packaging—all of that stuff is because I wanted a 60-year-old woman to install it by herself. The cost of our adhesive is really high. 3M sent us hundreds of different adhesives, and we kept on fine-tuning it. It sounds a trivial thing, but it was a long process.
4. Helpful Packaging/Easy Installation
JM: We've got little templates on the packaging to look at while you install.
AW: For us, universal design is a lot broader. It's about the instructions, the wording, the font—about understanding what the product is when you see it on the shelf.
5. Getting a Good Grip
JM: The circular grab bar, Hold, is quite particular to an older market. If your grandchild uses your bathroom and there are all these grab rails, it's a bit stigmatizing. But this just looks like a fun product that you could throw a towel over. We found that it provides a number of holding positions. Also, the curved shape can suit the grip of someone with arthritis better than, say, compliant handrails.
AW: My kids are using it, and they simply love it. It became part of their daily routine without them even noticing it's there.
6. Growth Potential
JM: There are key things in the bathroom that aren't reflected in this range. For example, the toilet brush. There are extensions of current products, and there are other uses for the peg system beyond the bathroom.
AW: The system is bigger than the individual pieces. I have a list of 50 other ideas—we are thinking of expanding the system significantly.