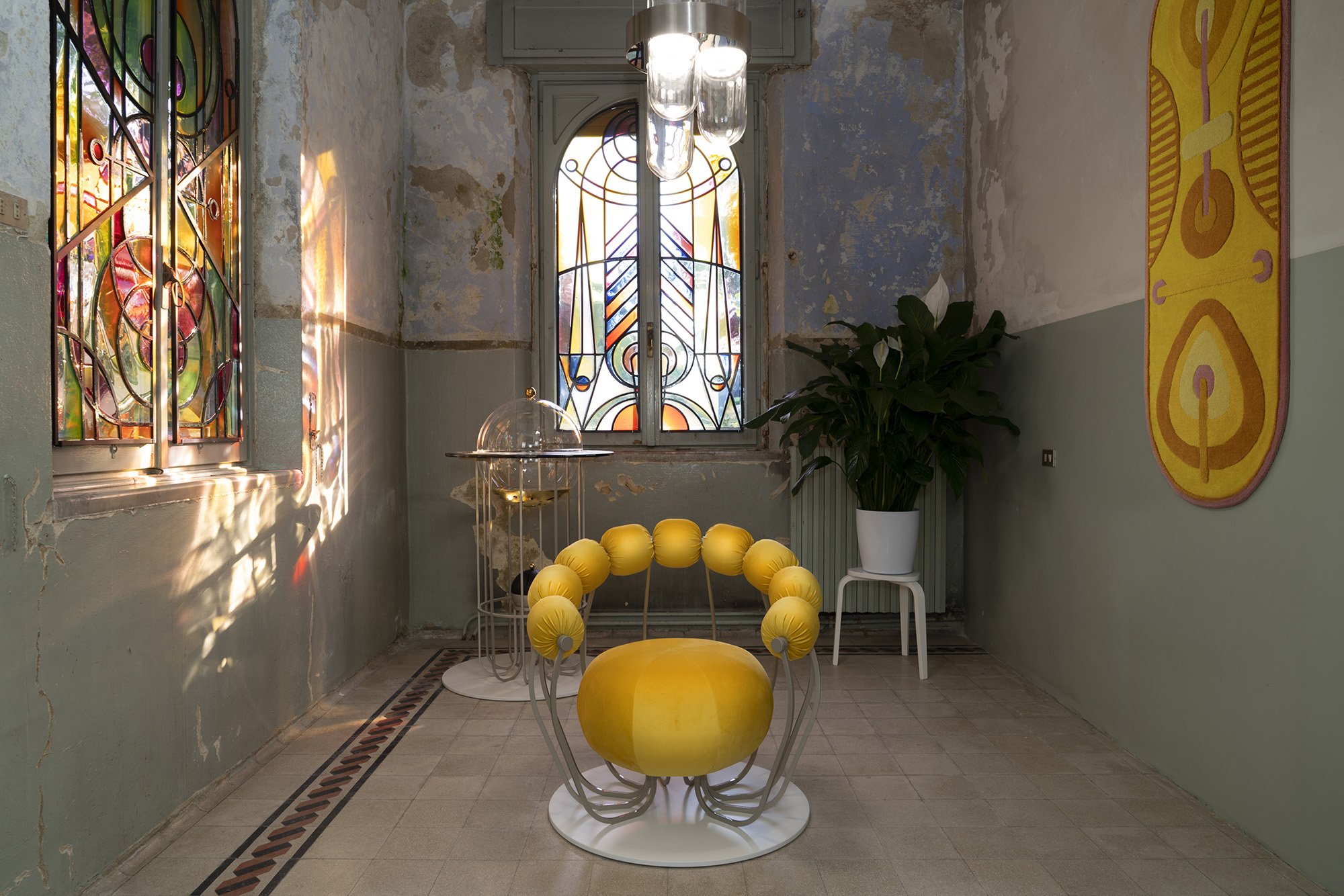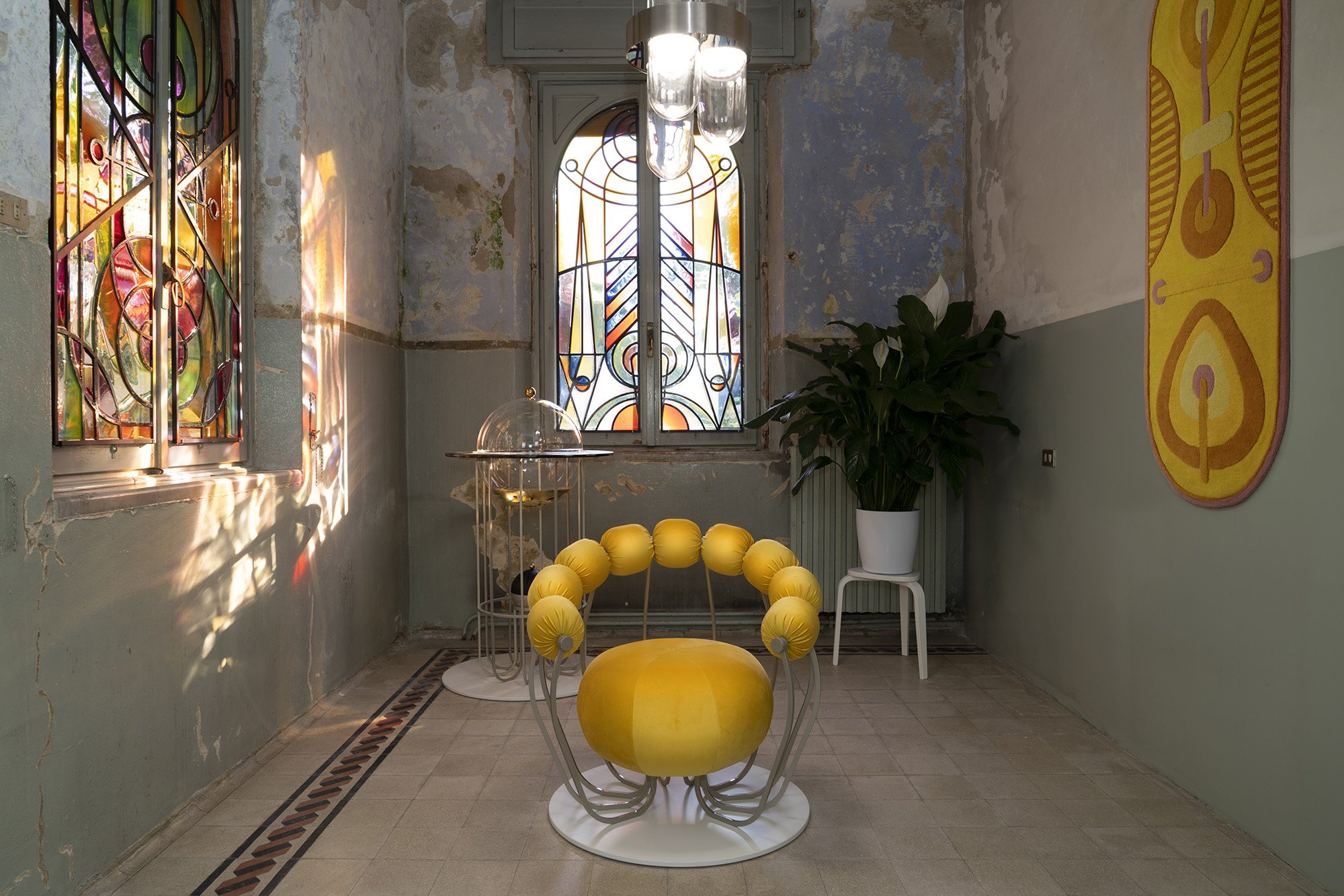 June 17, 2022
8 Products We Loved at Salone del Mobile 2022
Natura
Salone's all-embracing 2022 theme "Design With Nature," was presented at the fairgrounds as a prevailing motif throughout Fuorisalone. At Alcova, a showcase of experimental work curated by Valentina Cuffi (Studio Vedet) and Joseph Grima (Space Caviar), numerous examples inspired by materiality and the current natural environment were installed in decaying rooms at the Centro Ospedaliero Military di Baggio on the outskirts of town. Channeling native life were Kickie Chudikova's Insectum, Pictalab Milano and Nicolò Castellini Baldissera's Herbarium, and Lalia Gohar's partnership with Ciam, with stacks of refrigerator shelves filled with pots of basil, parsley, and lettuce plants were a few of the examples on view.
Glass Cycle
During the COVID-19 pandemic, unique collaborations were hatched over WhatsApp including Forite, a sustainable glass tile also exhibited at Alcova and conceived by Norwegian firm Snøhetta, Brussels-based Studio Plastique, and the Italian tile manufacturer Fornace Brioni. "Forite signals a clear push toward a new form of aesthetic driven by resources and honesty in material," says Marius Making, director of product design at Snøhetta. Created from recycled glass from ovens and microwaves, the transparent, almost terrazzo-like markings are available in two sizes and two colors and clearly have unlimited potential in future industry and the global marketplace.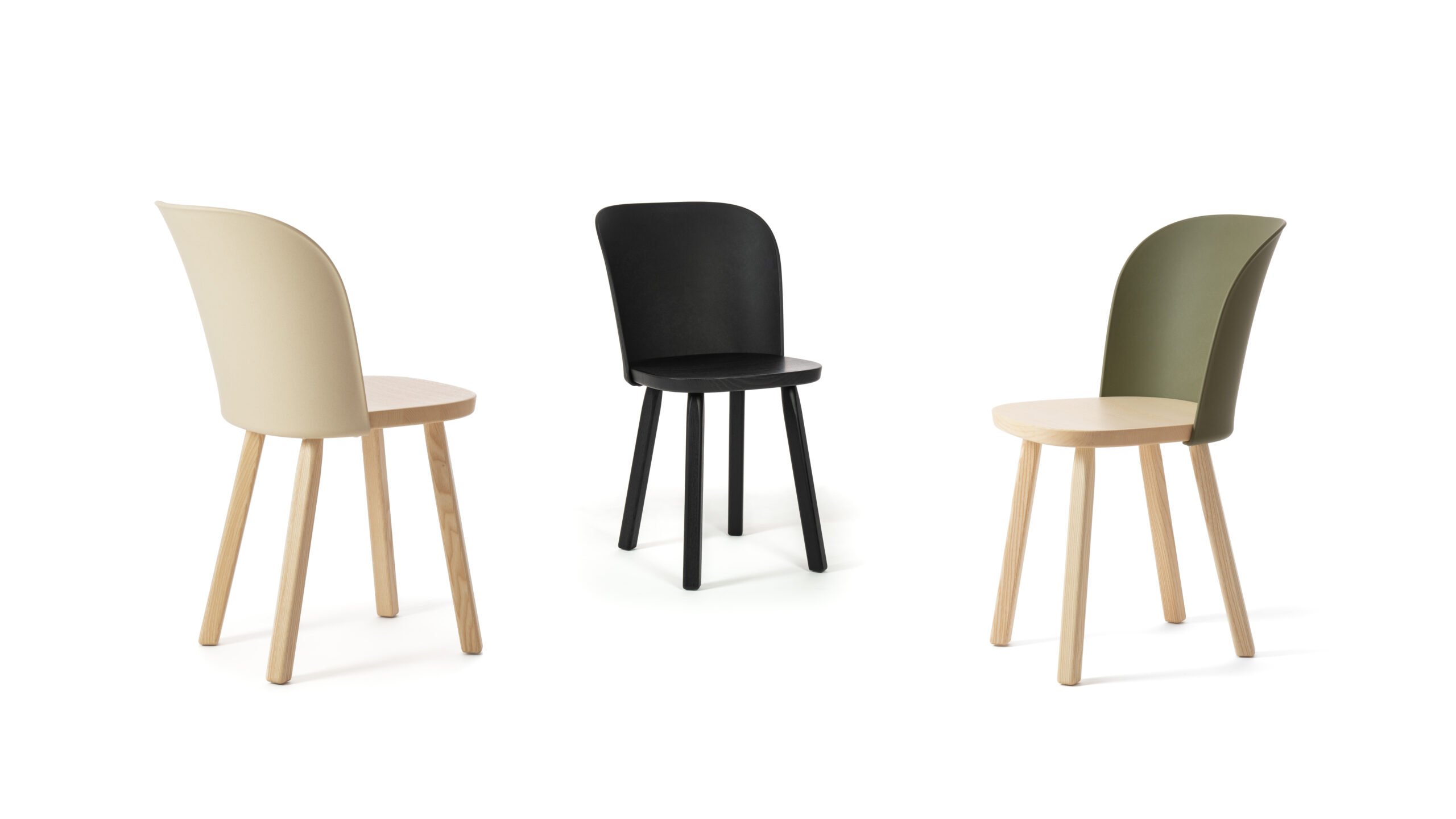 Dream Weavers
Italian furniture and textile designer Paola Lenti imported buyers, retailers, and press to her factory in Meda, Italy where a shaded garden oasis brimming with outdoor rooms welcomed visitors who were seeking relief from the Milanese sun. The highlight was Metamorfosi, a new collection of five large-scale, animated pouf seats and a tapestry, created in collaboration with Brazilian designers Fernando and Humberto Campana and conceptualized over Zoom. The limited-edition pieces are all woven from remnants Lenti sorted and saved with CouLture Migrante, a social tailoring atelier in Como. Together, the Campana brothers and Lenti sisters share a passion for unique, colorful sources, and a philosophy highlighting social responsibility, sustainability, and recycled raw materials.
Cooking with Oil
"A traditional alpine stool in a simple, elegant form, made from wood construction that celebrates natural materials and expert craftsmanship." That was the guiding principle behind British designers Edward Barber & Jay Osgerby Alpina Chair manufactured by Italian company Magis. Inspired by a mountain stool, this iteration utilizes a solid FSC-certified ash wood frame with an injection-molded backrest manufactured in bio-based polypropylene. Made from cooking oil waste, the chair is 100 percent recyclable and the process clearly illustrates that this design team has an eye toward cradle-to-grave production.
Wood Work
International architects showcased new furniture lines including Swiss-based Peter Zumthor. The son of a cabinet maker, Zumthor is no stranger to working with wood. His atelier's collection is now being represented and produced by Tokyo-based Time & Style, a manufacturer that features traditional materials and manufacturing techniques practiced in Japan. Zumthor's Chaise Lounge created for Therme Vals—a now-legendary spa he designed in Switzerland—is made from laminated wood with a curve that outlines the body and is supported by sinuous metal legs. For this east-meets-west version, the wooden frame was produced using a traditional Japanese steam bending technique instead of laminated wood, resulting in a sensory experience likened to floating on air.
S, M, L, XL Furniture
Unifor, the partner brand of Italian manufacturer Molteni&C presented PRINCIPLES, a new office furniture collection developed in collaboration with the Rotterdam-based architectural firm, OMA. Originally conceived for the Axel Springer Campus office complex in central Berlin, the collection was designed by OMA partner Rem Koolhaas, with OMA project architects Philippe Braun and Giulio Margheri in collaboration with Milan-based designer Antonio Barone. "We are curious to see how the modules—colors, materials, functions, and shapes—of the PRINCIPLES collection will come together and serve different work environments globally," says Koolhaas. Consisting of 130 elements in total, the five categories of tables, spines, soft furniture, screens, and sofas are offered in four sizes: S, M, L, or XL and upholstered in fabric for high-tech sportswear. The range has been optimized as a customizable modular system of Ring-shaped sofas, donuts, and soft islands as well as desks and tables that can be combined into numerous configurations to fit any space.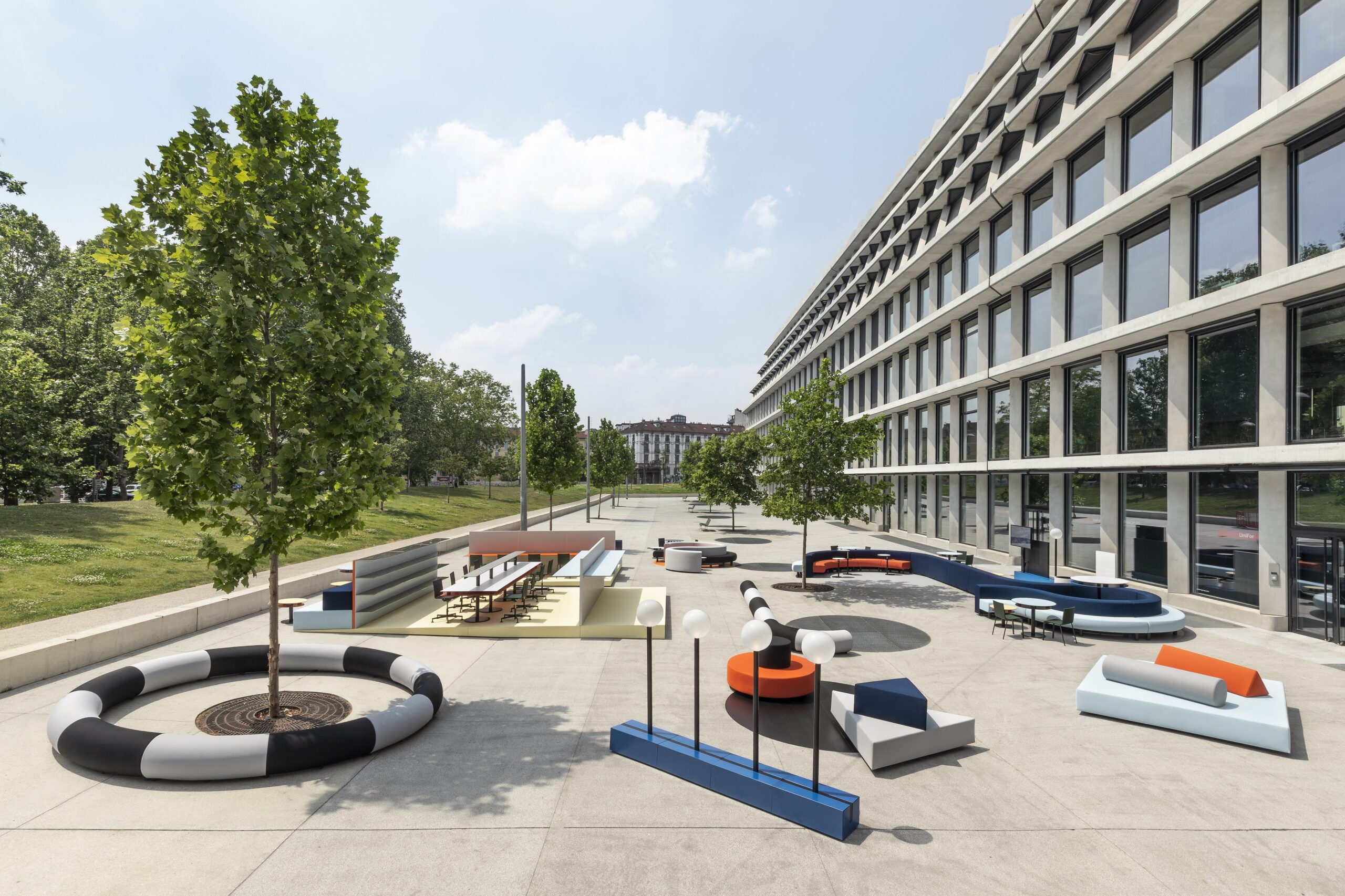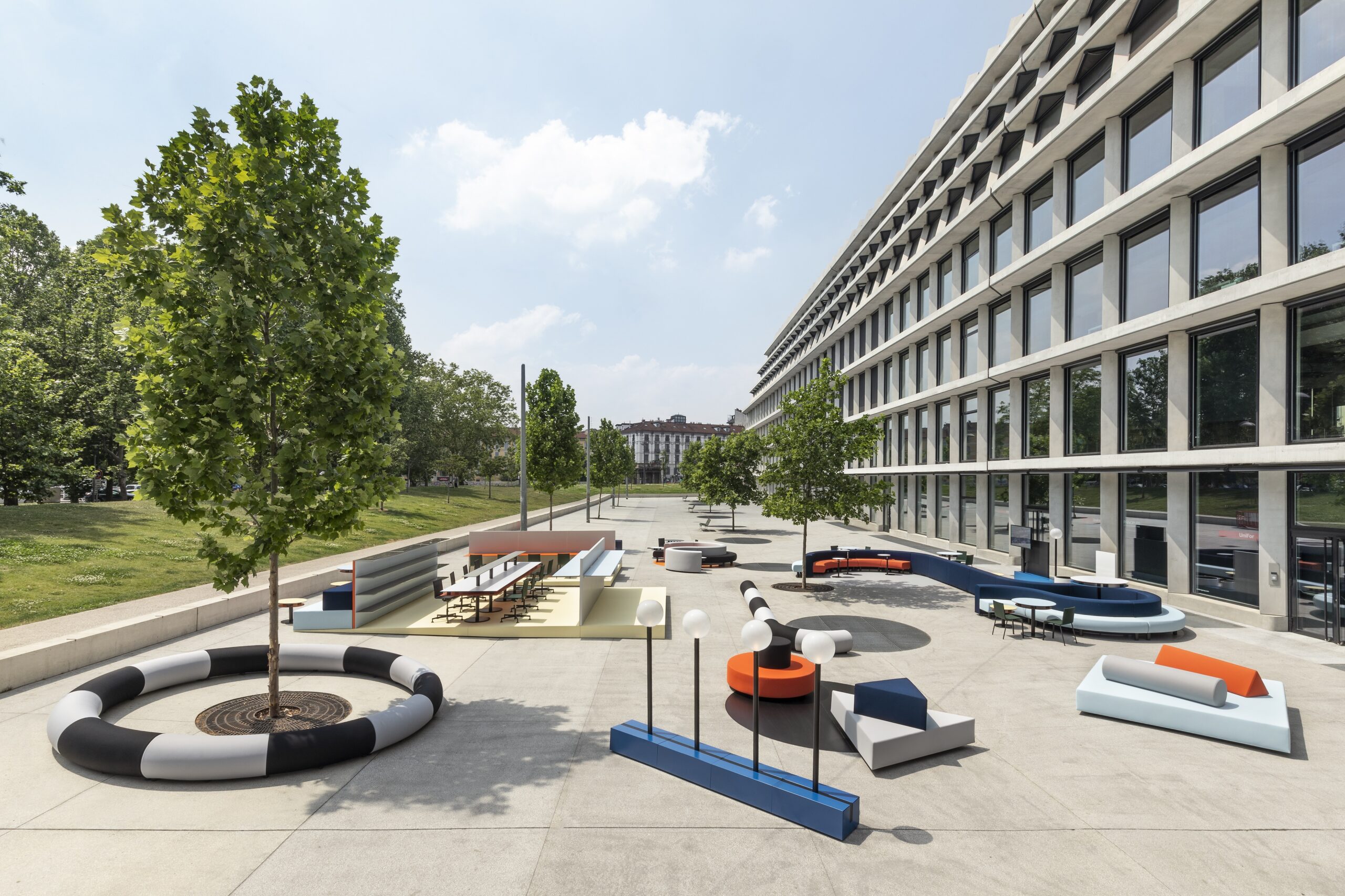 Squared
Jonathan Olivares, a Los Angeles designer and writer officially launched Square an upholstered collection manufactured by Moroso during Salone. Originally conceived for the newly opened Kvadrat Showroom in New York, the series was designed as an all-purpose seating system that could address remote working. Olivares was inspired by the plazas, ramps, handrails, and ledges he encountered while skateboarding in his youth. "It's not what you do but how you do it—so making something look effortless and imbuing it with style is also critical," he says referencing his skating life. The multipurpose chair is made with two square cushions, available in a one or two-seat version with removable covers manufactured from a selection of Kvadrat textiles.
Seeing The Light
Lee Broom, who is celebrating his lighting label's 15th year, presented the Divine Inspiration collection influenced by his childhood in Birmingham, England surrounded by brutalist architecture including Sir Basil Spence's reconstructed Coventry Cathedral. "I found that many of these Brutalist buildings were places of worship," Broom says, explaining how light played such an important role in religious history and life. His theatrically staged, multi-room installation in Brera showcased six unique lights channeling brutalism as well as Midcentury Modern spaces like Frank Lloyd Wright's Unity Temple in Chicago. The fixtures are offered in 30 configurations, finishes, and materials including oak, extruded aluminum, plaster, and Jesmonite.
Would you like to comment on this article? Send your thoughts to: [email protected]