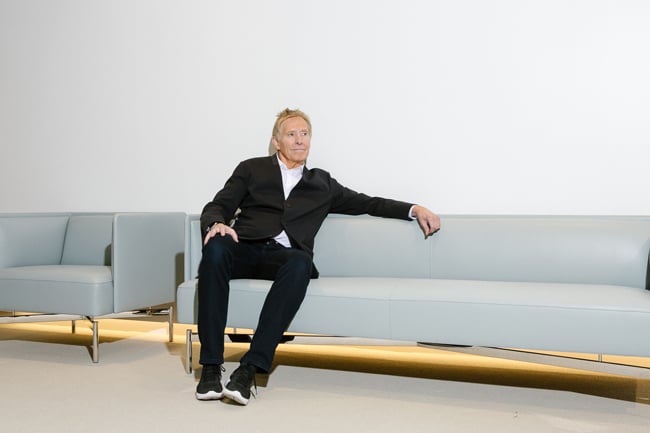 January 16, 2017
Talented Designer In Need of A Champion? Meet Jerry Helling
The president and creative director of Bernhardt Design has created multiple platforms to invest in young American and international talent, helping to kick-start the careers of dozens of designers.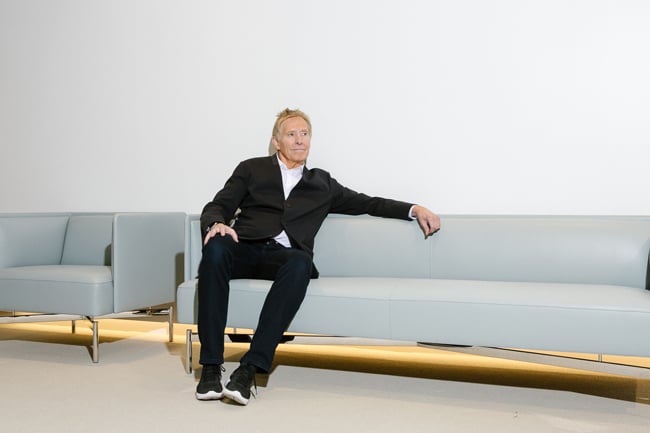 Helling in Bernhardt Design's new flagship showroom, designed by Lauren Rottet. He is seated on a couch from Finale, a collection of furniture designed by the late Charles Pollock and launched last November.
Courtesy Laurel Golio
---
Jerry Helling didn't intend to go into the furniture business. His plan was to parlay a master's degree in motion-picture marketing into a career in the film industry. But after moving to Los Angeles in the mid-'80s and witnessing 60-year-old men hunched over copies of Daily Variety hunting for their big break, he gave up on the idea. "I was like, I can't take this risk," Helling says. "I have to get a real job."
A headhunter sent him to interview for a position at Steelcase, the office furniture company based in Grand Rapids, Michigan. The opening had already been filled, but it gave Helling a plan. "I went back to the headhunter and said, 'We're going to find something in the furniture industry,'" he says. He learned the ropes at an L.A. furniture dealership, where he befriended a salesperson at Bernhardt Furniture Company, a family-owned manufacturer in Lenoir, North Carolina, who passed along the tip that the company owner, Anne Bernhardt, was looking for a national sales manager. "I just said as a joke, 'Call and see if she wants to hire me,'" Helling recalls, flashing a disarming bright-white smile. "Two weeks later, I was moving to North Carolina. Anne Bernhardt took a chance on me." And so he embarked on a career that would lead to the titles of president and creative director and the unofficial mantle of mentor.
Over the past decade, he has given dozens of emerging designers a chance to show their mettle, coaching them in the ins and outs of creating high-end furniture with mass appeal.
But first he had to transform Bernhardt Contract from an enterprise making traditional wood furnishings to one championing modern design. The contract division officially relaunched as Bernhardt Design in 1983, but after Helling was promoted to creative director in 1995, he helped set a new direction for the company. "After seeing the work coming out of Europe," he says, "I thought there must be some market out there for truly designed product, rather than just replications." One of his first proofs of concept was Welsh designer Ross Lovegrove's Go chair, whose fluid curves and novel material, magnesium, won it instant-icon status at its 1998 debut. (Helling's roster of design all-stars now includes Yves Béhar, Noé Duchaufour-Lawrance, and Lauren Rottet. Lovegrove remains a collaborator.)
Courtesy Bernhardt Design
---
Soon Helling was fielding pitches from American upstarts. There was just one problem: While many of them had formal design training and an understanding of design history, they didn't understand how to make and market a piece to potential customers. "They didn't know that you're designing things for other people to want and buy, rather than just having a great idea," Helling says. So in 2004, Bernhardt Design partnered with the ArtCenter College of Design in Pasadena, California, to offer a 14-week-long undergraduate course in the nuts and bolts of commercial furniture making, from concept and prototype to production and launch, down to the writing of press releases. An ongoing part of the school's curriculum, the class ends with Helling choosing some students' designs to be produced and then exhibited at ICFF in New York and the NeoCon trade show in Chicago. Apart from getting critical exposure, the students get paid the same royalties as established designers. "That's really helped some of them as they graduate," Helling says. "They've got some source of income."
As he continued to attend European trade shows, Helling noticed another type of disparity with the American design scene: While some countries such as Norway, France, and the U.K. offer their promising designers financial support and promotion, the U.S. does not. So Bernhardt Design stepped in with some private assistance. For designers already out of school, the company began underwriting a scholarship program with ICFF in 2005 to showcase the next generation of design talent. Every year, the competition receives hundreds of applications; submitted prototypes are judged on aesthetics, suitability for mass production, marketability, and commercial viability. The 10 to 12 finalists display their finished designs to the thousands of influential architects, interior designers, and retail buyers attending ICFF.
Over the years, the program, known as ICFF Studio, has discovered American design talents who now have well-established practices, including Brad Ascalon, Chris Adamick, and Nolen Niu. In 2006, Helling chose Niu's Zero lipstick-red lounge chair for ICFF Studio. Soon after, the New York Times featured an above-the-fold half-page photo of Niu in his chaise, positioned alongside the classic 1956 Eames lounge chair and ottoman. "You couldn't even buy that type of advertising," the designer says. "We got a ton of orders after that. It literally launched my career."
Besides mentoring American designers, Helling has cultivated a series of promising international designers, including Noé Duchaufour-Lawrance from France. Chappelle, a sofa with a privacy wall, and Chance, a range of side tables, are among the designer's latest pieces for the company.
Courtesy Laurel Golio
---
Helling doesn't limit himself to helping American designers. He relentlessly seeks out potential mentees around the world. "Jerry looks for the best talent out there, as opposed to following the regular stable of people," says David Mocarski, the chairman of the environmental design department at ArtCenter. "Bernhardt is always recognized as pushing much harder for a global design voice than most of the other American manufacturers." Take, for instance, Harry and Claudia Washington, a design duo who launched their wares at Contempo, a furniture exhibition in El Salvador, and then traveled to ICFF determined to land a meeting with Helling in 2008. They scored an introduction, and Helling became smitten with the couple, their work, and their country (he's now a Contempo sponsor and judge). Bernhardt Design's first collaboration with the couple, Mitt, a beanbag-style chair with a handle, is now its best-selling product.
Most striking about Helling's approach is the enduring avuncular rapport he has with his protégés. "To this day Jerry is very supportive," Niu says. "Every year at ICFF, he comes over and sees how I'm doing. He's interested in my progress, and it's been more than a decade now." The Washingtons agree: "He's a person that really understands people, and what he can bring out of them," Harry says.
"We feel Jerry is family."
Every year, Bernhardt Design selects a group of emerging designers to showcase their work at ICFF Studio in New York. Highlights from the 2016 group included the modular Gali Kitchen designed by Ana Arana for compact living spaces, and Isaac Southard's 19 Lines chair (above), inspired by the organic contours of bones.
Courtesy Isaac Southard
Courtesy Bernhardt Design
Courtesy Bernhardt Design